News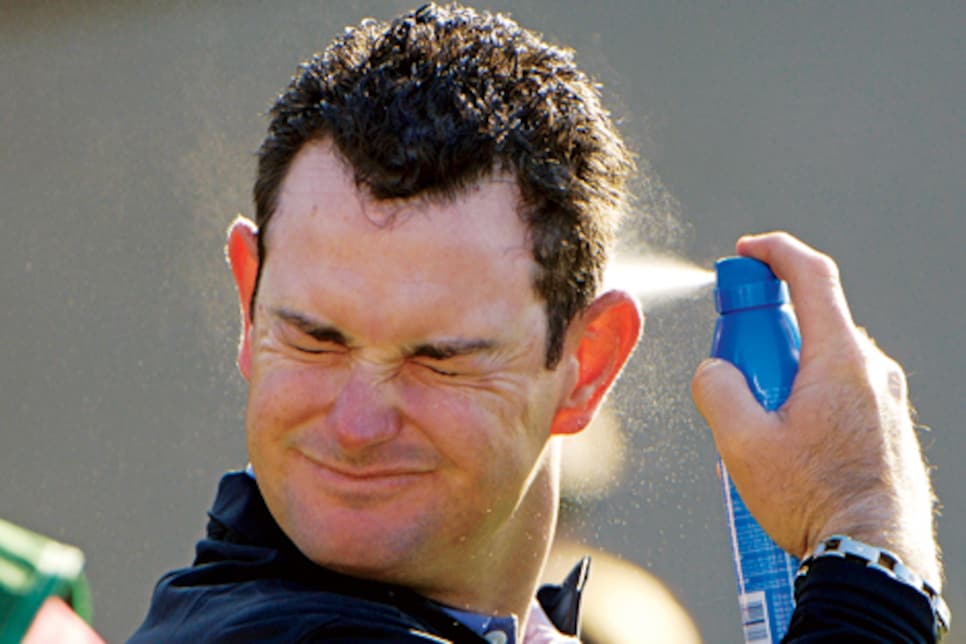 Ready for sunnier days: Sabbatini wants to put the cloud of controversy behind him in 2006.
Rory Sabbatini might be the only PGA Tour player who talks to his ball when he's putting on the practice green. Other pros generally find a hole and toil silently for a few minutes, devoting far more energy to refining their stroke than worrying about the actual result. Sabbatini bounces all over the place, barking at 30-footers, operating in the same emotional gear on a Wednesday afternoon as you might expect on Masters Sunday.
The guy speaks nine different body languages, all of them loud and clear. This has led to a multitude of translations over the years: cocky, ostentatious, self-consumed and half-nuts are not at the bottom of the list. Yet there is something unmistakably endearing about Sabbatini that makes his swagger more appealing than appalling. Charm, like low-fat ice cream, can come in a variety of flavors, if not with an excess of sugar.
In a pint of Rocky Rory, there are no artificial ingredients, regardless of what the label tells you. "He's a little misunderstood sometimes," says Rick LaRose, Sabbatini's coach at the University of Arizona. "He's a very sensitive guy who comes off like a bull in a china shop, a nice guy with a big heart." Others seem more inclined to note the size of the opening above Sabbatini's chin. "If you have a question, he'll answer it," quips one tour veteran. "And if you don't have a question, he'll answer it, too."
Sabbatini's abrasive nature might be unduly magnified in a game where reputations are formed under a microscope, where modesty is the best policy, where hot tempers and self-abusive streaks are viewed as distracting or inconsiderate. Of course, some skin is thicker than others. The same can be said of some heads.
"I'm definitely very demanding on my golf game," Sabbatini says. "I've always been too much of a perfectionist, and it has always been my biggest downfall." As an 8-year-old developing at a furious pace in South Africa, Sabbatini recalls an episode that served as a bent shape of things to come: "First hole, I knocked it on the green in three and had a 50-foot putt. I lipped it out, broke my putter and walked off the course."
You can do a lot of shouting at a golf ball when it rolls 50 feet. "You're not supposed to have emotions out there," he adds, "but if you learn to use them the right way, it can be a huge positive. I don't think I'd be the player I am today if I didn't have the personality I have."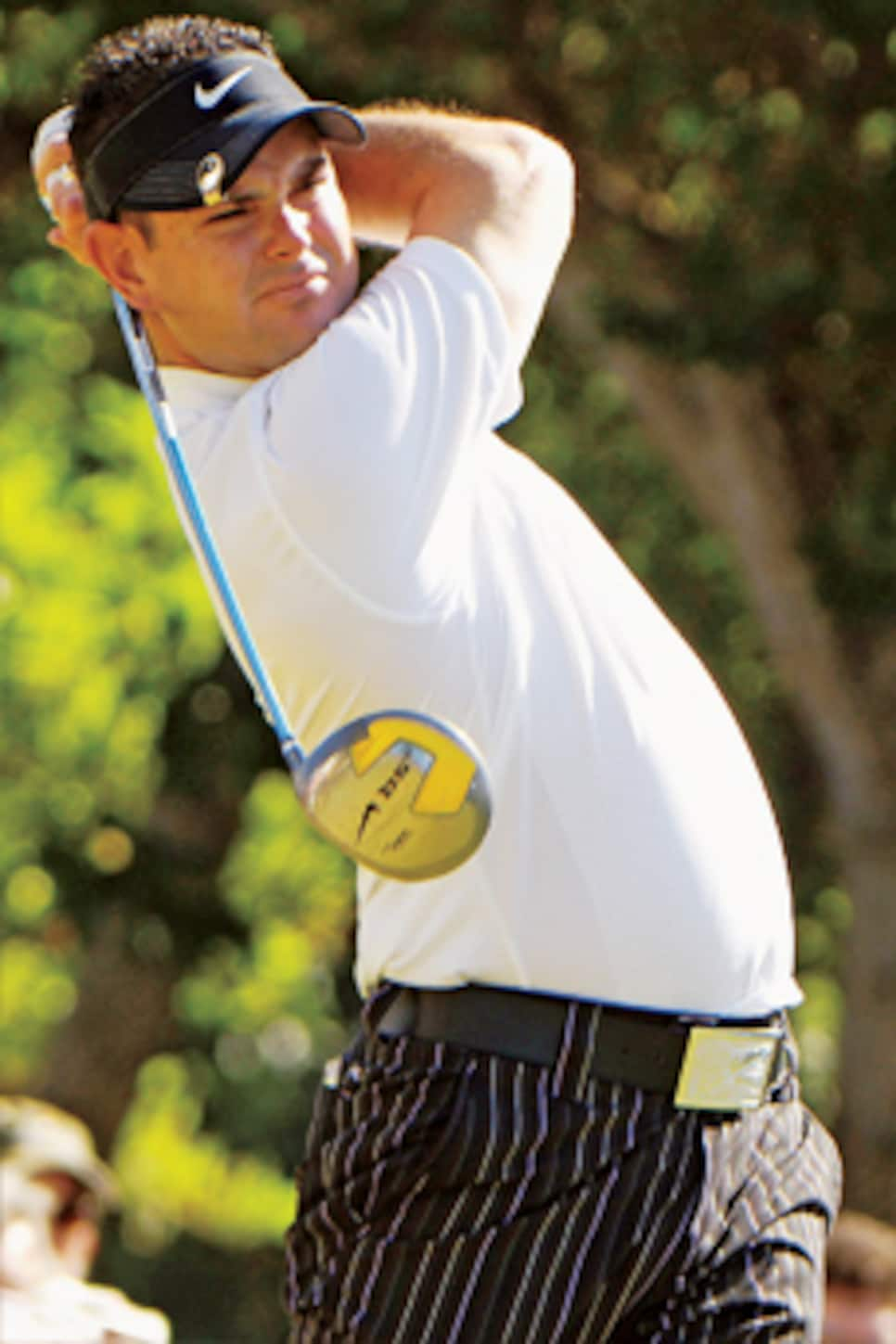 A man isn't being totally honest until he talks himself into at least one contradiction. An exceptional talent who earned his tour card straight out of college in 1998 and hasn't lost it since, Sabbatini admits to being unimpressed with a pro career that features just two victories and an average finish of 59th on the money list. He has qualified for one Tour Championship in seven full seasons. In 17 starts at the majors, he has missed 10 cuts, never finished better than a tie for 53rd and averaged a whopping 76.3 strokes per round on the weekends. At tournaments where patience is a player's best friend, Sabbatini has been his own worst enemy.
So the player he is today is an underachiever, his vast physical skills compromised by a common array of mental flaws. Sabbatini misses too many fairways for a guy who likes to hunt pins from any angle. He ranked 190th in left-rough frequency and 167th in right-rough frequency last year--numbers reflective of a lot of risky lines off the tee and too much emphasis on shaping the ball with the driver.
In this league, you can't miss on both sides. "He has a swashbuckler's mentality," says Dean Reinmuth, Sabbatini's former swing coach. "He plays with a lot of aggression and emotion, and while some guys have a distinct air of confidence about them, they deliver it with more subtlety. [Jack] Nicklaus certainly had a lot of confidence, but he [projected] it in a different manner. When Rory's emotions are up, he's very good. When he's down, he's not as sharp."
At a very specific point last June 12, the Gods of Self Realization grabbed Sabbatini by the collar and taught him a valuable lesson. It happened during the final round of the Booz Allen Classic at Congressional CC, where a significant portion of ABC's telecast focused on Sabbatini blowing his stack over the slow play of fellow competitor Ben Crane. His body language and anger fully exposed, Sabbatini became the defendant in golf's court of public perception after a repentant Crane took the high road in a post-round interview.
It made for ultra-compelling TV. Who was the hero, who was the heel? Eight months later, it's easy to see why the Sabbatini-Crane episode retains its staying power around the water cooler--the conflict had such intriguing dynamics. By playing out of turn, then leaving the 17th green while Crane was putting out, then jawing at the guy all the way to the scoring trailer, the irascible South African took a noble stand on one of golf's biggest problems. And by coming so unglued, by sinking to deplorable levels of sportsmanship and calling out a nice guy who takes two forevers to hit a shot, Sabbatini left himself prone to the harsh reverberations of cause and effect.
He fought the good fight way too hard, but in doing so, Sabbatini finally declared a truce in the war with his inner self. "The old saying is, two wrongs don't make a right," he says. "I did something no one else had done, basically using my hotheadedness to make a statement, which is not the way to handle it. Congressional was a good experience for me because it made me realize it's time for me to act more appropriately, time for me to slow down and focus on the things I can control."
It's one thing to talk about changing your ways, another to actually do it, and Sabbatini has. He began by calling Crane within an hour after the incident to apologize, a conversation that wasn't carried by any network. With assistance from caddie Kevin Fasbender, a teaching pro in Tucson, Sabbatini, always one of the tour's quickest players, has revised his methodology between shots. For the first time in his career, he's carrying his own yardage book. Sabbatini and Fasbender use idle intervals to discuss strategic options, something Full Throttle Rory rarely did a year ago.
The results of the overhaul are quite apparent. A T-20 last week in Phoenix was Sabbatini's fourth consecutive top-20 in 2006. Not since 2002 has he started a season so well, although it's worth noting that his '02 quickly disintegrated after the fast start. Consistency is the only way to validate real progress, and until Sabbatini becomes at least half the player he thinks he should be, his career will most easily be defined by the day he was unprofessional at Congressional.
By any rational appraisal, the slow-play issue has festered on the tour since fields were expanded to 128 players or more--even government-active veterans such as Jeff Sluman and Olin Browne can't envision days of four-hour rounds and one big, happy family. "It's a situation that doesn't have a resolution unless you hammer people about it," Browne says. "We can talk about it all we want, but the tour doesn't want the outcome of a tournament affected by a [stroke-related penalty for] slow play."
Thus, there are no strokes added to a player's score regardless of his pace, no matter how often he is deemed out of position. The current deterrent is based on fines, an escalating scale that reaches $20,000 after 10 bad times, but the application of the system is what so many tour pros find unjust and ineffective. When a group falls behind, the entire pairing or threesome goes on the clock, leading to tension like the foul air that surrounded Sabbatini and Crane--speedy players are implicated to the same degree as those at fault.
This aspect of the policy played a role in what happened at Congressional. Sabbatini and Crane played together that Thursday and Friday; Sabbatini was in the group immediately behind Crane on Saturday. When the pairing fell off the pace early on the back nine Sunday--sources say both men were on the clock a number of times during the week--Sabbatini became irate.
That Crane was still in a position to win the tournament coming down the stretch only complicated matters. He wasn't going to speed up for the sake of appeasing Sabbatini or avoiding a fine. In other words, the system failed on all accounts. "What are you supposed to do?" Sluman wonders. "They tell you to file a complaint with the tour, or you discuss it in the locker room afterward, but honestly, I don't think there is a solution."
There is, however, a worst-case scenario. "A fistfight," Browne says, perhaps aware that if Sabbatini had been closer to the lead that afternoon--or if Crane had taken greater offense to his fellow competitor's behavior--anything could have happened. In response to the problem, the tour has altered its slow-play policy so that individuals, not the group, are held accountable for their own pace. As for Sabbatini, he won't provide specifics on the sequence that culminated in his public spat with Crane. "Unfortunately, TV provided a very one-sided view," he says, "and the people sitting around the 17th and 18th greens didn't see the collection of events that led up to that point. As much as I'd love to set the record straight, there's nothing I can do about it. It's time to move on."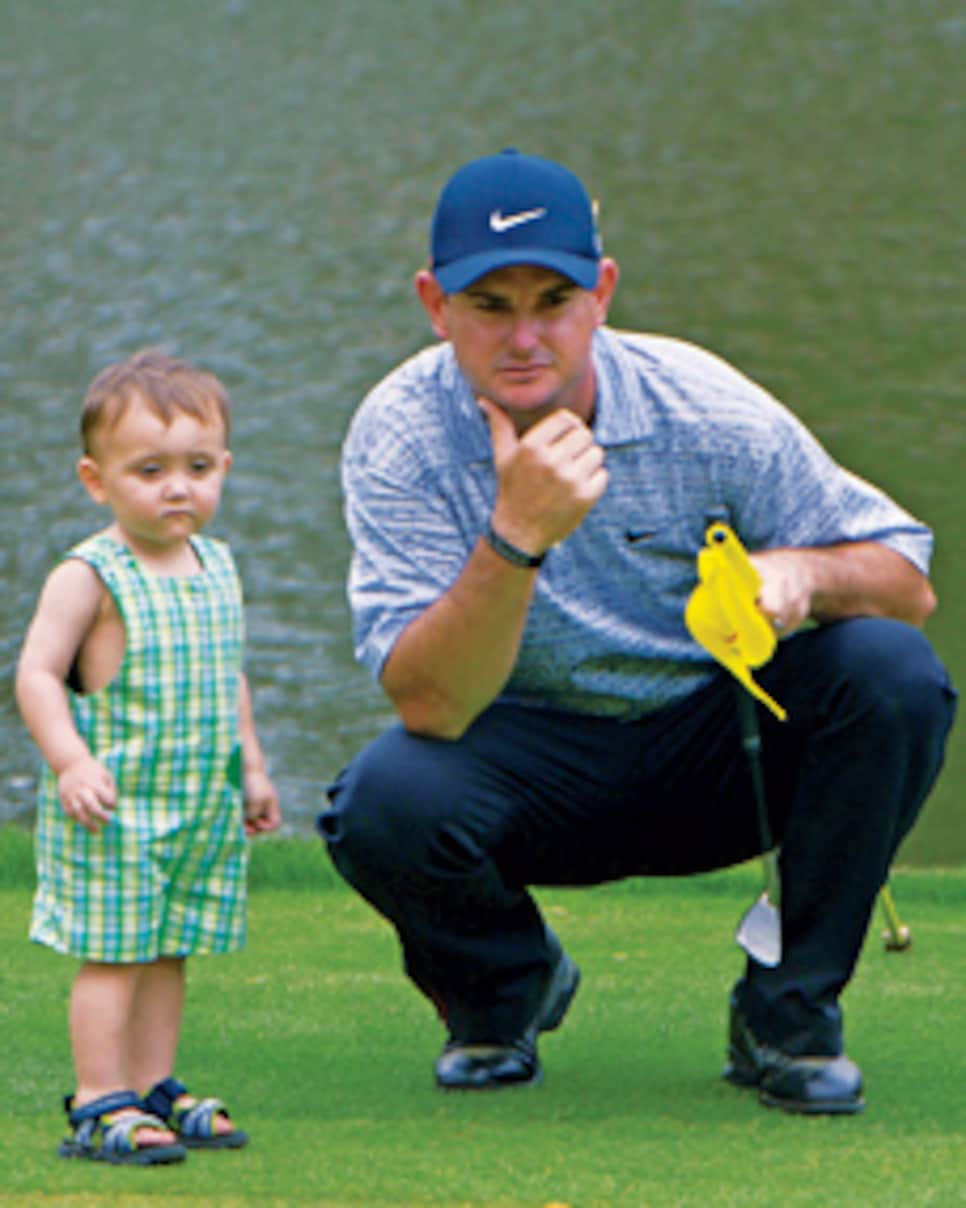 LaRose has seen and heard it all when it comes to his former player. As the downside of Sabbatini's disposition became available for public consumption, the Arizona coach says, "If I was Rory's agent, I'd have held a press conference the next day and told my side of it." Instead, Sabbatini, quick apology and all, let the incident bother him. "It played on my mind for a while," he admits. "I've definitely had more positive feedback on it than negative, but it's like everything else in life--you tend to notice the negative more."
Perhaps the strongest criticism came from ABC analyst Paul Azinger, a fellow player who was in the booth that day. Azinger, incensed with Sabbatini's egregious breach of etiquette, implied during the telecast that Crane might do well to settle the issue in a physical manner. "I've been out here for 24 years, and we've all suffered through [slow play]," Azinger says. "You take it, you deal with it and you don't leave the guy behind."
Shortly after the incident, Azinger tracked down Sabbatini's phone number. "I called the dude up and said, 'I roasted you,' and I also told him he could spin it in his favor," Azinger recalls. When the two men ran into each other a month later at the British Open, Sabbatini gave him the cold shoulder. The same thing happened last month in Hawaii, even after Azinger, knowing ABC won't televise golf after 2006, cracked, "Great news, dude! I'm getting out of broadcasting!"
During a practice round last week in Phoenix, Sabbatini came upon Azinger and two others on the 10th tee. Azinger urged Sabbatini to join them on the back nine. "He didn't talk to me for the first three holes," Azinger says. "We got to the 13th, and finally, he gave in. After that, the guy wouldn't shut up."