News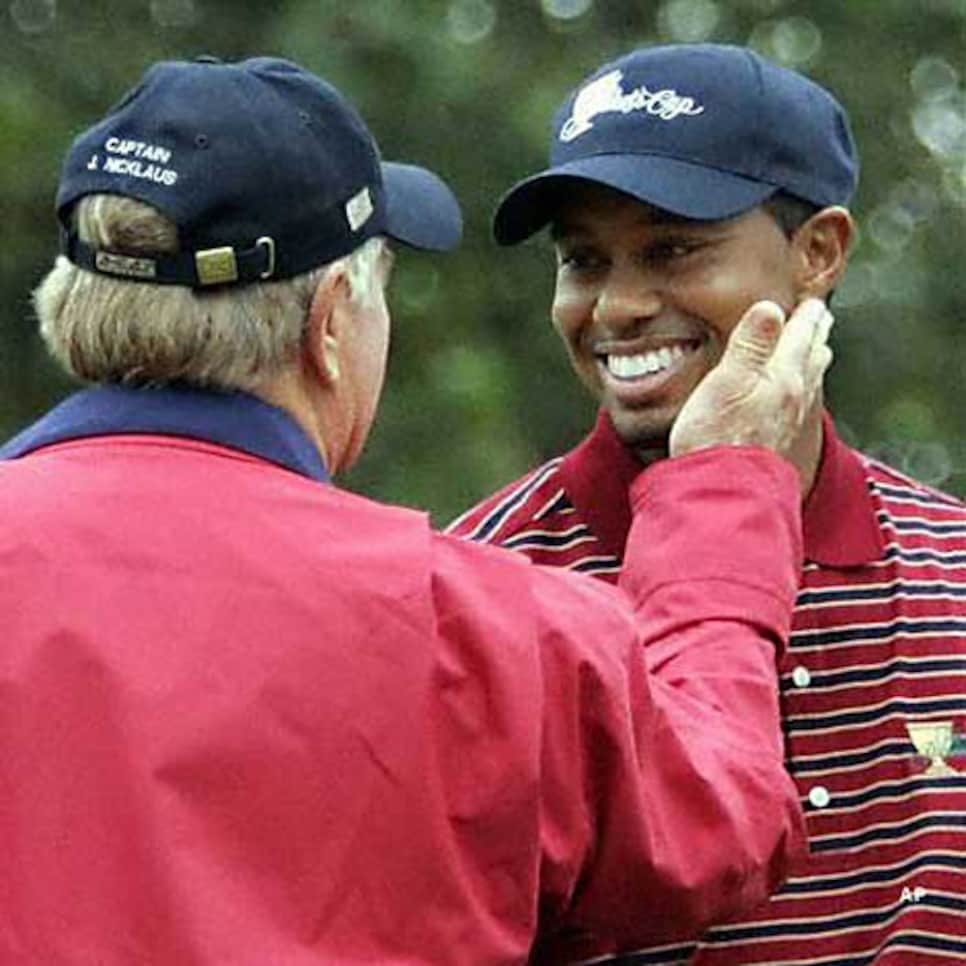 The right touch. AP Photo
After four days of crisscrossing the rolling, wooded hills of Robert Trent Jones GC in a frenetic effort to follow 34 matches, Jack Nicklaus had a decided hitch in his giddyap. But when Chris DiMarco's decisive 13-footer dropped, adrenalin temporarily numbed his plantar fasciiatis and Nicklaus exploded out of a greenside crouch like the 13-year-old Columbus, Ohio, schoolboy who used to run the 100 in 11 flat.
When he reached DiMarco in full trot, the payoff was roughly the same as it was when Rocky embraced Adrian. "All for you, we did it all for you," DiMarco told his captain. The rest of the U.S. team soon engulfed the pair, and when Nicklaus emerged from the pack, his eyes were glistening.
"It was a bunch of 35- and 40-year-old guys hugging each other with a 65-year-old guy in the middle," he said. "And the 65-year-old guy really enjoyed it."
This sixth Presidents Cup was a confluence of a lot of things -- high-level performance, intense competition, gracious sportsmanship, genuine camaraderie -- and the man in the middle was indeed a very happy Nicklaus. All week long he openly relished communing with his team. And when he finally got his first victory in his third term as captain, the high it gave him cleared the Nicklaus bar for climactic moments.
"As far as being something special," he said, "I may never captain another team, I may never play another round of golf, but if I end my career this way, it's a pretty darn good way to end it."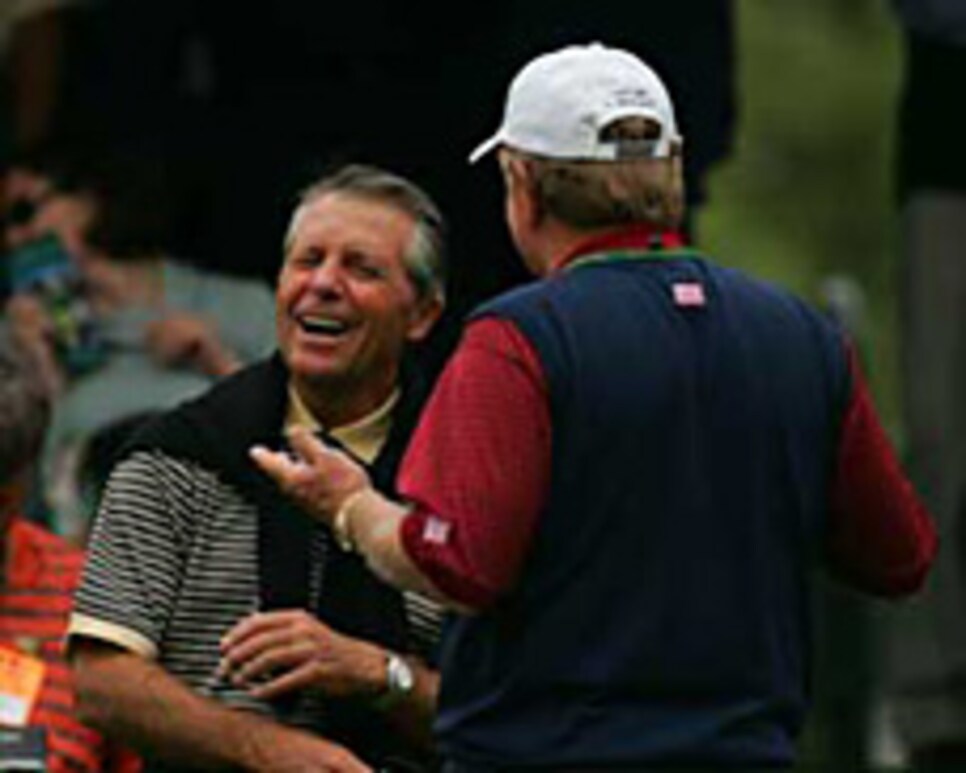 For the second straight Presidents Cup, it was the iconic presence of Nicklaus and International captain Gary Player that provided the competitive juice critics often have predicted would always be missing from the 11-year-old event. "To be on the team with the greatest player in the world as your captain is the greatest honor in the world," is how DiMarco neatly summed it up. Adding to the incentive for the U.S. team was the nagging feeling of a debt owed to Nicklaus for turning in an abysmal and even apathetic performance while being routed on his watch in Australia in 1998.
But as happy as he was to get the W, Nicklaus was even more proud of combining with Player to set an old-school tone for the matches that was a decided departure from recent Ryder Cups. "I think it became a war for awhile," said Nicklaus. "And this is a game, not a war. I never thought the winning number on the scoreboard was the most important thing. I put up a lot of winning numbers. But what we had with the team and with the other players, that's more important."
Clearly moved by their captain's unimpeachable moral authority, the players were their best selves. The first clear signal occurred Monday when Tiger Woods and Phil Mickelson arrived in the team room and immediately took up paddles in a table-tennis throwdown. Woods won two of three games, but the mood of the match was jocular and spirited, in high contrast to the awkward vibe during their pairing at last year's Ryder Cup. The two continued to interact easily during the week, and at the closing press conference, sat next to each other. When the voluble Mickelson piped up to take a generically aimed question and went on to abashedly declare himself "an idiot" for not having known that none of the singles matches could end in a tie while the outcome was still in doubt, Woods almost in wonder cracked up at the contrast in style between the two.
"All the rumors and innuendoes and accusations that we don't team up well and guys don't like each other -- that's just wrong," said Scott Verplank. "We were 14 of the best friends in the world this week. I think that's what Jack was most proud of. We came together as a team for him."
But the players also were keenly aware, without anyone having to say anything, of all that Nicklaus has been through this year, from the tragic death by accidental drowning of his 17-month-old grandson, Jake, in March, to his moving farewell from competition at St. Andrews in July. "There was a lot going on emotionally, and we wanted a lot out of this for Jack," said Davis Love III, who has played on all three of Nicklaus' Presidents Cup teams.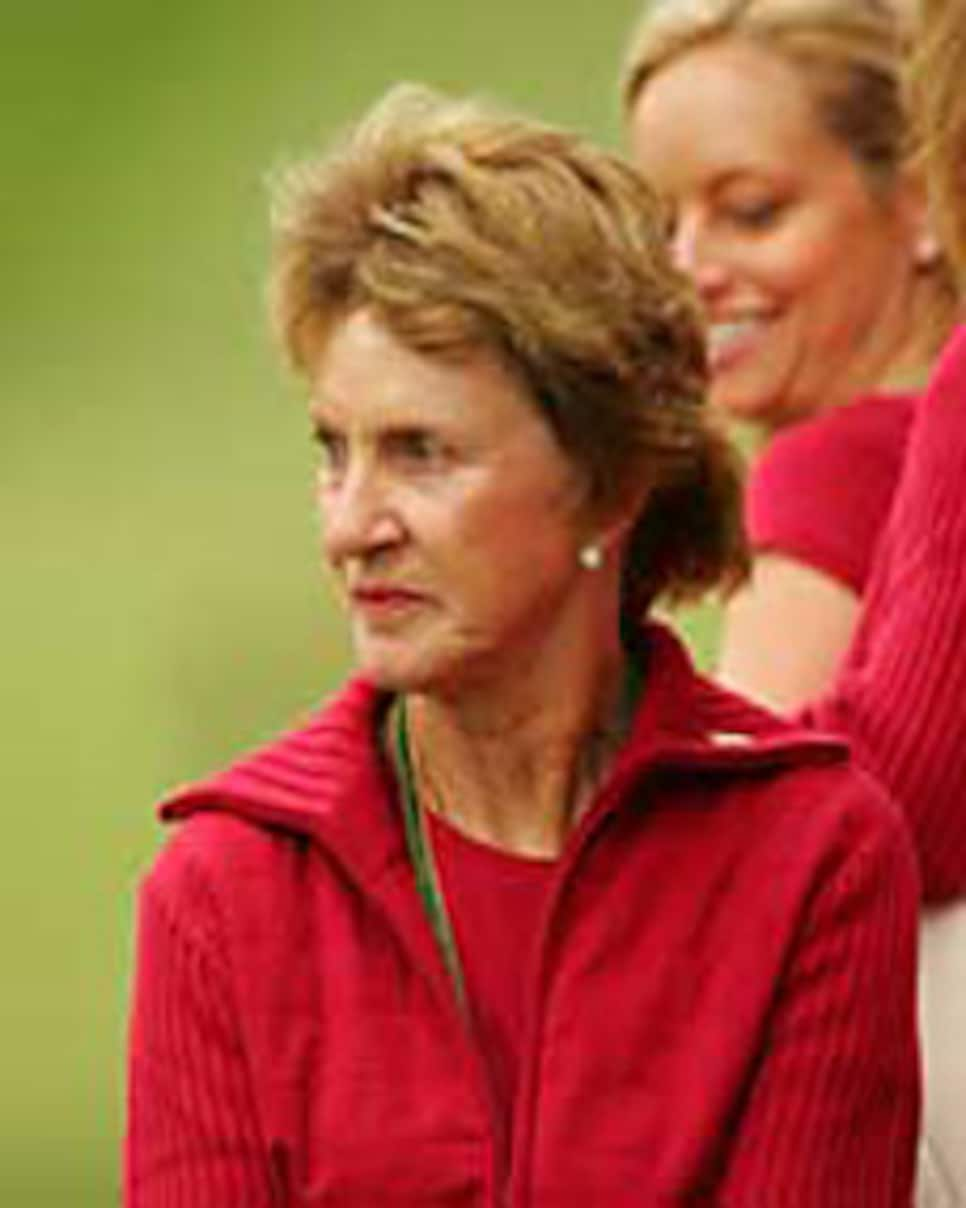 They gave with their hearts at a team dinner on Wednesday, when the players and their wives and girlfriends presented Nicklaus and his wife, Barbara, with a framed painting of Jake. Mickelson volunteered to represent the team, and by all accounts struck a profound chord.
"We came to this week with a sentimental and heartfelt attitude, and the team really touched our hearts," said Barbara. "It came at the right time in our lives."
"It might sound strange to talk about a man's speech being sweet, but Phil's was," said her husband. "I looked around the room, and every one of the players and their wives were crying. And you know, I cried like a baby."
It may also sound strange to describe Nicklaus as sweet, but that is what he has much more outwardly become. Looking back at his stints as Ryder Cup captain in 1983 and 1987, he admits he probably was a tough man to play for. Nicklaus' steely and judgmental approach probably was a factor in the U.S. team's inability to win the 18th hole in their loss to Europe at Nicklaus' home course, Muirfield Village. In contrast, last week Nicklaus was both loose and supportive, routinely deferring to the players' wishes when it came to pairings. At one point he proudly noted, "After dinner Monday they said they had laughed more that night than they did the whole week of the Ryder Cup."
"The guy was so good to me this week," said Kenny Perry. "I wasn't playing well, and he did everything in his power to try to make me relax. He's a special man in many respects." Added Justin Leonard: "He's one of us. He makes you feel like he's your neighbor or your friend."
Nicklaus also furthered his almost telepathic bond with Woods, who has been regarded by some of his past captains as enigmatic in team play. After Woods made a tough four-footer for birdie Saturday to get a come-from-behind halve for himself and Jim Furyk against Vijay Singh and Stuart Appleby, Nicklaus shook Tiger's hand in congratulations and then lightly patted his cheek in an almost fatherly way. And when Woods stepped out of the team bus upon arriving for the Sunday singles, a waiting Nicklaus approached him, placed two extended arms on Tiger's shoulders and quietly offered some advice. "Tiger has a tendency to get fast in the change of direction, and I tried to offer something that might help him with the cause and the correction," said Nicklaus. "I said take it if you want, throw it away if you don't." After blasting a perfect opening drive over the bunkers and into the middle of the fairway in his match against Retief Goosen, Woods looked over at Nicklaus and winked.
"I think people should understand that Tiger is a natural introvert, but I'll tell you one thing, he gets pumped up to play," said Nicklaus. "He enjoys it, he plays hard, he's a good team member, and I promise you, he's a lot better team member than I was when I played the Ryder Cup. The guy has been absolutely terrific."
Even after Wednesday night, another level of emotion was reached at the Saturday team dinner, when players and their wives were given the opportunity to express what the week had meant to them. It turned out the guy who dug deepest was captain's pick Fred Couples.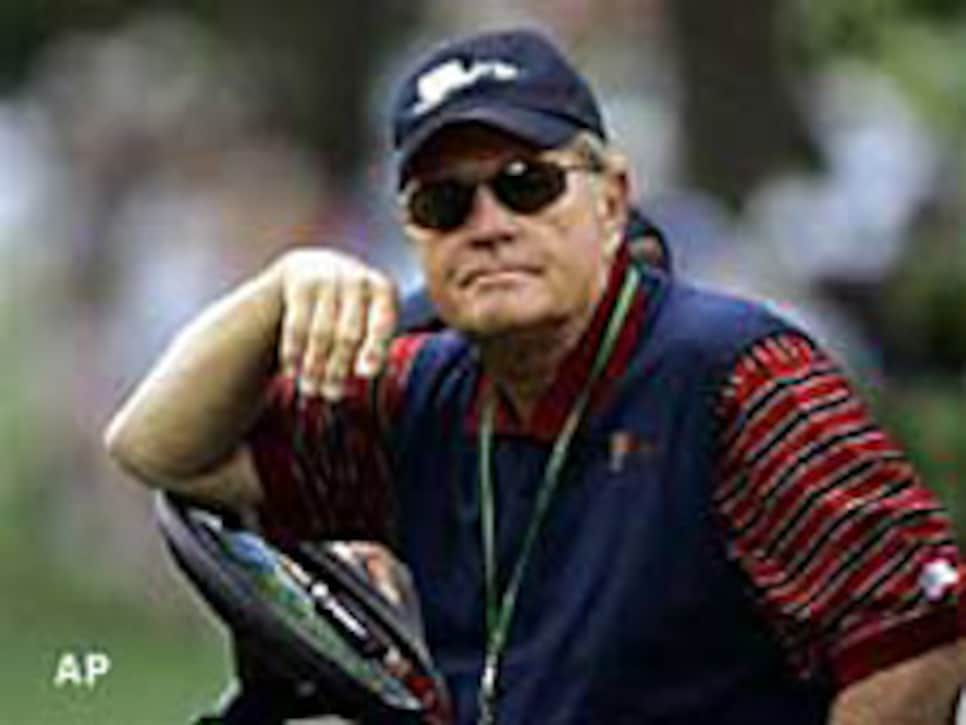 "Everyone had a Jack story, how everybody was in awe and afraid to be around him or play with him, and how he's meant so much to all of us," said Couples. "I was near the end, and I'm just thinking, 'Oh my God, this has been an overwhelming week.' So it was my chance to tell how much it had all meant and I figured why hold back? I get emotional when I get around stuff that I really, really like."
Couples' words brought a reaction from Nicklaus that clearly established his inner Woody Hayes had ceded authority to Leo Buscaglia. "At one point Freddy couldn't get it all out, so I went down and gave him a big old hug," Nicklaus said. "It's kind of funny when you talk about top athletes sitting there getting sentimental and crying. Because without this type of event, it would be a bunch of cold, hard guys, none of them ever showing what's inside. I mean, I was certainly like that, and that's the way the other players looked at me, which is why they all told how I used to scare them to death. Then they got to know me through this event and how I've become more of a marshmallow. And that's why it has been such a blast. It's a really, really nice event if it's done properly."
It was -- thanks above all to Nicklaus, who, by the way, would love to do it again.