News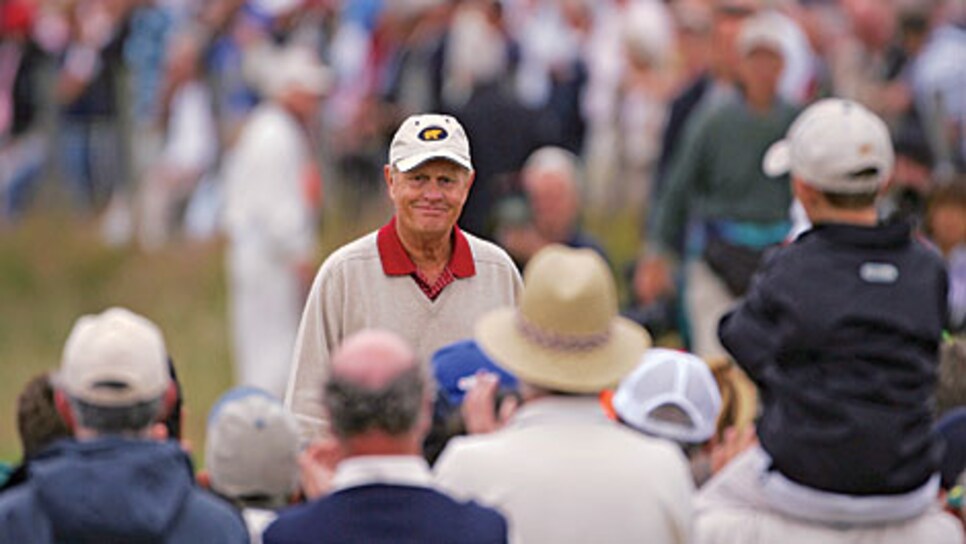 Spectators were bullish for the Bear, who appreciated their warmth and cheers.
There was a party up the road, and Jack Nicklaus was running late, so he groped for answers. "Whatever Barbara wants to do," he said, smiling. "If she wants to go, we'll go. She's in charge. I can listen to my wife now because I'm done with golf."
Long after he had waved his final wave last Friday night, the Golden Bear stuffed shoes into a bag, checked his locker for personal belongings, and tipped the attendants. "Time to get on with life," he went on. "It's been a blast, but time to get on with life." Beneath the RA Clubhouse, Nicklaus had found solitude after hours of being utterly surrounded. Except for the "Loop," the front and back nines on the Old Course are roughly parallel, and as Nicklaus completed the inward half of his 38th British Open, it felt as though the layout might tilt away from the sea under the weight of humanity. "Unbelievable," he said. "How could a guy ask for anything more?" Well, making the cut would have been better, and Jack being Jack, he listed the ways his 72 could have been a 69. "But when I play well for me, my best round of the year, and it's still not good enough … I'm a competitor, not a monument."
By the 17th hole Nicklaus knew the math, and so did the masses, on rooftops, peering from windows at Rusacks Hotel or applauding from balconies, as did Ernie and Liezl Els. When the Golden Bear followed his last tee ball and reached the Swilcan Bridge, he stopped for the cameras. Then he brought up his caddie and son, Steve. Then Tom Watson and Luke Donald. Then their caddies, too. "You know, I played four straight [rounds] here with Tom," Nicklaus said. "He was really choked up and emotional all week. When we went over the bridge in our first practice round, I said, 'Tom, it's only Tuesday.' Just a couple of sentimental old fools, we are."
Watson, an icon who shall someday bask in a similar sendoff, was deferential throughout, as was Donald, the bright young Brit. At the end they were joined by numerous other players—someone tabulated 38—who gathered behind the 18th green to observe Nicklaus birdie the last. "You've just seen the greatest golfer ever," said Watson.
Nicklaus arrived Friday wearing a commemorative sweater, a dark blue argyle similiar to the one he wore in the final round of the 1978 British Open at St. Andrews, one of his most cherished victories. But he shed that early because, on this afternoon to remember, the sun wanted to watch, too. Watson hugged Nicklaus goodbye, and Barbara hugged him hello and then Jack got a standing ovation from a tough crowd, in the press room. "You know, not playing golf on Sundays anymore," he mentioned, "all the family comes over for dinner. Kids, grandkids. I love this game, but the family is more important than trophies."
Nicklaus went bareheaded Friday, a day after he had given his hat away. George Liddell, 68, is gravely ill, but he begged the nurses at his St. Andrews hospice for just enough morphine so he could go out to the Old Course and catch some of the Golden Bear's first round. Liddell was in the wheelchair area behind the 18th green when Nicklaus stopped there after his 75. After a few minutes, Jack dashed off to a TV interview. Suddenly, he summoned Scott Tolley, his publicist. "Jack had forgotten to ask whether the gentleman wanted the hat signed," Tolley recounted. But of course. It was one of countless autographs Nicklaus provided before signing off. And don't you forget: He birdied the 18th. "I knew that hole would move wherever I hit it," quipped Nicklaus, who soon heard from Barbara. She would meet him at the party, and they would get on with life.