News

No. 16 (left) shares a green with No. 2, part of a layout that demands strategy
As the longstanding, undisputed, don't-you-ever-forget-it's-the home of golf, the Old Course at St. Andrews has taken some dings over the years. A young Bobby Jones couldn't stand the place, nor could Sam Snead, a country boy who knew a good pasture when he saw one. Americans making the pilgrimage to St. Andrews might find the town links a bit like Scotland itself--somewhere between an acquired taste and an amusement park without rides.
Flat and scruffy, with an annoying emphasis on blind shots and a single, barely consequential water hazard (a burn fronting the first green), the Old Course is the visual and architectural antithesis of Augusta National, the Sistine Chapel of U.S. parkland golf. "I've walked onto tee boxes before my caddie gets there, turned 320 degrees and had no clue [which direction the hole goes]," Jim Furyk says of the egghunt commonly known as a British Open at St. Andrews. "My caddie gets there and says, 'Hit it over that bush,' and I say 'OK.'"
Since Scott Hoch referred to the quirky gray mare as the "worst piece of mess I've ever seen" in the mid-1990s, suggesting the Old Course would be put to better use as a proving grounds for livestock, American tour pros have conspicuously abstained from even lighthearted denigration. Why? Because many truly believe St. Andrews is still the most versatile and unspoiled arena in major-championship golf--a 600-year-old venue that has barely flinched through the entire chronology of equipment technology.
If Hoch's rip job was sacrilege, it remains a gross misrepresentation of the consensus of his fellow Yanks. "My favorite course of all time," says Fred Couples, whom one might not figure would be a fan of any place with 30-mile-per-hour breezes and five television channels. "Easily my favorite in the British Open rotation," adds Peter Jacobsen, whose fondness for St. Andrews has grown as he devotes more of his time to course design.
"Maybe the most strategic course in the world," says Brad Faxon, who remained in contention deep into the final round of the 1995 British Open. Indeed, what gets lost in its anachronistic charm and historical value is the widespread belief, certainly among U.S. players, that the Old Course takes risk-reward golf to the highest level. Aggressive lines off the tee come with a potential birdie-bogey swing on almost every hole. Add a hearty crosswind, which is common, and daring shots with even the slightest amount of sidespin are prone to any of the 112 bunkers, most of which serve as baby water hazards--they just don't have any H2O in them.
"A ballflight with curve does you no good," says Fred Funk, whose seven PGA Tour driving-accuracy titles make him the definitive source on such matters. "[That's why] I like St. Andrews a lot better than, say, Royal St. George's, which is a 400-acre pinball machine. There's a much higher skill factor at St. Andrews. Not only do you have to pick the right line, you've got to hit it where you're aiming, and you've got to hit it very straight."
In no clearer terms could the eccentricities of links golf be defined. At the 2003 British, Royal St. George's sent too many quality shots tumbling into lousy places, courtesy of the tilted, ultra-humpy fairways that had been parched by a dry English summer. It's one thing when a guy shoots 82 and whines about the layout, another thing entirely when three-quarters of the field bemoans 25 yards of horizontal runoff.
On the Old Course shots tend to hit the ground and roll in a direction similar to--or at least reflective of--their aerial disposition. There's still plenty of luck involved, but in terms of the links experience, what you hit is what you get. Asked why he adores St. Andrews, Tiger Woods mentions not his eight-stroke victory in 2000 or the fact he played the tournament without parking his ball in a single bunker, but the premise that so much chameleonic terrain could produce such equitable results.
"Because it's fair," Woods says. "Because it changes and evolves every day without losing any of its fairness."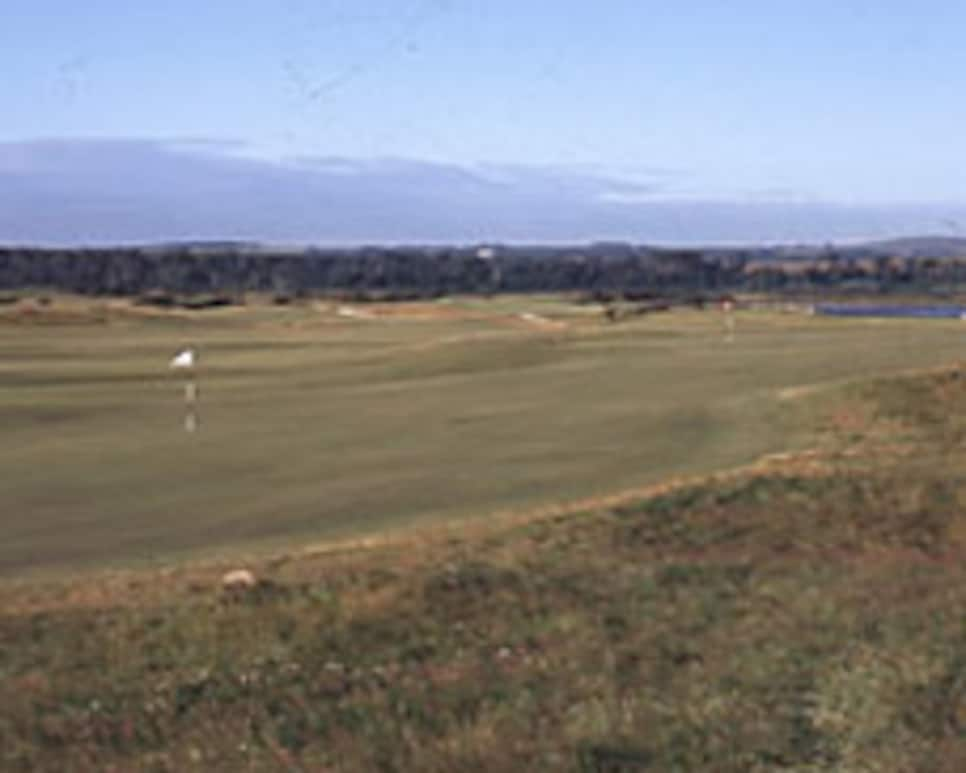 The dummy's guide to playing the Old Course has always been a one-sentence user's manual: Bash it left as far as you can and make your five-footers for par. Great advice for the 12-handicapper, if not the stuff that wins you a claret jug. "You drive it down the right side if you're feeling good about it, and if not, you play to the center," says David Duval, who made a charge on Woods in the final round in 2000, then collapsed with a 43 on the inward nine.
"Long and left is the easy route, but when you start seeing pins on the left sides of those greens, your angle of approach becomes very difficult," says Nick Price. "You've got to carry it over those [greenside] bunkers and there's nowhere to land it. It's almost impossible to get it close."
A large, vacant lot in the center of any town is likely to play kindly to power players, and St. Andrews is no exception. Woods, Seve Ballesteros (1984) and Jack Nicklaus (1970, '78) all were ultra-long in their day, but those guys would have won British Opens if they'd been played in the lobby of the Dunvegan Hotel. John Daly (1995) is the only big hitter without hall-of-fame credentials to win at St. Andrews in the modern era. Those 350-yard wallops helped, but Daly's remarkable touch on the greens would prove just as crucial--he had several putts in the 100-foot range during the week and left himself with a tap-in every time.
In a sense, the Old Course tests the same array of long- and short-game skills as Pinehurst No. 2, site of last month's U.S. Open. Players will find themselves with shots they rarely encounter, and most will attempt to control the ball on the ground, not in the air. It will be a test of adaptability and improvisational skills more likely to identify talent than a greens-in-regulation contest on a breathless summer day. That is the tactical beauty of links golf.
Which brings us to the wind. At St. Andrews, it is the course's only reliable defense, a force that can alter nicely struck tee shots to the point where they lead to eight-footers for bogey. "It changes direction five degrees and the course plays totally differently," Woods says. "It changes the way you think. It changes your lines, affects your club selection and brings bunkers into play that you'd never even think about in calm conditions."
Things were radically calm five years ago, when Woods shot a British Open-record 19-under 269. In '95 Daly's winning score was 13 strokes higher, the difference coming from a breeze that blew throughout the tournament and turned violent by Sunday. Play was almost halted in the final round because balls were oscillating on the greens; just two players broke 70 that day. The afternoon leaderboard featured a disparate array of Americans, not just the mile-long, mile-high exploits of Daly. Plodding wind-cheaters such as Mark Brooks, Corey Pavin, Bob Estes and Faxon hovered near the top until the last few holes.
When Arnold Palmer made the voyage to St. Andrews and finished second to Kel Nagle in the 1960 British Open, he directed much of the credit for his performance to native caddie Tip Anderson, Arnie's seeing-eye dog for the week. There isn't a golf course on earth that imparts more emphasis on preparation and local knowledge, a point proven again in '95, when veteran U.S. looper Greg Rita escorted Daly around the grounds as if he'd spent 10 years living in Hell Bunker.
Just about every veteran has a story. "British Amateur, 1976," Jacobsen says. "I've got a guy named Sydney B. Rutherford, who was the regular caddie for [former R&A secretary] Michael Bonallack. We're on the first hole and I'm stepping off my yardages, doing my thing, making notations, and Mr. Rutherford says to me, 'There will be no yardages to the old girl.' I still went about getting my numbers on every hole, and sure enough, I didn't use any of it. We get to the 13th. He hands me a driver and tells me to hit it at the church steeple, which I did. We get to the ball and Sydney hands me a wedge, says, 'Hit it left of the pin.'
"The next day, we get to the 13th and the wind is coming at us. Sydney gives me the driver and tells me to aim at the bushes on the left. I hit a good shot, but we've got a long way in. He hands me a 3-wood and I say, 'This is too much club.' Sydney looks at me and says, 'Don't leave any of it here.' "
Those who played in the old Alfred Dunhill Cup, a three-man, national-team event held at St. Andrews from 1985 to 2000, recall much spicier conditions on those October afternoons. "The course was meant to be played in that type of weather," says Sergio Garcia. "In 2000 [at the British Open], it was too easy, and the guy [Woods] was just too good."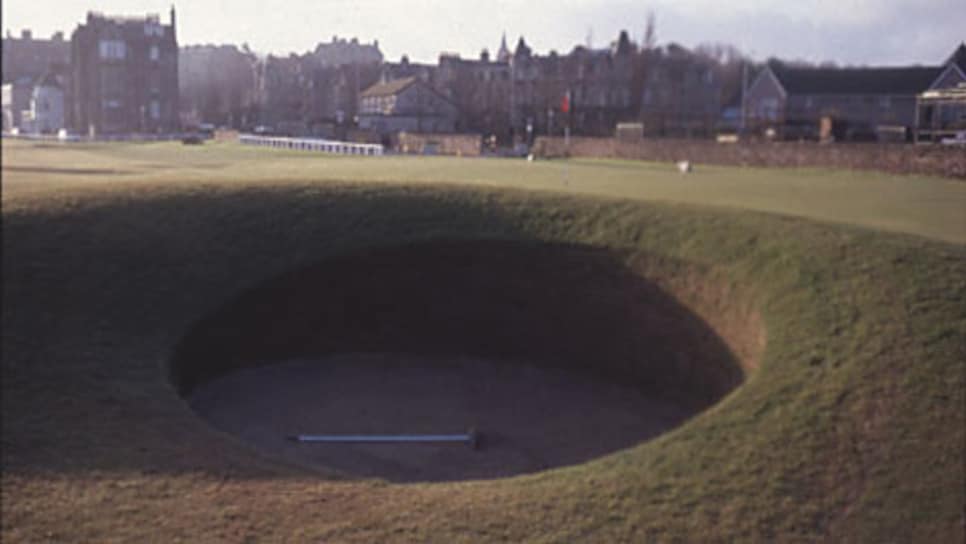 Both of Garcia's points are worthy of further inspection. Indeed, Tiger destroyed St. Andrews, but he had also demolished Pebble Beach (12 under) at the U.S. Open a month earlier--"the guy" won back-to-back majors by only 23 strokes. Take Woods out of the field at the '00 British, however, and you've got a pretty good tournament. The low round that week was 66, accomplished by seven players. Eighteen golfers would finish between seven and 11 under, not exactly roll-back-the-ball data on a course that was as friendly as it could possibly be.
With just two par 5s (and two par 3s) to feast on, the Old Course doesn't allow even the longest hitters to count on the luxury of several two-putt birdies. If you go low, it's because you're doing everything well.
"I'll tell you what--take a look at whoever's leading the tour in par-4 birdie percentage," Price says. "I guarantee you, he'll do well there." The answer might surprise you. David Toms (22.0) sits atop the category, followed by Phil Mickelson (21.1), Woods (20.6) and Justin Leonard (19.3). Tiger almost certainly will go off as the favorite to win, his strong showing at Pinehurst made possible by longer and straighter driving, and his last performance in a British Open at St. Andrews very difficult to ignore.
That said, Woods has gone years without demonstrating any extended consistency off the tee. He hits a lot of fairways one tournament, a lot of oak trees the next. At Augusta National or Torrey Pines, the world's best players can make birdies from the rough. On the Old Course, the angle of attack replaces the length of grass as it relates to scoring resistance. If Woods struggles to drive the ball where he's aiming, he'll only need to spend about 45 seconds in a couple of pot bunkers before accepting less troublesome routes off the tee.
At St. Andrews the penalty for imprecision is a lot more subtle and usually more severe. "If you're not hitting the ball on the proper line," Jacobsen reiterates, "you might as well be playing at night."
Upon his first visit, as a contestant in the 1921 British Open, Jones shot 152 for 36 holes, then fired a 46 on the front nine of the third round. He made a 6 on the short, par-4 10th and would soon pick up his ball, ending the disastrous experience, according to published reports, by tearing up his scorecard. Six years later, Jones returned to St. Andrews as the defending champion--he had won in '26 at Royal Lytham--and romped to a six-stroke triumph with a scoring record of 285.
More than a shrine to golf, the birthplace of the game or the scene of so much ire for curmudgeons like Snead and Hoch, the Old Course is a natural masterpiece, a work of strategic art. Think of it as a jigsaw puzzle with thousands of pieces that constantly change shape. "The more you study it, the more you love it," Jones would say, "and the more you love it, the more you study it."
Loosely translated, that means a lot of today's players have a lot of work ahead of them, which isn't a bad thing whatsoever. "I've probably played 10 rounds there, and I still don't feel like I know it very well," says Furyk, a master of attention to detail. "There's not another golf course in the world I can play 10 times and say that about."