News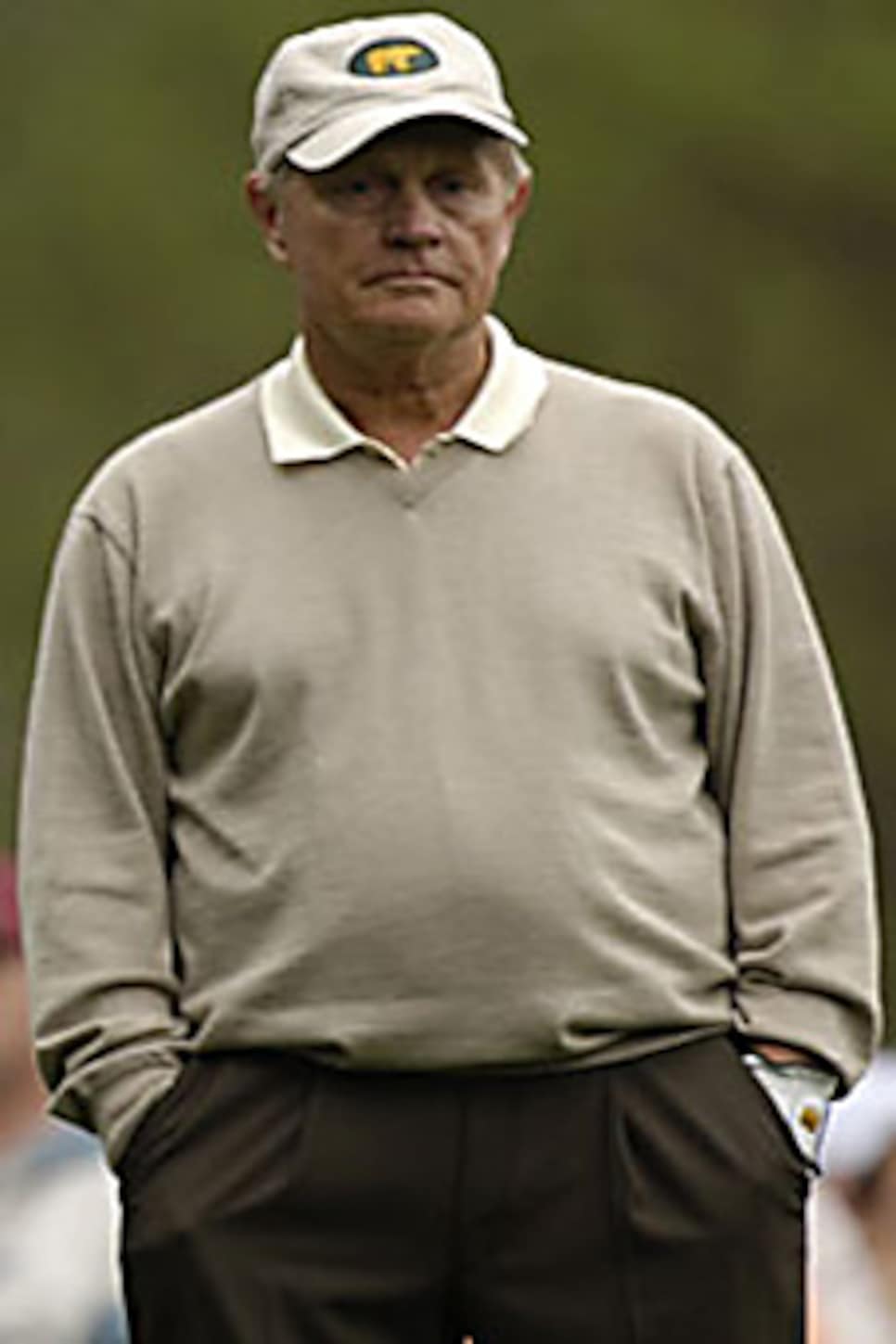 The difficulty of letting go was apparent for Nicklaus at the Masters
Rather than The Greatest Game of All, Jack Nicklaus wanted to call his 1969 autobiography The Education of a Golfer, except it already had been taken by Sam Snead. Similarly, his generically tagged 1997 personal history, My Story, might have benefited from the title of John McPhee's earlier portrait of Bill Bradley: A Sense of Where You Are.
For better than four decades, Nicklaus' most distinguishing attribute on the golf course has been an uncanny command of the moment. No one thought more clearly under pressure, responded so potently to competition or was as astute in managing his playing career. No one better knew where he was.
That persona seemed to rule Nicklaus' pronouncements this spring that 2005 would mark the end of his participation in serious tournament golf. Whereas in the past similar soundings had been met with collective eye-rolling, there was no doubt that this time Nicklaus was serious.
The most profound factor was the devastating blow Nicklaus suffered in March when his 17-month-old grandchild, Jake, accidentally drowned in a hot tub while under the supervision of a nanny. Immediately, Nicklaus' role as patriarch of a large and closely knit extended family became more important than ever.
Along with fate was the insistent march of time. Nicklaus turned 65 in January. His body--mostly his back and hip--betrayed him a long time ago. His last official victory came on the Champions Tour in 1996. He last made a cut in a major championship in 2000. His life away from competition is more active than ever, with worldwide course-design projects, far-flung fishing and hunting trips, as well as myriad business commitments. On the surface it's enough to produce a studied indifference in Nicklaus the golfer. "I have no game--you know that," he half-joked to reporters at this year's Memorial, then conveyed his ambivalence about playing in tournaments with a line that could have come from a country song: "I'm always looking forward to waiting for it to be over."
Accordingly, next week's British Open over the Old Course at St. Andrews provides the perfect opportunity to gracefully exit the stage. It's Nicklaus' favorite place in golf, the place where the game began, the place to end.
Except for one thing: Nicklaus still isn't truly ready. It's clear whenever he's pressed to explain his de facto competitive retirement in depth. The glibness stops, replaced by sentences that have been hairsplitting, contradictory, heartfelt and ultimately non-committal. Although the mulligan he took to reserve the right to play indefinitely in his Memorial Tournament was reasonable, at this particular moment, the man who has always known where he is seems lost. Consider the verbal gymnastics Nicklaus went through at the Masters.
"So this will be my last time," he said before the first round, "somewhere in my head believing that I might be able to shoot a reasonable round of golf. But you know, I may come back in five years, I may come back in 10 years and decide I want to go tee up and play, I can do that ... I'm not going to come back, I think you all know me well enough."
After his second-round 76 missed the cut, Nicklaus seemed resolute. His son Jackie, who caddied at Augusta, had been struck by his father's words to him ("It's been sweet.") just before he hit a 6-iron to five feet on the final hole. He knew they were the same words his late grandfather, Charlie Nicklaus, had said to Jack before being taken into his last surgery. Later, Nicklaus recounted what his thoughts had been coming up his final hole.
"That this was going to be the last time I was going to walk up the fairway," he said. "I just said, you know, obviously, I had made up my mind. This is just too tough for me. I just cannot do this. ... I'm an old man trying to figure out some way to get out of the way."
But the audible portent of his own words sent him backtracking. "I have the ability to come back," he said. "I mean, Billy Casper came back after [missing] how many years? I don't think I will do that. But I certainly have the right to do that ... I'm not positive ever of anything. Arnold changed his mind about how many times? I mean, didn't he? Yeah, I have the right to change my mind."
Gently asked to clarify the mixed signals, Nicklaus finally admitted his own confusion: "I wish I could answer your question because I can't answer it myself. I can't answer in my own mind what I want to do."
A few weeks later in England, British tabloids cut a still equivocating Nicklaus no slack and blared retirement headlines. At the Memorial, he assigned no significance to the stories, saying, "I've been retiring for years. You know that." Then he tried to explain again.
"Well, I've already hung on too long, we all do that," he said. "There are a lot of other guys that have done that, too, not only in golf but in other sports. I always feel like that is sort of the choice of the person. If you want to play golf and enjoy it and that's what you want to do and you've earned the right to do so, that's your choice. You know, I hope I think I'm a horse of a different color. That's just me. I can't go out and play for people, I've got to play for me."
There is no instruction manual for how an iconic athlete should walk away. The degree of difficulty is directly proportional to the subject's inherent motivational force to compete. And if Nicklaus' vacillation proves anything, it's that the force within was stupendous.
Up to now, it's been regularly underestimated. Nicklaus has always cultivated the impression that other things in life were far more important to him than golf. As early as his late-20s, he was insisting he would be out of the game by 40. Leave it to Snead and Palmer and Trevino, he seemed to be saying, to be obsessed and besotted with the game. He would play a limited schedule and catch all his five kids' football and volleyball games. The effect to his image was beautifully summed up by Chi Chi Rodriguez when he called Nicklaus, "a legend in his spare time."
It's never been so. Nicklaus played tournament golf with every fiber of his being. To be as good as he was, it took all he had. Nicklaus never liked for anyone to ever see him sweat, but he hinted at the supreme effort required when he said, in 2001, "I know what my record was. I know how hard it was to do."
Nicklaus' secret was different from the obsessive compulsive approach of Ben Hogan, who famously asserted that, "Every day you miss practicing, it will take you one day longer to be good." Nicklaus acknowledges that he could have been more narrowly focused and possibly played in spurts at an even higher level, but also believes he never would have won professional majors over the span of 24 years with such an approach and "I would have driven myself crazy." Instead, in the big picture, all the while he wasn't actually playing, he was preparing. "You can't keep yourself up there all the time, you're going to go through waves, I don't care who you are," he said this year. "One thing you want to do is to control those waves. That's why the way I prepared for major championships is I always built myself up for Augusta and let myself down, built myself up for the U.S. Open and let myself down, and built myself up for the British Open. I did that so that I was always trying to climb a mountain going into a major championship, so that I knew I was focused and working on what I was trying to do.
"I don't know how many other guys do that," he said, "but that's what I always did and how I kept myself playing and how I kept myself interested and how I kept kicking myself in the rear end."
Turns out Nicklaus loved competition as much or more than anyone: the preparation, the pressure, the achievement. "The most amazing feeling is being in the heat of battle," he wrote in his recent book, Golf & Life. "The fact is, I thrive on pressure. I love the stuff. The higher the mountain and the harder it is to climb, the better I respond. To me, competition and achievement are truly the spices of life."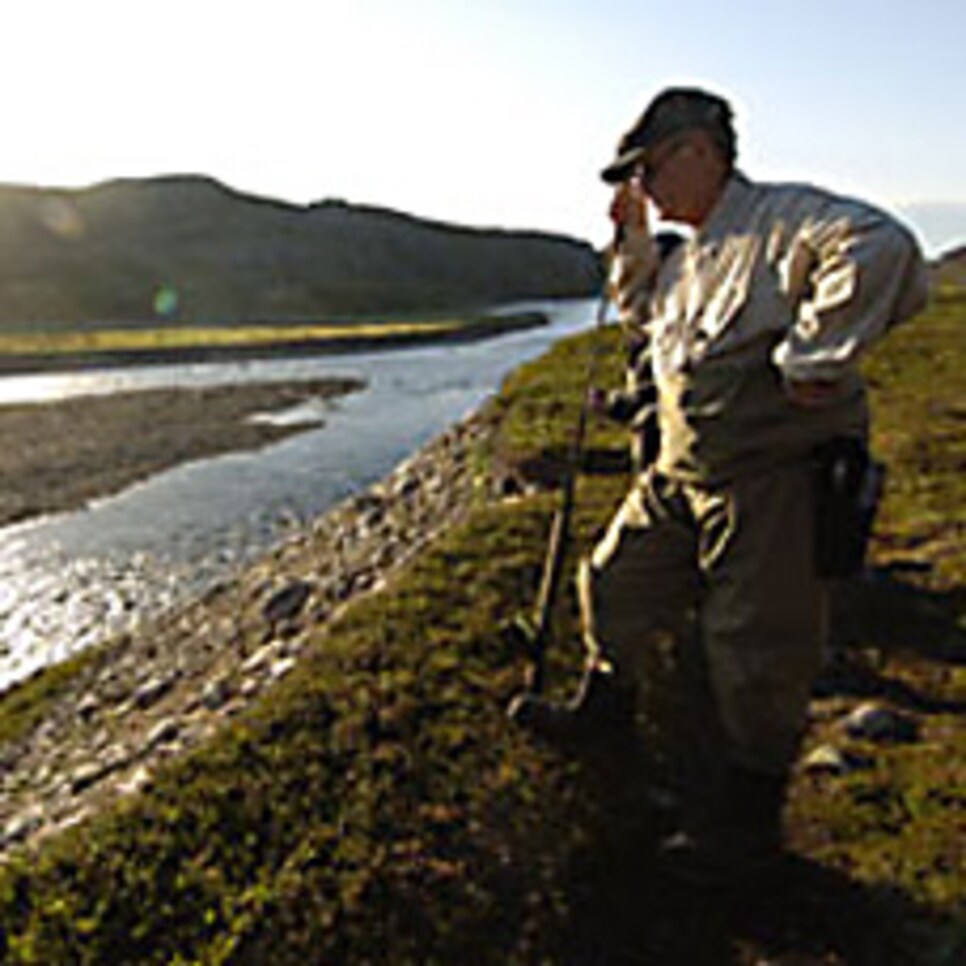 Even in the somber first public appearance after his grandson's death, Nicklaus reiterated that view. "I love tournament golf," he said. "Would I like to be out there playing? Absolutely. But I want to be out there with a game. ... And do I miss that? Absolutely. I loved it. I mean I'd get charged up every day to go do that. Would I love to do it again? Absolutely. But if you can't, you can't."
The problem still is, and may always be, that Nicklaus can't admit he can't. The self-belief that he could do it was an immense engine. To give up on the self-belief is antithetical to his being. At Augusta he referenced a recent 70 at the Bear's Club and said, "I still have some semblance of a golf game." With a swing speed of 108 miles per hour and the ability to consistently drive the ball in the 275-yard range, along with a reliable iron game and solid putter, Nicklaus still has plenty of game to compete on the Champions Tour and, under firm conditions, to be respectable in a major championship.
And because his troublesome back responded well to surgery in November, his body is actually feeling better than it has in years. Asked at the Memorial what he is hoping for at the British Open, Nicklaus said, "A realistic script would be to obviously win at St. Andrews." When this induced laughter, Nicklaus added stoically, "That is my idea. It's not an original idea. The golf course is not too long for me to play. If I can play golf, I can play St. Andrews. Realistically, I could do fairly well at St. Andrews. So that's what I'd like to do, do as well as I can do."
At the same time, Nicklaus is imprisoned by his own record. He once said his greatest motivation was not winning but avoiding embarrassment, and few names in sports history set the embarrassment bar as low. It's no coincidence that none of his sons who turned pro--Jack II, Gary and Michael--play much golf anymore. And so Nicklaus is pre-conditioned to err on the side of quitting while he still has skills. "I don't want to be shooting 85 when I'm saying goodbye," is how he puts it, and then in another lane change, contradicts his own standard of playing for himself. "If I'm shooting 85, I can't possibly be pleasing anybody else. Somebody has come in, and whatever it cost them to buy a ticket, to watch Jack Nicklaus play golf, I'd like to have them see Jack Nicklaus."
All understandable. But it's interesting that in its time of crisis, the family turned to tournament golf as a way to help the healing. "I have absolutely zero plans as it relates to the game of golf," he said in his first public statement after the death of his grandson. Yet it was the toddler's father, Steve Nicklaus, who urged his dad to compete at Augusta. When Nicklaus agreed, Steve knowingly added, "You want to play anyway."
As Nicklaus comes to terms with what may always be irreconcilable sentiments, he is more reflective. After a lifetime of looking forward, he is more at ease looking back--with not a little wonder--and taking it all in.
"You know, I don't know what I had," he said recently of his amazing arc. "I kept getting better but I never thought I was that good. Maybe that's why I got better. I always thought there were guys who could do things better than I could--hit the ball better, strategize better. Maybe they were better players than me, and maybe I just had to work harder or play harder to beat them. But maybe I had more heart than they did. Guts at the finish. I don't know. But I always seemed to be able to get the job done when I had to get it done."
At some level, he still relishes the challenge. "I'll never forget the tee shot I hit on the 15th hole at Baltusrol in the last round of the 1980 U.S. Open," he mused. "I had been working with Phil Rodgers and Jack Grout on making a swing that was a complete circle, with the club being released from the top as wide as I could all the way through. And that drive was just [Nicklaus shoots out his right arm on an ideal trajectory, his palms clapping, and holds it in front of him for a moment] Pa-koww! ... perfect. I remember that swing like it was yesterday. And that's the swing I've been trying to do."
When Nicklaus no longer has a need to recapture that swing, it will be sad. That time is inevitable, but it shouldn't be artificially imposed. Even after all his statements over the last few months, if Nickaus feels after St. Andrews that he still wants to compete in tournaments--no matter how long they make the Augusta National--golf should welcome his return. Above all, he should follow his own rule and play for himself, not for us (he's wrong about what we would think if he played badly, anyway.) And to keep doing it as long as he wants to.
When he finally gets used to where he is, it might turn out to be the last lesson in the education of a golfer.