News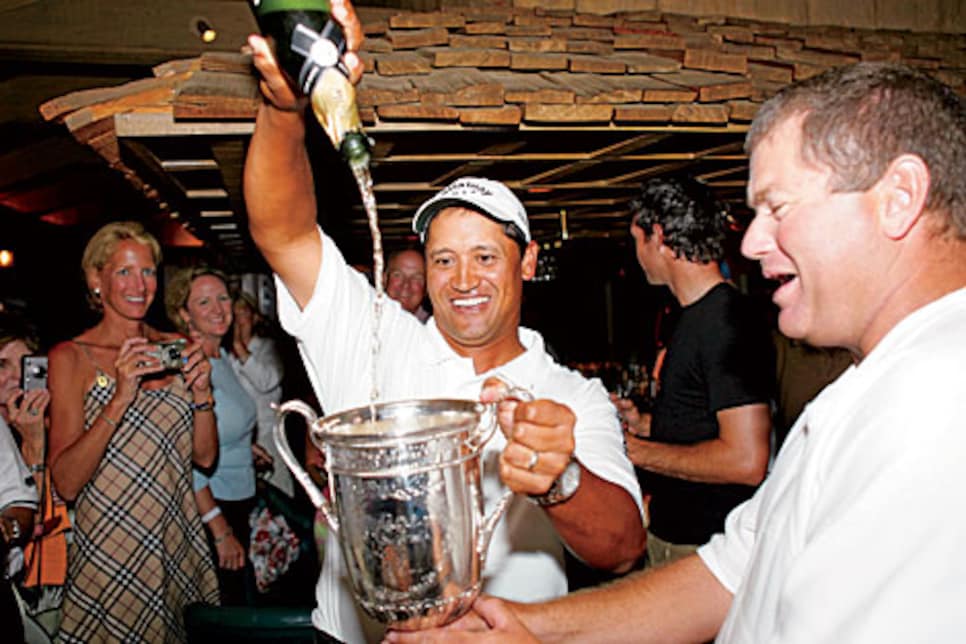 While Campbell partied in N.C., his dad led the celebration in New Zealand.
They were doing the Haka at Pine Needles on Sunday night, turning the rustic golf inn into a Maori victory party. With champagne flowing from the U.S. Open trophy, newly crowned champion Michael Campbell partied with his mates until the morning hours. Peggy Kirk Bell, the grand lady of Southern Pines and founder of the resort, took a swig to join the celebration. Ms. Bell doesn't drink, but this was obviously a special occasion. "I left about 2 and those Kiwis were still going strong," said Bell's son-in-law Kelly Miller, the president and general manager of the club.
The morning came and Campbell awoke to the realization that he was a major champion. Still in bed, the man known in golf as "Cambo" called swing coach Jonathan Yarwood in Florida. The night before, Yarwood jumped into his pool, clothes and all, when Campbell holed the final putt at Pinehurst No. 2. The instructor's cell phone was still in his pocket. They laughed about that as Campbell read the names from the trophy, nearly all 104.
"Who's that guy in 2005?" Yarwood said.
"The name is not there yet," answered Campbell, "but it's me."
Back home in New Zealand, they were still getting over the hangover. With the 16-hour time difference, Campbell's historic victory was completed Monday. A meeting of the Prime Minister's cabinet was delayed while the politicians—like just about everyone else in the country—watched until their countryman's final putt was in the hole. Bookies at the betting parlors in Auckland and Wellington were taking a bath on Campbell's triumph—the odds in New Zealand against him winning when the Open started were 100 to 1—but didn't care. Wagering on the championship was suspended after 16 holes, when Campbell's victory was considered a foregone conclusion. One guy who didn't get a bet down was Campbell's father, Thomas, who was in Brisbane, Australia, where betting shops had him listed at 150 to 1 early in the week. "I could have got him at 150," he told reporters without a trace of regret. "A couple of mates of mine got him at that."
In New Zealand, Campbell's victory was being compared with the country's proudest sporting achievements: Bob Charles' 1963 British Open title, the 1987 World Cup victory by New Zealand's All-Blacks rugby team, the 1995 America's Cup triumph and Hamish Carter's triathlon gold medal in the 2004 Summer Olympics.
"It certainly puts New Zealand on the map in the golfing world," said Charles, 69, from his home in Florida. When Campbell reached his locker Sunday night there was a bottle of champagne and a note attached from Charles. The phone had been ringing at Charles' home almost non-stop since Campbell's victory. "I feel as if [Bob] won the tournament," said Charles' wife, Verity.
The national pride stretched all the way to Fort Worth, where Phil Tataurangi returned home from Pinehurst after working the championship's broadcast on XM satellite radio. "New Zealand is a small country, but it's a proud country," said Tataurangi. "And right now it's abuzz."
Campbell and Tataurangi were teammates on the 1992 World Amateur Team Championship squad that came from six strokes back with nine holes to play to beat the United States in Vancouver. The achievement generated predictions of greatness for each player, which neither of them validated. In Tataurangi's case, injuries were to blame. In Campbell's, it was his attitude.
There have been several turning points in Campbell's up-and-down career. The first was the 1995 British Open at St. Andrews and his up-and-down par from the Road Hole bunker—thanks to a sand shot that defied both physics and gravity—that capped off a third-round 65 and gave him the 54-hole lead. Cambo's closing 76 opened the door for John Daly to beat Costantino Rocca in a playoff, but the discovery of the week was unquestionably Campbell. With his talent, tempo and demeanor, there would be plenty of chances to win majors.
Greg Norman called Campbell "the best young player I've ever played with." Raymond Floyd, in a 1996 interview in Golf Digest, said, "I think he's the brightest young player out there, without a doubt. And he seems to be mature beyond his years. His swing is great—very smooth, one-piece, routed perfectly both ways, very sound, very pure. But it is his attitude that really jumped out at me, the look in his eye, the inquisitive nature. It shows he's got some of what it takes right there."
What happened? Injuries, complacency, confusion, a marriage, two children—and soon 10 years had passed. Campbell rose to No. 14 in the world in 2001, but by 2005, he was going in the wrong direction again. All that talent, all the traits Norman and Floyd saw in the mid-1990s, were going to waste. He no longer had an agent, a fact NBC officials learned Sunday when they tried to get more information on this Kiwi who was suddenly leadingthenationalchampionship (Campbell was talking with IMGafter his win Sunday night).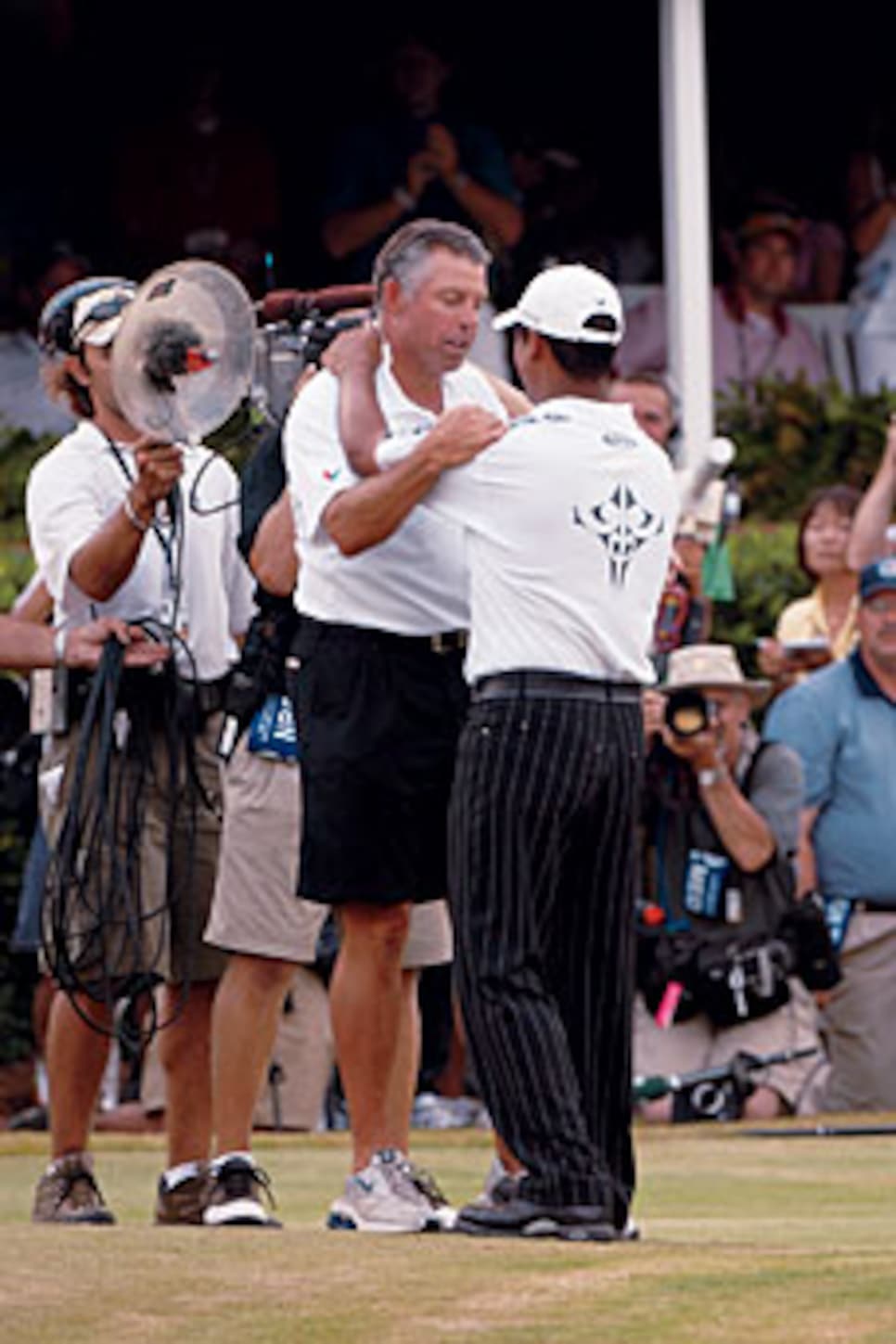 "Cambo is an extremely grounded type of guy, but having that sort of performance early on the major stage placed a whole heap of expectations on him," Tataurangi said. "The expectations come from inside as well as outside. I was not surprised by his performance [at St. Andrews] in '95, but equally not surprised that he struggled afterward as well."
Two years after that Open, Campbell fell to 133rd on the European Tour money list and was left without a place to play. Through David Leadbetter's golf schools, Campbell began working with Yarwood to restore the naturalness that was a trademark of his swing. With a broad back and a low center of gravity, Campbell was ideally built to be a ballstriker. Their formula was simple. "Just turn back and through and away you go," said Yarwood.
Where it got complicated was between the ears. Yarwood was sick of using what he describes as "the P-word" (potential) when talking about his student. It took time—and a little desperation—to light the fire. There's a general feeling in the Campbell camp that he's much better equipped to handle a major championship victory now at 36 instead of 26.
"It's hard to put a finger on," said Yarwood, who has worked with Campbell for nine years. "He's a very right-brained guy. He plays on his emotions a little bit, especially when things aren't going like he wants them to go in his life. It's his culture, too. He was sabotaged by his own success, but now he wants it, and he's moved on from that. Now he's got it."
Will he hold onto the success of his Open triumph, use it to climb to even greater heights—or let it go? Only Campbell can answer that question. Maybe it's just coincidence the Open returns next month to St. Andrews, where it all began for Cambo, where his culture and dance became part of golf lore. In the spiritual world of the Maoris, maybe it's fate.
As the story goes, Campbell is the great, great, great grandson of Sir John Logan Campbell, the first mayor of Auckland, who emigrated from Scotland in the 1840s. They did the Haka at Pine Needles. It could be playing next at the Home of Golf.
—Additional reporting by Ryan Herrington and Jim Moriarty