News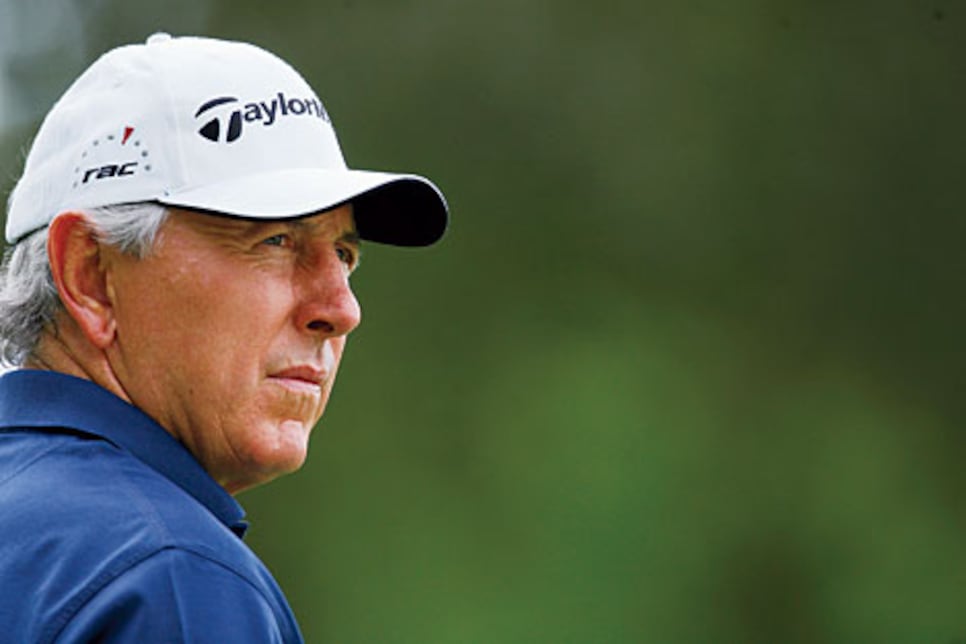 No stranger to tour milestones, Irwin views turning 60 matter-of-factly.
Hale Irwin Is being Hale Irwin again. He is in Savannah at a press seminar for the Champions Tour, handwritten notes to boot, about to say something statesmanlike about the revival of the 50-and-over tour and its increasingly "fan-friendly" environment. But as he gazes from the podium, past the horseshoe-shaped conference table of media and corporate sponsors and out the window, Irwin spies the hunched-over, weather-beaten shape of Tom Kite on the 18th green, attempting to putt.
"As I look out here," Irwin begins formally … but he's already changed gears, "having to watch Tom Kite with that putting stroke I think to myself … why has he been playing the PGA Tour? Tom, look at that stroke. That's why you belong here!"
The reporters laugh, the sponsors are thinking, "My that's pretty edgy" and in the decent recesses of our hearts, all of us wonder how poor U.S. Open champion Kite would feel if he could hear Irwin's comment through the tent wall. Thank God no one can hear like that on the Champions Tour.
Now Irwin's on to the tour's practice of interviewing players during competition: "Someone puts a mic in front of you and says 'What were you thinking?' and you know, I'm going, 'It's none of your damn business what I'm thinking,' " says Irwin. " 'I'm in the zone, get the heck away from me!' They want to get into your head. I don't want anyone in there." Pause. "The difficult thing is I'm half in favor of it from the business side and half against it in my competitive mode."
Hale Irwin, 60 this week, remains firmly in the competitive mode. He will never quite make it to statesman, not if he turns 70, not if his back gives out and they anoint him commissioner, not if they pay him a million dollars, which, by the way, he has earned 20 times over by doing what comes much more naturally, beating people's brains out on the golf course.
He looks good. The eyes are bright; the heavy, horned-rimmed glasses and the braces are gone. With that well-kept, steel-gray hair, he might pass for a diplomat—but on the golf course, he'd be John Bolton: a guy who loves to hit in a non-contact sport.
The oldest person to win a U.S. Open, his third in 1990, Irwin has added 41 victories on the Champions Tour to his 20 PGA Tour wins, including seven senior majors and at least two titles each of the last 11 years, a run extended by wins in Hawaii and Florida this season. After a rickety back and balky putter had him off form, Irwin posted a top-10 last month at the Bruno's Memorial Classic, but his T-46 at the Senior PGA Championship was his worst finish in a senior major.
That sour note notwithstanding, Irwin has shattered the concept of a senior "window," the idea that one plays great from 50 to 55 and then fades before younger competition. "I don't believe in that window," says Jim Thorpe, a fan-pleaser and not always an Irwin fan. "Hale is a great player who has proved it's not true." One reason: Irwin's nerves endure. "He might not admit it, but you could get 75 guys out here to say he's one of the top putters in the world today," says Jay Haas. "[And] the competitiveness, the heart, he has it in spades."
"Hale Irwin is the best story in sports, period," says Champions Tour commissioner Rick George. OK, so George has a stake in this, but he also makes a point. Hale Irwin may be the best 60-year-old athlete ever. He's damn sure the best golfer. (Yes, better than Snead. They never called it the Chase Sam Tour, did they?) Irwin recently announced that he would try to qualify for the U.S. Open, which he did at one point, 32 consecutive times.
He is still amazingly consistent. In some 238 senior starts, Irwin has finished first, second or third in 102 and in the top 10 in 173, 73 percent. He has set the record for the fastest million dollars earned in a Champions Tour season—and broken it—and won five or more events in three consecutive seasons. Bridges don't last this long.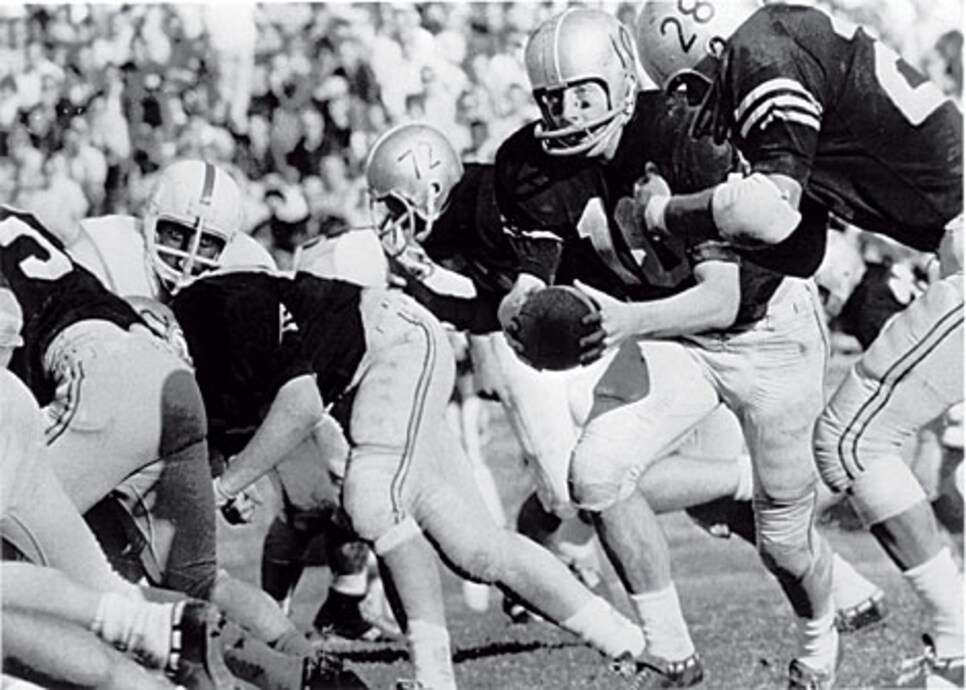 Had Irwin the personality of Gary McCord, say, he might have a candy company named after him. But in a world that sells color and characters, Irwin is the guy who wears high tops and a hard-to-remember number. The taciturn Hale Irwin. The cold Hale Irwin. Always the outspoken Hale Irwin. Even a mellowing Irwin gets occasional jabs, some nasty, from senior players who think he's not friendly enough to fans. ("Could be some jealousy there," offers old Colorado teammate and former Miami Dolphin Dick Anderson, who plays the Celebrity Tour, wryly. "He's very nice to pro-am partners, unless they're jerks.") Even his buddies poke fun at Irwin's on-course intensity. "We're actually working on having Hale interviewed on every hole," jokes Dave Stockton. "That would kind of level the playing field."
This writer will be 60 within the month, too. And so it occurred to the young editors of Golf World that it might be interesting to have one old guy talk to another about turning 60. I said sure. Irwin and I had a connection. Years ago we had worked together on his instruction stories for Golf Digest. I liked him and kept track of him long after I stopped seeing him.
What most fascinated me about Irwin was that he managed to reach 60 still being Hale Irwin. My experience is that life wears most of us down, changes us and not always for the better. Irwin's resilience recalls that John Wayne crack to the congressional committee on aging: "Which one of you is going to put me out to pasture?" asked the Duke. Ditto the Hale.
For those of you who haven't turned 60, please note. There may come a time—don't laugh—when you'll think putting on your socks in the morning should qualify you for the Olympics; when you realize that it's the gravest error to attempt to play golf in a temperature lower than your age; and when, if one more teenage girl in an SUV almost runs you down while she's talking into a cell phone, you'll want to dismantle girl, phone and truck.
Plus, a little anger is healthy.
Given all that, I think, it's a wonder Irwin still tolerates "golf as a spectator-participant sport" as he refers to it. I want to know why.
As I stand and wait for him on the practice green in Savannah, though, I'm fearing his reaction to the whole thing: "What a great idea for a story, Bob, and a terrific career move on your part. Let's sit down and talk for a couple of hours about being old and sore."
But he's OK with it. I don't think he remembers me, but he's polite enough not to mention that. He's happy to make time. And then he's on to the topic. "This 60 thing," he says, "I don't know, I don't think much about it." Oh, great. But he's trying: "Whaddaya need?"
"Look," he says, attempting to be helpful, "I've taught myself. Football was the school of hard knocks for me. It's fast, violent and if you're small, you better be tough and determined or you'll get wiped off the mat. My winning at Winged Foot in '74 had a lot to do with not giving up. I just hung in there 'cause that's what you do.
"So I've learned things about myself. The biggest thing I've learned is … I've learned myself. It's something a lot of these guys never do. I know more about some of them than they do themselves. That's important." And he's off.
Irwin's self, I learn over the next week, was built with the help of an outgoing, supportive mother and a reserved, hardworking father. "We came from difficult financial means," says his brother Phil, four years his junior, also a Colorado football star and now president of The Irwin Companies. "Hale made himself what he is today. Dad helped with golf a little, but Hale pretty much taught himself. So he's capable of bearing down when things get tough." Phil and Bubby—Hale's family nickname—learned the game on sand greens in Missouri, "Heck, when we started we didn't know there were grass greens," says Phil.
Irwin's sense of the public/private boundary is shared by friends. "I think the more fame he got the more endeared he became of his privacy," says Tad Polumbus, who played golf and football with Irwin at Colorado. Polumbus remembers a reunion dinner they had in Los Angeles a few years back. "I bet five people walked over to the table and said something to him. He didn't know any of them. He had to abruptly send them away. But it was rude on their part."
Not the way Arnie would handle it maybe, maybe not even the way Irwin would handle it today, but the people who count to Irwin, the small circle of friends back in Boulder and out in Paradise Valley, Ariz., where he resides, have no problem with that Irwin directness. "He doesn't pretend to be something else. That says a lot," says ex-NFLer Anderson.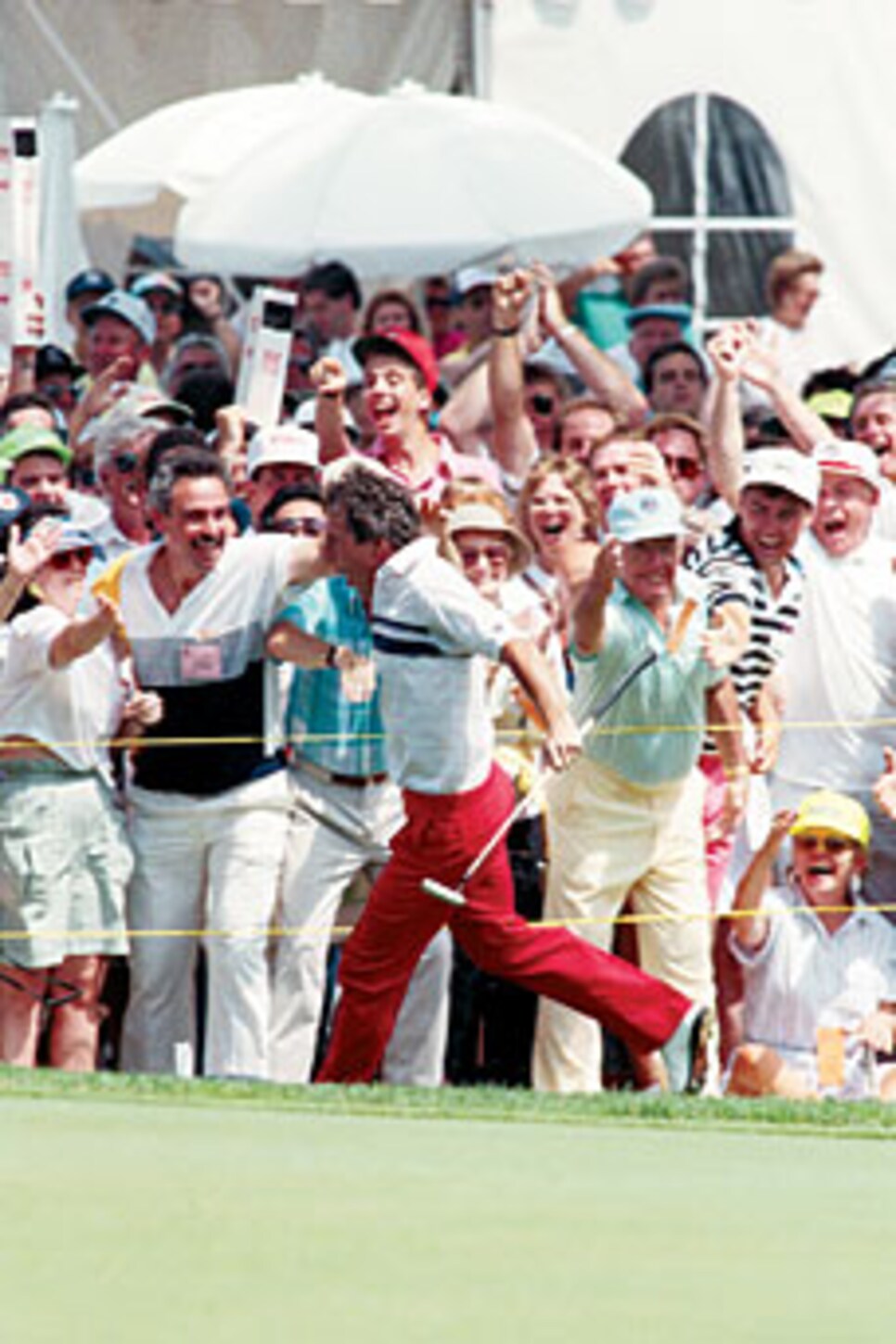 Nor should he try, say some friends. "The thing about Hale, when he's 'outgoing' and 'personable', talking to the TV guys, I think it comes off a little forced. It doesn't flow," says one old friend. But when he hasn't tried, he's criticized. "Oh boy, I can't tell you how many times I wanted to let someone have it for something they wrote about him," says Phil. "Hale was 'boring' in his black-rimmed glasses or something like that. I blew a gasket. He can't get mad like that, but I can."
Like Jack Nicklaus, Irwin has worked at "mixing with people" as he puts it. "I think Hale has done a lot better with [the public] on the senior tour," says Jack Mills, Irwin's longtime friend and agent. "He's kind of 'The Man' out there. People who really appreciate golf just love him. Casual golfers, the ones who don't know the game quite as well, maybe not as much."
On their 15th, a longish par 3 back to the clubhouse, they wait for the green to clear and hear laughter from the 10th tee where Fuzzy Zoeller and his group are about to tee off. Irwin looks down where it seems like half of the spectators on the golf course this afternoon are gathered around Zoeller. Irwin's gallery, minus the foursome's friends, is three. Maybe it is a coincidence, but the group grinds harder now. On the green Irwin takes a long look at Darron "Durwood" Gross' putt, and Gross drains the 30-footer. They're now close to contention. Irwin sticks an 8-iron two holes later, and they finish a respectable 13 under. Tim Wesley of Microsoft, at 50 the oldest member of the group, has struggled. "Hale was very, very gracious to us today," he says. Pause. "I was surprised."
Back at the clubhouse Irwin looks for the tour's Butch Brooks to convince him to reinstate the front hole location on the ninth hole. ("Hale doesn't complain," says George. "It's more like, 'Rick, why are we doing this?' ") Then he looks down to find two fans, the Klotz brothers from Austin, 10 and 6, next to his cart. They are dressed in burnt UT orange, and Irwin gets a huge kick out of them. He signs two autographs he knows will never end up on eBay. "Those guys," he says, quite serious, "are what this is all about."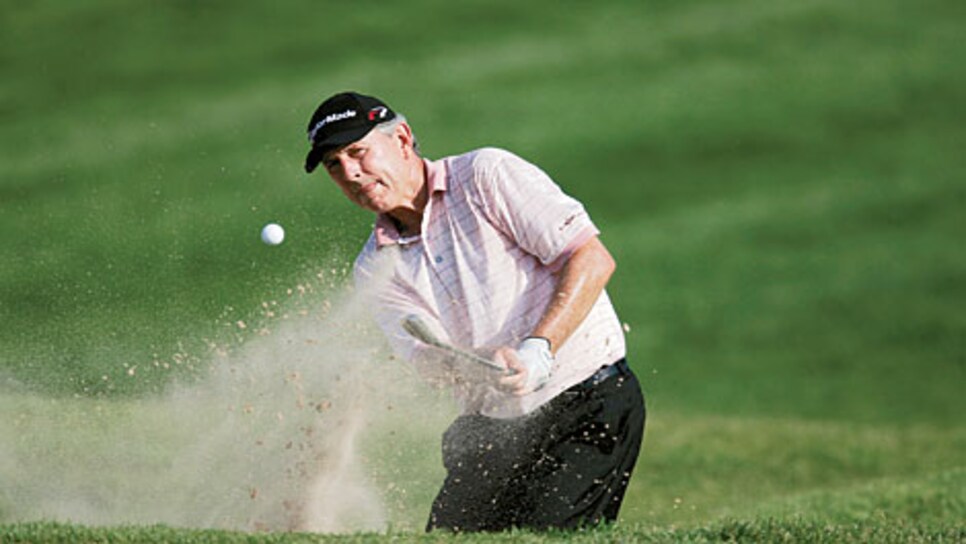 I have a theory. There are two different kinds of heroes in our world. Those we adore (or at least appreciate) now and those we adore more later and differently. Among the former: Babe Ruth, John Grisham and Kenny G. Among the latter: Hank Aaron, John Irving and Michael Brecker.
One difference, I believe, is that some guys give us more to grab onto. In golf the best current example is John Daly: a lot to hold onto there, big heart, loads of troubles, plenty of strife; or David Feherty, funny as hell, and you know he gets how much you love the game. Arnie is the ultimate.
But some guys don't give you so much, no matter what the size of their hearts, they just can't do it. Some guys are embarrassed to tell you about their problems, they feel like it's using that misfortune, maybe they're even awkward about telling you they're happy. Hey, it happens.
It strikes me that the closest the golf-loving public ever got to Hale Irwin was in his most un-Irwin-like moment: When he ran like a teenager around the 18th green Sunday at Medinah in 1990 giving the crowd high fives. We felt what he felt. He let us in. He was 45, he'd just made four consecutive birdies and then that final 45-footer to make a playoff, which he, of course, won.
The high-five run was so cool some guys would have made a thing out of it. "Irwin has made another birdie, Ken, and he's doing his trademark high fives! Ain't that great?" It ain't Hale. "You don't do that and succeed," says Irwin about consciously doing things to please the crowd. "If I did, maybe some people would like me better. Maybe not."
Remember the '84 U.S. Open? You probably recall it for Fuzzy and that towel waving to Greg Norman on 18, right? Well, there was another pretty interesting story happening there. Hale Irwin was trying to repeat at Winged Foot 10 years later. He was trying to do it for his dad, who was dying of cancer. Right there in the center of the circus, near New York City, with the crowds howling "We love you, Fuz" and running all over the damn place, he was thinking repeat and Dad. And he made it through Saturday, leading by one, and then, faced with the same craziness on Sunday, ran out of gas. He had just put too much pressure on himself. Did you hear that story? I didn't either. I don't think he told anyone. He may not even want me to.
My point is, Hale Irwin's in category two.
He's his own man, not ours. Maybe that's why he is here at 60, playing like a kid. "So many guys doing really well at anything get less attentive to the hard work and the details of what got them there," says Irwin's college football coach, Eddie Crowder. "Hale's not like that."
This is a man so self-reliant he didn't take Arnold Palmer's personal advice and play only golf in college. He also didn't quit college football—though he talked to Crowder about it—when he was playing both ways and getting battered, because his father said: "Your decision, son, but I've never known you to quit anything before." Then he used that experience to get through Winged Foot. He's the guy who "came clean" with himself in 1989 when his career was on the skids and sat by himself at home and made a couple of lists on a pad: Victories, What I Thought, and then gave himself one more year, the year he won the Open and the Buick Classic. No sport psychologist by his side, just Hale, and wife Sally, making a decision. So he's going to change now? For our entertainment? Heck, he may win at 70.
It's not all golf now. Irwin's excited about new business projects with Phil and their sons. And he enjoys the babysitting duties, he says, with daughter Becky's second child, Tyler Hale, having just arrived. But the competition still beckons.
"I think if people wouldn't say anything, he might finally slow down and eventually stop," says his brother. "But tell him he can't do it and he's, 'Oh, yeah, well then watch me. Don't tell me what I can and can't do.' "
I think back to that seminar in Savannah and why Irwin said we should get more kids to play golf: "It teaches you about yourself," he said, "and that can be scary, but that's why it's so great."