News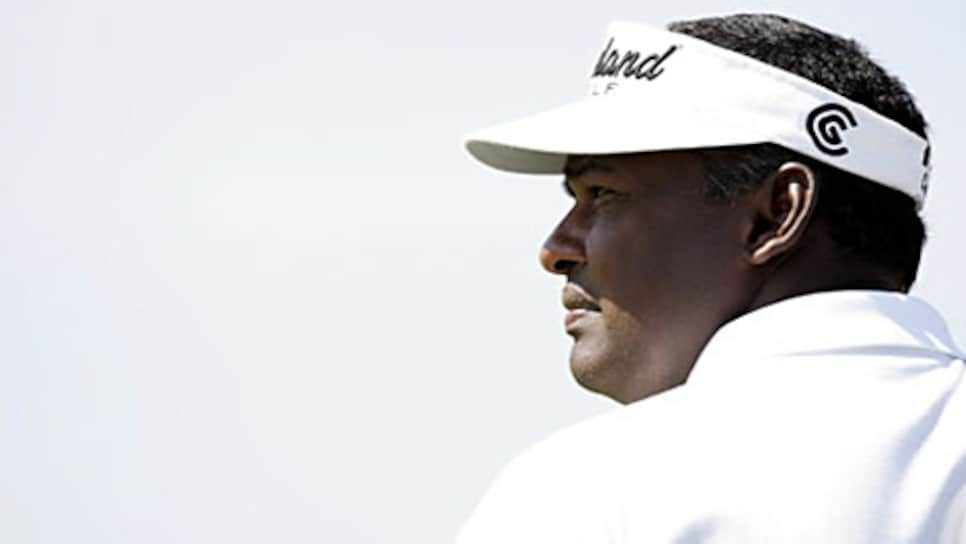 Static free: Singh always has possessed a calm focus on the course. Photo: Charles Laberge
Vijay Singh allows a slight smile at the memory of the various ways he would get to the nine-hole golf course where he first developed his game as a teenager on Viti Levu, Fiji's largest island. Normally he would catch a 9 o'clock bus that carried workers to the Nadi Airport, where his father worked as an engineer and which stood between the golf course and the home he shared with his parents and five siblings. But on those days when the bus didn't show or he missed it, there were three options. -- J.D.
"I could either walk all the way around the airport, which was about five miles, or jump the fence and run across the runway, which could get you in trouble with the security patrol," he says. "If I wanted to save time, I'd go through these big sewer pipes that were buried under the runway. They were each about 50 yards long, and I had to squat way down to fit through. The first one was completely dark, and the water that carried the drainage and the sewage into the ocean was usually ankle deep. It connected to another pipe that was the same, except you could see light at the end."
Although not as prolonged or foul as Andy Dufresne's crawl to freedom in "The Shawshank Redemption," Singh's dreck treks ultimately led to his own version of Dufresne's idyllic Zihuatanejo -- the rich life he has made for he and his wife, Ardena, and son, Qass, as a three-time major champion and the most insistent challenger to Tiger Woods' supremacy.
Singh is speaking from the elevated clubhouse veranda at the TPC at Sawgrass, where he has chosen a quiet table after arriving in sandals from his regular 90-minute morning workout. With his oceanfront estate only a few miles away and the sun-drenched panorama stretching before him the primary training ground where he girds for battle on his rare weeks off, he is for the moment the king of all he surveys.
The day before at Doral, Woods had temporarily regained the No. 1 position Singh had held since last September, but the 42-year-old 2004 PGA Tour player of the year, who had closed with a 66 of his own at Doral to finish third, is upbeat. "I'm swinging better than I was last year, and I'm stronger than I've ever been," he says. "When I'm playing well, I don't believe anyone can beat me, still." Pausing slightly, he adds, "It's going to be a good Masters."
Singh's words are delivered with the same even expression that has become familiar for its self-contained, almost eerie tranquility. As he has steadily climbed to the top of the game over the last decade, he has remained private, carrying himself with a proud aloofness whether the subject of praise or criticism. But much hard-won knowledge roils beneath the surface, and in a wide-ranging interview that slightly exceeded the hour he had allotted, Singh was expansive, introspective and enlightening. Lately especially, he has given a lot of thought to his journey, and in an almost stream-of-consciousness delivery interrupted only occasionally by questions, he provided a rare glimpse at his personal journey and the wisdom he carries inside. -- J.D.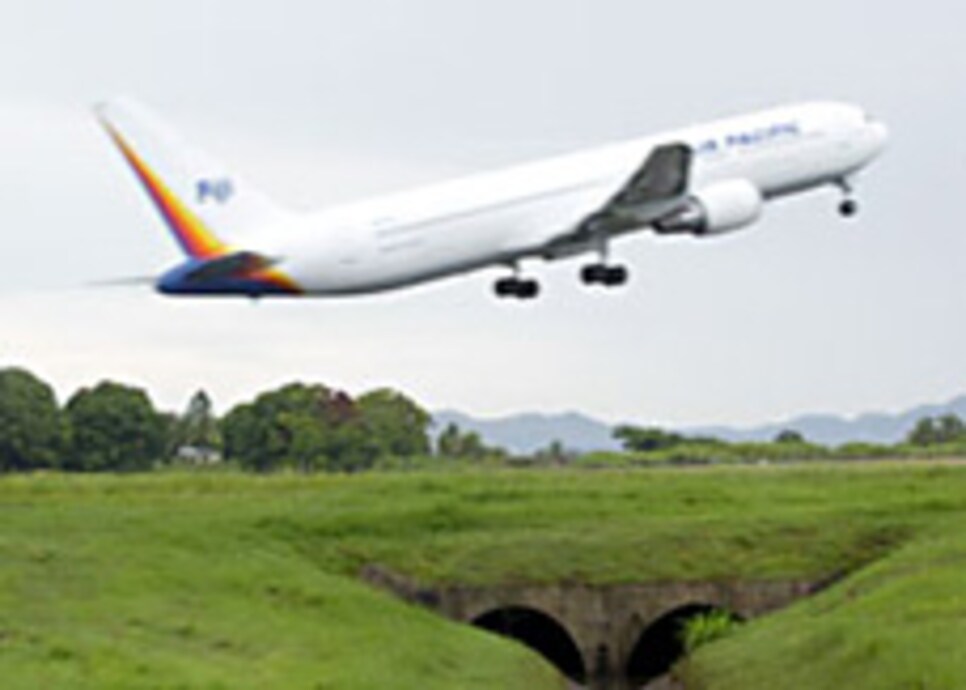 From a very young age I wanted to be a professional golfer. I didn't know how I was going to do it, but it drove me. The biggest factor in my becoming good was having two older brothers who were better than me. I just practiced. The best way I do things is on my own. I've been a loner all my life.
I played very good field hockey. Cricket and rugby, too. I could have been exceptionally good at soccer if I had kept at it. But it always interfered with golf. I dropped out of school when I was 16 because I wanted to play golf. I felt like I had one chance to do something, and that was golf.
My dad [Mohan] got me involved with golf when I was 11. He was the club captain, a good player. Not a strong hitter, but he had great rhythm in his swing. He was a huge fan of Hogan, he always had Hogan irons. My first set of irons were Northwesterns. To have a full set at 13 was a big deal.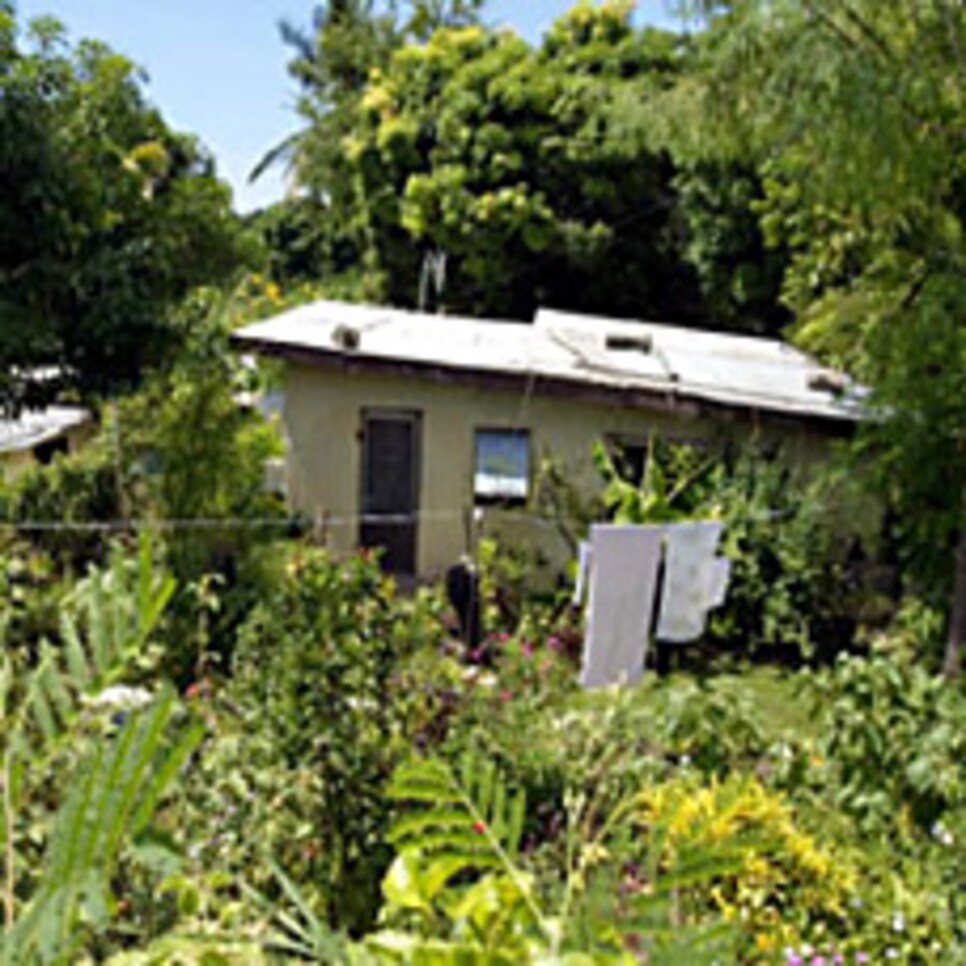 I started out hitting balls cross-handed. It felt very natural. My dad said you can't play cross-handed. Otherwise, he mostly told me to keep my head down. He did give me good advice about only modeling people who were also tall and lanky, and that's why the Tom Weiskopf swing sequence in Golf Digest in 1977 influenced me. I caddied for my dad in a lot of competitions. My brothers did not get along caddieing for my dad. I was the only one who did.
My brother Krishna is two years older than me, and he had really good potential. But he could never compete. When we went out and practiced, he had a better swing. But put us together in a tournament and I would beat him every time. I don't know what it was, but he just didn't have something. He's led a lot of golf tournaments on different tours, but he's never won a golf tournament. He would screw up the last hole or the last three holes or whatever. He would think he never got a break, but it wasn't that.
I was different. Even when I didn't have any money, I didn't worry about how much this shot or this putt means. I always worried about it afterward, but not during. All my life, that is something I had that not too many people have.
I pretty much have always played with peace -- with not a lot of interference in my head. Not that it is all smooth sailing. Things do interfere, and if there are enough problems, it's going to affect your performance. But a good example was the week of the Byron Nelson in 2003 after all the stuff [about Annika Sorenstam playing at Colonial the next week]. It was the biggest thing in sports that week, but I managed to block everything out and just keep playing. There was heckling on every hole, and it bothered me to a point, but it didn't enter the circle I was in. It always bounced off it. [Singh won the Nelson.]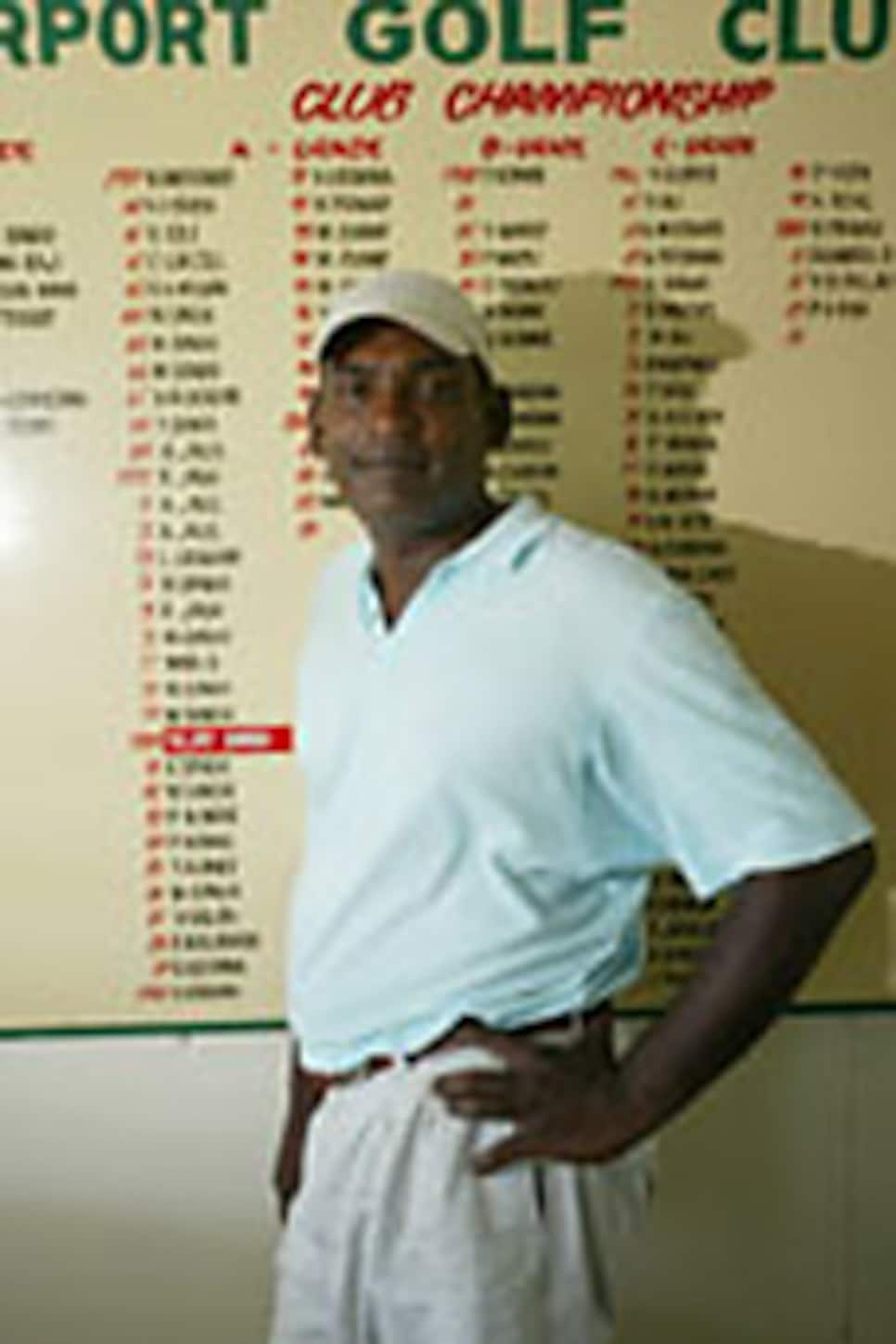 I don't know where that comes from. I grew up in Asia. You see the mentality. I have read a lot of books about Eastern philosophy, I must have 100 of them at home that I read. They all come to the same thing. The breathing, the temperament, hearing the water, the wind. It just slows your mind down, to the point where you feel so relaxed. I learned how to breathe the right way. You don't breathe with your chest. You breathe with your stomach. It calms you down totally.
When I was a kid, when I got to the golf course, I would go under a big tree and just hit balls. I didn't know much about the golf swing. The saying, "dig it out of the ground," that was me. I'd hit it, and if it felt good, I'd think, 'OK, what did I do there?' Just trial and error. All I wanted to do was hit good shots. Sure, I wanted my swing to look good, but I didn't really worry about technique. I was letting the ball teach me.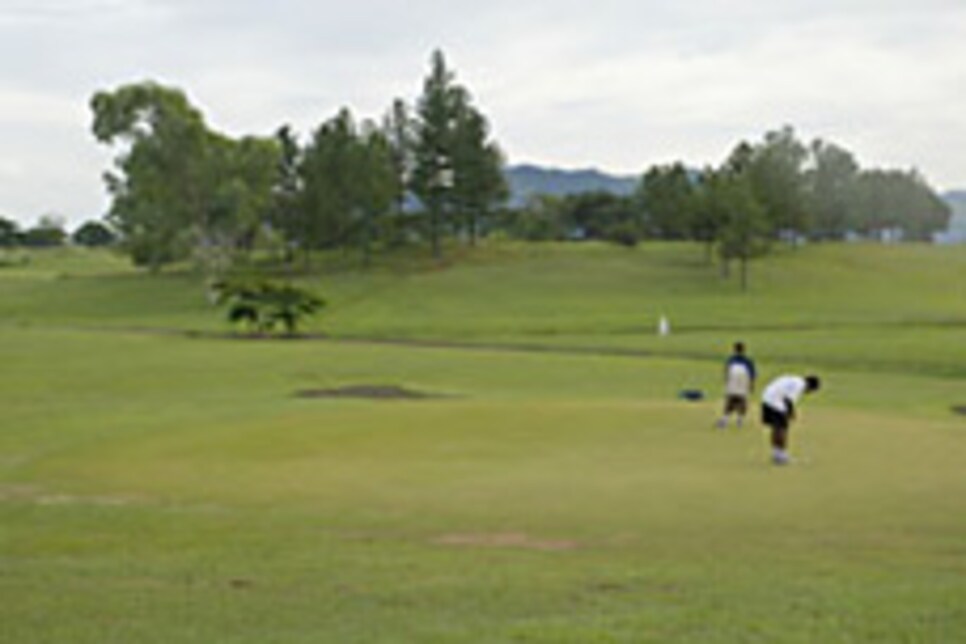 I got an idea of what a good swing looked like from videos of the British Open or the Masters. And when pros came to play in Fiji when I was about 15, I watched them hit balls. Because there was nothing in my head then, and everything made an impression, I have a very bright memory of what they looked like. I can close my eyes, and I can see those guys swinging right now. I remember a guy from New Zealand named Richard Ellis. Not a great player, but he had a beautiful swing. And Stuart Reese, not a big guy, but he could hit the ball forever, what a great action. I sat behind them and didn't say anything, and they went to the practice range.
I have always loved hitting balls, even to this day. Looking at the target, seeing the shot and hitting the shot. I just love to see the ball fly the right way. If I can hit the ball the way I want to hit it on the range, I can hit for hours and hours, hitting it the way you want to hit it. I'd rather do that than play golf. I just love to hit good golf shots.
Part of it is the sound. And when it is really good, there is no real impact. The ball just gets in the way of all this effortless power. It's like hitting a heavy bag. When you don't hit it right, you feel it in your hand and arm. But if you hit it in the right way, even as hard as you can, you won't feel anything. But the bag will move.
I have a lot of instruction books. Most of them I picked out because I thought they would be good for me. I have Tony Lema's instruction book. I have all of Sam Snead's and all of Ben Hogan's and all of Bobby Jones' and all of Byron Nelson's. I got so many of them. Joe Turnesa. Henry Cotton. Beautiful photos. I reread little parts.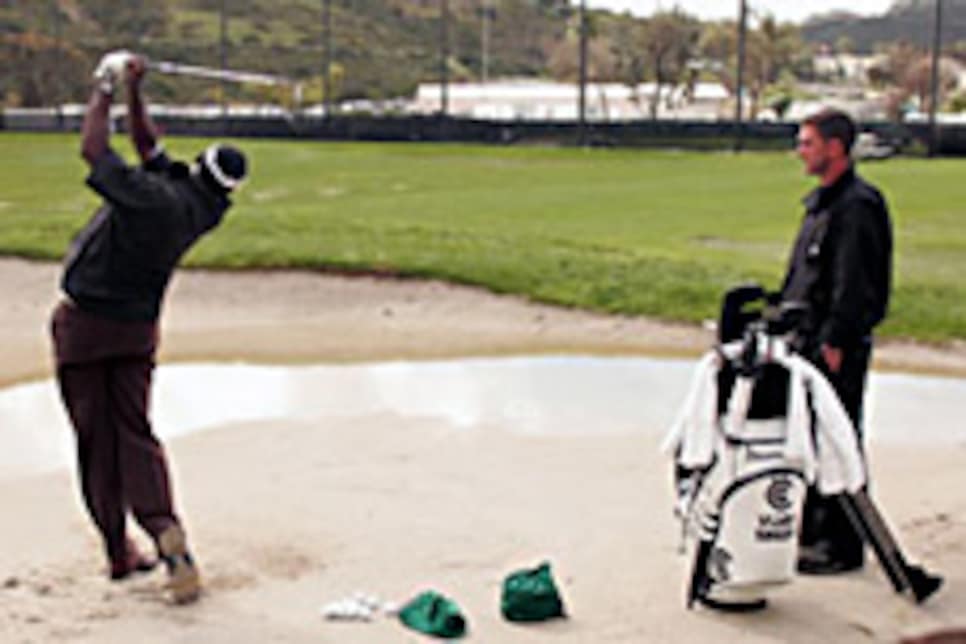 At one time I was really studying the hip movement. Hogan and Snead, a lot of the older guys, had beautiful hip movements through the ball. I have a tape of the Shell's Wonderful World of Golf match Hogan and Snead played at Houston Country Club in the early '60s. And at the beginning they show each guy hitting shots, switching from one to the other very fast. And if you look at just the hips, they are exactly the same action, going so fast they look like the same golfer. You really cannot improve on those guys. You cannot recreate the wheel.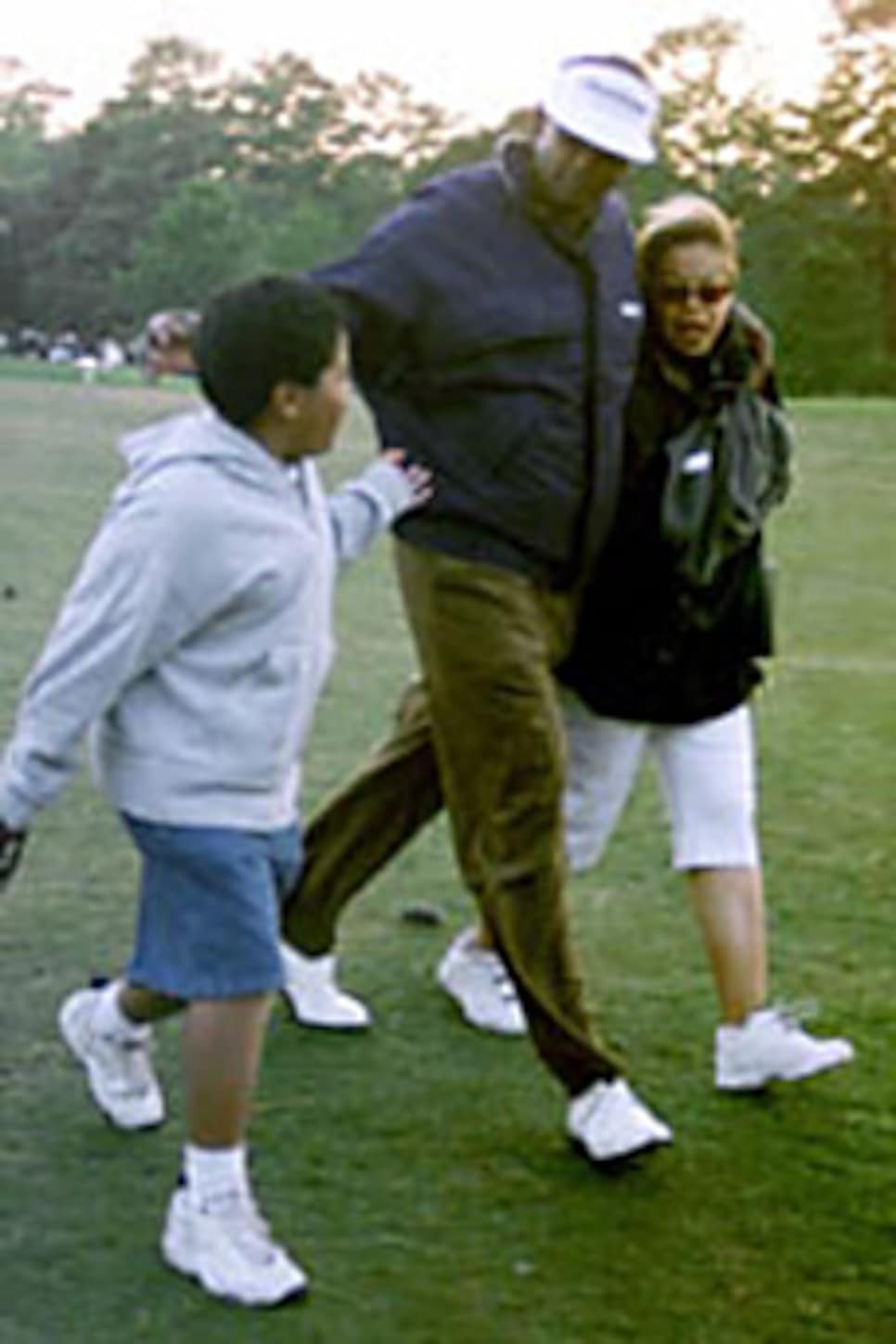 Getting the hip movement right, that was the biggest breakthrough I made in my swing. It happened about four years ago. I learned how to really fire the hips for a true, full release. When they slow down, that's when the hands flip over and the ball goes left. When I clear out fast, I can swing as hard as I want and the ball ain't going left.
My thought is one, two, three. One is completing the backswing. Two is the little bump with the hips toward the target. Three is firing the hips. Those are my three fundamentals. The other bits and pieces fit inside of there.
I've worked with a lot of instructors over the years. What I kind of do is borrow their minds for a little while. Rick Smith for a couple of weeks, Mac O'Grady for a couple of weeks, Bob Torrance for about a month. Then I take what is good for me and discard the rest. I always tell other players, even great players, when you take a lesson, don't take everything they give you. Take what is good. To do that, you have to know yourself.
I don't like watching video. You try to paint exact pictures too much. You tend to see things you don't want to see. I think it is better to feel it. Unless I'm really stuck, unless I absolutely don't know where I'm going. Then I'll look at video.
Working on your swing is complex, because the challenge is to keep it simple. The player himself has to be most attentive to what he is feeling and to believing in the principles that work for him. It's so easy to go from theory to theory. When you have too much theory, too much thinking, too many big changes, it interferes with your ability. A little block from your brain to your body gets in there.
" Even when I didn't have any money, I didn't worry about how much this shot or this putt means." -- Vijay Singh I watch some of these young players on tour practice when their swing coaches aren't there. They have good swings, but I wonder, what are they working on? Because they are overcoached, thinking about too many things, instead of just one or two right things. So they are always looking for the quick fix. If I was advising a good young player, I would let him go and develop his own feel, figure it out through the flight of the ball. Maybe give him a few things to work on, but not too much.
If I can feel my swing when I hit a good shot, I can take that feeling into competition and rely on it. Down the stretch you've got to be able to feel your hands, your feet, your weight. If you get on the last tee and need a par to win, you've got to be able to feel every part of your body. If you're not able to feel it, you are going to be playing scared. If I tee it up in a major on the last day with a lead, I want to feel every breath, I want to hear myself breathing. That's when you know you are aware of your body. I keep telling my caddie, 'awareness' is the word of the year.
At work (above, left) Singh was exposed to golf by his dad Mohan (below, left). With wife Ardena and son Qass in 2000 (above).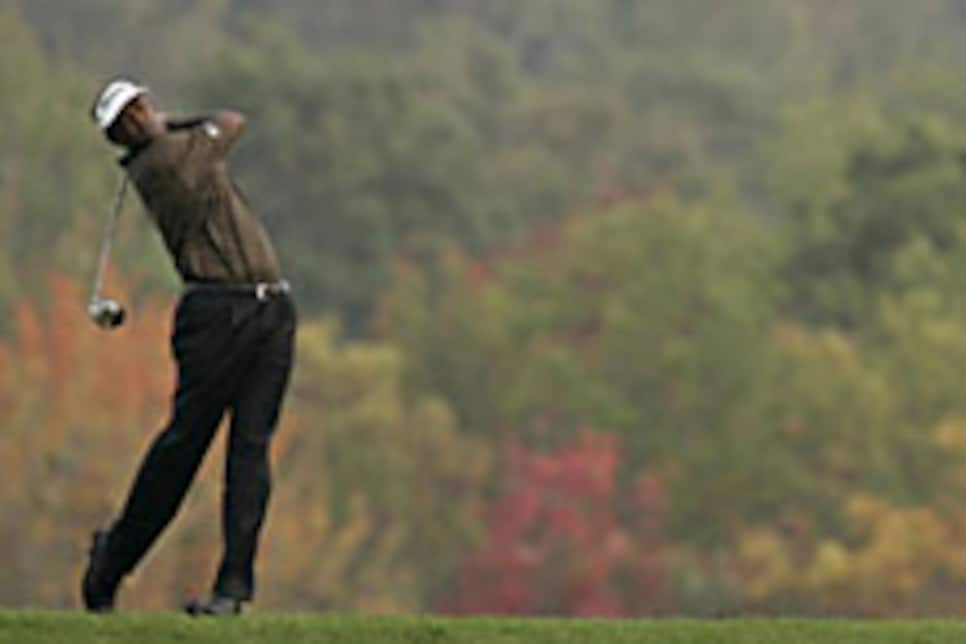 It's like putting. The best thing I did for my putting was get a putting green at my house. I just go out there, with the tranquility of the ocean, and the dogs are running around, and the water is hitting the surf, and I'm putting and I feel so free and so aware. I get a lot from that.
The heavy club, I got that from reading about Gary Player when I was a kid in Fiji, and I've been swinging one every day since. Some of it was for strength, but mostly for flexibility. I keep a bunch of them around the house. If I see one over in a corner, I will grab it and swing it once or twice. By the end of the day, I probably end up swinging it 50 times.
" If you get on the last tee and need a par to win, you've got to be able to feel every part of your body." -- Vijay Singh I think the thing that has separated me is that I would do whatever it took. I did that from a young age, and it gave me the toughness. I didn't have any money, and I wasn't going to get any pocket money from my dad. He had six kids and in Fiji the taxes were about 50 percent, and we never really lived comfortably. I understand now how much pressure that put on him. My dad was a tough guy. He had to be. And to play golf, I had to be tough, too.
I remember painting the fuel tanks at the airport in 100-degree heat. I was focused.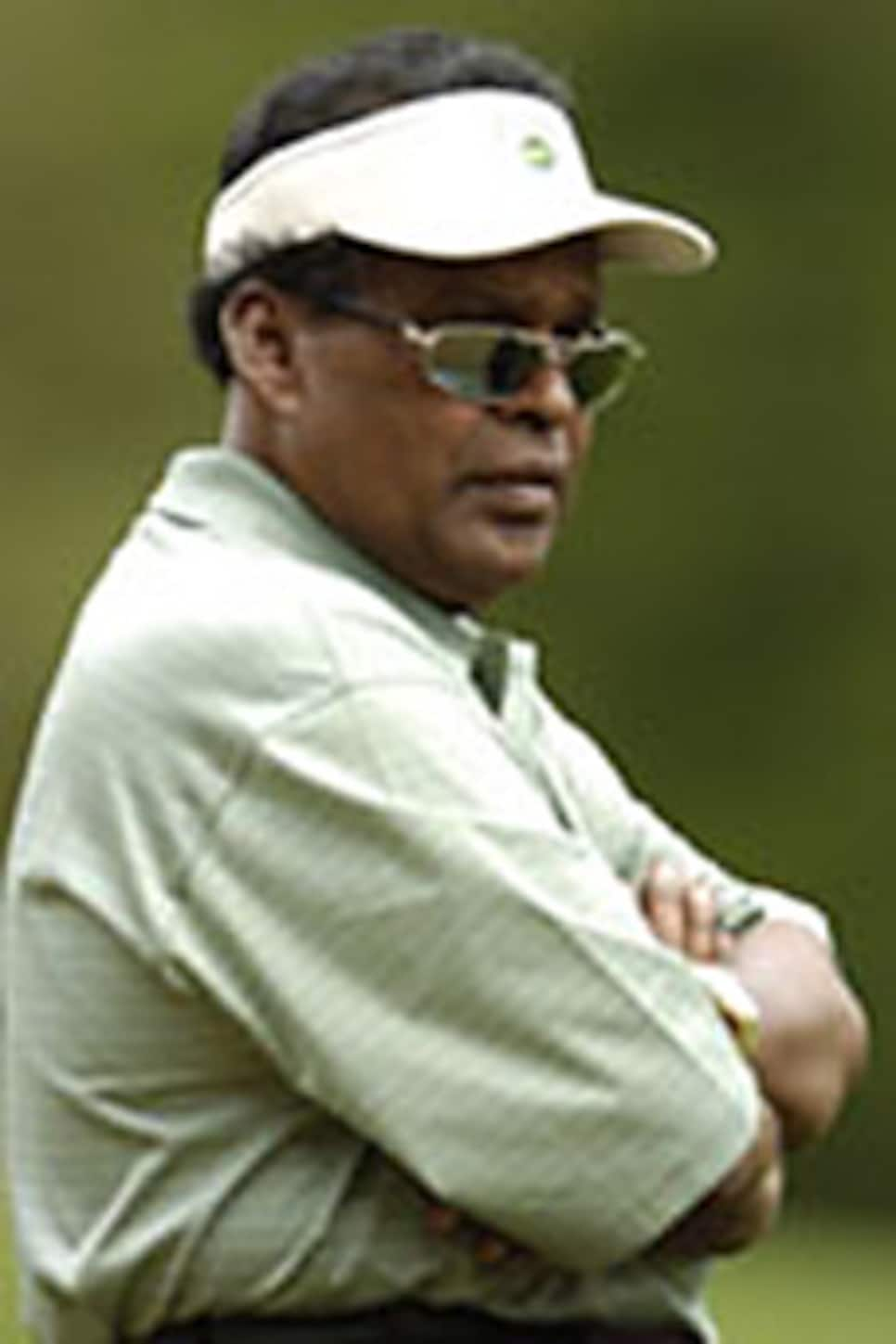 I also met my wife at an early age. She has kept me intact, you know. All through the years, we always talked about everything a lot. At some points she was the one who carried me along. There are certain times when you really need someone.
I would love to have videotapes of my swing since I was young, because I have always improved. I always want to take that one extra step. Even now, I'm still improving. The thing is to never let yourself slip more than one or two steps. You slip more than two steps, then it takes four steps to get back to the top. Because everyone else is climbing. That's what happened to Seve, who was like God on the golf course when I was playing the European Tour. He was probably the best player of the whole lot the last 25 years. But he let himself fall too far behind, and then it was just too much work to catch up and the load got too heavy and he kept slipping back down. I will not let myself take a step backward. The way I do that is to have a clear mind, and to keep fixing it on the range. And I have the means and the ability and the desire to do that.
If I don't work hard, I feel I'm missing something. It's what I believe in. Working hard always pays off.