News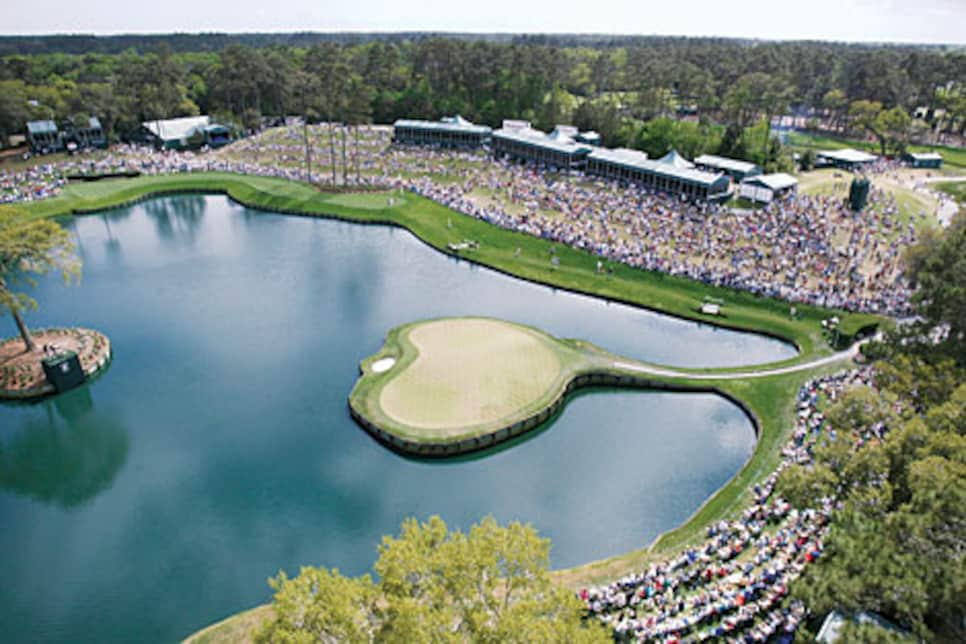 Island fever: As in the third round of the '04 Players, the 17th is the center of attention.
In tournament golf, familiarity doesn't breed contempt, it breeds contentment. Tour players favor returning to the same haunts year after year, probably because the big picture never changes. It takes more than a few new bunkers or back tees to disrupt their comfort level on courses they know intimately, places such as Augusta National, Bay Hill in Orlando or Colonial in Fort Worth.
These days, most tour players also feel that way about the Stadium Course at the Tournament Players Club at Sawgrass, southeast of Jacksonville, Fla., now in its 24th year as permanent site of the Players Championship. With arguably the strongest field of any event each year (uncluttered by amateurs, club professionals or fluke qualifiers from Romania), the Players is the game's "fifth major" in the minds of many tour players, and the quality of the 25-year-old Stadium Course—the granddaddy of all TPC courses—has had a lot to do with that groundswell.
They didn't always feel that way. When the Pete Dye-designed course first hosted the event in 1982, the players mostly hated it. It was target golf in the extreme, with firm fairways twisting around water hazards and long stretches of crushed coquina shell, little lumpy greens surrounded by moguls and pot bunkers and, of course, the game's ultimate bull's-eye, the now-notorious island-green 17th hole.
J.C. Snead, then the reigning tour curmudgeon, called the course, "90 percent horse manure and 10 percent luck." Tom Weiskopf told reporters, "It's like being inside a great big pinball machine."
But today's generation of players really likes the course, especially veterans who have seen it evolve from the 1980s. "It's a wonderful golf course, one of Pete Dye's best," says Rocco Mediate. "It's far better than a lot of courses we play major championships on," says Mark Calcavecchia.
"Most of the players have grown to like the course more and more," says Brad Faxon. "I think it helps that we don't change locations. The Players has grown in popularity because it stays in Jacksonville. The fact the Players Championship doesn't move around has helped people accept the golf course. If you want to be a good player, you'd better learn to like it."
It probably also helps that the course has seen many changes over the past two-and- a-half decades, most aimed at making it less quirky and unpredictable in its bounces. Most of the changes were instigated by tour players, who have always acted as if they own the place. (In a sense they do, since the PGA Tour, the non-profit organization of which they're card-carrying members, does, in fact, own the place.)
A vocal early critic was Tom Watson. "They've taken Augusta's greens and miniaturized them," he said at the 1982 event. "I take that as a compliment," Dye responded. "I've always thought Augusta's greens were too big."
Watson organized a petition drive in the locker room that year, demanding changes to the greens. A year later, a 10-man player committee—including Jack Nicklaus, Hale Irwin, Ed Sneed, Jim Colbert and Ben Crenshaw—toured the course with Dye and PGA Tour commissioner Deane Beman and presented a laundry list of alterations. Dye and his crew dutifully carried out the changes, chiefly flattening the greens considerably to make them more receptive. (The greens would be further softened in 1988, when Dye rebuilt them to USGA specifications.) Today, they're gentle enough to handle green speeds of 12 feet on a Stimpmeter during championship week.
At the behest of the committee, the green on the short par-5 16th was completely replaced. It went from a long, narrow target along a lake's edge to a wide, deep catcher's mitt where only a truly bad swing will end up in the drink. Curiously, the committee made no recommendations regarding the island 17th, and today it remains the least-changed hole on the course.
Later on, several holes were widened by removing trees. Dense underbrush beneath trees was replaced with pine straw, giving some holes a Pinehurst look. Shaved chipping areas around many greens were instituted when the greens were rebuilt again in 1988, adding another Pinehurst touch. But since Greg Norman shot 24 under par in 1994 (on a rain-soaked set of greens where golfers played darts), thick ryegrass rough has been grown everywhere, even right to the edges of greens, for subsequent tournaments.
Despite all the reconstruction, what's never changed at the TPC at Sawgrass is the original intent of Dye's design. It's still a target-golf course. "It's very severe off the tee," says Chris DiMarco. "It's just a tough driving golf course."
"You've got to be in the right place to score on it. The greens are such small targets," says Fred Funk. "It's a really good golf course, because it doesn't favor big hitters."
"I like that you have to shape shots," says Faxon. "For instance, on the par-5 second, you absolutely have to hit a draw if you hit driver. A long hitter hitting it off line is not going to do very well at the Players Championship."
"When I first saw the course 18 years ago, it was so intimidating," says Steve Elkington, who has won there twice. "It was a new style of golf, a new concept. So it took some time for guys to learn to like it. It's a great venue, because it's the most precise golf we have to play all year. You have to hit fairways and greens there. There's none of this hit-four-out-of-14-fairways-and-still- shoot-68 on that golf course."
At 6,954 yards, par 72, the Stadium Course is one of the shorter courses played on the PGA Tour, yet no golfer thinks it could be improved by stretching it several hundred yards. They like that it favors no single game. Yes, big bombers have won there—Tiger Woods in 2001, Davis Love III and Fred Couples twice each—but so have short-but-oh-so-straight players like Calvin Peete in 1985, John Mahaffey in 1986, Lee Janzen in 1995 and Justin Leonard in 1998.
What is particularly impressive is the flow of the course. There are mirror-image par 4s at the first and 10th, followed by gambling par 5s, so the half of the field that begins on the 10th tee in the first two rounds won't be put at an early disadvantage. Because the championship ultimately comes down to the back nine Sunday, Dye concluded the course with a trio of highly dangerous and potentially exciting golf holes—the reachable par-5 16th at just 497 yards; the 132-yard, par-3 17th to the island green; and the 440-yard, par-4 18th, bending left with a lake literally along the left edge of the fairway cut from tee to green.
"It's a great finish," says Faxon. "As a player, there aren't many times when you get more nervous than hitting that second shot into 16, hitting to that island green on 17 and hitting that tee shot on 18."
"It builds all the way and finishes you off with the hardest part of the course," says Elkington. "Mentally, it's a good challenge, because you know the end of the course will be the most important. At Augusta, once you get past 15 and 16, you feel it's over. Not at TPC at Sawgrass. I once stood on the 17th tee with a six-shot lead and I was still worried about getting it across the water. I know if I put one in the drink, I might put 10 in. It's one of those feelings."
If there is a bit of discord in their present affection for the TPC at Sawgrass, it's that some players don't care for the present conditioning of the course, especially its deep rough.
"The first few years it was firm, fast, with no rough, and the ball would just go forever if you missed a fairway," says John Cook. "That's the way I liked it. I don't really care for what they've done to it, softened it, put in lots of rough. It's still quite a test, but I think it was meant to play firm and fast."
Davis Love III agrees. "That's not the way it was designed. I don't think Pete Dye's courses are made for four-inch rough everywhere."
Indeed, the Stadium Course originally was intended as a low-budget, low-maintenance layout, with just 40 acres of maintained turf. Dye spent only $2.5 million building the course. "We won't have rough," Dye said at the time. "The game was never meant to be played out of high grass. Courses that rely on deep rough eliminate the thrill of a great recovery shot." The layout was a modern-day Pine Valley, but tour players never contested a single round on that version of the course. By the time the championship was moved there in 1982, Bermuda grass run amok had covered most of the waste areas. Even so, the early years still offered a much different look than what has come later.
Tom Kite, the 1989 champion, thinks the Players Championship would have achieved major status by now if the tour had preserved the unique nature of Dye's original design. "It was probably as strategic a golf course as maybe we've ever seen," he says. "It reminded me a lot of St. Andrews in that there were so many options and ways to play it. It was designed to play firm and fast, and you knew you were going to have to play some creative shots. But now it's like the U.S. Open, with lots of deep rough, trees totally out of play. Nobody hits it into the trees anymore. Nobody ever misses a green by more than two or three yards anymore, because it doesn't roll anywhere, it just hits that wall of rough."
The problem is that they overseed the course in winter, says Paul Azinger. "Whenever you overseed in Florida, you have to water it to keep it alive, and that makes everything softer and easier," says Azinger. "I'm not suggesting that it's easy. I love the course, but it's not what it was, not what Pete Dye intended it to be. It's just not that hard anymore." If those views reflect the feeling of a majority of PGA Tour players (and no one knows, since no poll has been conducted), then perhaps another advisory committee might be in order this year. Dye is scheduled to meet with tour and club officials the week before this year's Players Championship to discuss the possibilities of some new back tees, a new irrigation system, new turf for the greens and other items to keep the course competitive.
Maybe they should talk about adding a few new rough mowers, too.