News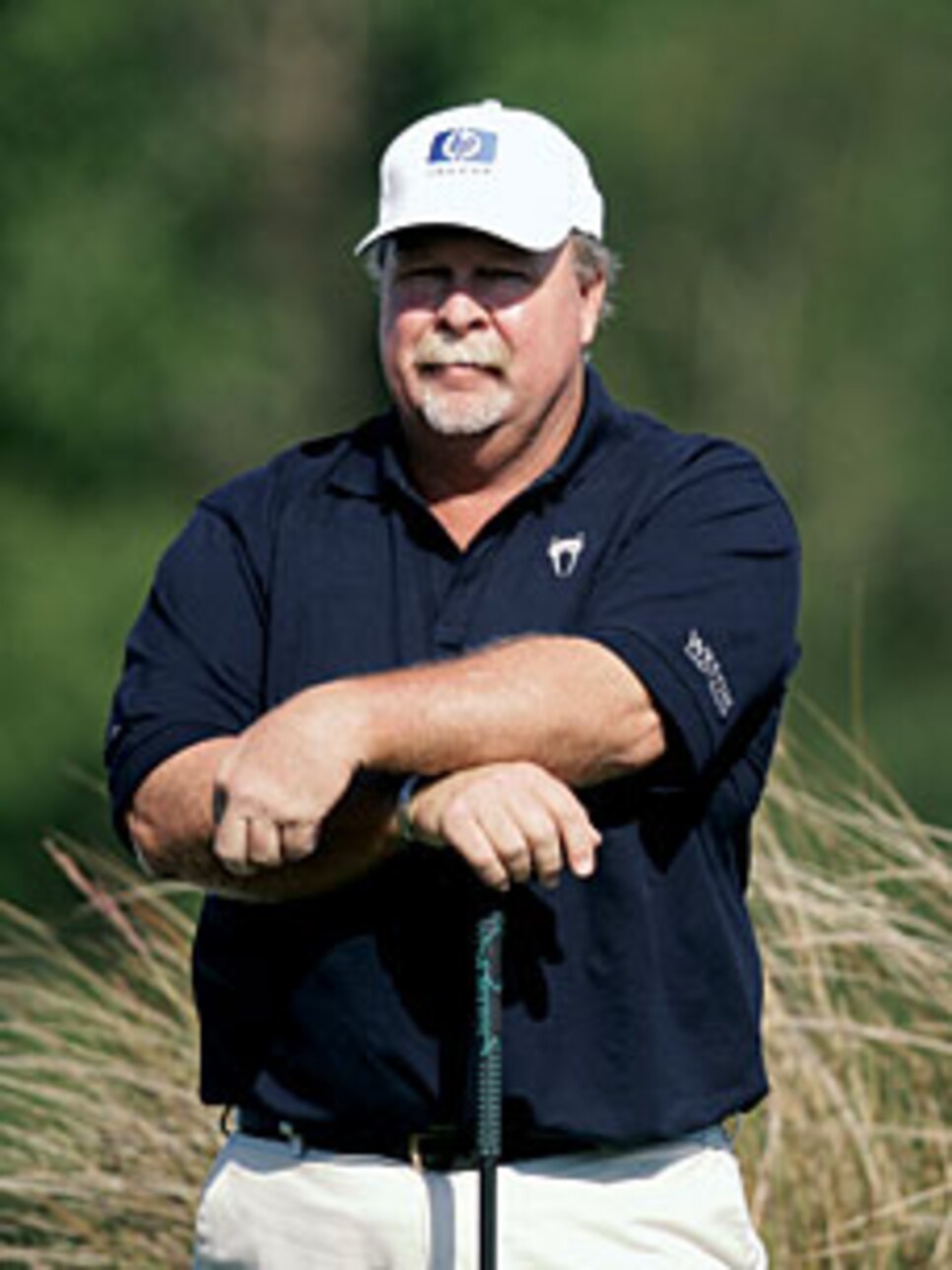 Perhaps showing signs of six straight weeks of play, Stadler finished in the middle of the ACE Group pack.
Craig Stadler has a lumberjack's forearms and a longshoreman's face, but just when you're expecting something salty to come out of his mouth, he'll describe his iron play as "horrid." Looks aren't always what they seem when it comes to the Walrus, who can appear mad at the world but really has a much smaller target in mind.
"He had a reputation when he first started to succeed," said Sue Stadler, Craig's wife of 26 years. "A lot of people thought he was this angry, gruff, mean kind of guy. They needed to look closer. He never gets angry at anybody but himself."
Having some fun with Stadler's appearance and demeanor, the late Jim Murray wrote that when he first saw Stadler he didn't know whether "to feed it, trap it, shoot it or cage it." After Stadler's impressive five-victory, player-of-the-year performance on the Champions Tour in 2004, his peers are trying to figure out a way to "beat it."
"Hale [Irwin] is tough week to week," said Dana Quigley, "but Stadler is murder when he gets the putter going and his mind is in the right place."
Stadler showed an obliging spirit to his competition at last week's ACE Group Classic at The Club at TwinEagles in Naples, Fla. While Mark James nosed out Irwin and Tom Wargo for the title, Stadler was a distant 13 strokes behind in T-36, his worst finish on the senior circuit since a T-42 at the Bruno's Memorial Classic last May. His second-round 77 was his second-worst round as a senior. "He had so many days last year where everything went right," said Sue. "Today nothing went right." A closing 66—fashioned out of nine birdies, six pars and three bogeys—moved him up to the middle of the pack.
"Probably just coming up on too much golf here," said Stadler, who was competing for the sixth straight week on either the Champions or PGA tours and was fighting the lefts with his driver the first two rounds, a rarity for him. Stadler, who won the 2003 B.C. Open shortly after turning 50, joined his son Kevin in the field at three events on the regular tour. He was T-9 in the Sony Open in Hawaii and T-14 at the Bob Hope Chrysler Classic, in addition to missing the cut at the ATT Pebble Beach National Pro-Am.
At the ACE, Stadler also had to deal with his longtime caddie Jeff Dolf going to a hospital by ambulance prior to the pro-am Thursday with what was initially feared to be a heart problem but was diagnosed as a painful pinched nerve and muscle strain. "I'm going to send over a 12-pack and a carton of cigarettes," Stadler joked later that day. "He's fine. I think he just wanted the day off."
While Dolf rested through the weekend and Todd Byers filled in on Stadler's bag, the Walrus searched for the game that made him so dominant in his second Champions Tour season. "It's just fun to play well, but it's fun to putt well more than anything," Stadler said Thursday afternoon as he hit a couple of dozen iron shots before going with Sue to see "Million Dollar Baby." "It's gotten to the point that I start missing greens and don't even thinking about making [bogey]. I'd much rather hit it marginally and make everything than hit it 10 to 12 feet and miss everything. You come off the green thinking you accomplished something rather than being pissed off that you missed another birdie attempt."
His physique notwithstanding, Stadler had all but vanished in his late-40s, his money ranking and motivation both sapped by poor putting. His touch rescued by the claw grip, in which the right hand is placed palm-down on the top of the handle to take away any chance of a jab or yip, Stadler became the kind of player he had been in his PGA Tour prime: powerful and streaky, capable of birdies in bunches. Not having to worry about making cuts freed him up even more.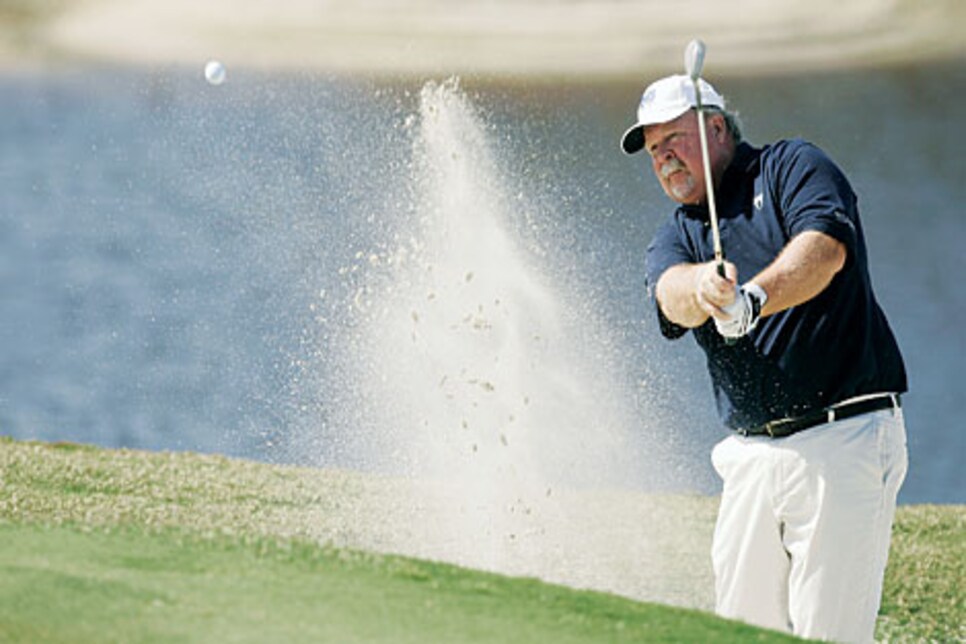 "Craig just keeps being the Walrus," said Irwin. "He's a formidable player, simply because he seems to be playing with more confidence than I've seen him play with in a long time." Stadler's swing, built around a husky frame that is listed as 255 pounds but which he admits is north of 275, never has required too much maintenance. These days he goes to see instructor Dick Harmon about eight times a year.
"Usually it's not anything that not's fixable in an hour or two," Stadler said. "There is not much that can break down, it's so short. I think that's been a blessing in disguise. I've been getting ahead of the ball lately. I'm trying to sit back on it more."
Between his play on the Champions Tour and Kevin being in the news, too, for winning two Nationwide Tour events and earning his 2005 PGA Tour card, Stadler has gotten a lot of attention. Two other things—one serious, one less so—also helped put him in the spotlight.
Stadler pleaded guilty last June for operating a vehicle while impaired after being arrested in Michigan. "It bothered him a lot," said Sue. "It embarrassed him. He got some grief from Mothers Against Drunk Driving in Michigan. But he didn't try to shirk the responsibility. He said he made a mistake and that it would never happen again."
The second bit of attention is his role in an ad campaign for the Smith Wollensky restaurant chain. According to Stadler, the steakhouse called another Champions Tour player first to see if he wanted the spokesman's role, but the player wasn't interested and so the opportunity fell to Stadler. The Walrus has gotten a kick out of his role, and he enjoys the perks. "It's a fun place to take people for dinner," Stadler said. "I've got a debit card, and I can't use all of it. We took some friends in Houston the other day and we got a '94 Bryant, which was $1,300 on the wine list. It was very good." (Wine critic Robert Parker called the vintage "a potentially perfect wine.") Between the Hope and the Champions Tour Skins Game, Craig shot a new commercial for the upscale restaurant chain in Las Vegas, this time joined by Kevin.
Despite the mediocre outcome last week, Stadler is enjoying himself more than ever—but then he always has had a better time than people thought. "People think he's volatile and demonstrative," said Pat McGowan, an old friend and Champions Tour rookie, "but that's actually a good thing in golf because he doesn't let one bad shot lead to another one. A lot of guys do a slow burn inside. He gets it out."
In the heyday of his on-course venting, Stadler often performed "Emphatic Club Placement," the term he coined for letting an offending club know it had done him wrong as he returned it to the bag. The placements (and man-am-I-disgusted club flips) haven't disappeared, but they don't seem quite as emphatic nowadays.
"He's just having so much fun," said Sue. "I haven't seen him have this much fun playing tournament golf since the early 1980s. He knows he can go out and win on any given week. Knowing he can win anytime, he wants to play all the time."
Stadler will try to assemble all the pieces at this week's Outback Steakhouse Pro-Am, while hoping he can put together another year like 2004. "I don't know about [matching five wins]," he said of a potentially perfect season, "but I guess anything's possible. I must say the more you start winning, the easier it is to continue, because you get comfortable. I would expect it to continue, at least to some degree."
From Naples he was heading to Augusta National GC to play with friends for a couple of days. He plans to play the Masters, which he won in 1982, the MCI Heritage and perhaps the Vancouver stop on the PGA Tour while trying to reign on the Champions Tour. "Until last November my game was solid all year long," he said. "It's been horrible since. I can't seem to get back in that little groove that I was in. That's a little troublesome. I've worked pretty hard trying to find it and haven't, but it'll come."
As Stadler finished signing about a dozen autographs Sunday afternoon behind the ninth green, where he finished out of contention and out of sight of the television cameras, a woman had a question for him.
"Mr. Stadler," she asked, "if I'm going to have a sweater made for you, what size would it be, an extra-large?"
"Something like that," he said. "Something with a bunch of Xs."