News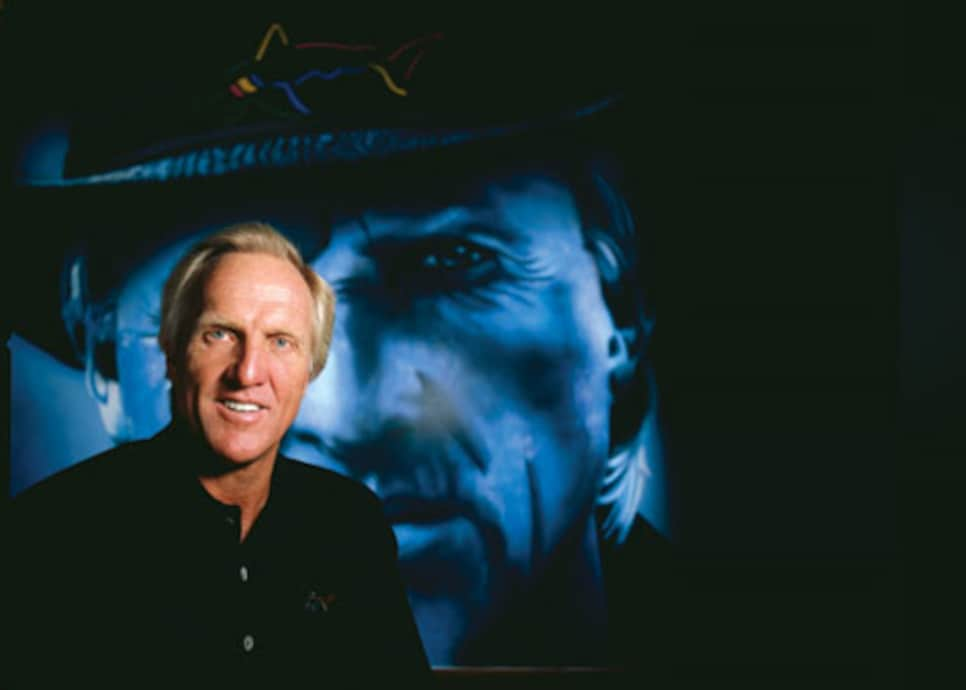 Larger than life: Norman's image would help tour.
For a man who has it all, Greg Norman celebrated his 50th birthday quietly last week at his 12,000-acre ranch in Meeker, Colo. Rather than a big party with hundreds of guests, Norman's low-key gathering included only his wife, Laura, children Morgan-Leigh and Gregory and a small circle of friends. His family gave him a Palomino quarter horse with a blond mane named Tiburon. He rode off not into the sunset but into the powdery snow, high above the world of competitive golf. "I told somebody the other night it's the happiest he's ever been," Laura said. "He's been away from the tour, doing what he wants to do."
As he stands on the 10th tee of life, Norman has no intention to segue into a Champions Tour spotlight the way most of the greats of the last quarter-century have. The over-50 circuit resumes its schedule on the mainland this week with the ACE Group Classic in Naples, Fla., but Norman won't be there—in fact, he isn't expected to play a Champions Tour event until the Senior PGA Championship in late May.
The official line is that Norman isn't supporting the Champions Tour because of the back injury that requires monthly cortisone shots, his hectic lifestyle as businessman and sportsman or the fact that, like Jack Nicklaus at 50, there is nothing left to prove. But whatever you want to call it—statement, protest or payback—Norman also still owns a powerful bitterness toward PGA Tour commissioner Tim Finchem for the way the Shark's concept of a world tour was received, rejected and reinvented a decade ago.
The tour opposed Norman's idea for a world circuit because it said it would have violated several tour regulations. Norman has a different take. "I was painted out to be a bad person, and they've taken my ideas and run with it," he said after returning to his Jupiter Island, Fla., compound Sunday. "What do they expect me to say, 'It's fine, after 10 years the water's under the dam?' It just doesn't go away. I'll never forget the [2001] induction ceremony for the World Golf Hall of Fame when Tim gave me credit for the World Tour. I turned to Laura and said, 'Why bring it up now?' ''
Interviewed during last month's PGA Merchandise Show, Norman said how the PGA Tour handled the world-tour concept was a tougher blow than any miracle shot thrown at him in a major. "Of any moment in my golf career," he said, "that was the moment that crushed me the most."
More than a chip-in by Larry Mize at the 1987 Masters or a hole-out from a bunker by Bob Tway at the 1986 PGA Championship, Norman remembers the phone calls he made to golf professsionals and retailers who canceled orders for the Greg Norman Collection because he was "bad for the game."
When Champions Tour president Rick George tried to take Norman's temperature on his 2005 plans, he got a vague response. "I really don't know exactly what Greg's plans are," George said on a January teleconference call to kick off the season. "I know he indicated he was going to try to play in the majors, and he may play a few other events. I think once Greg gets out here and sees the quality of play and the interaction of our players, I think he'll enjoy it out here, and we're hoping that he will play."
Many are hoping the frost melts. "He'd certainly be a shot in the arm," said Peter deYoung, tournament director of the SBC Classic in Valencia, Calif. "People like to watch Greg play golf, whether he's winning or not. The non-golfer would get excited about seeing him play." When Norman plays a Champions Tour event, deYoung believes he could be worth 10 to 15 percent more in advance ticket sales, and a similar walk-up increase if he is in contention.
Tracy West, tournament director of the Bank of America Championship in Concord, Mass., is playing the Boston card. Over the holidays she sent Norman a care package that included baked beans and Red Sox memorabilia hoping to get the Shark to notice—and play in—the event's 25th anniversary. (Norman's daughter attends Boston College.) "He's one of the great personalities the sport has had," West said. "Even though he hasn't played that much in the last couple of years, his name is huge."
For now, it looks as if Norman will play more golf off the Champions Tour than on it, limiting his senior appearances to events—majors—that are conducted over 72 holes. Norman will play in Dubai the week of the Ford Championship, where he is a three-time champion and designed one of Doral's other courses. Then he will play the Players Championship, BellSouth and MCI Heritage and Senior PGA Championship. In the summer, the Cialis Western Open and International might be mixed in with the U.S. Senior Open, British Open and Senior British Open, Ford Senior Players Championship and Jeld-Wen Tradition. "Quite honestly, I'm excited about playing golf," said Norman, encouraged by better play late in 2004.
Last week Norman's focus was relaxation. He turned off his cell phone and didn't check his e-mail while at his Colorado spread, which is two hours from the nearest airport in Grand Junction. His guests included the families of fellow pros Steve Elkington and Scott McCarron and Australian friends who hadn't seen snow. They hunted mountain lions and eventually bagged one.
Norman recently sold his yacht to Miami Dolphins owner Wayne Huizenga, took the capital gains and extended his property in Meeker by buying the adjoining Seven Lakes Lodge owned by leverage buyout specialist Henry Kravis. These are the kind of people he runs with, the kind of deals he has been cutting since leaving International Management Group in 1993. On March 9, Norman will host "Three Friends: One Goal," a benefit tournament with former presidents Bill Clinton and George Bush, co-chairs for the U.S. tsunami relief effort, at Medalist GC in Hobe Sound, Fla.
How did Norman get a Democrat and a Republican who each held the world's most powerful office to join him? "Just picked up the phone and called them," Norman said. "The hardest part was getting a date for all three of us in the same place in a short period of time. We didn't want to lose the impact of what's happened and where they're going with their fund-raising efforts."
It was easier to get two ex-Presidents together than it has been getting Norman and Finchem on the same page. "He can't ride a horse fast enough to catch me," Norman said.
—Additional reporting by Bill Fields