News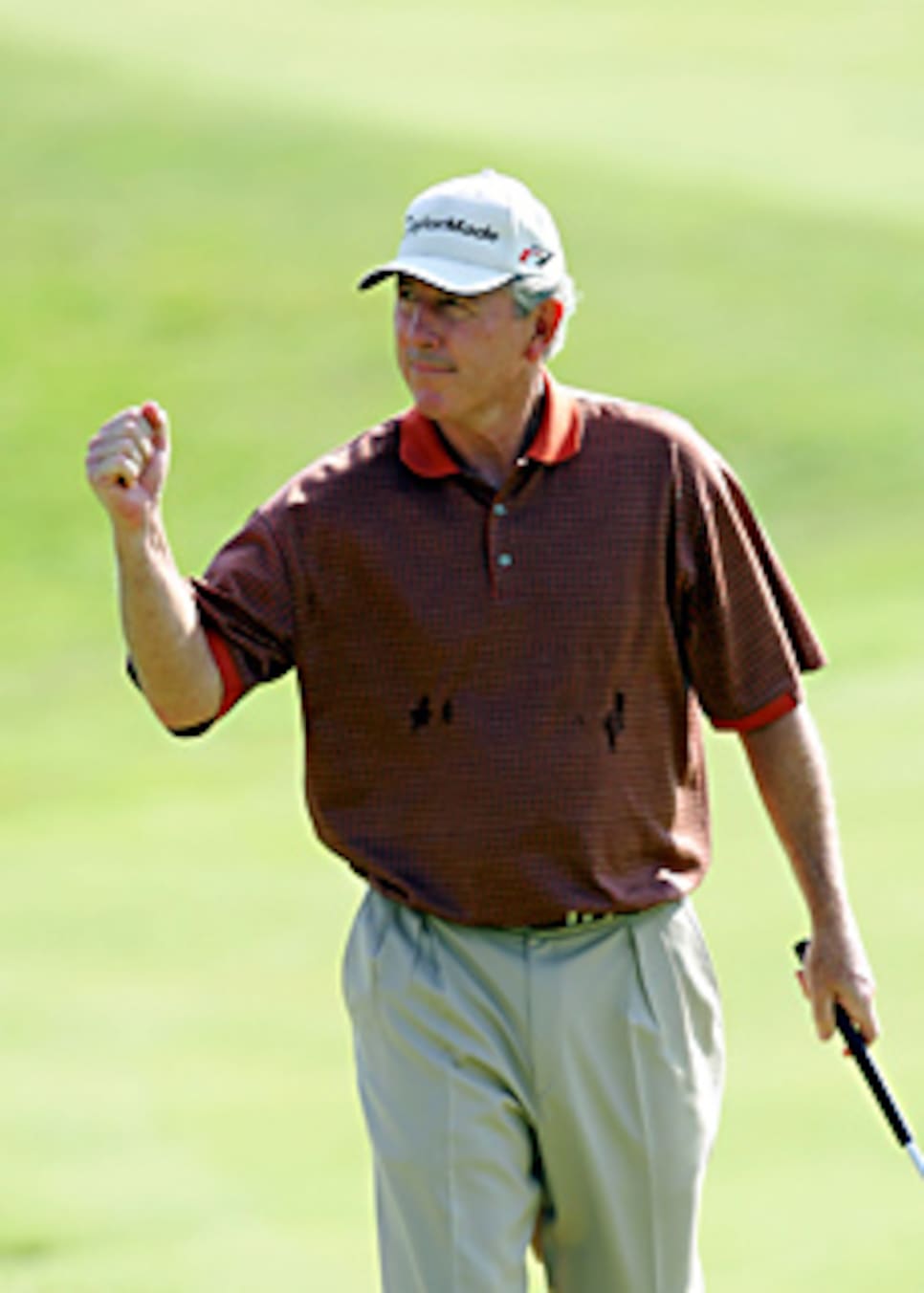 As classes go, it's difficult to argue with the Class of 1912. That rather remarkable year produced three of the five winningest players in the history of the PGA Tour: Sam Snead (82 tournament victories), Ben Hogan (64) and Byron Nelson (52). That they were born within six months of each other begs for an astrological explanation of how exactly the stars aligned so perfectly to produce three players of such precision in such a compressed time period. Surely, a trio that remarkable will never simultaneously walk the fairways again. Imagine the victory totals each would have accumulated had he not had to compete against the other two.
But as benchmarks for domination go, there is a threesome currently competing that is compiling absolutely historic numbers. Tiger Woods, Hale Irwin and Annika Sorenstam play on different tours, but they are building résumés of startling similarity when it comes to separating themselves from their competition. Of the three, Irwin - by no fault of his own - has done the best job of flying under the radar.
Irwin's victory Sunday at the Turtle Bay Championship was the 41st of his Champions Tour career and came just five months short of his 60th birthday. When he wins again this year - and does anyone really doubt that he will win again this year? - he'll have won at least twice in all 11 seasons in which he has competed on the senior circuit.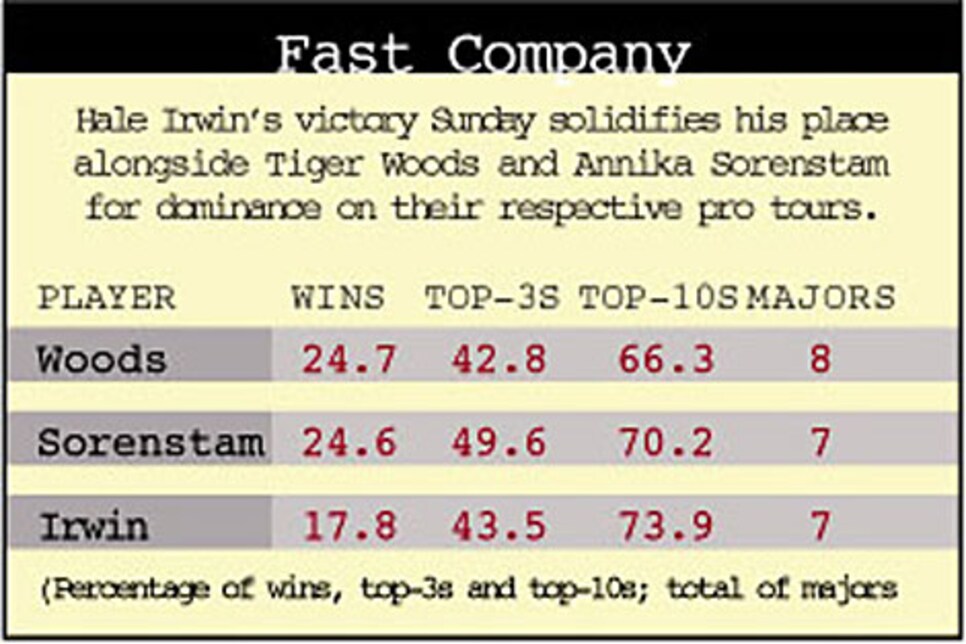 As with any sports record, the only really meaningful measuring stick is how an athlete fares against his peers. Babe Ruth's greatness is most accurately measured against Lou Gehrig, not Barry Bonds. (Ruth and Bonds played in pharmaceutically different eras.) Compared to the golfers he has competed against, Irwin is in a class by himself. He has carved a spot in history as impressive as those notched by Woods and Sorenstam, including a level of sustained excellence similiar to theirs.
Irwin has played 230 Champions Tour events, winning 41, finishing in the top three 100 times and in the top 10 on a whopping 170 occasions. Sorenstam has played 228 LPGA tournaments with 56 victories, 113 top-three finishes and has been in the top 10 a total of 160 times. Woods has competed in 166 PGA Tour events since he turned professional in 1996 with 41 wins, 71 top-three finishes and 110 top-10s.
Irwin's longevity on the Champions Tour is matched only by his consistency. In 10 years on tour he has finished out of the top 10 in scoring average, putting average, greens in regulation and driving accuracy a grand total of once - when he was T-17 in putting average in 2003. That probably explains why he had his highest Champions Tour scoring average that year: 69.59.
And it's not as though Irwin is one of those guys who never did anything on the regular tour and then found fame and fortune on the mulligan circuit. He won 20 times playing against the youngsters and holds the peculiar distinction of being the only person to win the U.S. Open three times. Willie Anderson, Bobby Jones, Jack Nicklaus and Hogan each won four. Sixteen others won it twice. But Hale is alone at three.
Where does Irwin's Champions Tour record rank among golf achievements? In my book, pretty high. It would be easy - and unfair - to dismiss it by saying it came against a bunch of old guys. Hey, he's an old guy, too. All you can do is compete against the competition you have. That's what Irwin has done, and with astonishing success. All hail Hale. Now let's enjoy as we see how much longer he can keep it going. He does have a couple of kids named Curtis Strange and Greg Norman joining the senior set this year.