News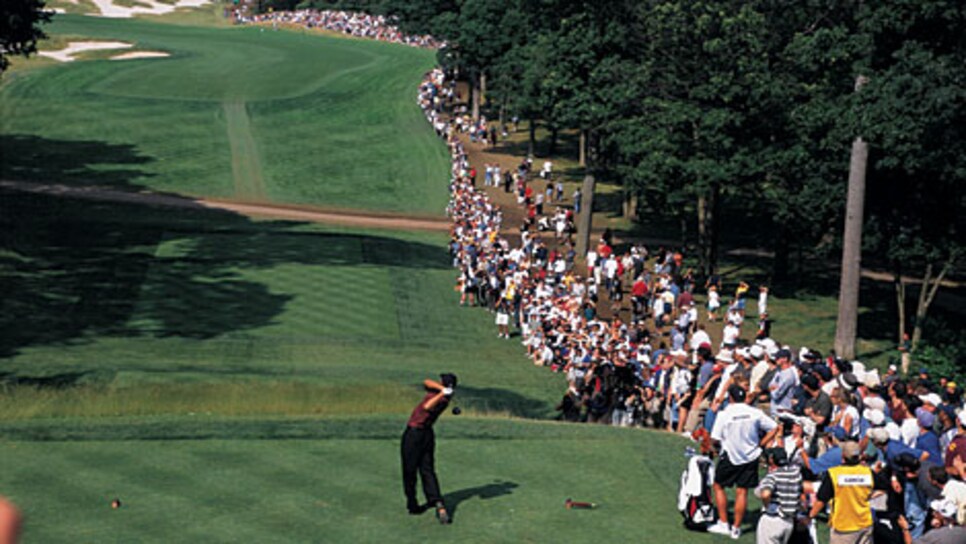 Driving force: Woods hit 12 of 14 fairways Sunday, including at No. 4.
He brought a bottle of water and that hilariously large U.S. Open trophy into the tiny, second-floor office of a woman named Frances Cheshire, a secretary at Bethpage State Park. With ESPN's "Sunday Conversation" behind him, his post-victory news conference still ahead, Tiger Woods took a few minutes to sign some flags, then sat in Fran's beaten old chair and surveyed her humbly decorated workspace.
Some pictures of the kids. A drawing of some cats. A stack of manila folders. No doubt about it, there is little chance of a desk job in his future. "Is that what it is?" Woods said, perhaps feigning surprise when told he'd picked up three years on Jack Nicklaus in the last hour. "That's not bad. Not bad at all."
They called this the People's Open, a national championship for the masses, a golf tournament for T-shirts instead of teacups. A terrific concept indeed, one in which a six-year blueprint played out to resounding success last weekend on the most principal municipal in the land. But this common-man theme? Come on.
Tiger Woods is not your average human. Even his brushes with the real world produce something extraordinary, the 102nd edition of this championship serving as the latest and most vivid example. Navigating Bethpage's murderous Black Course without a double bogey all week, Woods beat Phil Mickelson by three strokes to notch his seventh major triumph in his last 11 starts. It was his eighth major overall, from which we can deduce that he's not your average Bear, either.
Nicklaus needed 35 starts to win his eighth major—the 1970 British Open. Woods has done it in a mere 22 appearances, but perhaps more significantly, his pursuit of a Grand Slam is about to become the sports story of the summer. "I think the buildup to [next month's British Open] will certainly be a lot easier than what I had to deal with going into Augusta in 2001," he said, making it perfectly clear that he considers his four consecutive majors no less an accomplishment. "Going seven months and dealing with that question at every single tournament I played in—this time the majors are in back-to-back months. I certainly think it will be a lot easier in that respect."
Not that anything comes to him on an oversized platter of stress. At three under, Woods was the only player to finish below par on Bethpage Black, a venue that received glowing reviews as a design but was trashed mercilessly—and thus victimized—by the worst USGA setup since the 1998 debacle at Olympic. "A guy who hits it 265 yards right down the middle? No chance," said Ernie Els. "This is a great golf course, one of the best to ever host a U.S. Open, but what they did to it is horrible."
In an effort to preserve competitive integrity on its first visit to a public facility, it's easy to see why the Bluecoats overdosed on themselves. There was no way championship director Tom Meeks was going to let anybody shoot 15 under on the muny, so some illogical decisions were made. The dumbest? Leaving the tees back at the tips for Friday's second round, which had been forecast as cold and rainy and—imagine that—turned out cold and rainy.
About half the field couldn't carry their drives 244 yards over the waist-high fescue. Meeks reiterated that he'll never let weather dictate a course setup, which makes almost as much sense as hiring a Rottweiler to babysit your 2-year-old daughter. "It was long before [Friday]," said John Cook, who missed the cut by a stroke, "but not to the point where anybody was eliminated. Today, they eliminated all but about 20 guys."
Not since the days of P.J. Boatwright Jr. has a U.S. Open evoked such a fear factor. Green speeds were outrageous all week, starting around 12 on the Stimpmeter and climbing into the 15 range by Sunday. Asked if these surfaces were quicker than Augusta National's, Els replied, "No. They're way faster." On the first hole of the championship, playing companions Jesper Parnevik and Scott Verplank each had putts of about 25 feet for birdie. "You look at the greens and they're so … green, like they're soft and slow," Parnevik recalled. The Swede rolled his birdie try 12 feet past the hole, then lagged the comebacker to six feet before saving bogey.
Verplank wasn't quite as fortunate. He walked away with a four-putt double. "I'm a USGA member and I've won an Amateur," he said. "I've always been a big supporter and I really like Tom Meeks, but they should be embarrassed. They've caved in to the whole technology scare, the idea that you have to hit the ball straight and forever to play this game."
It all added up to another perfect setup for Woods, or as Parnevik said, "I think Earl picked the course." As much as length, a high ball was a virtual necessity, but unless you've got a bunch of 470-yard sharp doglegs with 16-yard fairways and three inches of Bermuda rough, as was the case last year at Southern Hills, Tigerproofing quickly has become an oxymoron.
"The only courses I've ever seen him struggle on are courses like Colonial and Hilton Head, and they're never going to take a major championship to those places," said Nick Price, who finished tied for eighth. "I've played [remaining 2002 major sites] Muirfield and Hazeltine National, and I think they're both right up his alley. There isn't a course out there he can't play."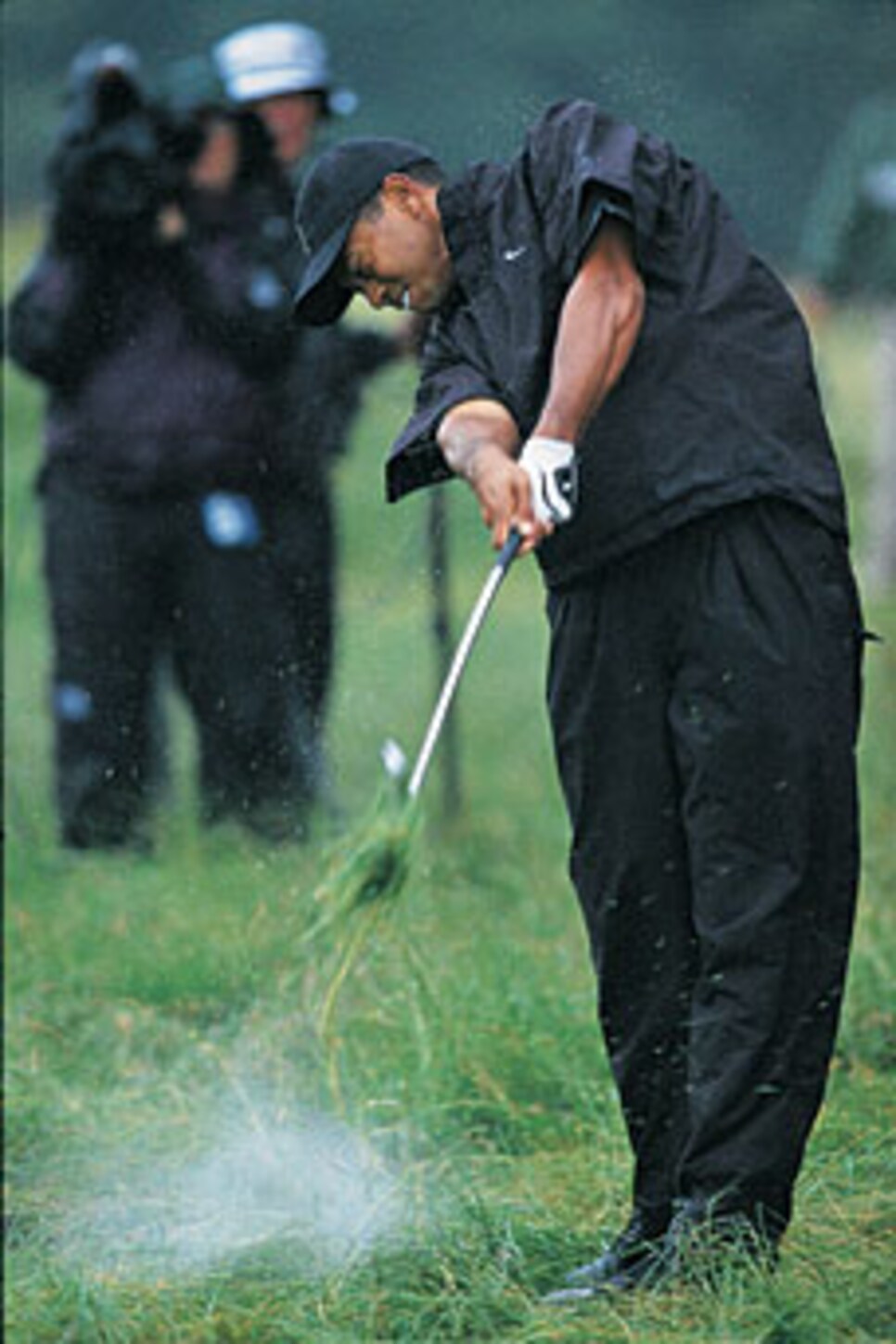 At some point, you stop picking through the stats and searching for reasons. The guy is just better than everybody else. "I never had the chance to watch Nicklaus in his prime, but I'll tell you one thing, he's unbelievable," said Sergio Garcia, Woods' final-round playing partner and chief antagonist throughout the week. "If he's leading by four or five, he doesn't need to pull too hard, so he doesn't. If he needs to play a little harder, he does. He's able to do whatever it takes."
However familiar the final result may have been, this was a U.S. Open like none before it. A Yankee Stadium atmosphere enlivened the grounds at the start of the week and never let up, creating a love-it, hate-it scenario not unlike the Big Apple itself. Playing any public course might have resulted in higher decibel levels. Playing the biggest, baddest chopper field on Long Island turned the national championship into a three-ring hothouse.
The controversy and commotion seemed to collide Friday, when 21/2 inches of rain were paired with temperatures in the 50s. Just 11 of the 155 competitors hit the seventh green, a 489-yard par 4, in regulation. The second-round stroke average of 76.48 was the highest at a U.S. Open since the final round in 1992 at Pebble Beach, a day made memorable by 50-mph gusts.
"If it had blown 50 here," Parnevik said, "we would have never finished."
Numerous players disparaged the USGA, which had the nerve to ask the fellas to keep playing through the puddles. You'd think that when first place pays $1 million, the boys would be willing to throw on a wetsuit and go tee it up. "There was some standing water on the greens, but it wasn't too bad," said Phil Mickelson, who shot a 73. "It would have played much tougher if there had been wind."
As for the "Be Nice to Monty" campaign initiated by Golf Digest, you might say it was half-successful. A 75-76 combo left Colin Montgomerie on the outside looking in over the weekend, but only after a representative from the Department of Hops and Barley managed to get under the Scot's thin skin.
"Hey, Monty!" the guy shouted Friday afternoon from his perch behind the 17th tee.
"Hey, Monty!" the guy screamed again, to no avail.
"Excuse me, Mr. Montgomerie," he said, at which point the big fella took the bait—and was rewarded with a scatological jab about his chest that would make a Hooters waitress blush.
It was Garcia who proved the biggest bust during Friday's bogeyfest, stumbling from an opening 68 to a 74 and pointing fingers all the way in. One tense standoff with the gallery prompted Sergio to flip a half-bird at the hecklers. Others called him "Wagglepuss," a nickname derived from his constant regripping of the club while over the ball.
Sergio saved his best shots for his post-round news conference. Asked if he thought play should have been delayed because of the weather, he replied, "I certainly did. If Tiger Woods had been out there, I think it would have been called." Luck of the draw, fortunate lies in the rough, a favorable course setup—Garcia couldn't stop dreaming of ways this tournament had been given to Tiger.
But instead of vanishing into competitive thin air, as so many U.S. Open crybabies do, El Niño grew up overnight. His third-round 67 vaulted him back into the tournament, earning him Sunday's final pairing opposite Woods. By then, he had already attempted to make amends with Woods by leaving a note on his locker.
"I know I did it to myself," Garcia said Saturday evening. "Sometimes we say things that maybe we shouldn't say, but it's hard to say the right things over and over."
Woods seemed nonplussed by the antics of his rival, and though the two are known not to be the best of friends, there was an obvious level of cordiality Sunday. The men walked down the clubhouse hill and into a cauldron of excitement on the first tee—an electricity resembling a heavyweight prize fight.
Woods went out of his way to offer Garcia a handshake, and Sergio responded by offering Tiger a pencil. He declined, as if he already knew what he was going to shoot.
Woods' round was a hypnotic, somewhat misleading performance, almost flawless from tee to green but relegated to a 72 by a whopping 36 putts. He suffocated any threats to his four-shot lead by hitting 12 of 14 fairways and 15 of 18 greens—two of the missed GIRs left him with a putt from the fringe. He missed a seven-footer for par on the first hole and a two-footer for par on the second, but neither Garcia nor Phil Mickelson could sustain the momentum they'd built late Saturday.
"When he started out with a couple of bogeys [Sunday], I thought he might be catchable," said Mickelson, soaking up another second-place finish. "Shooting three or four under is possible, which meant he could be caught if he shot one or two over. I was within a few shots pretty early."
With retrospect as a judge, the closest this got to being a golf tournament was on Saturday evening. Having missed four birdie putts inside 10 feet through 13 holes, Garcia birdied 14 and 16, cutting Woods' lead to two. And Mickelson went on one of his binges, stringing together an 11-hole stretch in six under. The run culminated with a downhill 25-footer for birdie on 17, a putt that ignited the biggest howl on Long Island since the Joey Buttafuoco affair.
Woods had heard enough. He pumped his approach on the uphill 15th to 15 feet, then knocked in the birdie putt. After a par at 16, he stepped to the tee at the par-3 17th and stuffed a 6-iron five feet below the hole. Just when he seemed most vulnerable, Tiger was again untouchable. "The biggest thing for me was getting back to even par for the day," he would say Sunday night. "That was really important to me."
Fleeing to the practice range at 7:30 Saturday evening, Woods pounded balls until dark, a packed grandstand marveling at his shotmaking as if it were witnessing a fireworks display. Neither swing coach Butch Harmon nor caddie Steve Williams said a word throughout the session, as Woods appeared unhappy with something in his swing. By Sunday afternoon, there were no problems to speak of.
When all was said and done, Woods won because he was better from the rough. He birdied three of the first four holes he played from the high stuff, and on the 15 holes where he missed the fairway, he still shot one under. Mickelson also missed 15 fairways but played those holes in five over. Garcia missed 20 and was six over.
There will be plenty of heather next month at Muirfield. "He's halfway there, but he's still a long way away," said Price. "What amazes me, though, is his uncanny ability to raise his game a notch when it comes to the majors. Jack did it, and we all try to do it, but only a very few have actually been able to pull it off. The man is a phenomenon. I would say he has a really good chance to win the Grand Slam right now."
Added Nick Faldo, winner of the last two British Opens held at Muirfield: "One of the great compliments I've ever gotten is that Tiger watched tapes of me playing St. Andrews, and then went out and won there [in 2000]. I'll bet he's been watching tapes of me winning at Muirfield. Let's see if he's worked out the secret. I know what it is, but I ain't going to tell him."
Not that he needs to hear it. The closer Woods gets to Nicklaus' 18 majors, the easier he makes it look. His ability to prepare for golf's biggest tournaments has been refined over the last few years, breeding a level of confidence, and thus, unparalleled results.
"Right now, I could care less about that," he said of pursuing the Slam. "I want to celebrate this one. This was tough, with the conditions changing every day and having to play a different type of golf course. Just today there were two different golf courses—the one with the greens running at 15, then the one after the [Sunday evening] rain. It's going to be a while before I start working on my links game."
Yeah, right. Like maybe next week.