News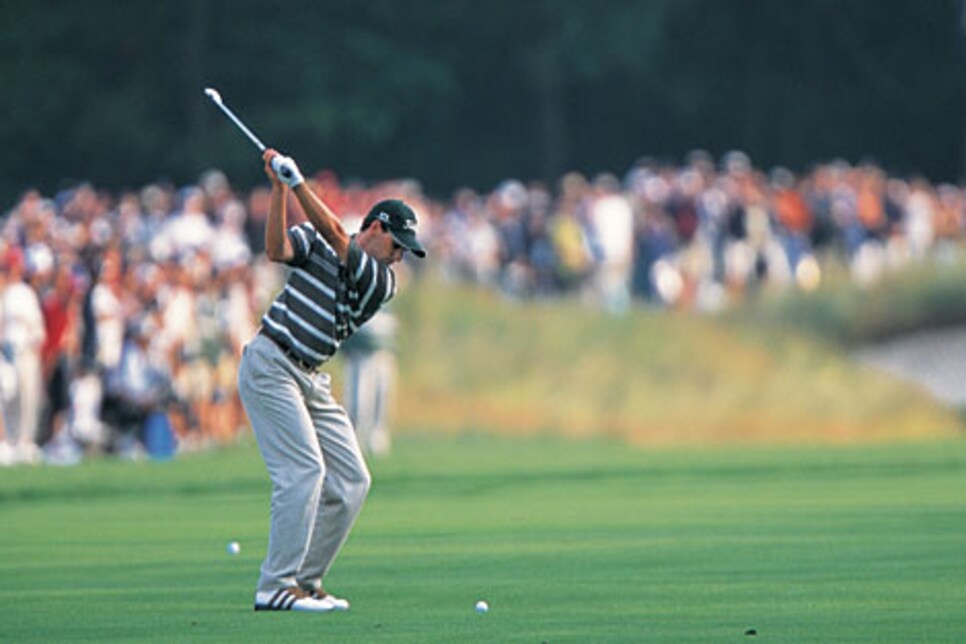 Having improved his swing, Garcia must control his pre-shot routine.
Since Spaniards didn't celebrate Father's Day last Sunday, there was no irony as Victor Garcia wordlessly consoled his son that evening in the Bethpage locker room. Away from the cacophony that had followed the 22-year-old for three days, Sergio Garcia allowed himself to be soothed by silence.
There wasn't much to say. After practically calling out Tiger Woods for a final-round showdown in a major championship, El Niño had just received a close-range tutorial from the coldest and most clinical closer in the history of the game. Whether he was ready to admit it or not, a humbled Garcia had learned precisely how far he has to go.
While Woods demonstrated the kind of mental strength it takes to rebound from two opening three-putts with what he called his all-time best tee-to-green performance on the Sunday of a major win, Garcia, with a spotty 74, showed he is still a work in progress.
The same can be said of his iron play. Although Garcia in full flight can work the ball as well as anyone in the world, he still suffers from the untimely loose shot, like the pull-hooked 4-iron from the middle of the 12th fairway Sunday that stopped next to the port-o-lets and ended any chance he still had of catching Woods. In contrast to the world No. 1's meticulously wrought and now wrinkle-free swing, Garcia's action still needs some tightening.
Mentally, Garcia remains a mixed bag. At Bethpage, his improving self-restraint was marred by a tempestuous Friday, when an acute case of Tigeritis temporarily separated him from reality.
And, of course, there was Garcia's interminable and worrisome pre-shot waggle. While Woods waited stoically as his fellow competitor stood over shots and regripped for as much as a full minute, Garcia seemed burdened with a performance-impairing handicap, like a debater with a speech stammer or an air-traffic controller with narcolepsy. It's simply got to go.
But if those assessments seem unduly harsh, it's only because Garcia's obvious gifts promise so much. In the long view, Garcia's fourth-place finish, six strokes behind Woods' winning total of 277, in only his third U.S. Open, is undeniably positive. His one-day seminar at the Woods Institute of Getting It Done might have been painful, but from such experiences come growth. Garcia recovered nicely from his Friday freak-out to win over a very tough and vocal New York crowd with poise and professionalism. And as the statistically best driver in the game and with more shots from 100 yards and in than anyone, he showed major championship chops that guarantee to make him a more consistent threat in the biggest events than any other Woods challenger. While Phil Mickelson's solid second-place finish further entrenched him as the game's No. 2, Garcia, 10 years younger, did much at Bethpage to establish himself as the main major championship challenger of the future.
"You can see that before long Tiger's biggest worry is going to be Sergio," said a prominent American player. "He's got the best tool box, he's on the steepest learning curve and he wants it the most."
Garcia came to Long Island breathing fire. Eager to improve on his tie for 12th last year at Southern Hills, where he trailed Retief Goosen by a shot after three rounds before closing with a fitful 77, Garcia had no qualms about his ambitions.
"[Tiger's] a great player, but I don't think he intimidates me," he said. "I know what I can do and I know that if I am on top of my game, I can beat anybody. I always like tournaments that play hard, where the winning score is a high score. I can't wait to see what happens this week."
He opened Thursday with a three-birdie, one-bogey 68 that featured some impressive par-saving wedge wizardry at the end of the round. Afterward, he offered a foreshadowing of a dark day to come. "More than anything, what I'm trying to do is get my emotions to a better level," he said. "So when I'm doing well, of course I'm happy and show it, but I'm not too happy. And when I make a bogey … I am unhappy about that, but I don't put myself too down."
Lurking like the elephant in the living room was Garcia's tedious pre-shot routine. Although when on the practice range he rarely regrips more than three times before pulling the trigger, at Bethpage he averaged about 18 pumps and occasionally exceeded a maddening 30. "The problem is it's a different number every time," said Howard Clark, a former European Tour stalwart and now a commentator for British television. "Your routine has to be set or it's going to catch up to you under pressure."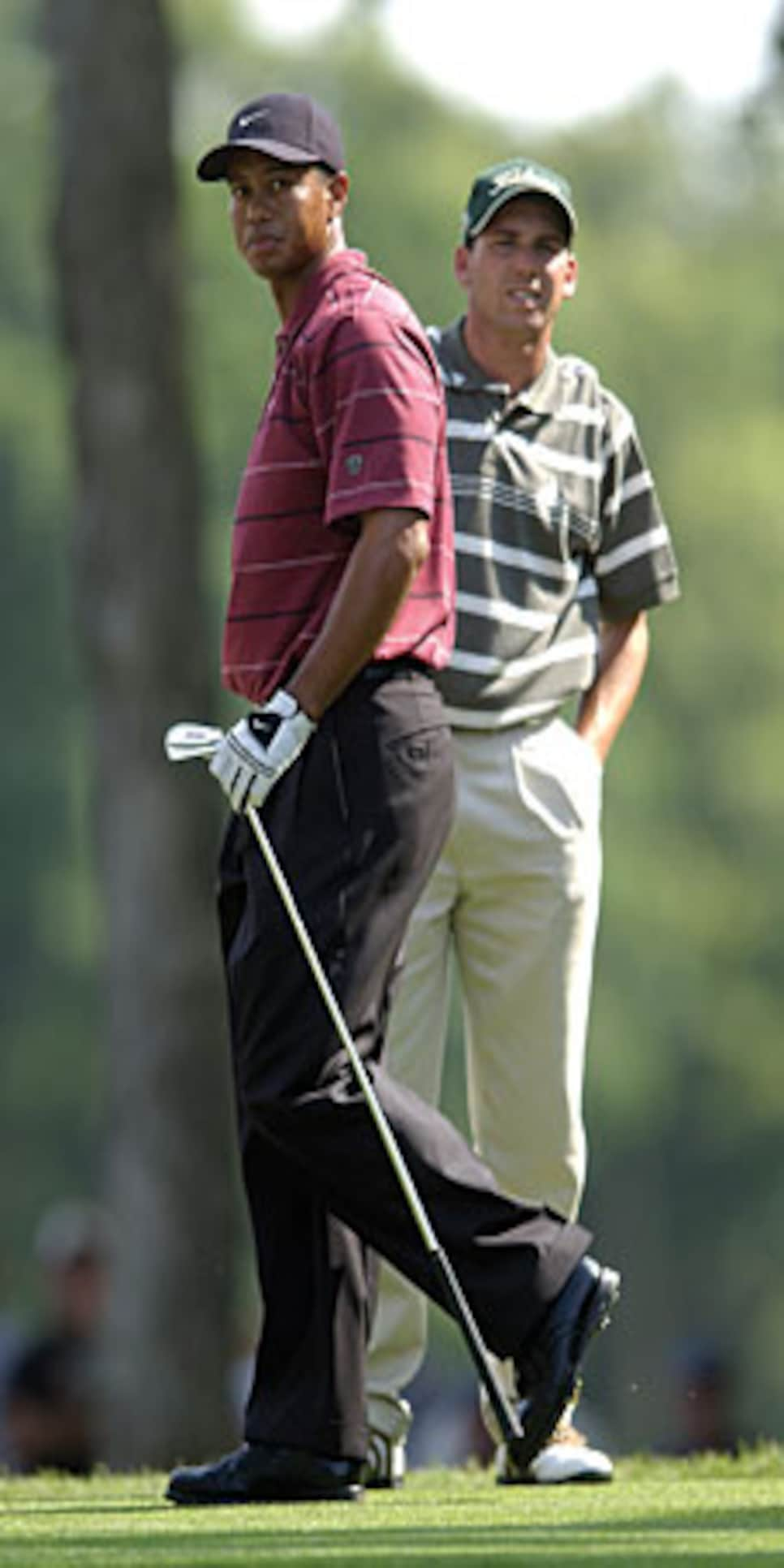 Not coincidently, the problem began suddenly at last year's U.S. Open at Southern Hills, where the small targets induced a worrisome milking of the club, and it has haunted Garcia periodically ever since. Recently determined to rid himself of the habit, the effort and resulting discomfort caused him to miss the cut at the Verizon Byron Nelson and MasterCard Colonial and finish 73rd at the Memorial. He went back to the long waggle at Westchester, where he tied for 12th, and decided to postpone any more work on the project until his two-week break before next month's British Open.
The habit has alarmed some experts, who wonder if Garcia will become a stereotyped mark for rowdy fans à la Colin Montgomerie.
"It's important he fix it," said instructor Jim McLean, who watched the Open on television at the Houston home of Jack Burke Jr. "Jackie was saying the same thing ruined Cary Middlecoff, and that when Hogan got to regripping the putter, eventually he couldn't pull it back. I'm worried that Sergio is going to keep getting it from the gallery. Besides that, it's a doubt-producing habit, it's negative, and it just looks bad."
The waggle was the root of Garcia's fiasco on Friday. After a heavy and persistent rain made the fairways puddle and Garcia's psyche a muddle, he started getting the business from the gallery, whose fast-twitch culture and dripping discomfort were at odds with Garcia's time-stopping ritual. When one group began counting regrips loudly as he stood over an approach to the 16th, Garcia stepped away and angrily shot his right arm and at least the hint of a middle digit out toward his tormentors. Asked if he would describe the gesture as a fist, Garcia said, "Yeah, sort of."
It was reminiscent of Irrational Sergio, the guy who kicked one of his shoes into the gallery during the 1999 Cisco World Match Play in England and who accused European Tour official John Paramor of bias after he was ruled to have taken an illegal drop in at the 2001 Greg Norman Holden International in Australia. Garcia continued to rage for the rest of the round on Friday, and when he missed a six-footer for par on No. 8, his 17th hole of the day, he threw down the ball so hard that it nearly embedded in the fringe.
It got worse. In the press room afterward, a frustrated Garcia showed how much he has Woods on the brain.
Of the wet conditions he played in, he said, "If Tiger had been out there, it would have been called." Of the taunting from the gallery, he said, "It feels like they don't make those comments to the bigger guys, and maybe they are afraid of them or something." And Masters green with envy, he concluded, "If you get the luck of getting the good side of the draw, like somebody seems to do in these kinds of tournaments, and you're the best player in the world and you make a lot of putts, everything works … If he doesn't win this week, I don't know what else can happen to him."
The comments set the championship abuzz, leading Ryder Cup teammate Thomas Bjrn to conclude, "The only thing wrong with Sergio is his mouth. He's going to become one of the greatest players who ever lived. But he lets himself down by saying things that should never be said."
Team Garcia, made up of Victor, agent Clarke Jones and assistant Carlos Rodriguez, immediately took Sergio aside. "We told him he had made a mistake, that he was wrong about Tiger and the scoring conditions [which had actually produced higher scores in the morning]. He just listened," said Jones.
Added Victor, "Right away he was sorry. At 22, you say things you don't say at 26. The important thing is that he learn and that it is rectified."
Garcia also conferred with girlfriend Martina Hingis, who suffered an even more public meltdown in the 1999 French Open final against Steffi Graf. "She is good for him," said Victor, "because she understands that while sport can be very beautiful, it can also be very hard."
Garcia's first act upon arriving at the course Saturday was a contrite live interview with NBC's Jimmy Roberts. He then surprised Jones by running up to him on the range. "He said, 'Clarke, don't be mad at me, but I just left a note on Tiger's locker,' " Jones said. Woods later said he appreciated the gesture and the apology.
Most impressively, Garcia faced the music on the course. With the tabloid-fueled fans lying in wait, he played up his own storm and shot 67. Throughout, Garcia either smiled at or ignored taunts that included, "Wagglepuss," "El Grumpo," "Waaaa!" and "While we're young!" ("Even if I don't win, I'm leaving with a lot of nicknames," Garcia joked). He walked right by a wise guy who called out, "Hey Sergio, give me the finger, you hack," but when another jeered, "Waggle, waggle waggle," Garcia's smile so disarmed the man that all he could splutter was, "See, he knows."
Garcia remained almost Woodsian in his resolve until the 15th tee, when he heard something that involved his relationship with Hingis, who was in the gallery. He stepped away, peered into the grandstand and said, "One more time. C'mon, be brave." When his challenge was greeted with silence, Garcia addressed his drive and hit away without interruption. By the 18th tee, he was receiving respect. "You're tough, Sergio," one fan said quietly. Garcia looked back and said, "I am." As he approached the green, the cry was, "C'mon Sergio, you and Tiger tomorrow."
Waggle and all, Garcia could hardly wait to get to Woods. "I will try to make him suffer if I can," he said. "Hopefully, I can make him sweat." Although friendly when Garcia first came on the scene, their relationship has been chilly since 2000 when Garcia beat Woods in the Battle at Bighorn, and then celebrated a little too animatedly for Tiger's taste. Although the Garcia camp said no disrespect was intended—"It was a very important moment for him," said Victor—Woods has kept a distance between him and Garcia similar to the one he has maintained with his other closest challenger, Mickelson. Still, Woods professed not to be annoyed by Garcia's post-second-round comments. "I wasn't angry because I knew Sergio is a very emotional player, and he was obviously frustrated at the way he played," Woods said. On the practice range before the final round, a smiling Woods made a point of walking over to Garcia and shaking hands and patting him on the backside with the grip end of his club.
Woods was even more charitable by three-putting the first two holes to let Garcia draw within two shots. But on the third, Garcia missed a four-footer for par he will not soon forget, leaving it to the right as he had many holable putts during the week. He tried to recover on the par-5 fourth with a big drive and nearly perfect 2-iron shot, but when it ran past the hole and down the embankment, the resulting par killed his confidence and momentum.
"After that, the hole seemed to get a little smaller," said Garcia. "I needed a birdie to make up for the bogey and to relax."
Of course, Garcia also noted that Woods never missed a full shot all day. "I tell you, it doesn't get much better than that," he said, before catching himself drifting toward idolatry. "Hey, he's human. Did I get a lesson? Maybe a little bit. He did what he had to do. But he did it because I let him. I had him. I had him at the beginning. Unfortunately, I let him get away."
Fighting words, but then again, there's nothing Woods the golfer respects and welcomes more than a good fight. While Garcia and Woods seem destined to remain wary rivals, their similarities as competitors and twentysomethings will inevitably bring them together on occasion. During Sunday's rain delay, the two were throwing paper airplanes at each other as USGA president Reed Mackenzie looked on. And at the end, the embrace and solid eye contact the two exchanged was genuine mutual respect.
"I don't have any doubt my round with Tiger will make me better," said Garcia. "It will make me tougher, and that's what you need in these kinds of tournaments. So it was good. I wanted to win, but I'm glad for this week. The road is long, and I'm looking forward to the next time."
In the opinion of McLean, he should be. "A lot of us were critical of Sergio's early swing, with so much lag, but he has really made it sounder and more consistent," he said. "His dad was right. As he has filled out, Sergio's action looks more like Hogan and less like Bobby Clampett or Gary Hallberg. The young man has serious, serious game."
And the more he can bring to majors to come, the more memorable his battles with Woods will be.