News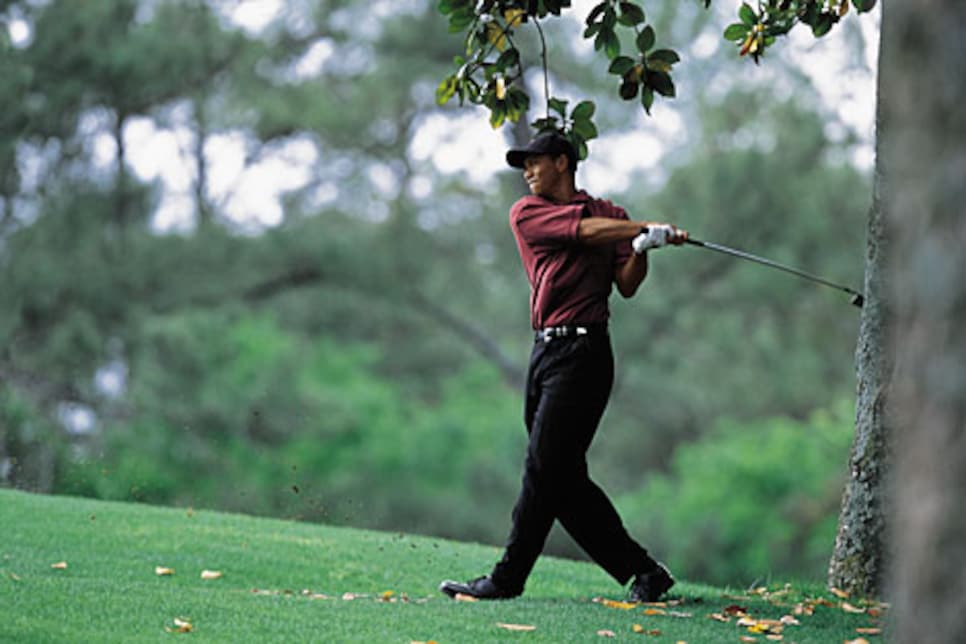 A bogey at No. 5 Sunday was a minor blip in an airtight effort showing Woods' dominance.
They can lengthen the golf course or shorten it, grow the rough to four inches, fill the bunkers with small reptiles and install a windmill on the 16th green. They can plant trees where trees never stood, halt 300-yard drives in mud and slay the best putters in cold blood, which isn't to say the membership of Augusta National GC isn't without compassion.
Upon further review, they might consider a clown's mouth. Preferably Charles Barkley's.
Amidst all the fact, fiction and flabbergast surrounding the 66th Masters, a king-size case of reality emerged last Sunday. There is only one Tiger Woods, a man with his own era, and at this juncture on the road to Nicklausville, the truth is starting to hurt. On an afternoon when five of the world's top seven players stood poised to alter the game's competitive universe, to threaten Woods' dominance of Augusta National and impose some doubt as to the identity of the world's best golfer, poise became a forgotten commodity.
Tiger shifted into his prevent defense with nine holes to play, shot his highest round of the week (71) and, at 12 under, still won by three. Not until Hootie Johnson slid the green jacket over his shoulders was he actually touched. "All those guys were right behind me," Woods insisted after another victory dinner with the Masters chairman. "Anytime you beat a field like that, it's so satisfying."
He was being gracious where others were hopeless, playing the humble champion on a day when so much breathless anticipation left a pile of contenders in dire need of oxygen. From Retief Goosen's duck-hook off the first tee to Vijay Singh's double-chunk quadruple bogey from the middle of the 15th fairway, this tournament produced nothing in the way of final-round suspense. For all his greatness, Woods has become a drama vacuum, a presence armed with two tons of intimidation every time he's in the hunt, a supreme talent whose insatiable desire to win clearly saps the will of others.
"This tournament wears on you," said Stewart Cink, who finished tied for 24th. "One of the biggest hazards out there is what's happening between your ears, and he's in everyone else's head."
Added Colin Montgomerie, never one to miss a bandwagon headed in the wrong direction: "They said they Tigerproofed the thing. If they want to do that, they should make it shorter. [The tees] were on the tips today, and the fairways hadn't been mowed. They seemed to be saying, 'He is the best, so why not let him win?' They have played right into his hands."
As disheartening as the reaction was to Woods winning by 12 strokes in 1997, this might have been worse. Els, whose demise was punctuated by a careless triple bogey at the par-5 13th, sounded particularly distraught. "I don't know what it is about professional golfers, but sometimes we think we're better than we are," he admitted. "It's been in my game for a while—a lot of frustration. It's been that way for two years or so. I feel like I'm getting in my own way."
In joining Harry Vardon, Bobby Jones, Gene Sarazen, Sam Snead and Arnold Palmer on the list of those with seven Grand Slam titles, Woods only reaffirmed the notion that he has Jack Nicklaus' number (18) on speed dial. He has won six of the last 10 majors, a pace that would end his chase of Nicklaus in the summer of 2007. Just as frightening is his 92 percent success rate (23 of 25) when leading a tournament after 54 holes. Woods is now 7-0 when he carries a lead into a major on Sunday. Not even Fat Jack slammed the door with such conviction.
For Palmer, the 66th Masters was his 48th and final one as a competitor, bringing to an end the most influential career in golf history. It was here in 1958 that Arnie's Army was formed by U.S. soldiers from nearby Fort Gordon who once manned Augusta National's scoreboards. Nearly half a century later, he remains the most popular man on the grounds.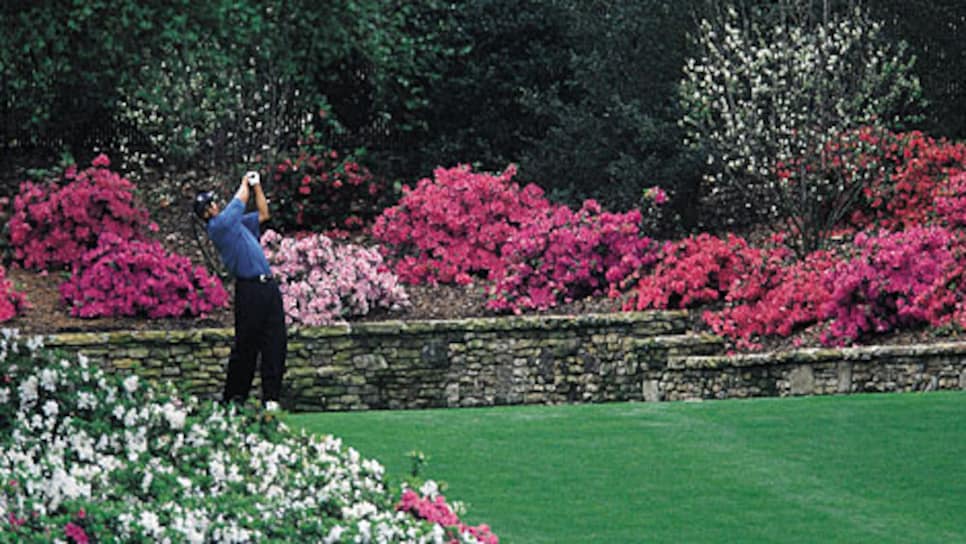 "I don't want to get a letter," Palmer cracked, referring to the club's snub of past champions Billy Casper, Gay Brewer and Doug Ford. As for the possibility that he might slide into the role of honorary Masters starter, the King bit hard on his lower lip. Time waits for no one. Not even a four-time champion.
All of which rekindles the question: Is Tiger that good, or was he lucky enough to be born during a generation of golfing mediocrity? It is hard to imagine Tom Watson leaving a 45-footer for birdie seven feet short, then missing his par attempt, as Singh did on the 11th hole, or Lee Trevino abandoning the hunt with a final-round 74—the average score of Woods' five closest pursuers—despite little wind and ripe scoring conditions.
Oh, well. There's always the senior tour. "The thing about Tiger is, he's the only leader you [know] won't falter," said Phil Mickelson, who began the day four strokes behind and lost by the same margin. "When other guys are up there, you know that if you hang around, there's a good chance they might give back two or three shots. Tiger doesn't ever seem to do that. You know you have to make birdies to catch him, which is why we saw guys making aggressive plays and making bogeys and doubles because of it."
From a safe distance, Earl Woods surveyed all his son has accomplished, his razor-sharp perspective unaffected by years of struggles with his own health. "The more he wins, the easier it becomes for him," Tiger's father observed. "He's just like a forest fire coming at you, and you don't have anything to stop it. He knows how to lead, and he knows how to come from behind. He knows how to apply pressure."
The pressure in this case was applied last Saturday, when Woods awoke at 4:30 a.m., ran four miles, then set off to slop through the final eight holes of his second round in addition to all 18 holes of the third. When Woods arrived on the 11th tee Saturday morning, he trailed Singh by six strokes, knowing Singh had completed 36 holes and would be fully rested that afternoon.
Woods played those 26 holes in eight under, flourishing in conditions David Toms called "the wettest I've seen a golf course where they haven't allowed you to play lift, clean and place." The problem was casual water, or more specifically, the inability to avoid it, prompting the usually mild-mannered Steve Stricker to quip, "The main guy [competition committee chairman Will Nicholson] wasn't even on the course. He must have been in the clubhouse eating bacon and eggs or something."
Singh shot even par and fell two behind, victimized by a mud ball that flew the 15th green and one-hopped into the water. Mickelson lost several strokes when he misjudged the flight of a ball caked on one side with muck. "When you have standing water on the green, that is above and beyond what we should be playing in at a major championship," Cink said. "Heck, my umbrella was gathering water at one point."
It all left Woods in the driver's seat. With the windows rolled up. "I had to keep mistakes to a minimum," he noted Sunday evening. "Saturday set it all up."
He was not alone. Goosen continued rolling in putts from everywhere, employing the same magic stroke that had carried him to victory a week earlier at the BellSouth Classic. With each birdie, the Goose's feathers appeared unrufflable. "I don't think his heart rate ever gets over 100," Singh commented. "He's going to maintain his rhythm. He's in his own little world out there."
Mickelson (68) and Sergio Garcia (70) quietly moved into the fray, and though Els stumbled Saturday afternoon with a back-nine 38, he remained just four strokes behind Woods and Goosen. It all led to the best final-round leader board since the 1986 Masters—six of the world's top seven players occupying the top six spots.
With all this star power came one glaring trend—the last 11 Masters champions had emerged from Sunday's final pairing. Softened by intermittent but heavy rain from Wednesday night through Saturday morning, the firm-and-fast Augusta National so many had hoped for was now an aerial-friendly, big-hitter's ballpark. "Before the tournament, we thought 10 under might win," said Tiger's swing coach, Butch Harmon. "Then came the rain, and we thought it might be 15."
When Els and Mickelson both birdied the first hole from the right fairway bunker, it looked like a final round for the ages. An hour later, it was over. Woods followed up a birdie at the second with a perfect approach at the short par-4 third, then converted the six-footer to take a three-stroke lead. He was lucky to make a bogey on the fifth, getting a fortunate bounce after snapping his drive into the woods, then chipped in from 25 feet for a birdie at the sixth.
It might have been the biggest shot on a day when few memorable ones were struck. "It seemed like the shots from two or three yards off the green were the hardest," said a tour regular. "You get some mud under the ball and these tight lies, and you just don't know what it's going to do." Whereas Mickelson had failed in a similar situation on the par-3 fourth, Woods had capitalized.
Armed with a three-stroke lead, Woods sat back and watched everyone else crumble. Goosen three-putted three times on the front nine and looked like a man in need of an EKG. Els committed a cardinal sin when he spun a wedge off the front of the ninth green. Mickelson stuffed it close on the sixth, then drove it in the pinestraw on No. 7, eventually missing a three-footer for par. Singh laced a drive into the trees left of the eighth fairway, leading to a bogey that dropped him four back.
Woods barely had broken a sweat when he arrived on the 10th tee. "I thought that if I could get to the back nine, you just never know," said Mickelson, who trailed by six. "I thought I played well for 72 holes. I made nothing worse than a bogey and didn't have a three-putt all week. My consistency's getting better—I feel good about heading into Sunday at the Masters with a chance to win, with the style of golf I'm playing. I feel good about that."
At some point, feeling good simply isn't good enough. Whereas Mickelson and Garcia seemed almost unaffected by Woods' latest triumph, and it was hard to tell what was going through Goosen's mind, neither Els nor Singh seemed keen to the idea that the gap has gotten wider. "The course was unbelievable," the Big Easy moaned. "This was about as easy as we're ever going to see it. The greens were perfect. They were holding. And we didn't take advantage."
Explained Singh, "The turning point was 13. I had some mud on the ball, but it came up short [and bounced into Rae's Creek]. It was a foot from being perfect."
Only one player (Shigeki Maruyama) shot in the 60s last Sunday, but from start to finish, the new Augusta National played no meaner than the shorter version. The 2002 stroke average of 73.44 was lower than all Masters played from 1996 to 2000. The four toughest holes were all expanded par 4s—the 18th, 10th, ninth and 14th—but without much wind and plenty of rain, the par 3s were easy, the par 5s as docile as ever.
Woods can't be held responsible for that. "He's got everyone where Nicklaus had them," said Brad Faxon. "They know he's going to win before he tees off."
Sitting on the clubhouse veranda with a Sunday evening cocktail, Jos Vanstiphout had the look of a man whose house had just burned down. A tough-talking sports psychologist credited with Els' resurrection and Goosen's emergence, Vanstiphout was in his full-defiance mode when asked about Woods' latest triumph.
"He is a human being," the Belgian man barked. "God's name is not Mr. Woods. The minute you drive into this parking lot, something happens. A hammer hits you over the head, and you can feel the breath of all the past champions."
Els was still a factor after he drove his ball left of the creek alongside the 13th fairway, unable to get home in two but with an easy route back to civilization. What transpired next was perhaps the biggest mental mistake of his career. "He had a little gap [between the trees] and thought he could get down to where his third shot would just be a wedge," said his caddie, Ricci Roberts. "I told him he had options, that he could chip out to where Sergio was and just have a 6-iron in."
Els chose to gamble. His recovery shot came out chunky and didn't even make it over the stretch of creek 60 yards ahead, bouncing once before plunking in the water. "Walking up 18, he said to me, 'You were right. I should have listened,' " Roberts added. "It wasn't a difficult shot, not for a man of his ability. I feel bad for him because I know what this means to him. It's gut-wrenching, but he'll live to fight another day."
At some point, however, the emotional baggage begins to accumulate. Five players, including Mickelson and Els, consistently hit it as far as Woods last week. Goosen hit just one fewer green in regulation. Els had 10 fewer putts. Looking at the stats, you'd have never thought Woods won going away.
"This was a Nicklaus kind of win," Earl Woods said. "I don't know what happened to everyone else. I just know what happened to Tiger. He was in a very comfortable place. Today he was on cruise control. He was not on fire. If he would have been threatened, he would have gone into the attack mode. He can do that any time he wants."
The Golden Bear has become his only competition, at least until further notice. Woods' seventh major championship comes at the age of 26 years and four months, keeping him on pace with Nicklaus and Bobby Jones. His dominance at Augusta National has never been matched—a record 10 consecutive rounds under par, three titles in eight starts, an average of 15.3 under par in those three triumphs. He owns three of the six lowest 72-hole totals in tournament history. Since turning pro, 22 of his 24 rounds have been played at par or under.
All this talk of Tigerproofing has made Tiger somewhat bulletproof. There are plenty of opinions, no real answers. "If you want to combat length," said Davis Love III, no peashooter, "then we should go play Merion." Surmised Nick Faldo, himself a three-time champ: "I know what can be done. Aintree [an English steeplechase track]. You have to jump eight-foot fences every 200 yards."
Then again, Tiger would probably fly them with a nuked 6-iron. "It's a big help, going into today knowing I'm a champion, that I've done it before," he said. "I know what it takes to win here. I know how to handle my emotions, being in the final group at Augusta, to just go out and play."
Hmm. Now there's a concept.