News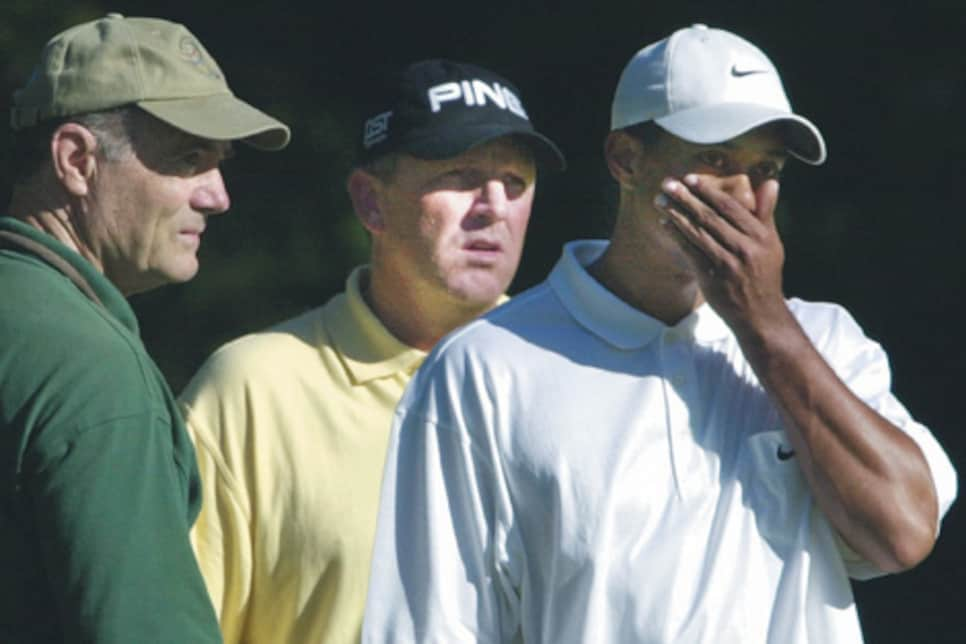 Every hole he had more bad news, one shocking revelation after another. We were just kind of out there, stunned. --Mark Calcavecchia
Under the safety blanket of a blue Midwestern sky, distant from the apocalypse unfolding in the Northeast, they attempted to hold a golf tournament last week. There were no F-16s flying overhead at Bellerive CC. There were no bomb threats in the clubhouse. If hell hadn't broken loose in New York, if the Pentagon hadn't been in pieces, then it would have appeared to be just another week in pro golf's land of milk and honey. At the WGC-American Express Championship, the world's best golfers would be playing for their fifth purse of $5 million or more this year, getting a good rate at the Ritz-Carlton and being treated like royalty by a community starved for their presence.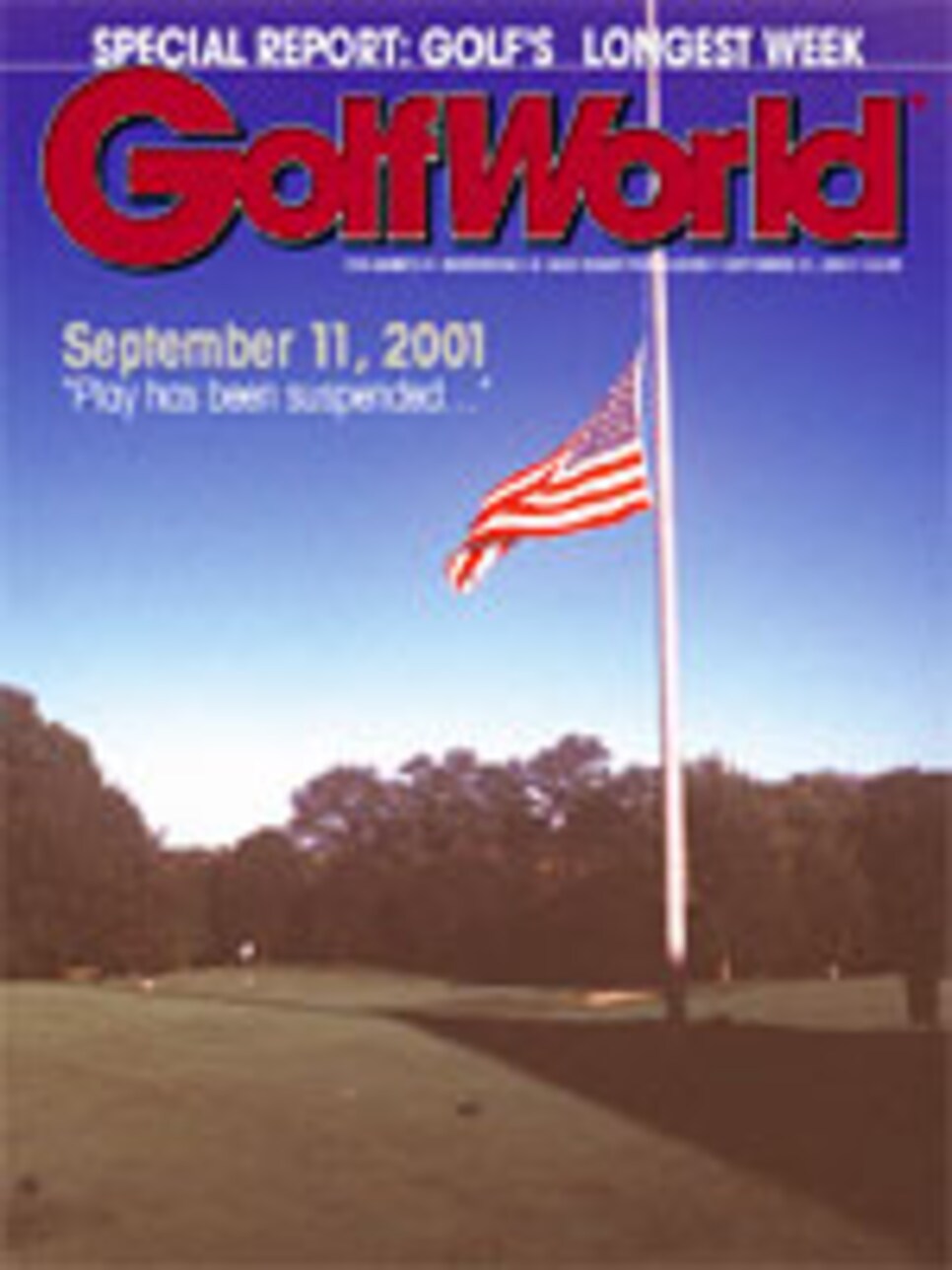 And then, in the space of an hour last Tuesday, this idyllic, corporate world was rocked to its foundation. Golfers who had been hitting balls in the direction of a church steeple at the end of the driving range got on their mobile phones in search of news from home. The sport that never seems to end, that bursts with a nearly 365-day season, literally stood still. "The thing is, we're at this beautiful golf course and everything seems like it's fine," said a reflective Chris DiMarco. "Meanwhile, there is unbelievable destruction and suffering in New York. We're all about being in New York right now."
Mark Calcavecchia watched the horrific events on a television from the locker room as the World Trade Center twin towers collapsed in plumes of gray smoke. Pale and shaken, he walked to the 10th green and found Tiger Woods playing a practice round. Joe Corless, a former FBI agent who handles security for the PGA Tour, provided reports. "At that point [Corless] gave us a blow-by-blow," said Calcavecchia. "Every hole he had more bad news, one shocking revelation after another. We were just kind of out there, stunned." Later, in the locker room, Woods looked at his arm and saw goose bumps. He called it a "sad, sad day for America," and on the advice of Corless, left the course.
Nick Price was flying in his private jet en route from West Palm Beach, Fla. When a national air stoppage occurred, his plane was ordered down in Birmingham, Ala. He rented a van and drove the eight hours to St. Louis with Mark McNulty, Dudley Hart, and his business manager, David Abell. Scott Hoch's plane made it as far as Nashville, Tenn. He rented the last car available and drove to the tournament. Phil Mickelson flew from the West Coast and had to land his plane in Austin, Tex. He rented a car and returned home. Davis Love III made it as far as Atlanta. Brad Faxon was stranded in Providence, R.I. Jesper Parnevik was at the Plaza Hotel in New York with fashion designer Johan Lindeberg. The duo evacuated the hotel and fled to Central Park. "It was absolutely terrible," Parnevik said. "We were just running and waiting for the next hit. Of course, you are afraid. I was thinking about my family and what might happen next."
PGA Tour commissioner Tim Finchem was at a Senior PGA Tour player meeting preceding the Vantage Championship in North Carolina. He rode nine hours in the backseat of a rented van to PGA Tour headquarters in Ponte Vedra Beach, Fla. He grieved the human loss but also weighed what this tragedy meant to the American Express Championship and the tour's future. With the United States teetering on the brink of a recession, corporate giants such as American Express are crucial to the financial underpinnings of the tour's sponsorship and licensing agreements. The new $850-million television package was based on these corporations being able to step up with so-called "real money" and support the system.
At his home that night, Finchem watched President George W. Bush address the nation and urge citizens to strive for normalcy in their lives. Finchem thought, at first, that the golf should go on. But Wednesday morning brought a different sentiment. Conversations with American Express executives in New York made Finchem realize the losses the company had sustained. American Express' corporate headquarters is situated on the West Side Highway, just one block from the WTC complex. The corporation had more serious concerns in the wake of the tragedy than serving as the title sponsor of a golf tournament. Woods, who has a $7 million annual endorsement contract with American Express, realized that immediately. "A lot of their executives left [Monday night] to go back to New York," said Woods, who according to sources will donate $500,000 to American Express.
Also figuring in Finchem's decision to cancel the tournament were phone calls he made to the White House and to former President George Bush, who is honorary chairman of the First Tee Program and a past honorary chairman of the Presidents Cup. Finchem was told through White House sources that a national day of prayer was to be scheduled sometime between Friday and Sunday. Initially, Finchem had planned to postpone Thursday's first round, play 36 holes Friday and 18 holes both Saturday and Sunday. Logistically, the day of prayer wiped out any hope the tour had of completing 72 holes. The final consideration: Only 46 of the 67 players scheduled to play made it to St. Louis.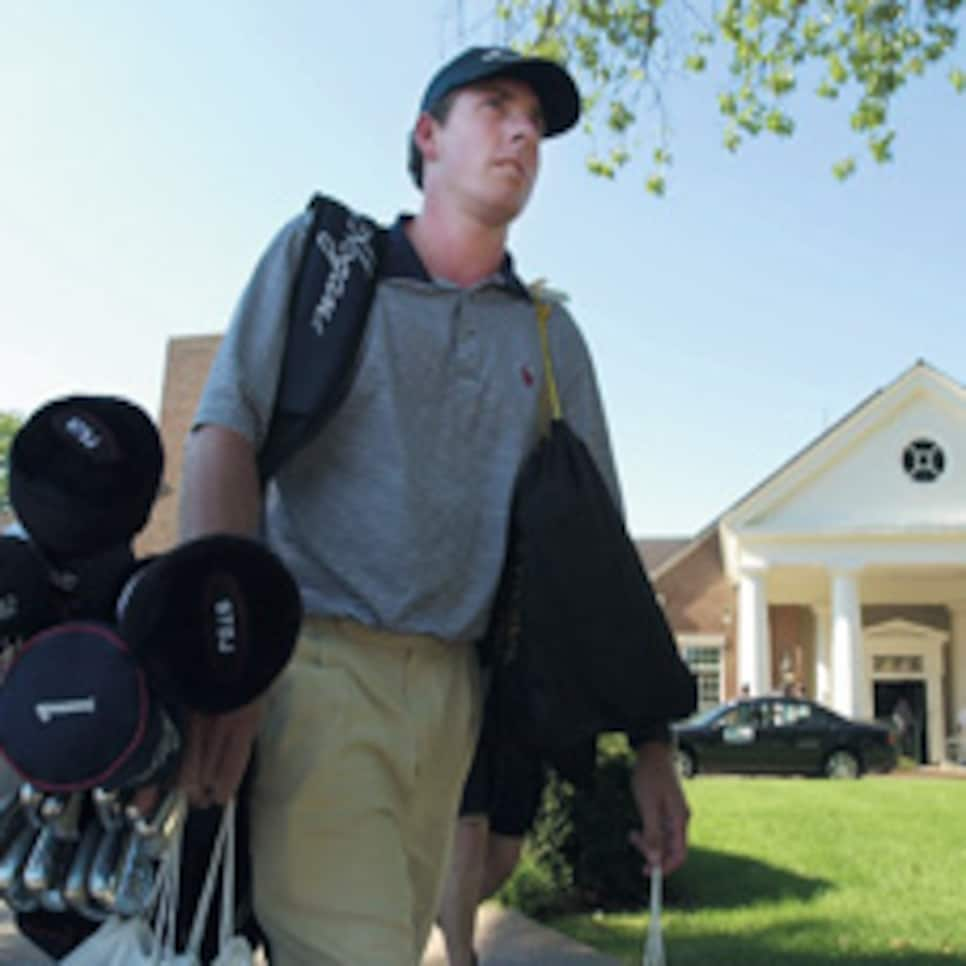 At Bellerive Wednesday, players quietly hit balls and some even partook in practice rounds. Woods went out at dawn with Mike Weir, and by 10 a.m. they were being followed by a gallery lining the fairways. While the applause for their shots was muffled, it was clear those in attendance were eager for a diversion from the somber images that flashed nonstop on television. Sitting in the first row of the packed grandstands behind the 18th green were Don Dinkmeyer of Bowling Green, Ky., and Randy Jones of Kansas City, Mo. Both men had driven nearly five hours and waited another 30 minutes for Woods and Weir to reach the home hole.
"We can't give in," said Dinkmeyer, when asked if the tournament should be staged.
"It's a hard call," said Jones, "but you've got to do something to lift the people up."
Woods ate lunch in front of a TV, hit balls for an hour, changed shoes and drove back to the Ritz-Carlton. He sent caddie Steve Williams back to clean out his locker, just before the 3 p.m. teleconference Finchem conducted for players in St. Louis. By the time the players assembled, most knew of the tournament's fate. Finchem already had conducted similar calls at the Tampa Bay Classic, the senior tour's Vantage Championship and the Buy.com Tour's Oregon Classic.
I think a lot of guys just want to be home with their families right now, to be thankful for what we all have. --Joe Durant'
Until Finchem's voice came through the speaker, some players wanted to continue, especially when the commissioner laid out his plan to donate a portion of the proceeds to the relief fund. While player safety was Finchem's first priority, there was an overriding sense of wanting to throw "real money" at the cause. "Tim's heart was saying that there was something positive to be gained by playing," said a source close to the commissioner. "We're all about charity, and something tangibly positive could come out of this." (Later in the week, the PGA Tour pledged $2 million in aid and additional money from ticket-holders who do not request a refund.)
There was also a consideration for the international players who had come from around the globe to participate. But once Finchem weighed the input from American Express and the White House, he would not let inconvenience sway him. Several European players, in fact, chose not to comment, leading to speculation they disagreed with Finchem's call. Colin Montgomerie, though, said that was a misinterpretation of the mood. "Tim Finchem is a very learned man, and he spoke very well," Montgomerie said as he packed his car. "All he had to say was, ÎThe day of mourning was between Friday and Sunday, and you can't be playing sports on that day.' He said, ÎLook, if anybody wants to second-guess me, fine,' but there will be nobody giving him a call. I'm sure he did the right thing."
The membership at Bellerive and the surrounding community were more than understanding. Though the St. Louis area hosts a regular senior tour event, the Enterprise Rent-A-Car Match Play Championship at Boone Valley GC, the American Express Championship was to be its first PGA Tour experience since the 1992 PGA Championship, also held at Bellerive. Organizers had sold 35,000 tickets and corporate packages, and were ready to give the WGC the type of big-crowd reception it has mostly lacked since the series was launched in 1999. "This was going to be a big home run for us," said James Cramer, the WGC's manager of communications and media operations. Bellerive president Bob Karn spoke for his membership. "I don't think the decision could be made any other way," he said. "[Our disappointment] is miniscule in relationship to what our world is facing right now."
The exodus from Bellerive began Wednesday night. Woods jumped in a Buick and drove to his home in Orlando. Calcavecchia went to the airport, rented a car and spent the night sleeping at a truck stop in Joplin, Mo. He drove nonstop the next day to his home in Phoenix. Most players embarked on their journeys home Thursday. Weir figured he had 20 hours on the road to reach Salt Lake City. DiMarco and Hart headed to Florida, followed by Bernhard Langer, and Price and Abell. They drove through the remnants of a hurricane to reach their homes.
"I think a lot of guys just want to be home with their families right now, to be thankful for what we all have," said Joe Durant before beginning his drive to Pensacola, Fla. "Sometimes we get wrapped up in sports, and everything else takes a backseat. It's unfortunate that things like this have to happen for us to realize what's really important in this world."
On the range at Bellerive, stranded European Ryder Cup members Phillip Price, Padraig Harrington and Paul McGinley hit balls. Instead of being the morning of the opening round, it was a day of mourning. "We're used to living [with terrorism] in Ireland," said McGinley. "We see it, but on a much smaller scale than this. When you read the personal stories of what happened, that's when it hits home. There was a picture of an Irish girl and her 4-year-old daughter. They were on their way to San Francisco. You imagine what the last half hour of their life was like. That's what hits home."
David Duval, the last American player out of St. Louis, flew to Sun Valley, Idaho, Friday after his private jet received security clearance. The European contingent traveled home Saturday afternoon on a 757 chartered by Montgomerie's agent, Guy Kinnings. The plane was owned by the NBA's Phoenix Suns, and the manifest included 20 players, plus family members, caddies and media. "We were all pleased to get home," Kinnings said from his London home. "Not out of fear, but to have witnessed what we had witnessed, to have seen it on American soil, makes it all the more frightening. We realized that if the terrorists could do it there, they could do it anywhere. It's a week no one will ever forget."
SHOCK AND SADNESS--AND NO GOLF
From Oregon to Florida last week, pro golfers wrestled with their emotions. There was concern for friends and relatives possibly killed or injured, snafus in traveling to tournament sites and debate about whether the events would be played. The LPGA ran the gamut, from announcing it would proceed with the Safeway Classic in Portland, Ore., to shortening it to 36 holes, to finally canceling it last Thursday, a day after the PGA Tour announced it was calling off its four scheduled events. "The thinking has changed over the last 24 hours," LPGA commissioner Ty Votaw said Thursday in announcing the final decision, "when more and more players expressed a concern over whether playing was the right thing to do."
Said Barb Mucha, "I could have seen going out there and playing, just taking a stand as an American," she said. "But you don't want to be the Lone Ranger either."
Se Ri Pak left Columbia-Edgewater CC before the official announcement, concerned about the safety of her sister, Yu Ri, who lives in Manhattan (she was unharmed). Jean Bartholomew found out her brother-in-law, who had an interview at the World Trade Center Tuesday morning, exited 20 minutes before the first plane hit.
In Palm Harbor, Fla., where much of the PGA Tour was gathered for the Tampa Bay Classic, a couple of players recalled the vision of seeing the gleaming twin towers as they flew out of Newark, N.J., the day before the attacks after an outing. After the disaster, others grieved. Gary Koch represents the investment firm Sandler O'Neill, which was on the 104th floor of the South tower and suffered heavy casualties. Jack Nicklaus said he had "lots of friends" in the financial industry and was bracing for bad news.
While the LPGA planned to hold the Asahi Ryokuken International Championship this week as scheduled in North Augusta, S.C., the fledgling Women's Senior Golf Tour postponed until May 2002 this weekend's Fidelity Investments Classic in Sutton, Mass. "We held a meeting for some final planning, and it just didn't feel right," said Jane Blalock, a WSGT board member. "Fidelity was still searching for some of its New York employees, so we postponed the tournament out of respect."
Rightfully overshadowed by last week's tragedies was the stunning conclusion to the Canadian Tour's Bayer Championship in Sarnia, Ontario. Jason Bohn, 28, from Atlanta, shot a 13-under-par 58 in Sunday's final round to defeat Jace Bugg by two strokes.
--Lisa D. Mickey, Peter McCleery and Bill Fields