News
Golden Bear Passes The Torch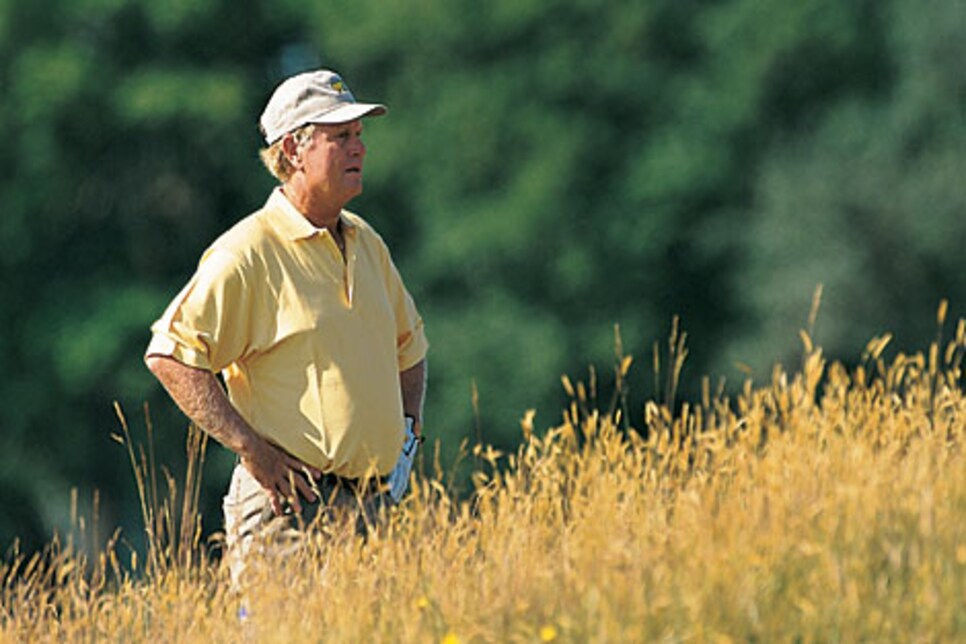 The Golden Bear took in memories of perhaps his last open.
The sceneoozedsymbolism, except that Jack Nicklaus, star of the moment, was focused elsewhere. As the Golden Bear scaled the 18th fairway at St. Andrews last Friday, with thousands loudly thanking him for the memories, Tiger Woods stood on the first tee, about to resume his clinic.
The best golfer ever, about to sign off on his British Open career. The game's new prince, readying to fill another scrapbook. If it weren't real, it would be a movie. But the guest of honor didn't see the big picture. Why, he didn't even see Tiger.
"He was where?" inquired Jack. "Off to the left, preparing to play? Wasn't aware of that. I don't play well enough anymore to think about other things. I was just trying to finish strong. I was just trying to finish, period."
This was Saturday morning, and golf's first family was packing up at Ruflets Hotel for points beyond. Jack had had a night to sleep on the love-in he'd hosted at the Old Course during his 37th British Open. For months prior, Nicklaus had been asked how he'd feel at the end. He said he'd cross that Swilcan Bridge when he came to it. Last Friday, he arrived, paused, removed his hat, waved, posed for pictures only because he was asked, brought son/caddie Steve up on the stone structure with him, then launched his approach to within six feet. Another ovation, although for some five hours, it had been impossible to identify where one round of applause ended and the next round commenced.
"Very nice," said Nicklaus. "It grabbed me right at the 18th, and I got a little emotional. But I'd rather be saying goodbye tomorrow instead of yesterday. I still enjoy playing, but I don't enjoy missing cuts."
When Nicklaus completed his initial career Grand Slam in 1966 at Muirfield, he was 26. Woods is only 24, with a better short game than Jack ever needed, and a better body than Jack ever imagined having. Nicklaus chased Bobby Jones, who assured that no golfer's résumé is complete without victory at St. Andrews. Now Tiger chases Nicklaus, who routinely gushes about the young genius. Jack doesn't hear footsteps. He worries about his own.
"I've always played with my feet," Nicklaus said. "You need them for balance, stability, and when they hurt like mine do, it makes it tough to walk 18 holes, let alone put a swing on the ball. I guess it's a common result from hip problems such as I had. And it affects everything."
Putting included. Jack didn't hit it that poorly through 36 holes, but 67 of his 150 strokes were with the short stick. He three-putted six times on Thursday. When he began Friday by draining a 30-footer for birdie, wife Barbara gave it that I-told-you-so smile from beyond the six-deep crowd at the ropes. "Jack's going to make the cut," said she. But, as a precaution, Barbara also accepted hugs and hosannas from friends and strangers. Gifts, too. Mementos.
Jack and Barbara observed their 40th wedding anniversary Sunday in London. Before they left St. Andrews, the men in blue blazers hinted the 2005 Open would return here. Would Jack? He didn't say a flat no. But he'll be 65 then, more ceremonial than now. On Wednesday, he participated in a wonderful exhibition with other past British champions. But that was four holes. He came here wanting four rounds.
"I can't keep going along like this," Nicklaus said the Saturday morning after. "Can't and won't. Surgery for the feet is an option, not for golf, but quality of life."
This is not a tragedy for Jack Nicklaus and the first family of golf. He is healthy from the ankles up, wealthy, alert and fulfilled. He leaves on his terms, well before he embarrasses himself or his legend. Some sports heroes stay too long, and the crowd yawns. Last Friday, everywhere the Golden Bear stepped, ever so gingerly, he was fussed over by these appreciative fans in golf's misty birthplace. When he has those feet worked on, he might also need shoulder repairs. He waved a thousand waves and then Nicklaus, the ultimate warrior, actually stopped on the bridge for shutterbugs. "In another time, before I mellowed, I wouldn't have done that," said Jack, chuckling. "But it's over. I'm pretty sure I've taken my last swing in a British Open."
And Tiger was a witness, off to the left. Where he will be when he's 60, who can say? But as a student and creator of golf history, Tiger will remember he was in the front row last Friday, when the Golden Bear tiptoed off the stage. The torch is in capable young hands, and Jack knows it.