News
A Tiger Woods Passion Play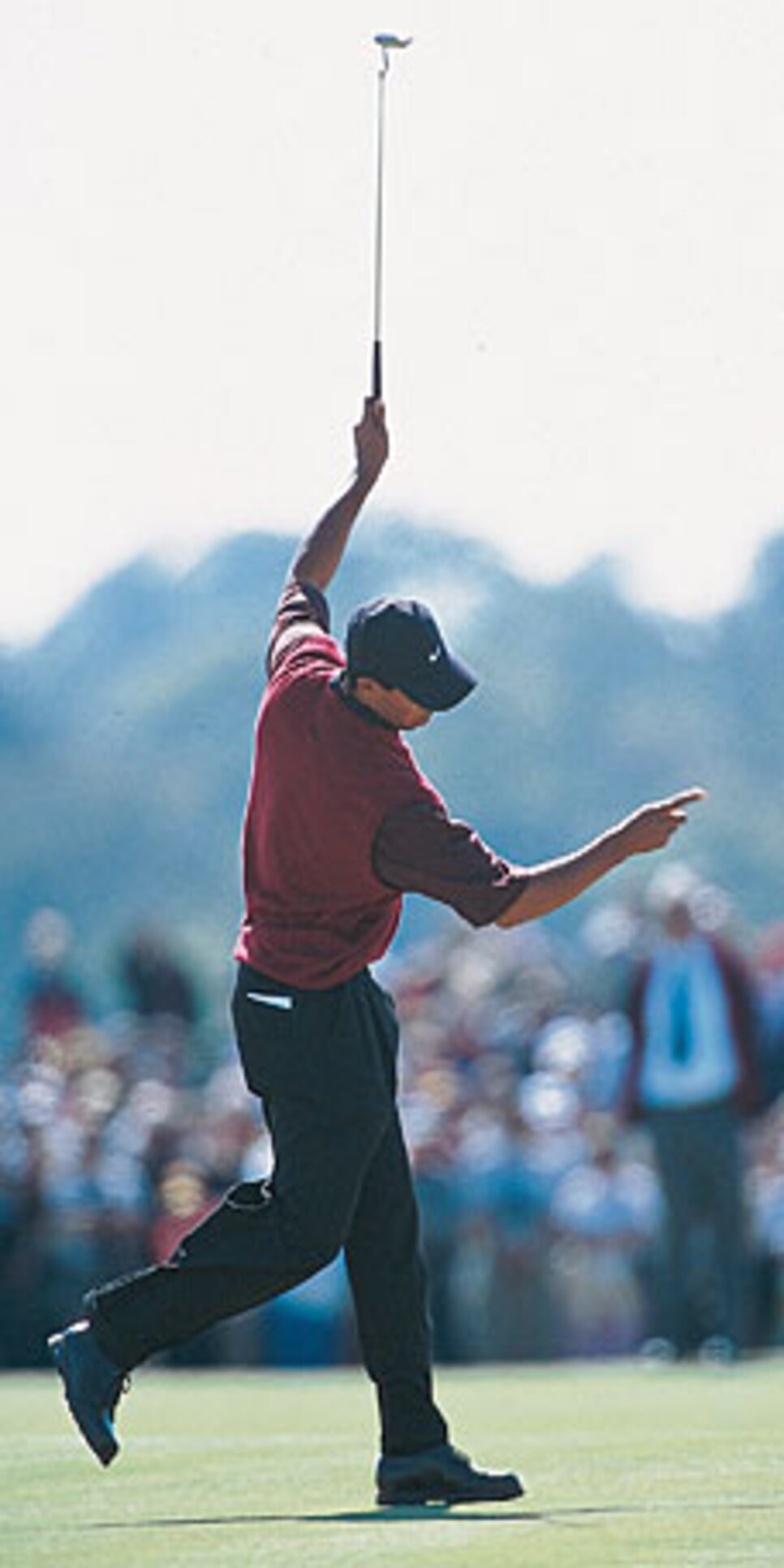 Woods has the patience to keep working at it until he gets it right
Ashiswordsbegantoflow, TigerWoods' eyes shifted away from the listener, seeming to focus on a world only he could see. He was talking about golf, and next to playing it and practicing it, discussing it is probably what he enjoys most.
"The second shot, I tried to hit about a one-yard draw there, and I was able to do that, but it started about two yards left of where I wanted it—that's why it landed on the slope," he said about his approach shot to the Road Hole on Saturday at the Old Course.
Then that smile that seems to start at his toes and shoot like a lightning bolt through his entire body swept across his face as his left hand demonstrated the shape of the shot. "It is just—it's a beautiful shot, though." Then he added the self-critical afterthought that is indicative of the drive that has made him great: "But I just wish I had landed the ball where I wanted to."
That simple scene after the third round of the 129th British Open at St. Andrews offered perfect insight to the mountain facing the other men who play for pay and want to win major championships. Not only does Tiger Woods possess the physical skills to hit a one-yard draw, but he has the imagination to see the shot, the courage to try the shot and the discipline to realize that it was only almost a perfect golf shot.
When you are making a list of those things that make Woods the best golfer around, add in this factor: He has a passion for the game that might be unmatched by anyone since Ben Hogan. He is a rare and wonderful combination of ability and desire.
"Tiger doesn't love the game, he is in full-stage addiction," said his father, Earl. "Does he love it? No. He's addicted to it. He's always been addicted to golf."
After Sunday's final round in which he finished off the career Grand Slam with his eight-stroke victory over Ernie Els and Thomas Bjorn, Woods described with similar appreciation an approach shot down the stretch.
"One of the shots I'm most proud of today is the shot on 16," Woods said. "To step up there and hit a 5-iron and draw it about two or three yards against the wind exactly where you want to, to land the ball right on the window you want to land it on, that's when you know all the hard work is worth it."
The scary thing is that he has struggled with that shot all year. But he knew that on about half the holes at St. Andrews he would need to bend the ball right to left back into the wind to have any chance of keeping the ball on the green.
On his way to St. Andrews, Woods stopped in Ireland for a week of golf, both to adjust to the demands of links golf and to pal around with David Duval and Mark O'Meara. They played Royal County Down, the K Club, Portmarnock and a two-day pro-am in Limerick, where Woods won the £32,000 first prize and donated the money back to the sponsoring charity. Woods also worked on the shot he knew he would need in Scotland.
"We were on the range [in Ireland] and he said he was having trouble hitting the draw," O'Meara explained. "I told him to stay back and hit some high 6-irons and draw them. The first 10 swings he couldn't do it. Then he got it."
Woods, it seems, always gets it, and a big part of that is the fact that he just simply loves what he does.
"I remember once when he was young and we came back from a tournament and he was golfed out," Earl Woods said. "I said, 'Tiger, just play some video games and take your mind off it.' Well, after about two days he has the wedge out in the living room and he's hitting flop shots over the coffee table, landing them in front of the fireplace and making them spin back. And when he was chipping inside, his mom would yell, 'Tiger don't break anything.' You want to know why he can hit those shots under pressure in a tournament? It was more pressure not to break something in the house."
And for Tiger Woods, probably just as much fun as winning the career Grand Slam—because it is golf, and golf is his passion.