News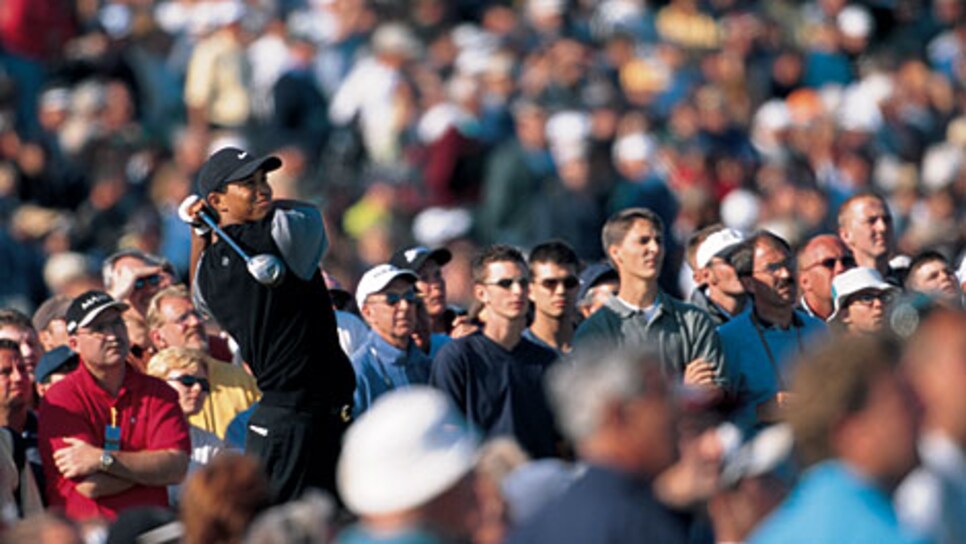 Woods stands head and shoulders above the rest at the age of 24.
St. Andrews, Scotland—His accomplishments are difficult to measure in a world that turns a quarter-inch into a mile, and when stacked subjectively against those of men who played the game long ago, or even more absurdly, compared to those who play it now. For every chapter of golf history Tiger Woods rewrites, the ink will take years to dry. Expect the fully updated version to reach bookstores by Christmas.
No athlete since Secretariat has crammed so much monumental achievement into such a brief period of time, racing to dominance at a pace that makes comparisons both totally unavoidable and relatively pointless. Woods' latest landslide triumph, at last week's British Open, makes him the youngest player to complete golf's career Grand Slam, the punch line being that he won the four tournaments by an average of nine strokes per victory.
Woods has yet to win a regular PGA Tour event by more than five shots. At the major championships, he has won by eight, 12 and 15. His aggregate total of 19-under 269 at the Old Course was, in relation to par, the best ever at a major, giving him scoring records at the three biggest golf tournaments known to man. "I could have played as well as I could," admitted Ernie Els, who shared the runner-up spot with Denmark's Thomas Bjorn, "and I still don't think I would have gotten to 20 under."
When it comes to the next Player of the Century, it's fair to say we've got a pretty good early candidate. Woods joins Jack Nicklaus (1966), Gary Player (1965), Ben Hogan (1953) and Gene Sarazen (1935) on the list of those with a career Slam, all of whom were older than Woods, who turns 25 at the end of the year. That's six victories in 2000, 13 in his last 23 starts and 21 in 97 career tour events. "I always had hope, because I came along in an era when there were no dominant players," said Paul Azinger. "I'm glad I'm 40. I'm glad I'm not 25."
At this point, Woods' only rival is a 60-year-old man with a ceramic hip and 18 major championships. Nicklaus himself cited the competitive imbalance threatening today's game, lauding Woods' brilliance while admonishing the men who were thought to be his peers. "Everybody has thrown up a white flag and surrendered," said the Golden Bear, whose latest curtain call at the British Open ended at six over par and a missed cut. "Right now, I don't think there's anybody contending, and if they don't, the game's really going to suffer. He has to have challengers for the whole thing to be right."
Therein lies the rub. This victory was arguably more impressive than the 15-stroke gallop at last month's U.S. Open, because Woods was pursued (to a certain extent) by a host of world-class players. Seven of the eight men immediately behind Woods in the World Ranking all stood at three under or better after 36 holes, and though Woods held a three-stroke lead at the time, there was more than enough golf left to make up the ground.
Nobody did. Only David Duval and Els made any noise—Duval whittled Woods' lead to three strokes on Sunday with a birdie at the seventh, and at the time, there was little doubt as to who was playing the better golf. "He was four under for the day and I was still at one under," Woods said. "If David would have continued to make birdies, things might have been different."
That Duval played the final seven holes in seven over is of little consequence now, nor does it seem to matter much that Els finished second in his third consecutive major. Woods made his four trips around the Old Course without playing out of a single bunker, which is like driving a cab in Manhattan for 15 years without denting a fender. He made just three bogeys all week, the first two of which he followed with birdies, the last of which occurred on the 71st hole and meant nothing.
From the eighth hole of the first round to the 17th hole of the second, Woods hit 27 straight greens. He missed just two all week on the back nine, both at the dreaded Road Hole, and seemed to spend the entire tournament in third gear. The Royal Ancient doesn't need an engraver for the claret jug. It needs a stamp. "He's so good," marveled Mark Calcavecchia, "that every course out here is to his advantage."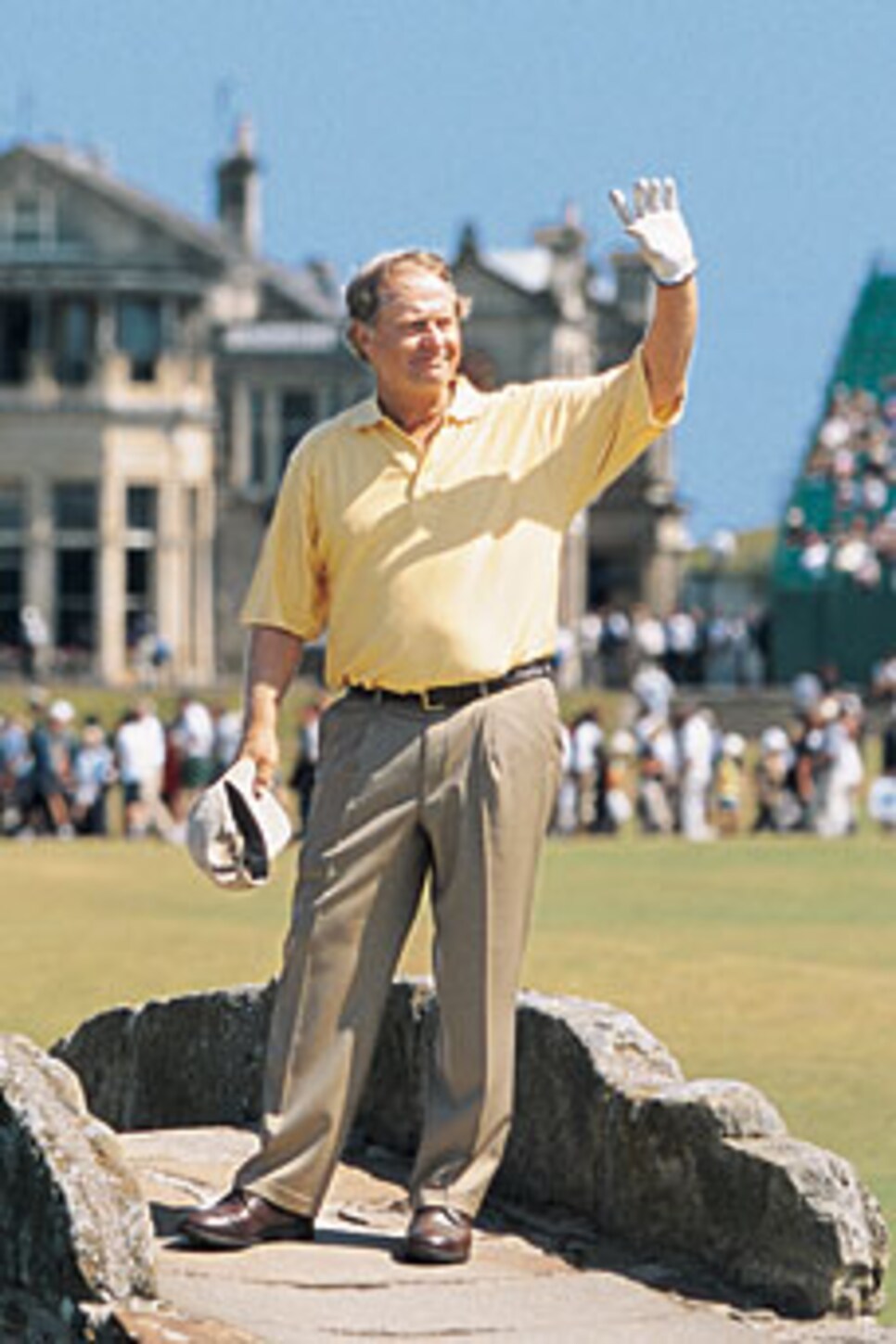 So what did Woods have to say about all this history? Not much. The better he gets, the less introspection he is willing to share with the rest of the planet, another trait he shares with Secretariat. Woods did admit that Nick Faldo's British Open scoring record of 18 under (set here in 1990) meant nothing to him, that shooting all four rounds in the 60s at the Old Course meant a lot. He seemed positively sorry that his final-round pairing with Duval produced one of the most drama-less finishes ever seen at a major championship, an anticlimax punctuated by Duval's needing four strokes to escape the Road Hole Bunker on 17.
"I accomplished exactly what I needed to," Duval said of the first nine holes. "I really cut the deficit, but just as everything turned out well on the front nine, that's how bad things were on the back."
Els, playing four groups ahead, would also start fast, making birdies on four of the first five holes, but it would require a suspension of reality to call this a fiercely contested golf tournament. Having arrived in St. Andrews after a week of fishing in Ireland, Woods nevertheless was, in the opinion of swing coach Butch Harmon, the most nervous he had ever been going into a major championship.
The Old Course's quirky nature and partiality to a long-left shot off the tee were Woods' primary concerns, but Tiger didn't leave his hook in the tackle box. Early on, it was obvious he had perfected a pronounced draw that would avoid trouble, a dramatic departure from the beeline fade that has long been his bread and butter. "One of the shots I've been struggling with for most of the year is sweeping the ball, arcing [his downswing] properly and getting it to go right to left," he said. "There are about nine holes here where you have to shape the ball, bend it back up into the wind just to keep it on the green."
A dry Scottish summer yielded 31/2 days of gorgeous sunshine last week, turning the Old Course into a dirt hockey rink. "The fairways are rolling faster than the greens," said Duval, who played through a back sprain and had more trouble picking his ball out of the cup than getting it there. Added Phil Mickelson: "The fairways are wide, the ball's rolling a mile and the weather is perfect. If you don't shoot five or six under par [each day], you can't honestly say you played very well."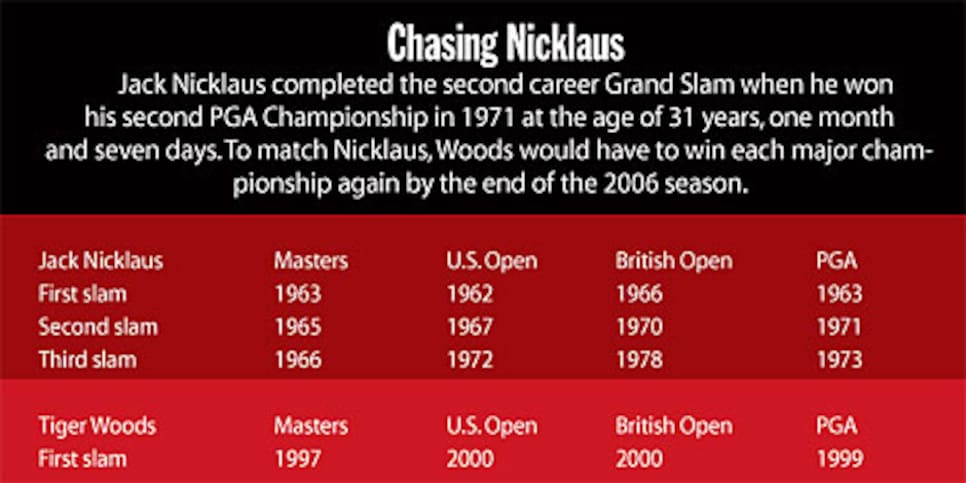 That Mickelson's comment came after the third round was a timely statement, an indictment of the game's best performers for not keeping up with Woods. Els took the first-round lead alone with a 66, then came out the next morning in calmer, slightly softer conditions and shot 38 on the front. Tom Lehman played the final 52 holes without a bogey but made just four birdies all weekend. He finished tied for fourth with David Toms. Mickelson shot a 30 on the back nine Friday, positioning himself nicely, then couldn't make a putt on Saturday and shot 71.
Despite the fact that the Old Course barely played above par (72.39) the entire week, the world-class composite of Mickelson, Colin Montgomerie, Davis Love III, Vijay Singh, Jesper Parnevik, Sergio Garcia and Jim Furyk all combined to shoot one under during the final 36 holes. The oddsmakers must have known something—Woods began Saturday morning with a three-stroke lead, by no means insurmountable, but was listed somewhat preposterously as a 2-to-11 favorite to win the title.
By Sunday morning, the lead was six. The bookies took Tiger out of play.
"I definitely think in America, when he pops up on the leader board, everybody else seems to back off," said Bjorn, one of the few who didn't. "What he does week in and week out in America, it's no wonder people get scared when they see his name, because you never know with the guy. He makes five, six, seven birdies on the trot and doesn't seem to stop. I don't think players like Els, Duval and Montgomerie are very far off him. I think they just get intimidated by the way he does things because he does them every week."
Duval relished the opportunity to square off against Woods in the final round, birdieing the 18th Saturday to earn the right. At the time, he trailed Woods by two strokes, and things were looking a lot better than they would later. "I just wanted to be there," Duval said of the final pairing. "It will be a circus. It will be exciting, a slugfest, whatever you want to call it. You get to look him in the eye, and if I can swing the golf club like I have the last few days and putt like I have been, I can show him I've got a little game going right now, too."
The bad news is that Duval fell on his face. The good news is that there's always another golf tournament, in this case the PGA Championship next month. Woods has never played Valhalla, but as the first man since Nicklaus (1972) to hold three major championship titles simultaneously, one might surmise the Wanamaker Trophy could stay right where it is.
"I'm surprised by some of the fortunate breaks I've gotten, which gave me a chance to win by the margins I have," he said. "I hit some bad shots out there over the four days, but they ended up all right. That's what you need. You need to have luck on your side. Tom Watson likes to say he's the luckiest man who ever lived, and he won five British Opens."
As Woods spoke, his mother, Kultida, lifted a camera to her face and took a single snapshot, a photograph in which no one else could possibly be in the frame. Her son stands alone, his distance from everyone else much closer to a mile than a quarter-inch. "The fact that Tiger is coming along doesn't bother me in the least," Nicklaus said. "As a matter of fact, it may sound a bit silly for me to say this, but I'm kind of rooting for someone to come along and break my records, and if it's Tiger, that's fine."
Looks like he'll have a lot to cheer about.