News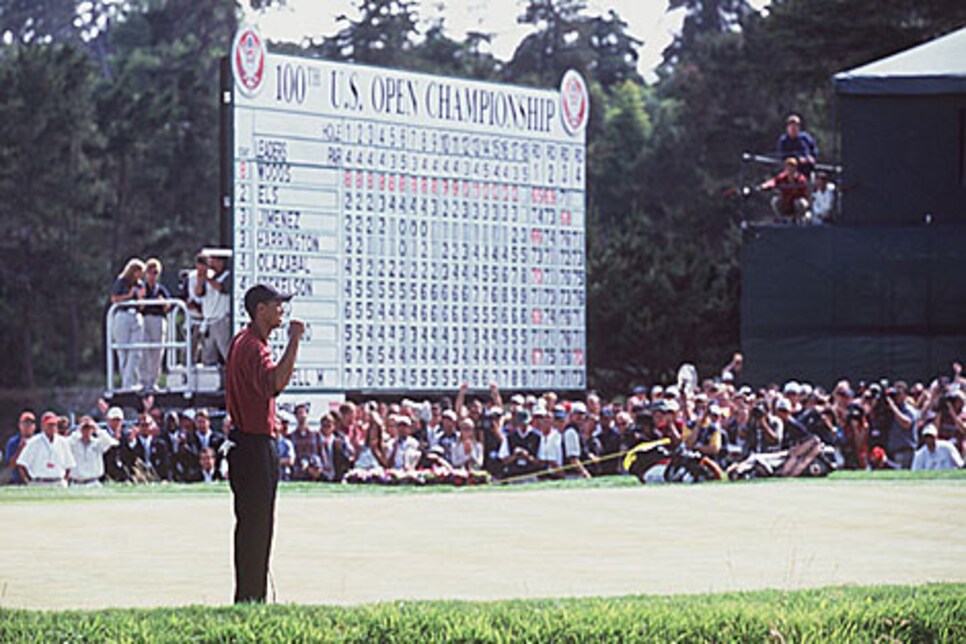 The outcome long settled, Woods savored his record 15-record margin on the final green.
Pebble Beach, Calif.—The unplayable lie gave way to the unassailable truth here, delivering the 100th United States Open from an ignominious imprimatur. Ultimately, the lethal rough and marble greens colluded only to transform this milestone Open into a series of victory laps around the venerable Pebble Beach GL.
The truth is that the golf world has never seen the likes of Tiger Woods, that when talent is the only measure, history's greatest player is not the esteemed grandfather tearfully taking his final Open bows last week.
Jack Nicklaus' greatness is defined by his 18 professional major championships. Woods won his third here, but the manner in which he did was a reminder that in sport, the mantle of greatest is only on loan.
On two of Nicklaus' favorite stages, Augusta National and the U.S. Open at Pebble Beach, the indomitable Woods has given command performances that exceeded the best that Nicklaus ever had to offer. Woods won the Masters by a record 12 strokes in 1997 and he won the U.S. Open at Pebble Beach by 15 strokes. His score of 12-under-par 272 marked the first time an Open champion has ever reached the wire in double figures in red.
Woods illuminated the notion that nothing is forever by delivering the most dominating performance in the history of this royal and ancient game. For apparent reasons, a few of those whose records fell were unavailable for comment, Old Tom Morris among them.
Presumably, he would have said that records are made to be broken, though after 138 years, Old Tom was resting in peace, comfortable that the record he took to the grave with him would remain there. In 1862, Morris won the British Open by 13 strokes, until now the largest margin of victory in a major championship. The old U.S. Open record for margin of victory, 11 strokes by Willie Smith, had stood since 1899.
The only thing that can stop Tiger from winning is Tiger.'—Jesper Parnevik
Even in his own wildest dreams as a youth in Cypress, Calif., Woods was incapable of conjuring a landslide victory in the Open. "I was usually playing against Jack and Arnold and Hogan and those guys, and usually it was neck and neck," he said.
In those days, he was placing himself in gilded company that he now is attempting to leave behind. To do so requires that he pass the test of time. Talent alone won't permit Woods to overtake Nicklaus in the inevitable comparisons of players across generations. This is a not a sprint, won by a sudden burst of dominance, but a marathon.
At the very least, Woods, 24, has been keeping pace, matching Nicklaus stride for stride, even trumping him in places. At 24, Nicklaus and Woods each had won three major championships, requiring only a claret jug to complete a full complement of grand slam regalia. By his 25th birthday, Nicklaus had won 12 times on the PGA Tour. Woods' 25th birthday remains six months off, yet he already has 20 victories, including five this year.
The list that he had taped to his wall as a child, featuring Nicklaus' achievements, has been a blueprint he has followed in constructing a foundation for his own legacy. The bulk of the work still lies ahead, which Woods intuitively understands. "I'm going to try to get better," he said, without expounding on those areas of his game that still have room for fine-tuning.
"Johnny Miller came up to me on the 16th fairway last Wednesday," Woods' friend, Mark O'Meara, said. " 'So, how is the kid playing?' he asked me.
"I told him, 'Johnny, I've played on the tour for 20 years now and Tiger is the best player I have ever seen. He doesn't have the best record yet, but he's already the greatest player of all time.'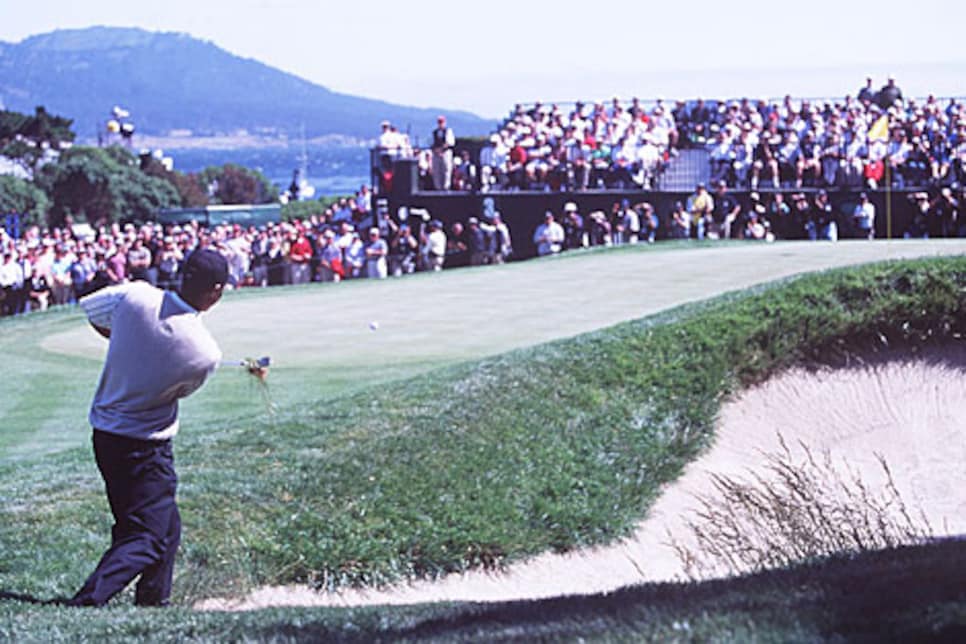 "So Johnny says, 'But how is he hitting it?'
"I said, 'Didn't you hear me?' This guy has everything. He drives it longer and straighter than anyone in history. He can hit it high or low. He can hit cuts and draws. He has more imagination around the greens than almost anyone. And he's putting great right now. How can he lose?"
It was a rhetorical question to which Woods provided an answer nonetheless. He could not lose, his first-round score of six-under-par 65 serving notice that the tournament was a one-round affair, that the final 54 holes were simply an extended coronation ceremony.
Wishful thinking replaced coherent analysis from those who were chasing him. Some invoked the memory of Gil Morgan, who in the last Open played here also reached 12 under par, then came up empty on the weekend. Miguel Angel Jiménez, who tied Ernie Els for second, noted early on that the field contained 156 players. "All the best players in the world," he said. "Not only Tiger."
Jiménez' arithmetic was off by 155, it turned out. This was a one-man show, Thursday through Sunday. "From the first hole," Els said, "he started dominating and never let go." A one-stroke lead in lesser hands might have been precarious. For Woods, it represented a chasm, the bridging of which would have been as surprising as the string of expletives that shockingly exploded from his mouth when he pull-hooked his tee shot onto the beach on the 18th hole of the second round early Saturday morning.
Nobody else seems to be playing up to his level. No one is scrambling the way he is. No one is pitching, chipping, putting the way he is. You need competition. Otherwise, it gets boring.'—Tom Kite
This was his most notable mistake of the week, the words coming through loud and clear, unedited for television. "If you have enough control over your emotions to play this game, you ought to have enough over your mouth," Nick Price said, issuing one of many admonishments.
The ubiquitous boom mike that captured the blue streak deserved blame only for betraying another truth that has gone unsaid, that Woods is not so much chasing Nicklaus as he is chasing perfection, meanwhile stubbornly clinging to the belief that it is not beyond his reach. Who, we ask in the wake of this rout, an errant shot or two notwithstanding, are we to argue?
"If that's not perfect, I don't know what is," said Els, his playing partner in the final round. "I watched some of his [earlier] golf on television, and it seemed like when he missed the green, he got it up-and-down. He never got ahead of himself. Just the perfect display of golf. If you want to watch a guy win the U.S. Open playing perfectly, you've just seen it."
Woods played bogey-free golf in the first and fourth rounds, which on a U.S. Open course is akin to walking blindly through a minefield and emerging unscathed. Woods' game plan was to keep the ball in the fairway by whatever means necessary, including the occasional use of a 5-iron from the tee.
Pebble Beach took its best shots and by Sunday afternoon only Woods remained standing. The usual chorus of boos was heard from the bloodied and bowed. The greens were too hard, they said, the rough too thick. "I hate to see the old girl in leather and chains, which is what the USGA put her in," said Kirk Triplett, who shot 84-77 on the weekend.
Former USGA president Sandy Tatum once defended an Open setup by noting that the USGA was not interested in embarrassing the best players, but in identifying them. It succeeded here on only one of two counts.
"The greens are so small, yet they're so hard that with anything over a 6- or 7-iron you just can't hold the green," said one casualty, Phil Mickelson, who finished nine over par and tied for 16th. "That's the frustrating part. But everybody's had to play it. I don't know how Tiger's done so well. Obviously he's playing exceptional. For the most part, I find par a very difficult score to obtain."
I'm definitely mortal. I think we all are. But he's not. ... He's just better in all aspects of the game, especially mentally. A lot of people have trouble, with the comments Davis (Love III) and Colin (Montgomerie) have made, but the truth is the truth.'—Rocco Mediate
Masters champion Vijay Singh, Players Championship winner Hal Sutton and Sergio Garcia were among those who shot rounds in the 80s. Colin Montgomerie shot a 79, Jim Furyk an 84. John Daly, who a year ago vowed never again to grace the Open with his presence, complied. His was another disgraceful exit when he withdrew after requiring 14 strokes on the last hole to complete a first round of 83.
Woods, meanwhile, had either the best round of the day or equaled it in three of four rounds. His third-round 71, featuring a triple-bogey 7 on the third hole, equaled the second-best round of the day. He took a one-stroke lead into the second round and emerged with a six-stroke advantage. By the end of the third round he was up by 10.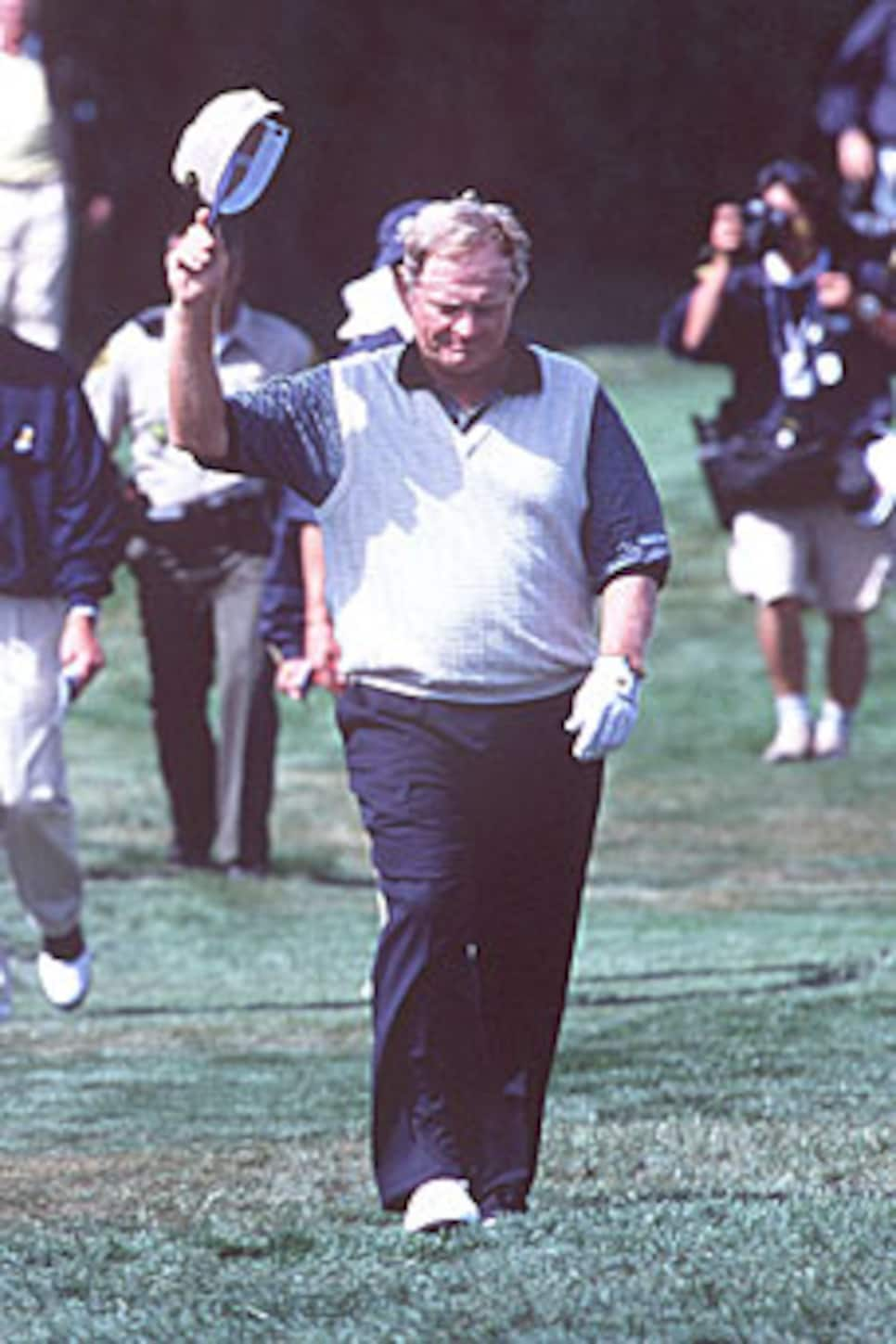 "If I went out there and was patient and hit a lot of fairways, a lot of greens, I knew I'd make a putt here and there, and maybe increase the lead or let them know it was almost impossible to catch me," he said.
Patience was the operative word for Woods. The impetus behind his play here might have been the theory that he lacked the requisite patience to win the U.S. Open. "I think some people said he didn't have the game to win the U.S. Open," Paul Azinger said. "I think he's out to prove everybody wrong. Whenever you put the onus on a guy like that, he shows up. He's a lot like Nicklaus that way."
Woods was tested early in the third round when he made the triple bogey. His second shot missed the green and settled deep into the thick, wiry rough. Woods chose to come out sideways and still failed to extricate his ball from the rough. When he finally tapped in for 7, a smile creased his face.
Patience prevailed. On Sunday, he parred the first nine holes and would have accepted a similar back nine. Of course, his putter resolutely refused to accept mediocrity from him this week, and he closed with a four-under 32. He couldn't help himself.
We've been talking about him for two years. I guess we'll be talking about him for the next 20. When he's on, we don't have much of a chance.'—Ernie Els
"If you look back at each and every round, I made important par putts," he said. "Those big par putts, you have to make them in the U.S. Open. If you miss a green ... you're going to have the eight- or 10-footers or longer for par. If you make those, they feel better than a birdie."
The defining putt among them was a 15-footer he holed to save par at 16 on Sunday, "one of the biggest moments of the day," he said. It helped ensure the bogey-free round with which he doggedly wanted to finish the week.
He's a freak of nature, worlds apart from the rest of us in every way. His physique, his fitness, the he hits the ball, his short game, his putting, every aspect is totally phenomenal.'—Michael Campbell
"I told Steve [Williams, his caddie] walking up 18, there comes a point in time when you feel tranquil, when you feel calm, you feel at ease with yourself," Woods said. "And those two weeks [the 1997 Masters and here] I felt that way. For some reason, things just flowed. And no matter what you do, good or bad, it really doesn't get to you. Even the days when you wake up on the wrong side of the bed, for some reason, it doesn't feel too bad. It's just all right. And to have those weeks coincide with major championships is even better."
Woods avoided potential distractions over which he had control, including the Wednesday morning memorial service for Payne Stewart, the previous Open champion. The distractions over which he had no control included a first-round fog delay that pushed the first round into Friday and the second round into Saturday. He still opened a six-stroke lead, the largest 36-hole margin in the Open, eclipsing a mark that was 97 years old.
Only five years ago, a few hours after Woods had won his second consecutive U.S. Amateur at Newport CC, his father, Earl, said flatly that Woods would win 14 major championships, leading some to wonder what he had been smoking. In fact, Earl had only been drinking, champagne as it were, from the Havemeyer Trophy. In retrospect, perhaps his judgment had not been impaired. Had he, in fact, been aiming too low?
Another inarguable truth is that Woods has exceeded the hype, unique in the world of sports over which he now holds sway. Those who scoffed when Nike agreed to pay him $40 million before he struck a shot as a professional probably would acknowledge now that he was underpaid. Golf is littered with Bear apparents spawned by the perpetual desire to clone Nicklaus' greatness. Then along came this skinny multiethnic kid who not only was up to the task, but has proven to be even better than that.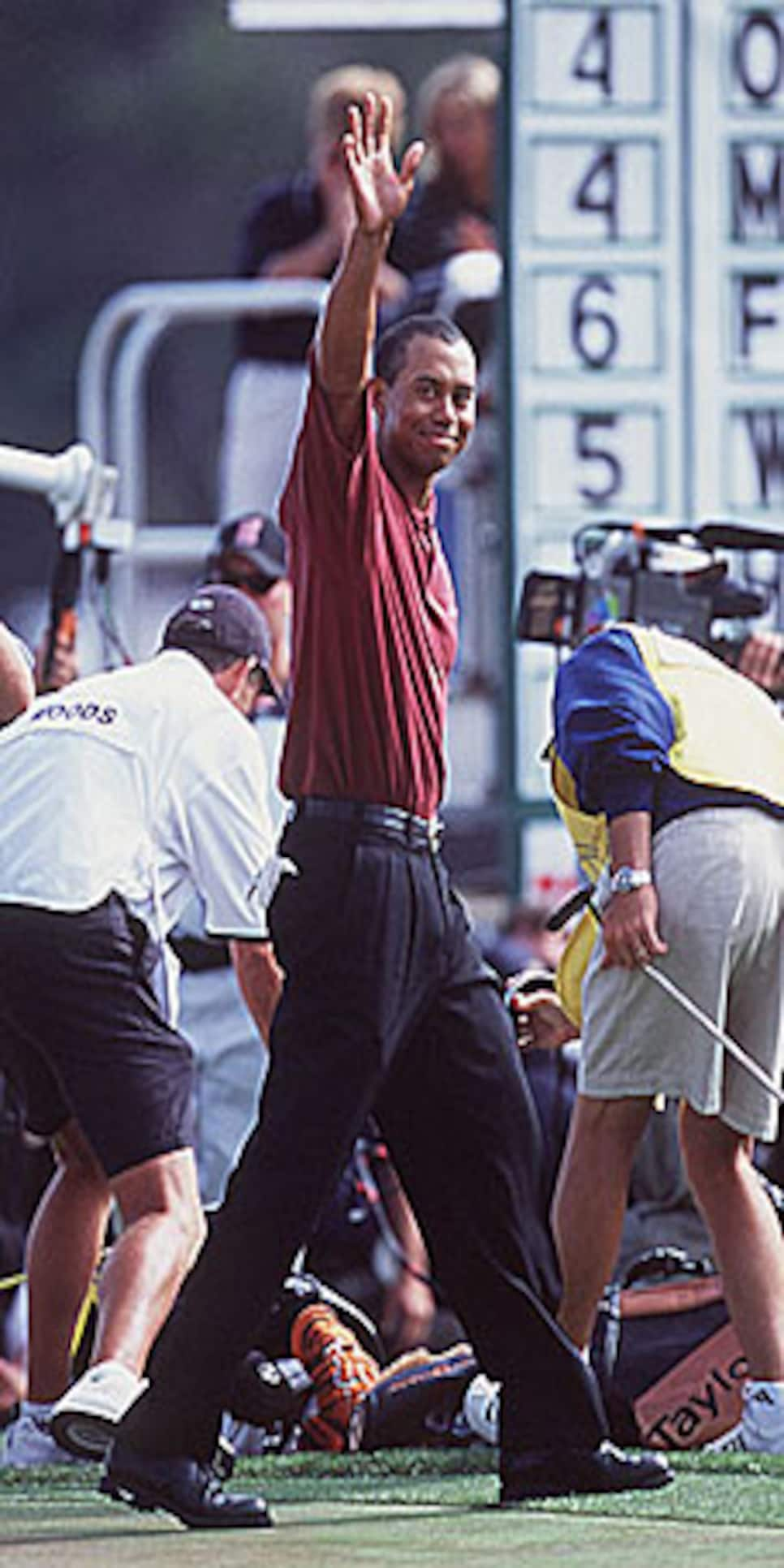 "I don't know what more there is to be said about him," Els said. "Anything I say is probably going to be an understatement. It seems like we're not playing in the same ballpark right now."
The courses on which Woods has been playing ostensibly have shorter holes, wider fairways, larger greens. Talent of the scope that Woods possesses eliminates the level playing field. He can win without his A game. With it, he rewrites history.
"I feel sorry for the young guys," Price said. "Basically, I've had my day. The young guys are taking a pounding from this guy. I don't know how to describe it."
History seems destined to do it for him. Those tears that Nicklaus was wiping away as he stood on the 18th green of his last of 44 consecutive U.S. Opens? So they weren't freed from their ducts by the possibility that he finally has met his match, too late in life to do anything about it.
It was, instead, the fact that this was his final encore, that Nicklaus was leaving a stage on which he had performed so admirably. The truth, as unassailable as his own place in history, is that he was leaving it in hands even more capable than his own.