News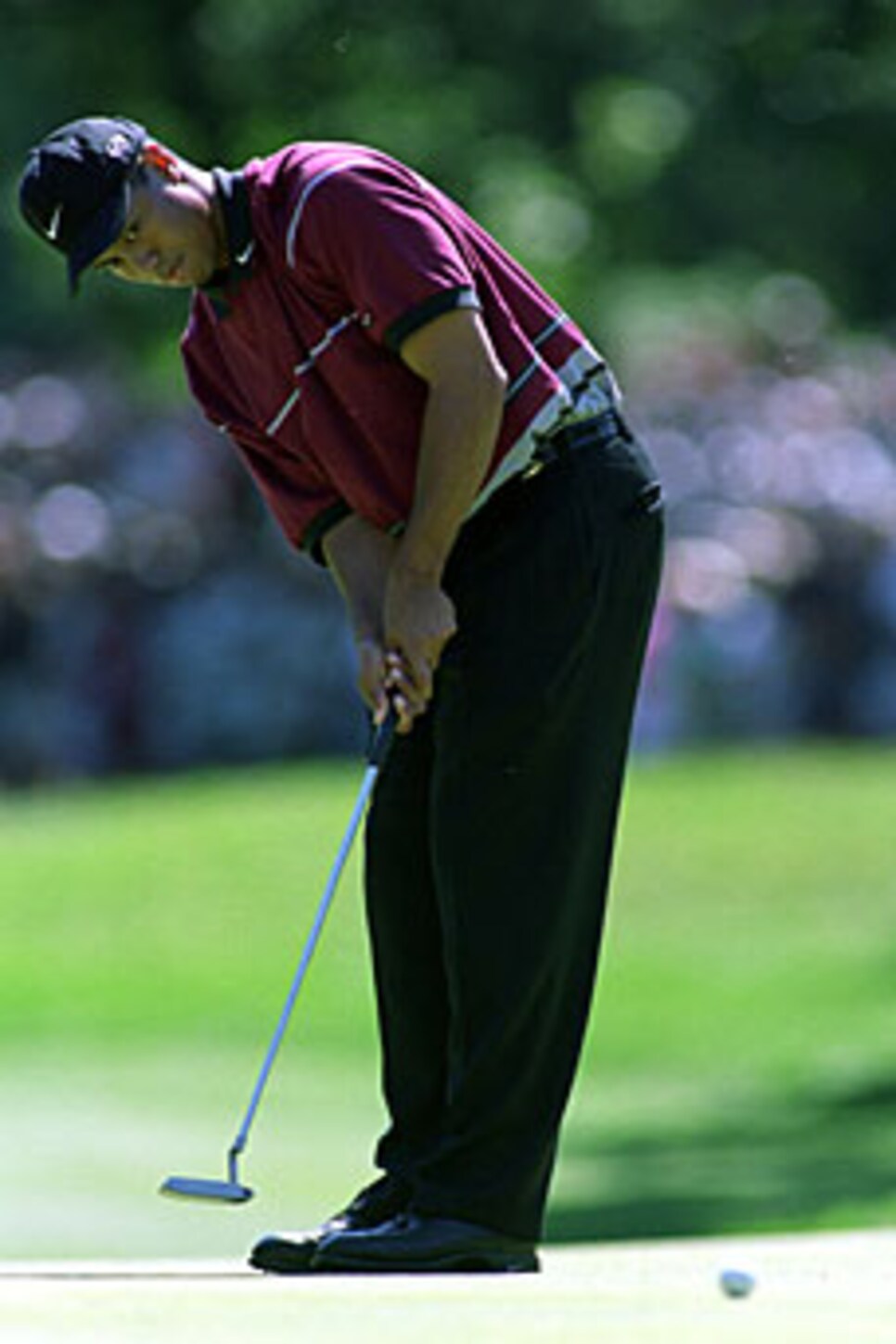 Woods showed new maturity both on—and off—the course.
Early last week, with the Boston Tee Party threatening to spill out of control, Tom Watson gladly changed the subject to golf. For September's Ryder Cup, he said, America's team must have a leader and there's no need for volunteers.
"It's a natural because it's his time," Watson concluded. "Tiger Woods." By way of preparing for this assignment, Woods snared the 81st PGA Championship with a one-stroke victory over sensational Sergio Garcia. Yet, well before Sunday's theatrical conclusion at Medinah CC, Woods exhibited his power game elsewhere, as an impact player outside the ropes.
David Duval had begun the latest volley of questions, but as the debate escalated, no golfer was as persistent as Woods about providing charity just desserts from that rich Ryder Cup pie. The PGA of America was issued a storm warning two years ago, but two years ago, Tiger was a kid.
Now he's 23, and the leader in the clubhouse, even on days when nobody's keeping score. Some athletes smell the roses, and some don't. Only a chosen few, however, plant seeds for the next generation. It is the unspoken, and unmistakable, role of a superstar.
"I want to be as good a golfer as I can be," says Woods, "but I also want to do as much good as I can do."
Michael Jordan, Tiger's pal, raised the bar for every player who will ever bounce a basketball into the 21st century. But Jordan didn't operate within a bubble. Closer to Tiger's home, albeit four decades ago, Arnold Palmer and Jack Nicklaus shook the golf world by challenging archaic ground rules with the threat of starting their own tour.
Palmer and Nicklaus were criticized. Later, they were vindicated as visionaries. Woods is no more insulated than those giants, with a proposal much less drastic. His motives have raised some suspicions, but explain this: If designating six digit sums of money in each player's name to a worthy cause is such a terrible idea, why does it happen with the Presidents Cup, a Ryder Cup knockoff born in 1994?
For Woods, it's the principle of the matter, not the principal. He could sit in his bathrobe and collect $200,000 by picking up the telephone. Instead, he lobbies hard with the PGA of America for his beliefs, however unpopular. Leadership manifests itself in various forms, and though Woods is a lightning rod for controversy now, he will bring that same backbone to Brookline in September.
As mentioned earlier, last week at Medinah was rife with hiss and vinegar, so good laughs were scarce. But a friend of mine had one on us in the media. Harvey Wineberg, a high- profile tax expert who's cut many a sports deal, was positively cackling over reports that Woods and/or Duval were sparring with the PGA of America on account of accounting.
"What's Tiger Woods worth, $50 million?" Wineberg inquired. "And you people in the press think his financial strain, presuming he isn't already maxed out on deductions, would be eased if he could write off $100,000 or $200,000 to charity? Are you people serious? Do you realize how foolish you look by suggesting such a thing?"
At a clear-the-air meeting on Tuesday before the tournament, there was a chill in the room when Davis Love III popped the question: Do you guys want money for charity, or would it really be for yourselves? He was not the only skeptical soul. A couple other golfers, Brad Faxon being the most audible, didn't even bother asking. They just assumed.
Love later mellowed and suggested the Brookline Bottom Liners were painted with a broad brush because that's how it all started, when Mark O'Meara said players should be paid for Ryder Cup services, period. That was eons ago; he since has changed his tune and joined the charity chorus.
Beware: Every professional sports union or association arose from this type of restlessness among the troops.
Ergo, the PGA of America cannot respond soon enough. The public relations damage already is significant, although it's doubtful that dissension will doom Capt. Ben Crenshaw's squad. As recent U.S. Ryder Cup records indicate, great friends don't necessarily make for great partners.
The PGA of America will solve this problem because it's a gimme, and when Duval builds that soccer field for his neighbors, all will be forgiven. Better yet, we might realize that a few of our country's golfers stand for something more than the Star-Spangled Banner.