News
The Best And The Brightest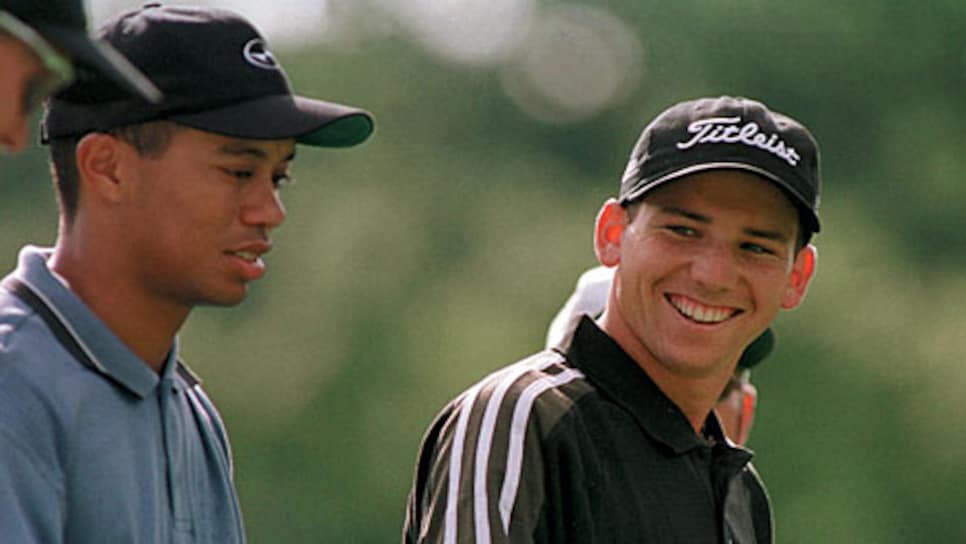 Too close for comfort: A thrilling back-nine rally by Garcia (right) put a scare into Woods (left).
MEDINAH, ILL.—It took a while, but a clutch par putt here and a stupendous recovery shot there, and the save was made. In a few instants late Sunday afternoon, on the final nine in the final round of the final major of the 20th century, a PGA Championship that had threatened to limp into history came to life, mercifully and dramatically rescued by the true grit and bold shots of Tiger Woods and the young Spaniard he beat by a single stroke, Sergio Garcia.
In a conclusion filled with the kind of stuff Jack Nicklaus and Arnold Palmer were made of, Woods and Garcia took the focus off the bickering and bare greens that had bogged down the 81st PGA, and turned a week to forget into one to remember. Days of debate about some of the sport's troubles were replaced by a two-hour display of one of its joys, the ebb and flow of strokes and emotions by two dynamic young stars in full flight with nothing in their way but reputations and oak trees.
Come the decisive moments, the focus was removed from what should be done with Ryder Cup profits or how to putt the spotty, heat-ravaged greens on Medinah's No. 3 Course. The only charitable contribution in sight Sunday was Woods' double bogey on Medinah's par-3 13th—a costly but ultimately nonfatal blunder—but there was plenty to see.
Woods shot a final-round 72 for an 11-under total of 277 to capture his second professional major title but first since his historic 1997 Masters win. Trailing Woods and Garcia in a tie for third were 36-hole leader Jay Haas, who rallied with a 70 after a disappointing 75 Saturday, and Stewart Cink, at 280.
Woods, a maturing force at 23 who has now finished in the top 10 in seven of the 12 majors he has played since turning pro, including near-misses this year in the U.S. and British Opens, looked more relieved than overjoyed when his victory was complete. "I've given myself chances," he said. "I've come close. I've been right there. Sometimes you just need a bit of luck to go your way. This week I definitely played well, but I also had a few lucky breaks. Getting No. 2 is definitely a relief."
Woods simultaneously has refined his game and grown more comfortable with the glare he works under since his 12-stroke victory at Augusta National. At no time was Woods' maturity and his ability to handle the heat more evident than last week. He thrust himself into the Ryder Cup controversy with his vocal belief that American members should receive payment for their participation, to be spent as they see fit (his share would go to charity, Woods said), but as the issue boiled over before the PGA began, he stuck to his guns and didn't let the controversy affect his play. Sunday, Woods had to deal with the fact that the effervescent Garcia captivated the gallery to the point where he, and not the popular Woods, was the favorite.
"The crowds were amazing," Garcia said afterward. "I have no words to say about what they did to me. It looked like I was American." Garcia's caddie, Jerry Higginbotham, who was alongside Mark O'Meara for his two major victories last year, couldn't believe his ears. "In all my years of caddieing," he said, "I have never heard fans pull for a guy like they pulled for my guy today."
So much did the gallery tide roll toward Garcia that it included some raspberries for Woods, hecklers who urged his ball to go in the water. "I could tell the crowds were changing when some guy yelled out, Thousand dollars you don't slice it in the water' on 17," Woods said. Even though he was dismayed by the few louts, and limited his reactions to keep from further rousing anyone's ire, Woods also understood why Garcia had so much support. "He was emotional, yes," said Woods. "But he was fiery. He was trying.
"He never dogged it, and it was wonderful to see. He has a tremendous amount of fight. You can just see it about him, the way he plays, the way he walks around the golf course. He really wants to play well. And he's going to do it at any cost."
When Garcia's ball settled next to an oak tree to the right of the 16th fairway in the final round, 189 uphill yards to the hole and less than a foot from a broken wrist (or two), two things soon became evident: Garcia has spent a lot of time with fellow scrambling Spaniard Seve Ballesteros. And he knows that young bones heal faster than old ones.
Trailing Woods by two strokes at the time, Garcia considered playing safely back to the fairway, but eventually grabbed a 6-iron. What happened next was enough to make an orthopedic surgeon shudder. Garcia took a mighty swing, closed his eyes on the downswing, fell back as he followed through and somehow avoided hitting part of the tree trunk before and after contact. "Then I opened my eyes and I saw the ball going to the green," he said, "and I was pretty excited." Still in one piece, with his ball soaring and slicing 25 yards safely onto the green, a recovery shot for the ages, Garcia sprinted 40 yards up the hill and did a balletic leap, his heart racing.
"I didn't think he could pull it off," said Higginbotham. "But I'm not surprised—he's too good to be surprised."
"I'll put it in the top five," said Garcia, asked to rate the shot among all he has ever hit. "I learned a lot playing with Seve, those kind of shots." If salvaging a bogey after hitting his tee shot in the water on the second hole, and acknowledging the gallery on most greens by taking his cap off, hadn't won over the fans, this brazen shot—which recalled Ballesteros' daring 3-wood out of a fairway bunker during the 1983 Ryder Cup—and his reaction to it, did.
Garcia's challenge had been stoked two holes earlier when he rolled in an 18-foot downhill birdie putt on No. 13 to go 11 under, three strokes behind Woods, who was watching from the tee in the day's last pairing with Canadian left-hander Mike Weir. Showing his pluck, Garcia looked toward the tee as he reacted to the birdie putt. "I wanted him to know I was still there and to show him he had to finish well to win," Garcia said. "I did it with good feelings, not hoping that [he would make] a triple bogey or whatever. I was kind of telling him, If you want to win, you have to play well.' "
Woods hit a 6-iron, but his ball flew the green and finished in tangled rough. He chipped back off the front of the green, finally got on with his third and two-putted for a 5. Woods' lead was only a single stroke over Garcia, and all of a sudden a made-for-history duel (forget just television) was in the works. Neither Woods' recent "showdown" with David Duval, nor Garcia's first-round 89 at the British Open, seemed very important.
Neither, by then, did Hale Irwin, but for the first two days the 54-year-old senior tour dominator had been the talk of the tournament. His opening rounds of 70-69, while paired with Garcia, elicited rumblings that he might make a good Ryder Cup captain's pick. "You just put a bag over everybody's head, including your own," Irwin said of competing against players less than half his age. "You just don't pay attention to how old they are."
But Irwin couldn't keep pace. And, in a repeat of the 1995 Masters, the 45-year-old Haas stumbled on the front nine of the third round. Weir, who kept his left-handed swing when he was 13 because Jack Nicklaus (responding to a letter from Weir) advised him to do so, looked like a world-beater when he fired a third-round 69 to tie Woods for the lead. But he was out of rhythm Sunday, collapsing to an 80 that dropped him into a tie for 10th. Nick Price, who was trying to win his third PGA of the 1990s, surged to 11 under through 11 holes Sunday, but then made consecutive bogeys and eventually finished fifth. It was a position Bob Estes would have loved. The only American to come close to playing his way into the top 10 of the Ryder Cup standings, Estes needed to finish tied for fifth with only one other player to do it. But two late bogeys dropped him to sixth.
Medinah's greens were softened by rain, as they had been when Irwin won the 1990 U.S. Open. But this time they were also less than pristine as a result of a sweltering July heat wave. "It could have been 20 times worse than this," said Medinah course superintendent Dan Quast. "One more day [of extreme heat] might have done it."
Woods was among the players who remarked how bumpy some of the surfaces were. But in the waning moments Sunday, he had other things on his mind. At the U.S. Open, a critical bogey on the 17th hole in the fourth round cost him a chance to win. When he came to Medinah's par-3 17th, he had just a one-shot lead over Garcia, thanks to a bogey on the previous hole. His 7-iron shot carried the green, into a poor lie. He chipped to eight feet. Crucial misses had cost Woods previously at majors, at Pinehurst and before, but this time Woods trusted the read of caddie Steve Williams and rolled in the par putt.
"I ran it inside-left and made sure I stayed steady," Woods said. "I made sure the blade released through the ball, because a lot of times the left-to-right putt is very easy to block."
But nothing—not a tricky putt, a charging Spaniard, an off-course tempest over what to do with all that Ryder Cup dough—was going to block Woods from bringing home a victory for the eighth straight time when leading or sharing the lead after 54 holes. He had his own spectaculars during the week—a body-contorting low slice out of the trees on the 15th hole Saturday, and a majestic, fading 2-iron from 261 yards to set up a birdie on the par-5 seventh hole Sunday come to mind—but there was a workmanlike quality about the victory. While Garcia was watching television highlights of his miracles afterward, Woods calmly measured his accomplishment.
"The key is to keep giving myself chances," Woods said Sunday evening, the Wanamaker Trophy sitting in front of him. "Sometimes you'll win them, sometimes people will give [wins] to you. Nicklaus did a wonderful job of [putting himself in a position to win]."
Unlike the 1997 Masters, this victory won't cause sociological echoes. This win was about a golfer honing his immense talent, dealing with some disappointments, staying the course, taking charge. Woods could see and hear Sergio Garcia, all right, but in the end, the statement Woods made was the loudest of all.