News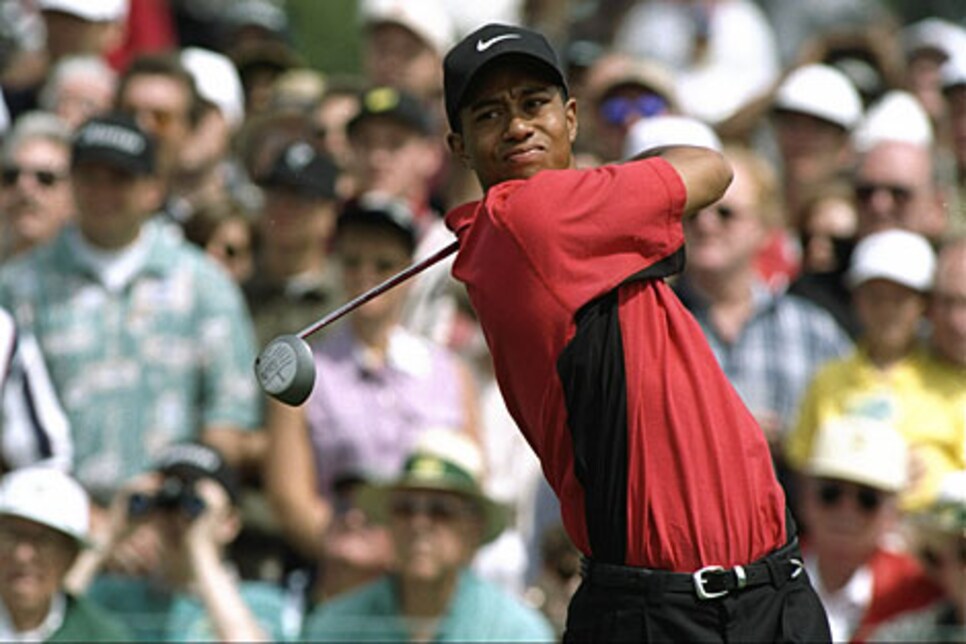 Woods averaged 323 yards off the tee.
Augusta, G.A.--Somebody better wake up Bob Jones, Alister Mackenzie and Clifford Roberts. There's some work to be done. Augusta National has been rendered obsolete by a young man who's going to be around for a long time. The Cathedral in the Pines just got trashed by a 21-year-old kid who won't turn 50 until 2025. He's just getting comfortable at Augusta.
It's time to fire up the bulldozers, buy the strip malls on Washington Road, move the poverty lines and redesign the place. Grow the rough. Add some forced carries. Dig some pot bunkers. Bring in Pete Dye, the railroad ties and the island greens. Tell Tom Fazio to quit tinkering and get serious: Augusta National needs the full-mental overhaul. It needs U.S. Open vegetation, or it's going to be a one-man tournament until Tiger Woods gets bored and decides to take up baseball.
Tom Watson says, "Leave it alone. Let's see what this young man can do." But there are players who foresee this as a trend. The first time was historic. The next 19 could get a little repetitive.
"I think they've got a dilemma here," say Nick Price.
If they don't make a set of Tiger tees 50 yards behind us, he'll win the next 20 jackets," says Jesper Parnevik.
"He makes the golf course into nothing," says Jack Nicklaus.
Woods reduced this once mighty track to an executive course. He was reaching the par 5s with wedges and driving it pin-high at the 360-yard third. All he did was go 18 under, set the tournament record, win by 12 strokes and turn Augusta into Indian Wells.
Without Tiger, Tom Kite wins with six-under 282. That's right where Masters officials would like the winning score.
"Obviously the Masters Committee has to be a little concerned," Kite said Saturday. "They've got a golf course that's pretty darn tough, and they've got somebody just ripping it up."
The Masters needs to adopt a local rule and make Tiger play with hickory shafts and 50-compression Titleists. The man averaged 323 yard off the tee for the week. Only Scott Hoch joined him in the 300s, at 300.3. Here's the scary thing: The kid can putt fast greens. He had zero three-putts. Zero, on greens that are right on the edge of being unfair.
"They certainly could not get the greens any faster," Kite said. "They could not get them any harder than they were the first day. They could not get any more severe on the pin placements. So what defense does this golf course have other than tightening it up somehow."
More length, as Kite knows, would only separate Tiger from the field even more. Earlier in the week, there was some griping that the first hole was secretly lengthened by six yards, just enough to make that carryover the fairway bunker nearly impossible. With Tiger, the green jackets could put the first tee back next to the Eisenhower Cabin, and he'd still be able to blow it over that sand trap.
The second, all 555 years of it, the longest hole on the course, was driver, 9-iron for Tiger on Saturday. Let's go over that again, just in case you weren't paying attention. Five hundred and fifty-five yards. Driver, 9-iron. By the way, he hit that 9-iron over the green. "I like this course the way it is," he said.
Robert Trent Jones, who built a new 16th hole in 1947, suggests a series of cross bunkers, 300 yards out. There are some green jackets who feel that the time has come to grow rough, just enough to create some flyer lies. These may sound like radical changes, but the club has not been afraid to make radical changes in the past. The two fairway bunkers on No. 18 were added to prevent Nicklaus and Tom Weiskopf from driving into the old practice fairway. In 1981 the club went from Bermuda to bent greens.
Historically, this is one sport where they do raise the rim.
"It'll be interesting to see what they do to this golf course," says Price. "They have to do something. I'd like to be a fly on the wall at the next committee meeting."
There might not be much buzz. Jackson T. Stephens, the club president and tournament chairman, said that the Masters Committee thinks about these changes all the time. Just don't expect any by next year's tournament.
"I'm not at all embarrassed that the record is broken by one shot after 32 years," Stephens said. "IT has stood the test of time."
Yes it has, but this is a new time--Tiger Woods' time.