News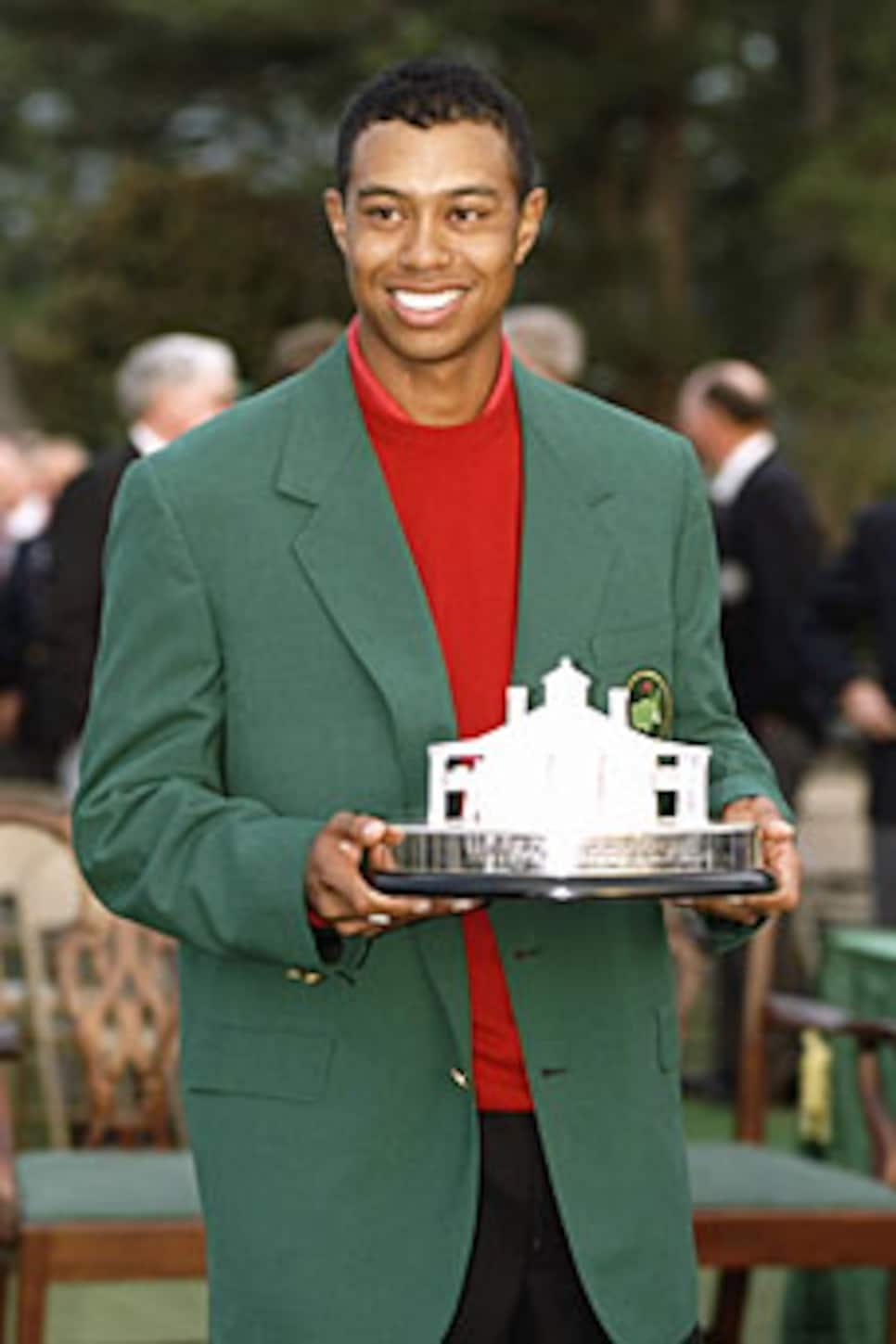 Woods' Masterful performance has some pumped about his Slam hopes.
Augusta, G.A.--There was no defining moment. There was no miracle comeback, no incident at Amen Corner, no particular golf shot of historical resonance. There weren't even any azaleas. Spring arrived too early this year at Augusta National, tiptoeing around the 61st Masters as if to force this sacred tournament to produce its own colorful backdrop.
Mother Nature's ultimatum. Father Time's ultimate accomplishment.
That's what made it so unforgettable. Color. The dark complexion of a young man's skin against his sport's lily-white landscape, a major champion blossoming before our very eyes. If Ben Crenshaw's triumph here two years ago was inspired by death, if Nick Faldo's victory last year was the result of another man's self-destruction, this Masters was a celebration. A celebration of mankind. The reverberation of human spirit.
"I think it's very appropriate that it happens here," Crenshaw said. "At a fabulous place where a lot of magical things happen."
Fifty years to the week after Jackie Robinson broke major league baseball's racial barricade, Tiger Woods performed the competitive equivalent on a sport scarred by past facelifts. His 12-stroke victory over Tom Kite was literally the largest at any major championship in this century. To many others, the final margin will be at least twice as big: "The last barrier fell here today," said Lee Elder, who in 1975--the year Woods was born--became the first African-American to play in a Masters.
Tiger's melting-pot ancestry provided the festivities with a certain social transcendence, but it would be an understatement to call this strictly a black-Thai affair. Not only does Woods become golf's first minority major champion, he becomes the youngest (21 years, three months, two weeks) and most dominant (18 under). Jack Nicklaus won here in 1965 by nine strokes at 17-under 271. Raymond Floyd won here by eight strokes at 17 under in 1976.
Both did it on Augusta National's old Bermuda greens, hitting fairway woods into the par 5s, then cleaning up on putting surfaces that weren't nearly as hostile as today's bent-grass bullies. Woods made history on one of the toughest Masters setups ever. He did it by overpowering not just the course, but an entire field. His 323.1-yard average off the tee was 23 yards longer then anybody else, 39 yards longer than Kite. One scribe calculated that in order to even out the tremendous distance advantage Woods held over his opponents, the layout would have to be stretched to 8,750 yards.
"He's out there playing another game on a golf course he's going to own for a long time," Nicklaus said.
Woods played Amen Corner (Nos. 11-12-13) at seven under for the week. He was 13 under on the par 5s and reached the 500-yard 15th with a driver and a pitching wedge Thursday and Friday. He played just three bunker shots in four rounds. He went 38 straight holes without a bogey and, after opening the tournament with a front-nine 40, played the next 36 holes in 16 under.
So there was no defining moment. For as drama-free as this rout was--a fact belied by the 15.8 overnight rating garnered by CBS' Sunday telecast, which the network claimed as a record for a golf major--the final two days played out like a slow-motion victory lap, crowning a performance that was, both statistically and sociologically, the greatest of the modern era.
Woods led by three strokes at the midway point, stretched the lead to eight after 44 holes, then had only the record book to chase when Colin Montgomerie, his third-round playing partner, issued a rest-of-the-field surrender Saturday evening.
"There's no chance humanly possible that Tiger is going to lose this tournament. No way," Monty announced. Then, asked about Faldo's rally from six strokes down to beat Greg Norman a year earlier, the bulky Scot fired his best shot of the day: "This is very different. Nick Faldo's not lying second. And Greg Norman's not Tiger Woods."
It was a notion seconded by swing instructor Butch Harmon. Dumped by the Shark in full view of others (for David Leadbetter) last fall, Harmon, who has shortened Tiger's backswing and turned the game's longest driver into one of the straightest, unloaded on his ex-client by saying, "Tiger is a much smarter player than Greg Norman. They're both tremendously talented, but Tiger's mental approach is better than Greg's. I don't think you'll see him make mental mistakes. He's so composed. He's made no stupid plays."
There were a few glitches on Sunday's front nine, but if there was one amazing stat that emerged from all the rest, it's that Woods didn't make a single bogey all week on the world's sneakiest back nine. In an effort to break the Nicklaus/Floyd scoring record and reach the 20-under goal he set privately for himself, Woods pushed himself hard to the finish line Sunday, swiping his club in anger after a poor second shot into No. 15, barely noticing a young boy who had grabbed him from behind. There would be no letup. No sign of weakness. No chances taken. By the 18th however, Woods was flashing his 50,000-watt smile to the crowd, high-fiving fans left of the fairway while caddie Mike (Fluff) Cowan stepped off yardage.
Asked when he felt comfortable with victory, Woods said, "After I got by the water holes. After I hit my tee shot on 16, even though I screwed it up and hit it right, I knew I could bogey in. Those water holes can jump up and hurt you in a heartbeat."
Not last week. Woods' Masters preparation was highlighted by a career-low round of 59 at Isleworth CC near his home in Orlando on April 5. He took $65 off Mark O'Meara, whose report on the match went as follows: "He should have shot 57, really. It was a pretty easy 59. He wasn't going crazy, making a lot of bombs and chipping in all over the place. A 16-footer was about the longest putt he made, and he parred two par 5s with an iron in his hand."
A few days later the two friends flew together to Augusta, and on the plane Woods turned to O'Meara and asked, "Do you think it's possible to win a Grand Slam?" Suddenly, the two words are not so far-fetched. In fact, of the 21 players polled by Golf World last Sunday about Woods' chances of winning a Grand Slam, 13 said they thought it was possible.
"Even if he had average length, he'd still be a great player," said Lee Janzen.
It's a long period between now and the PGA (Championship), but if he motivates himself, he's got a chance," O'Meara said. "It's highly unlikely, but if anyone could, he could. Here he is, the Masters champion at 21, probably the first guy since Nicklaus to really have a chance."
By teeing off with Faldo in Thursday's afternoon draw, Woods avoided the early-morning brisk winds and 40-degree temperatures that helped make it the third-toughest round at a major in the '90s. There were 16 "others"--scores higher than double bogey--tieing the Masters single-day record set in the second round in 1990. Woods avoided blowups but made bogeys on four of the first nine holes. As slow starters go, he's the only winner since 1980 to shoot higher than 37 on the tournament's opening nine.
"Between the ninth green and 10th tee, I told him this was just a start," Cowan said. "I tried to pump him with positive thoughts. He did the rest."
Woods birdied 10, 12 and 13, then eagled 15 with a wedge to six feet. He missed a 29 when his 10-footer for birdie burned the left lip on 18. At two-under 70, he trailed John Huston by three strokes, but only five others had joined him under par. When Huston vanished from the scene at the 13th Friday, dumping three balls into the tributary of Rae's Creek, Woods had taken the lead for good--by three strokes over Montgomerie and four over Costantino Rocca.
"I have a lot more experience in major championships than he (Woods) has," Montgomerie said, anticipating his Saturday pairing with Woods. "And hopefully, I can prove that."
With Faldo (75-81) and Norman (77-74) both missing the cut, the weekend began on a refreshing note. Gone were the two principals of last year's Masters. It was as if the stage had been cleared for a younger pair of superstars. Montgomerie, Europe's top player, had recently made clear his desire to face Woods in Ryder Cup competition--not necessarily at Augusta--needling Woods for PGA Tour victories on resort courses in Las Vegas and Orlando. It was the best Saturday matchup at a major championship since Faldo and Norman were paired together for the third round at the 1990 British Open at St. Andrews.
Unfortunately for Montgomerie, it turned out just as one-sided, and one wonders if the ensuing ambush will have a lasting effect on the Scot at Valderrama in September. Woods birdied four of the first eight eight holes en route to a 65, the best score posted by anybody all week. In match play, Monty would have lost, 4 and 3. Still reeling from Saturday's 74, he shot an embarrassing 81 in the final round to finish 24 strokes behind Woods.
Anybody else looking for a little Trauma in Valderrama?
"Why would I want to play him?" said Sweden's Jesper Parnevik. "I'd be five down before we started."
As unbeatable as Woods was, all this might never have occurred if his father hadn't decided to crash on the living-room sofa Thursday morning. Earl Woods was just minding his own business when Tiger, practicing on the carpet, asked him how he liked his putting stroke. Earl said he didn't. Tiger asked his dad what was wrong. Earl told Tiger his right hand was breaking down on the takeaway.
But let's not get carried away. Tiger could have putted with a Garden Weasel and still finished under par. He drove the ball like no man has ever driven it, John Daly included, taking Augusta's various land mines out of play. His longest club into a par 4 the entire week was a 7-iron. On tough, two-shot holes such as the 435-yard fifth and the 405-yard, all-uphill 18th, where a few feet in the wrong direction on the approach shot means an automatic 5, Woods could laugh his way around trouble with a routine sand wedge.
"Any course suits his game, but this course is made for him," said Corey Pavin. "He can certainly win at all the major venues (this year) but this is the most likely. I'm not sure where I'd go after that. I'd say the U.S. Open, then the PGA. The British Open is the least likely. It's tough tournament to play in."
There will come a day when Eldrick T. Woods has nothing left to prove, a day when his legacy will include major championships of various shapes and sizes. His rate of achievement suggests that day may not be too far off. Unless a golfer of comparable skill emerges as a worthy rival--a Nicklaus to his Palmer--Woods may have, as Nicklaus himself predicted last year, 10 green jackets before he's done.
"Winning this isn't going to change his life," Janzen said. "The only question is: Will he ever get tired of beating everybody?"