News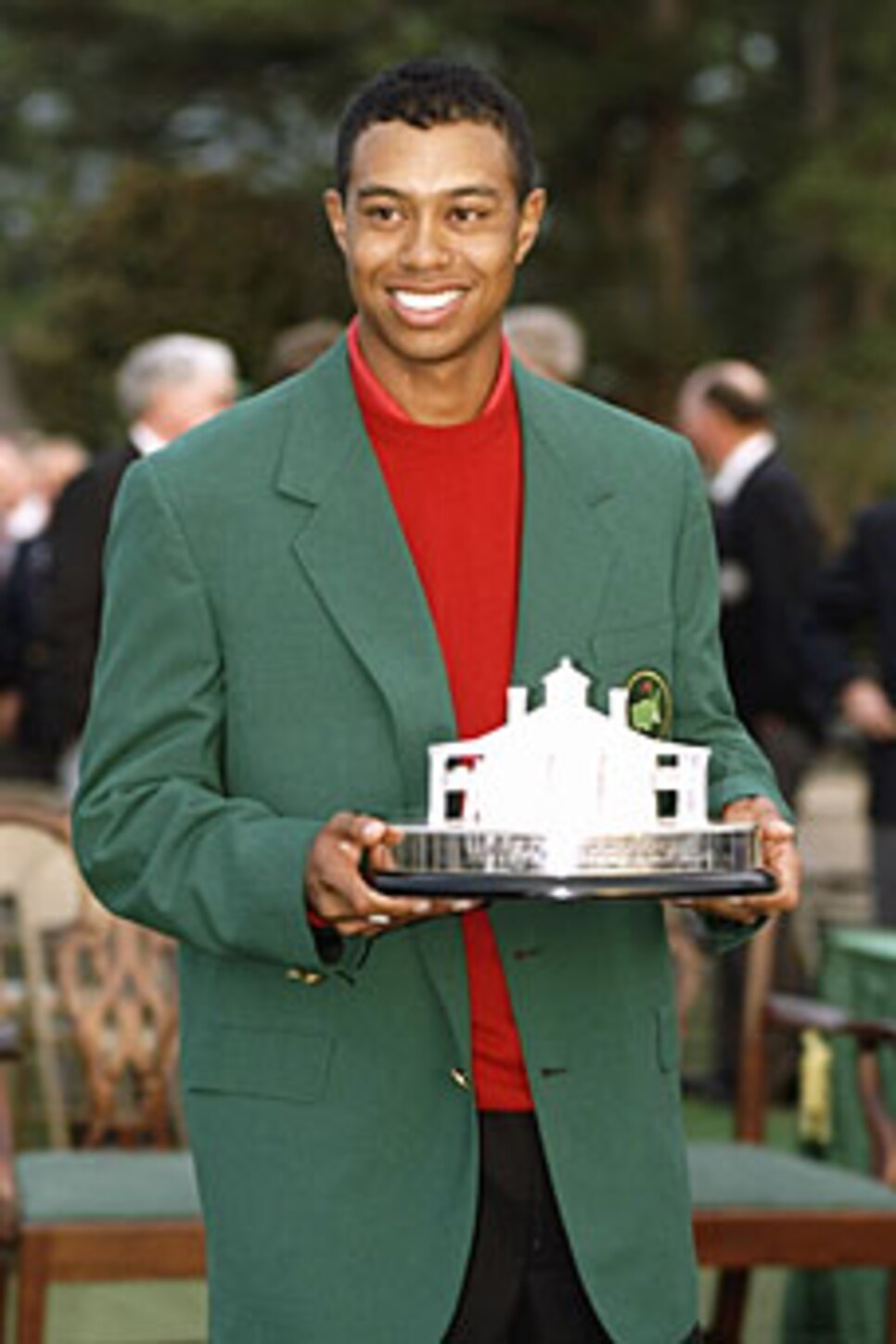 Woods' Masterful performance has some pumped about his Slam hopes.
Tiger Woods has brought the term Grand Slam back into play. Can he win all four of golf's major Championships in the same year?
History says no. Since World War II, only three legitimate assaults have been waged on the professional version of golf's "Impregnable Quadrilateral." The most serious occurred in 1953, when Ben Hogan won the Masters and the U.S. and British Opens, the only time a player has won three professional majors in the same calendar year (a scheduling conflict with the British Open and Hogan's ailing legs prevented him from playing the PGA Championship). In 1960, Arnold Palmer won the Masters and U.S. Open to get halfway to the Slam, only to see his challenge thwarted by a runner-up finish at the British Open. Nicklaus duplicated the feat, right down to the second-place finish at the British Open, 12 years later.
British oddsmakers are skeptical, but much less so than they were three months ago, when they listed the odds against Woods' pulling off such a feat at 5,000-1. Monday, the day after Woods' win at Augusta National, those odds had dropped to 100-1.
And his colleagues? They say otherwise...with a certain amount of hedging.
Golf World asked 21 Masters participants to rate Tiger's Slam capability in this or any other year. None of the 21 said it was impossible, although no player was willing to get more optimistic than Ben Crenshaw, who said the idea is conceivable "when I see somebody like Tiger play."
Most players agreed that Woods' chances in 1997 are enhanced by this year's major venues--Congressional, Royal Troon and Winged Foot--all of which favor players with immense length off the tee.
Corey Pavin: "It's very unrealistic. You go back in time--the golf courses weren't set up as differently as they are now. It's going to be very, very difficult. I don't care who you are. I was watching a Bobby Jones special the other day--you could see how crazy people were getting back then. That was 67 years ago.
Nick Price: "The Grand Slam? That's really pushing it. If he wins the U.S. Open, then we'll talk about it."
Tom Kite: "Certainly it's something that has to be considered. But you've got to remember that this golf course, more than any other, is set up for him. Look at who wins the Masters and British Open, which are similar because you can drive it pretty much anywhere. (Since Nicklaus and Gary Player) there hasn't been anyone who's won the U.S. Open and PGA who's also won the Masters and British Open."
Former U.S. Open champ Jerry Pate": "Troon is right up his alley. Congressional is right up his alley. Winged Foot is right up his alley. He's got a lot of game Jack never had. Wedges, knock-down shots. Jack never had a short game like this. Tiger's got every shot in his bag and he does it with precision."
Leave the last word to Woods: "Whether it's realistic or not, I don't know, but I think it could be done."