News
Sifford's Dream Comes True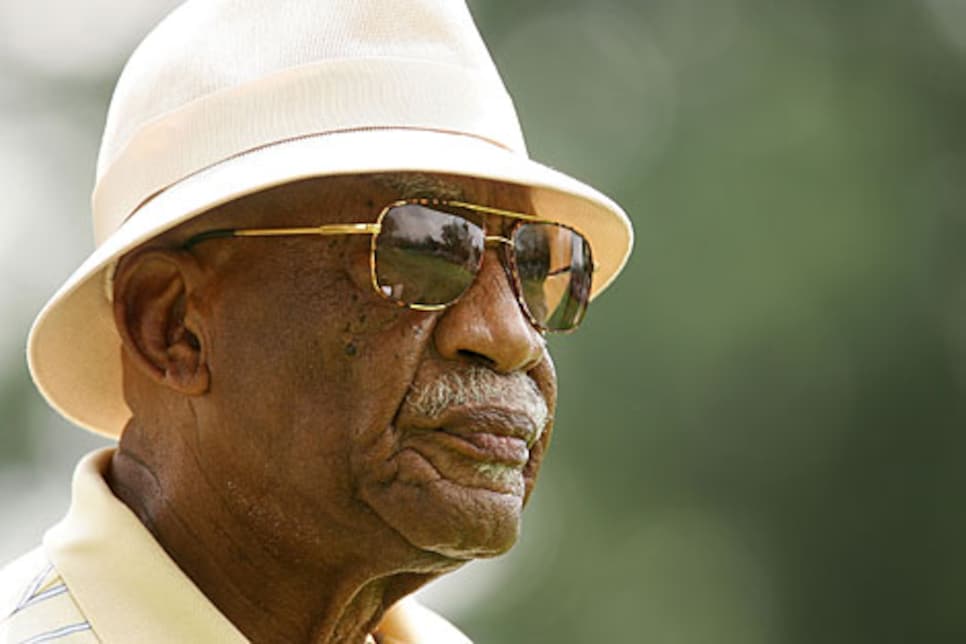 Woods' win was sweet for Sifford, who had the fire but not the opportunity.
The lump had been stuck in Charlie Sifford's throat for most of the day. He had gone to services at Kingwood (Texas) Baptist Church and prayed for Tiger Woods to hold it together for 18 more holes. He couldn't really see his adopted grandson losing a nine-shot lead, but this wasn't just any tournament. This was the Masters. He had hit a few golf balls at the range. Taken time for a local camera crew. Then he'd gotten serious.
Sifford, 73, has never played Augusta National--never even seen it in person, as a matter of fact--but that didn't stop him from mumbling strategy to the television set all afternoon; from telling the kid on the screen what shots he needed to hit. He groused when Tiger pulled a different club, smiled when he landed the approach shots in exactly the right spots.
And when Woods' last putt fell, so, finally, did Sifford's tears.
"As far as I'm concerned it put the Masters to rest for me," Sifford said. "I've been waiting 35 years."
Sifford never had the chance to play in the Masters. His two PGA Tour victories--the 1967 Greater Hartford Open and the 1969 Los Angeles Open--came years before Augusta National amended the Masters qualification list to include such winners. He never was lucky enough to get an invitation, either. One year, he got two of four necessary votes from the tournament committee. That's as close as he came.
But the problems that confronted Sifford, the first African-American member of the PGA Tour, were a lot more serious than an invitation to Augusta National. Just Let Me Play, the autobiography he wrote in 1992, was a powerful account of the racism he faced at tournaments--especially in the South, where some fans followed him around the course, taunting him and yelling during his backswing. But it happened elsewhere. He recalls putting his hand in the cup in Phoenix one year to retrieve a ball and coming out with feces.
"Suppose my first year at Greensboro when those guys came at me I had taken my golf club and killed them," He said. "If I'd done that, it would have over with."
Woods never faced such problems, partly because of the trail blazed by Sifford, Lee Elder, Calvin Peete and the other African-Americans who came before him, partly because of the relationship he developed over the years with Sifford. The two got to know each other when they both lived in the Los Angeles area--before Sifford relocated to Texas and Woods to Florida--and Sifford considers Woods an adopted grandson. He has counseled him about racism and what to expect. He has told him stories. Tiger has listened.
Sifford hasn't seen Woods in months, but they talk. Tuesday before the Masters started, Sifford sent Tiger a fax at the golf course. "I just told him to go play the golf course," he said. "Be strong. Be ready to go. I told him don't fire at all the pins. Play cautious. And when the time comes, turn it loose. Let it go."
Woods did that. He took that nine-shot lead after 54 holes and stretched it into a Masters-record total of 18-under 270 and a 12-shot victory--the largest in a major in 127 years. Sifford played every shot with him.
"I went through a lot of emotions," he said. "I was hoping one day a black man would win the Masters."
A black man didn't play at the Masters until 1975. Augusta National didn't have a black member until 1991. Now it has a black champion.
Lee Elder, the man who broke the Masters color line, was at Augusta National Sunday to witness Woods' win in person. But on the eve of Woods' win in person. But on the eve of Woods' win, Sifford said he wouldn't go, even if Woods himself asked him. "They don't want me at Augusta," he said. "They told me that 20 years ago. They had their rules. So be it."
They may have kept Sifford out, but they couldn't stop his dream from unfolding--or the lump from finally disappearing from his throat.