News
Backspin: McIntire shone in USGA events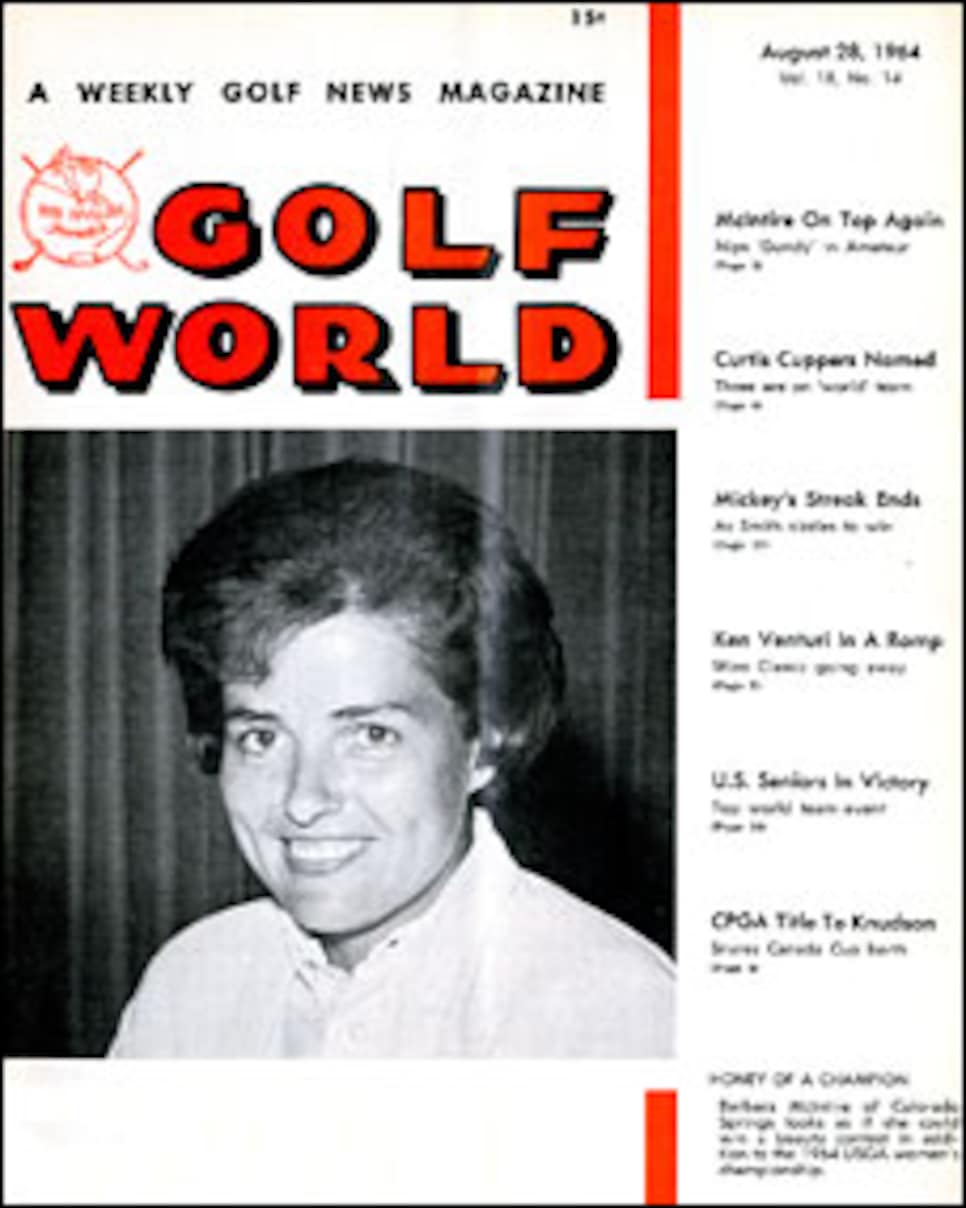 It seems like blind draws and brackets would have matched the two amateur stalwarts against each other more than once, but Barbara McIntire's recollection is her victory over JoAnne Gunderson in the final of the 1964 U.S. Women's Amateur championship was the only time the pair squared off in match play.
"To my knowledge JoAnne and I had not played against each other, and I believe that was the only time we did," McIntire says of her 3-and-2 victory over Gunderson, who as JoAnne Carner would enjoy a Hall of Fame LPGA career. "She'll be mad if in fact we did play -- and she beat me -- but I don't remember it."
Given that it has been 43 years, and that McIntire is, as she puts it, "even-par 72" now, her memory of that magical week at Prairie Dunes CC in Hutchinson, Kan., is pretty sharp. And why wouldn't it be? McIntire shared medalist honors with Gunderson and Polly Riley and wasn't extended to the 18th hole in four matches leading up to the championship. Against Gunderson she rallied from a 3-down deficit after the morning 18 to duplicate her U.S. Women's Amateur title of 1959.
McIntire, a tactician who minimized her mistakes, didn't lead until the 26th hole after Carner played the wrong ball from some tall grass. "Mr. Dey [USGA executive director Joseph C. Dey] found a ball and told JoAnne, 'Here's your ball,' and she played it. When she got to the green, she realized it wasn't hers. I didn't want to win the hole that way, and I always felt bad about it."
Success had come early for McIntire, a native of Toledo, Ohio. When she was 15, just six years after taking up golf, McIntire defeated six-time U.S. Women's Amateur winner Glenna Collett Vare, then 47, in the first round of the 1950 championship. As a 21-year-old amateur from Rollins College, McIntire rode a rousing birdie-par-eagle finish at the 1956 U.S. Women's Open at Northland CC in Duluth, Minn., into a playoff with professional Kathy Cornelius.
"The amateurs were pretty doggone good at that time, but I don't think I ever went to the Open with the idea of winning it," says McIntire. "I was amazed as anybody when I was told I was in the playoff. I went upstairs and practically hid in my locker. It was kind of like going to college before you had finished high school."
McIntire's adrenalin got the best of her during a seven-stroke loss to Cornelius, and the modest pay days of the fledgling pro game couldn't entice her to seek life out of a suitcase. "The goal of people I knew in those days was to make the Curtis Cup team," says McIntire, a six-time member of the U.S. side, who also won the 1960 British Ladies Amateur. "Now they want to be the next Nancy Lopez or Annika Sorenstam."
In the early 1960s McIntire and fellow amateur star Judy Bell opened a clothing store at the Broadmoor in Colorado Springs, a venture they operated until 1999. "I used to say that being in business at the Broadmoor was like being on a perennial vacation," McIntire says. "Our shop was only about 150 yards from the first tee."
Today McIntire, Bell and Tish Preuss share homes in Colorado Springs and Southern Pines, N.C. In January McIntire was sidelined when she fell in her garage and tore her right rotator cuff, requiring surgery. "I've just started back," she says. "But I hope I'm able to play until I'm gone from this earth."