News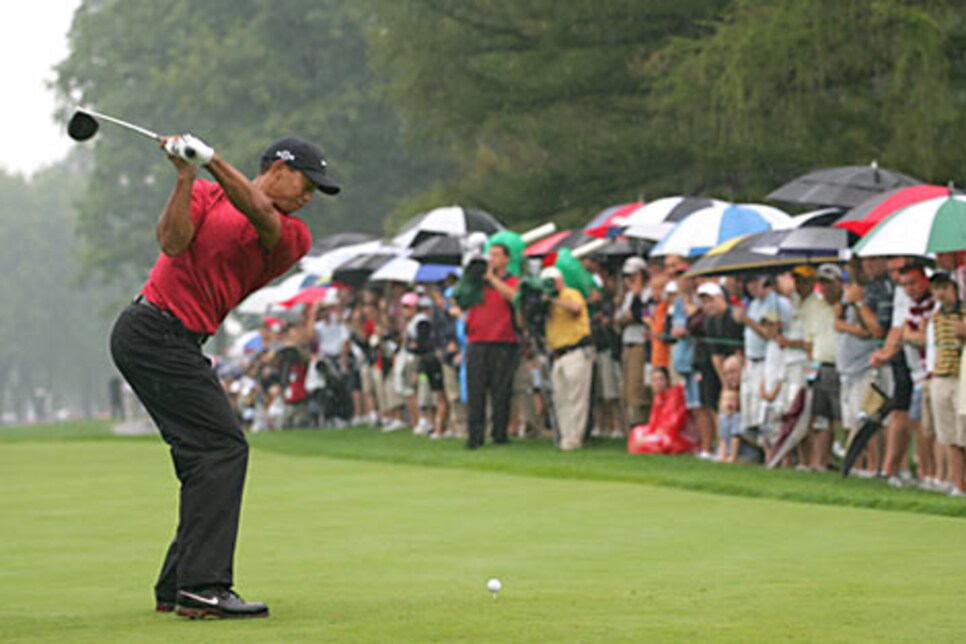 The man to beat: Woods tuned up for the PGA with another vintage Firestone performance.
If this was supposed to emulate a heavyweight championship bout replete with trash-talking and mutual disaffection, no wonder boxing is in trouble. Pitted against the man who branded him "as beatable as ever" not long ago, Tiger Woods squashed Rory Sabbatini for a reason and the rest of the field just for fun Sunday to win the WGC-Bridgestone Invitational by eight strokes. Woods shot a bogey-free 65 toward his third straight and sixth overall triumph at Firestone CC. That's two more PGA Tour victories than Sabbatini has annexed during his career, but Woods tactfully resisted any urge to pile on after his resounding fourth-round TKO. "Everyone knows how Rory is," he said, "and I just go out there and let my clubs do the talking." The beatable-as-ever hymn began in early May, even after Woods whipped a still unimpressed Sabbatini by five swings at Wachovia, also in the final group. Asked for comparisons, the fiesty South African concluded this Woods was better than that Woods. When Tiger heard of the upgraded report card, he bit his lip, then bit into an apple. "Gotta catch a plane to Tulsa," he mumbled with a smile.
"Too many guys out here playing with Tiger stand around and watch him in awe," intoned Sabbatini Saturday evening, when he led by one after 54 holes. "But not me." Woods interpreted this -- at least for public consumption -- as Sabbatini's mode of motivating himself. Lots of guys, Tiger went on, think the same way, they just don't verbalize it. Then Sunday dawned, and if Tiger stuffed Sabbatini and his python belt into a shredder, the rout couldn't have been more irrefutable.
With Kenny Perry the third man in the ring, the marquee group went off at 10:10 a.m. because of weather warnings. The first hand Woods shook was Sabbatini's. Then Tiger went for the neck. He tied for the top with a birdie at No. 2, where Sabbatini made par from the third fairway. At No. 4, a brutal test, Woods birdied, and Sabbatini bogeyed. Woods padded his margin to four at No. 6 before noon, then really got ridiculous at the ninth. After Woods drove into the rough left of No. 10, Sabbatini found worse problems on the right. Woods' second landed in the poncho of a female spectator seated greenside. He took a drop, bunted his third through the green, then chipped in for 4 and 31. Sabbatini doubled for 38. "Still think Tiger's beatable?" barked a fan. Sabbatini had him escorted from the course.
Woods chipped in again at No. 12. "Hey, you in the yellow shirt … any more predictions?" boomed another voice from the gallery. Sabbatini kept his head down in intermittent rain. "Made too many mental mistakes and never pressured him," he noted after his 74, enough for a T-2 with Justin Rose at even-par 280. By one stroke they beat Peter Lonard and Chris DiMarco, a 2006 Ryder Cupper whose otherwise bland season would not have brought him to Ohio last week. "Have a little decorum and class out there," Sabbatini went on about the fans. As for his remarks about Tiger, "I say what I think. I hope I inspire him." Meanwhile, Woods, whose eight-under 272 was the only total under par, thanked the soaked masses for their warmth. "Second best ball-striking round next to Saturday at Oakmont," offered caddie Steve Williams. Stevie, was this extra special, waxing Rory? Wouldn't you know it? He had to run for that same plane to Tulsa.
Repositioned on the schedule to align with the so-called FedEx Cup points derby, the Bridgestone butted up against the annual date occupied by NFL Hall of Fame induction ceremonies and exhibition game in nearby Canton. The situation created a rash of "special event rates" at local hotels, some of which aren't really all that special. Also, another diversion, LeBron James, the Akron high school legend who now stars for the Cleveland Cavaliers, is building -- rather, is having built -- a mansion in a nearby suburb. The huge structure has evolved into a tourist attraction (among its features are a bowling alley, a barber shop and a two-story walk-in closet), although soon-to-be neighbors are wondering if he ever sells, who would ever buy such a property? Nelson Silverio, PGA Tour communications official, had a theory: "Marriott." As for those upcoming playoffs, the tour had to be encouraged by mission statements from two free-agent superstars. Woods said it is "my intent" to participate in all four legs of the upcoming playoffs, and Phil Mickelson said, "I'm planning on" doing the same. Neither statement would be committed to the Library of Congress as a definite, but their remarks seemed more convincing than President Bill Clinton's announcement that he didn't have sex with that woman.
Speaking of which, Saturday brought a rude surprise to tournament organizers. Presumably overnight, the fourth green had been adorned with a rather suggestive bit of graffiti that did not pertain to agronomy and probably won't appear on FedEx trucks anytime soon. The mural was covered in green paint, but that's why there were no aerial views from the blimp of the scarred putting surface. The Firestone clubhouse was still in bounds, the rough was in its prime and the greens had golfers in a defensive mode until Sunday, thus contributing to a week's worth of bloated numbers. Example: ailing José Maria Olazábal, who pulled out of the British Open with a knee injury, registered a record 61 when he won the 1990 NEC World Series of Golf at Firestone by 12 shots. He had 80 Friday and finished 34 over. Or, to put it another way, to match his 72-hole aggregate of 17 years ago, he would have had to shoot 27 Sunday. As if things weren't tough enough, the eighth and ninth holes were extended by 40 or so yards. The ninth, a par 4, topped out at 494. "Rubbish," howled Rose, just one voice in a chorus of players thoroughly perplexed and annoyed by Firestone's setup.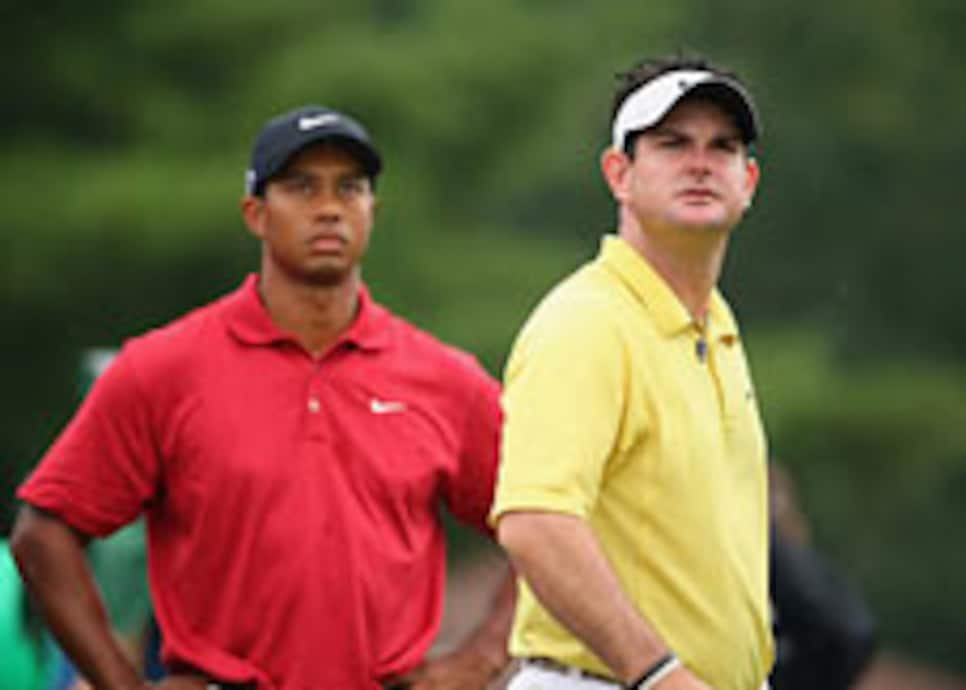 Both protagonists from the British Open playoff were on hand, predictably in polar opposite moods. Padraig Harrington, the winner at Carnoustie, was among the first arrivals Monday. "I basically disappeared and haven't hit a ball for seven days," said Harrington, who had been laying low in Ireland. "The reaction back home was incredible. I know people who broke their TV when I hit it in the water [at No. 18, in regulation.] There was traffic stopped on the roads. It has been phenomenal. The bookmakers owe $5 millon. What more could you ask for?"
Meanwhile, there was Sergio Garcia, who played Thursday in a bright red shirt, snow white pants and a bit of a fog. "First seven or eight holes, I wasn't into it," said the Spaniard, who ended up T-20. "Is it good to get back playing? I could have used another week off, to tell you the truth. I keep thinking of Carnoustie. Am I down? Yeah, a little bit. I'll get over it. But you know when people tell you move on? That's nice, and I appreciate that they're trying to make me feel better. But that one is gone. Carnoustie is gone. I never will have that chance again. Maybe another chance. Hopefully another. But not that one."
Garcia and family arrived in Spain at 3:30 in the morning after flying from Scotland. "Never slept that night, what was left of it," he said. "The next few days, I spent with friends, at the beach, playing tennis. During the tournament, I kept my cell phone shutoff. After it was over, Sunday night, I had 130 messages. Some from people back home. Some from golfers. I talked to Greg Norman, José Maria, and Seve [Ballesteros]. He said he liked the way I handled myself on the course all week. That was nice to hear. I am a lucky man to have the support I have."
Immediately after his four-hole playoff defeat, however, Garcia groused about how he felt starcrossed. He received more media criticism for his post- game comments than the way he played. "I am emotional, and I spoke from the bottom of my heart," he said. "If people don't understand, if they would have me not be honest, then I can't help that. I am not going to lie to you. And I don't apologize for saying what I said. I didn't mean to take anything away from Padraig. He played the best. Obviously, he deserved to win and did. But it really hurt to lose, and still does. That's the one I want more than any: the British Open. I would rather have one of those than any two of the others [majors.] It was mine to win and I didn't. I had the lead all week. I didn't feel like I played that badly, and I still lost. I wake up every morning now, I still see that putt on No. 18. I still think it's going in. I keep waiting for it to go in, and I am the British Open champion. I keep seeing it, but it keeps missing by an inch. It hasn't gone in yet. Makes you appreciate what Tiger does even more, the way he takes the lead so many times and keeps it."
And then there are the times when he trails after 54 holes, shoots 65 and wins by eight.