News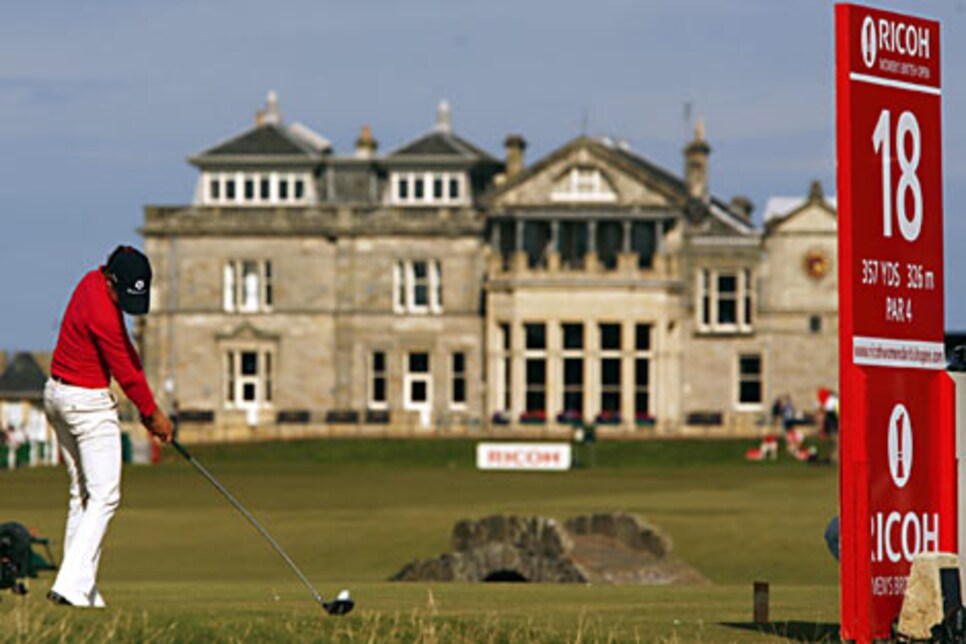 New outcome at the Old Course: Ochoa had good vibes from the moment she arrived.
Late Sunday morning, as Lorena Ochoa arrived at the Old Course for the final round of the Ricoh Women's British Open, Louise Suggs settled into a window seat in the big room of the Royal & Ancient clubhouse, the building closed to women at the club that bars them, and got ready to watch some golf.
Suggs, 83, is one of the founders of the LPGA -- as in Ladies Professional Golf Association -- and it made perfect sense she was on hand to see the conclusion of the first women's professional tournament played at the Old Course. The irony is that St. Andrews, the ultimate public course, is the home of the R&A, which as a private club makes the USGA appear downright user-friendly. USGA honchos may have blue jackets, but these guys have blue blood. Royalty hangs here. And remember, the only USGA president never invited to join the R&A was Judy Bell, the only female president of the USGA.
But on this astonishingly special week the R&A got it absolutely right. Members welcomed women with open arms, sometimes literally, and the players hummed with the special vibe of being on the sacred ground of golf -- the place, pretty much, where the game began. And if it was fitting Suggs was on hand, it made equal sense the winner was Ochoa. If there was a generational shift last week, it involved not only opening the doors of the home of golf to women but also the ascendancy of Ochoa to the top of her sport. In that big room of the R&A clubhouse there is a painting of Queen Elizabeth II, but in Ochoa another queen emerged out of the wind, rain and cold at St. Andrews, removing any lingering doubt about the current identity of the best player in woman's golf.
For more than three years -- since the venue for this Women's British Open was announced May 20, 2004 -- women pros have looked forward to the day they would tee it up on the Old Course. And for years before that, people with a vision for the women's game worked behind the scenes to get this tournament to St. Andrews. Certainly, the crucial stipulation when the Women's British Open was made an LPGA major in 2001 was that the tournament develop a rotation on as nearly as equal a footing with the men as possible. The inclusion of St. Andrews was seen as essential. The result was a great event that produced a unique champion.
"This is just such a special place," Suggs said. "This is a big step for women's golf, and I'm so glad I was here to see it." Said Carolyn Bivens, the first female LPGA commissioner, "A truly special week ended with a truly deserving winner." And Alan McGregor, general manager of the St. Andrews Links Trust, gave a hopeful forecast for a return of the Women's British Open to the Old Course when he said, "I think this shall not be the last time St. Andrews hosts lady professional golfers." Ochoa's path to the winner's circle was as arduous as the task of getting the tournament to St. Andrews and was motivated just as strongly by a belief in doing the right thing. At the third tournament of the year -- the MasterCard Classic in her native Mexico -- Ochoa, a deeply religious woman, was engaged in a discussion with her caddie, Dave Brooker, about the fact his two daughters, Hadley, just shy of 3, and Madelaine, 18 months, are not baptized. "How many tournaments do I have to win for you to get them baptized?" Ochoa asked Brooker. "One," Brooker replied. "Just one?" Ochoa asked, rather incredulously. "Yes," said Brooker, "the British Open at St. Andrews. You win there, and I'll have them baptized." That high-lifting hug Ochoa and Brooker shared after she finished 72 holes at five-under-par 287, four strokes better than Maria Hjorth and Jee Young Lee, spoke about more than golf -- it spoke about the bond they have and the mission they shared. It spoke also about the goodness that inhabits a woman who is as liked as she is respected by her fellow players.
"As great a player as she is, she is an even better person," said Reilley Rankin, who finished fourth at 292 and joined Ochoa's father, Javier, in spraying champagne on Lorena after she closed out her one-over-par, final-round 74. "I have to clear it with my wife [Brooke] first," Brooker said about the impending baptisms, "but I'd rather argue with her than disappoint Lorena." Ochoa was so confident of her victory that she had already made arrangements with Catholic nuns in Rye, N.Y., not far from where Brooker lives in Connecticut, for the baptisms. It was the completion of a mission at St. Andrews that was as spiritual as it was athletic.
"It was a blessing the whole way, and a long way, too, 24 majors and finally I have this. I think it's for a reason. I couldn't be more happy," she said about getting her 13th LPGA victory and first major championship. "There were a lot of people saying I wasn't good enough or that I couldn't win a major or when was I going to win a major," she said. "I always have taken all of the comments and understood very well because I didn't win [a major]. I just think now it's a big step forward. I did it, and there's no more to say." As Brooker said more succinctly, "We got that monkey off our back."
Ochoa (who let the U.S. Women's Open slip away in July when she missed the last five fairways and finished T-2, two strokes behind Cristie Kerr) erased any doubts about her ability to close out big tournaments. She opened with a 67 (tied for the low round of the week), never trailed, and in effect won the tournament Saturday by shooting an even-par 73 while the wind gusted to 40 miles per hour and the course played to a stroke average of 78.507, opening up a six-stroke lead going into the final round. Playing Sunday in a cold rain from the seventh hole on, Ochoa never let anyone get closer than five strokes until she sealed matters on No. 17. Having hit her second shot on the Road Hole into a bunker 40 yards short of the green (just the third bunker she foiund all week), she played her third out sideways, then executed a skillful and fortunate chip around the Road Hole Bunker to save a bogey 6.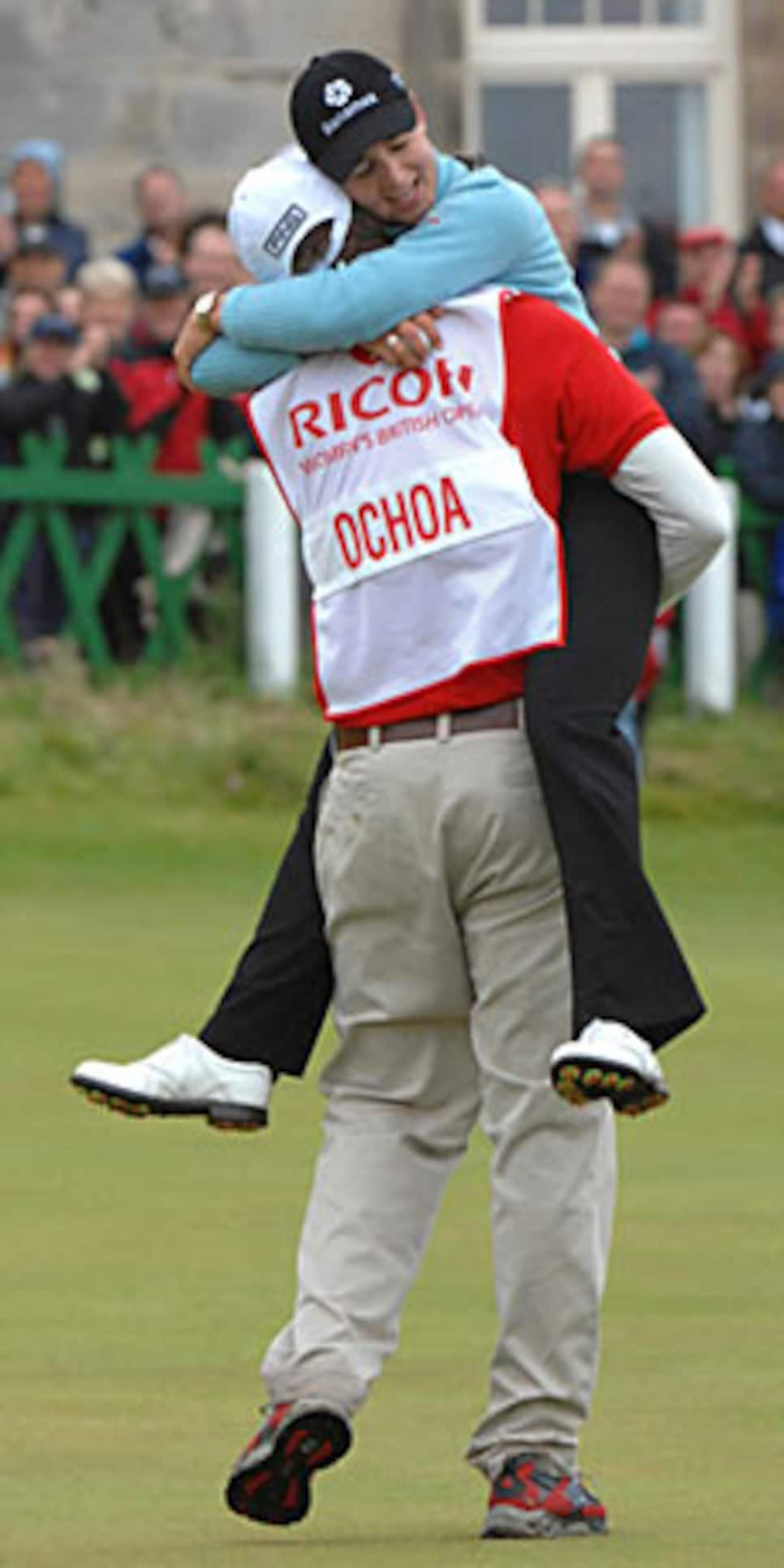 "It was just a great bounce, and it was like, 'Wow, it feels good to get a bounce at the right time,' " she said about a ball that moved as if guided by the hand of fate and was greeted when it came into sight over the bunker mound by an appreciative and relieved gasp, more than a cheer, from the knowledgeable gallery. Ochoa shared their sentiments: "I was just so relieved, and it was a great feeling to put the ball on the green."
Ochoa, 25, has now won 10 ofer last 37 starts. She also has 10 more victories and the same number of majors as Annika Sorenstam had at the same age. "She is having a great run the last year and a half," said Sorenstam, who finished T-16 and failed to win a major this year for the first time since the 2000 season. "She has matured a lot as a player, and I think it was just a matter of time. I'm very happy for her. I think she is a great person and a great player."
From the moment players arrived at the Old Course Monday, there was a party-like atmosphere in St. Andrews. Spikes barely touched the linksland as players virtually walked on air at a course almost all knew only from watching the men play on television. Nikki Garrett of Australia struck the first shot -- splitting the fairway -- and the first-round leader was Ochoa, who took advantage of the most benign conditions of the week to dust the ancient links in six shots under par, to take a two-shot lead on Louise Friberg and In-Bee Park. Ochoa's 73 Friday put her at 140, one stroke better than Wendy Ward and Catriona Matthew. Michelle Wie's hopes ended in a bunker on No. 13, where she made a triple bogey on her way to an 80 and a 153 total that missed the 36-hole cut by two strokes.
Saturday the flags of the 16 nations represented in the field snapped sharply in the wind, foreshadowing a brutal, gusty day in which 26 players shot 80 or higher. If a tournament can be won on a Saturday, it was on this day. Ochoa's 73 was brilliant -- and she knew it. Matthew and Ward both faded with 80s, and Ochoa finished 54 holes at six-under 213, six strokes clear of Linda Wessberg -- a Swede who played at Oklahoma State and would hang in impressively Sunday until driving out-of-bounds on No. 14 -- and seven ahead of Sorenstam, Hjorth, Lee and Karine Icher. Ochoa faced no serious threats in the last round, as none of her opponents got lower than two under par.
Saddled with a reputation as a high ball-flight player who does not do well in the wind, Ochoa birdied No. 12 in the third round with a classic links shot: a low punch shot with a 50-degree wedge off her back foot that released gently and curled to 18 inches. Walking off the green, bouncing the ball off her putter while smiling broadly, she appeared to be totally under control. She had that air of relaxed composure all week, smiling broadly to the galleries and joking freely with the media.
"I believed that I would win the tournament Monday when I first started practicing," she said, "but not until the 18 tee shot [on Sunday did I know] we did it." That's when she and Brooker realized they had accomplished their goal. "I've just been working a lot in my head that I want to win this tournament," Ochoa said. "I want to win this tournament so bad. I saw myself on 18 green lifting the trophy, and it's almost something that you already believe. It was clear, it was great and it's never been better now that we did it."
The winner of the first women's professional tournament played on the Old Course was the No. 1 player in the world. What could be more appropriate? And it was witnessed by one of the founders of the LPGA who watched from the male-only clubhouse, as well as by more than 25 of Ochoa's family and friends from Mexico. What could be more appropriate? It was almost too perfect, almost as if it was meant to be.