News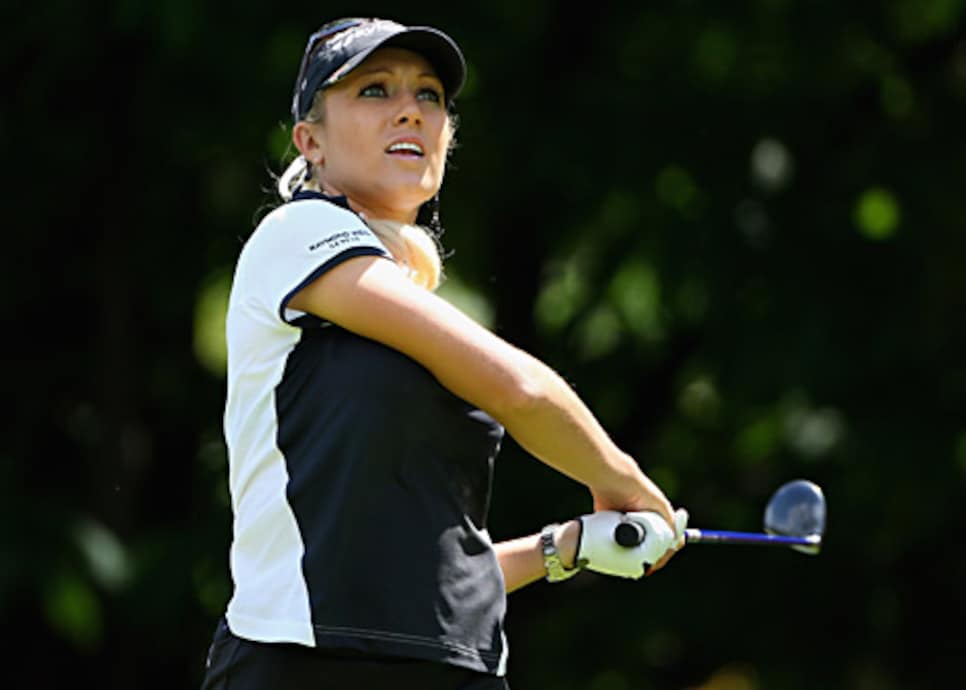 Gulbis thought the title had slipped away, but a playoff birdie netted her first victory in 151 starts.
The walk from the eighth green to ninth tee at the Evian Masters GC is a steep, lengthy climb away from Lake Geneva and through a cornfield, eventually opening onto a flat patch of fairway with a breathtaking view that makes you expect to run across the Von Trapp family singing about the hills being alive with the sound of music. It seems like a long way to go to get to Natalie Gulbis' final birdie in regulation at the Evian Masters, a 25-foot putt on No. 9, but her path to the winner's circle has also been a curiously circuitous -- and laborious -- one.
She heard it whispered she was just another pretty face and that her swing and putting stroke were both far too unorthodox to produce a victory. She heard she was all hype and no happening. Gulbis smiled when compared to Anna Kournikova, the Russian tennis player who banked her looks without ever hoisting a trophy, yet used the taunts as motivation. Sunday, popping painkillers for a bad back, she went out of her way again, traveling far from home and then playing an extra hole to get the one thing that matters more to her than all the endorsement deals, reality shows and sexy calendars -- her first LPGA victory.
Gulbis missed a ton of putts in her closing 70, none more painfully than the seven-footer on No. 18 that would have put her in the clubhouse at five under par. She walked off the final green of regulation certain she would once again be accused of not closing the deal. Instead, she watched on TV with Cristie Kerr as first Sophie Gustafson and then Juli Inkster and Jeong Jang came to No. 18 -- an extremely friendly 467-yard par 5 -- needing a birdie to force a playoff. Only Jang managed the feat, closing out a 72 and finishing four rounds tied with Gulbis at four-under 284. On the first extra hole -- that same friendly 18th -- Gulbis need to two-putt from 25 feet for her first birdie in more than three hours and when Jang's 12-footer for a birdie of her own was low all the way, the 24-year-old Californian now residing in Las Vegas tapped in a one-footer and won for the first time in 151 LPGA starts.
"What does it mean to me?" Gulbis asked. "How long do you have? There has been a lot of hype about whether I would ever win. But look, for the most part everyone was pretty easy on me. No one really slammed me. I loved being compared to [Kournikova], she's so beautiful, but my goal always has been to win. Always. I worked hard for this. I waited a long time for this. So did all those around me."
Among those with Gulbis as she collected the $450,000 check was her mother, Barbara, who held up a cell phone so her father, John, who did not make the trip to France, could hear his daughter introduced as tournament champion. Also on hand were Al Cassini and John Adams, two physiotherapists from Las Vegas who treated Gulbis two hours every day here for a back that has been bothering her since late May and for which doctors recommended rest. And finally there was Greg Sheridan, the chain-smoking veteran caddie who walked off the 18th green following the playoff, took a deep drag on his smoke and as he exhaled said, "That should take care of the Kournikova [stuff]."
When Gulbis arrived at Evian, she walked into exactly the kind of mess that has shadowed her since she arrived on tour as a 19-year-old in 2002. All of the advertising for the tournament featured a follow-through photo of Gulbis, her head down in her characteristic dip move and her blonde ponytail flying. More than a few players wondered why defending champion Karrie Webb wasn't featured in the advertising, or even Lorena Ochoa, the top-ranked woman in the world -- at least someone who had won. But Gulbis is so universally liked -- at the Women's British Open she will share a house with Annika Sorenstam, who doesn't open her doors to just anyone -- the criticism was directed not at Gulbis but rather the decision-makers.
Things weren't helped when an early week deluge softened the Evian Masters course and 25 players broke par in Thursday's first round, without Gulbis among them. A 72 put her six strokes behind leaders Pat Hurst, Brittany Lincicome and Eun-Hee Ji, and once again Gulbis appeared to be a marketing ploy and not a competitive factor. But a 69 Friday moved her into a tie with seven other players, including Inkster and Gustafson, at three-under-par 141, four strokes behind Diana D'Alessio and Jin Joo Hong after 36 holes. Sorenstam, shot 69 and was tied for second with Jang and Lincicome at 140.
Inkster's 69 Saturday gave her the 54-hole lead at 210, two strokes ahead of Jang and three better than Gustafson, D'Alessio and Ji-Yai Shin, a 19-year-old Korean, who finished sixth at the U.S. Women's Open. Gulbis, Sorenstam and Il Mi Chung were four back at 214. Ochoa, who had 75 Saturday, was a distant seven strokes behind. Michelle Wie, who broke par for the first time in a year with a 71 in the second round, shot 84 Saturday and finished T-69, 20 strokes behind Gulbis and Jang.
Gulbis, who was popping Motrin all day, missed a bunch of final-round putts inside 10 feet but she made birdies on Nos. 1, 6 and 9 to get in the mix. A bogey on the par-3 14th, a missed eight-foot birdie try on the next hole and the miss from seven feet on No. 18 seemed to sink her. "I was pissed off," she said. "I thought I gave it away. I thought I needed to get to seven under because there were so many good players behind me." With Kerr comforting her, Gulbis watched and waited. "I felt like I played a lot better than only shooting a couple under," she said, and she was right. But while her head-bobbing swing held up under pressure, driving the ball beautifully on No. 18 in both regulation and the playoff, her split-handed putting stroke didn't convert the opportunities that resulted. Still, no one stepped up to take advantage of the situation -- and there was no shortage of candidates.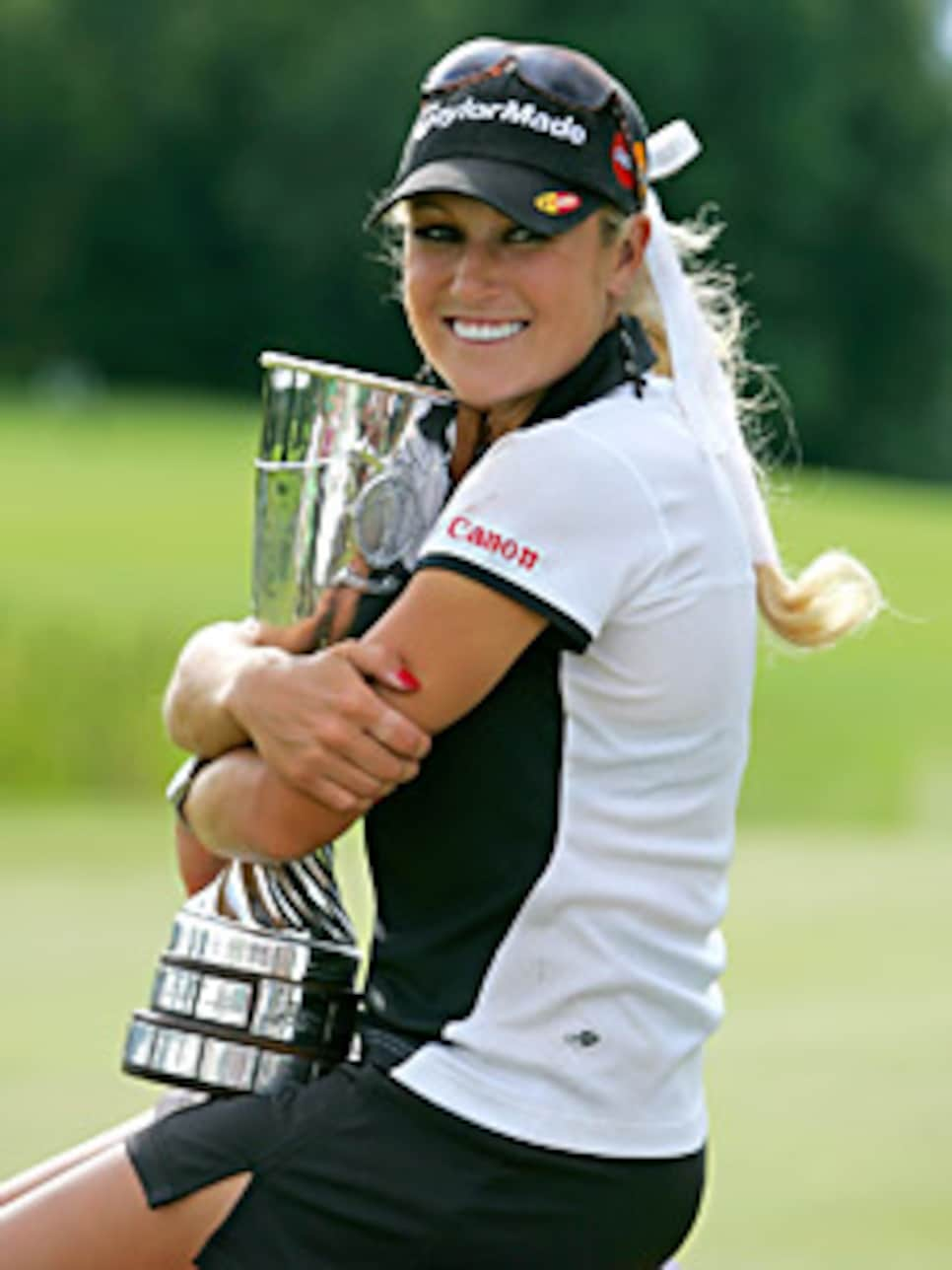 After turning the front nine in 32, Lorena Ochoa not only failed to make birdie from 192 yards on the par-5 finishing hole, but three putted from 15 feet, eventually tying for third with Shin and Inkster at 285.
Sorenstam, who has now gone 10 months and 26 days without a victory -- the longest drought of her career since the one that succeeded her first LPGA victory July 16, 1995 in the U.S. Women's Open -- was three under going to the par-5 15th hole but bogeyed.
Sophie Gustafson, playing two groups behind Gulbis, missed a six-foot putt to bogey No. 17 and fall a stroke behind, then hit her second shot from 216 yards into the hazard on the final hole. She ended up T-6 with Sorenstam, Angela Stanford, Christina Kim, Momoko Ueda and Sun Ju Ahn at 286. Shin, playing with Gustafson, nearly made the playoff when her bunker shot on No. 18 for eagle stopped a turn-and-a-half short of going in.
Jang and Inkster, playing in the final group, came to No. 18 needing a birdie to tie Gulbis, but while Jang made a great sand save from the right bunker, Inkster three-putted from 45 feet, missing a five-footer for birdie. Inkster, 47, would have broken Beth Daniel's record as oldest LPGA winner. "I'm disappointed," she said after closing with 75. "I just gave it away."
Both Jang and Gulbis drove to the 18th fairway in the playoff. "That's usually a par 5 I can't reach in two," Gulbis said. "But I hit it 50 yards farther than normal the first time and 60 yards farther in the playoff. I don't know why." After Jang hit her second shot through the green, Gulbis landed a rescue club safely on. Jang's chip was extremely difficult, running away from her, and she chipped well past.
"I had to change my golf swing because of my [back] injury," Gulbis explained about her sudden surge of power. "I had to work on my posture, and I had to do all the things that I had been working on with my father for about four or five years." More recently she has been working on those mechanics with swing coach Butch Harmon as well. "I was kind of thinking this might be a blessing in disguise with the injury," she said. "I kept working on my posture and I kept hitting it farther and all the things I wanted to start happening in my golf swing started to happen."
When the winning putt dropped, Gulbis stood with arms spread far apart, palms turned up to the sky, smiling that poster-girl smile. An adoring crowded shouted "Nah-Tah-Lee! Nah-Tah-Lee!" in heavily accepted French. An air cannon fired silver confetti and a skydiver swooped in with an American flag and wrapped it around the new champion. It was fitting. Gulbis is part of an American renaissance this year, joining Kerr, Lincicome, Paula Creamer, Morgan Pressel, Meaghan Francella, Stacy Prammanasudh and Nicole Castrale as winners.
"How cool is this?" said Barbara Gulbis. "All this patriotic stuff. It's just amazing." It was way cool, especially since Natalie Gulbis no longer has to deal with being called the American Kournikova. Now she's simply an American winner.