News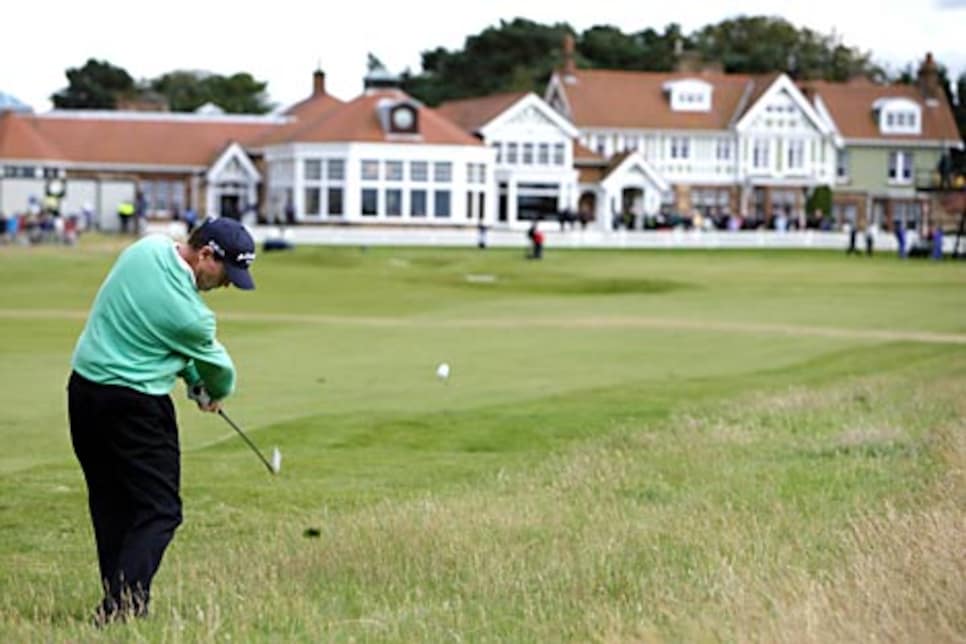 Watson made a par at No. 18 Saturday after escaping some of the much-discussed rough.
It is hard to imagine now, in the immediate wake of his third Senior British Open victory by the Scottish seaside in five years, but there was a time when Tom Watson and the vagaries of links golf had about as much in common as Homer Simpson and healthy eating. Like many of his contemporaries, the young Watson rebelled at the "unfairness" of it all, the sometimes freaky ricochets off rock-hard ground, the bad breaks, the sheer awkwardness and unfamiliarity of seeing golf shots as two-dimensional combinations of bounce and roll rather than merely hit and stick. It's safe to say he quickly got the hang of things though. Between 1975 and 1983, the Kansas City native lifted the claret jug awarded to the "champion golfer of the year" five times. He was, by a distance, the pre-eminent "linksman" of his generation.
"People always ask me why I have done so well at links golf," he said after completing a final-round 73 at Muirfield that left him at even par and clinched that third Senior Open by a single shot over compatriot Mark O'Meara and third-round leader Stewart Ginn of Australia. "There were two things I was good at: getting the ball up-and-down from sometimes strange spots and getting the right weight on my shots. I could get the ball the right distance bouncing it on the ground.
"But it wasn't until three or four years down the road -- even after I won a couple of Opens -- that I started to like the game on links courses. I grew up on the real high shots you need to hit on American courses. So I fought it until I finally said, 'Why am I fighting this?' It was stupid. So I began to play the game the way it's supposed to be played here, along the ground. And I accepted that, along the way, you have some good breaks and you have some bad breaks."
One thing Watson failed to mention was that, around Muirfield, another key to success is staying away from the cavernous bunkers dotting the East Lothian links, home to the Honourable Company of Edinburgh Golfers. Which is largely what he did, for 71 holes anyway.
Three shots clear of his nearest challengers standing on the final tee, Watson strangely went with his driver, perhaps the only club with which he could reach the deep bunkers up the left side of the fairway. And, sure enough, he found one of them, the ball settling at the foot of the high, almost vertical face. With Ginn on the fairway and O'Meara finding a reasonable lie on the edge of the left rough, what should have been a procession turned back into a proper tournament.
"I was thinking about 1980," admitted Watson after he had taken two shots to escape from the sand and done well to make the double bogey 6 that was good enough -- just -- to make him the second Open champion in a week to drop two shots on the 72nd hole yet still win. "I remember having a four-shot lead and just putting it out there, down the right side. So I aimed there again. I don't know what my body did. I thought I made a pretty good swing, and it went in the one place you can't hit it -- in the left bunkers. I was like, 'What am I doing in here?' That's about the only thought I had."
Actually, Watson isn't quite right there. On a Muirfield all but covered in long grass -- "It is worse than Carnoustie in 1999," he had said earlier in the week -- there were plenty of other nasty spots he could have found on that 18th hole. The level and extent of the rough, in fact, had come in for almost unanimous criticism over the four days of an event that will shift to Royal Troon next year under new sponsorship, MasterCard replacing Aberdeen Asset Management.
"It's serious -- six inches of rough under two foot of hay fescue," shuddered senior debutant Nick Faldo before shooting an eight-over-par 292 that left him eight shots adrift of Watson in a tie for 14th place. "Very severe and very narrow."
Others were less circumspect in their opinion of a course set up that some felt was more difficult than that at Carnoustie one week previously. Former Open champion Sandy Lyle, a spectator at Muirfield, was just one calling the length of the rough "ridiculous."
"It misses the point of links golf, which is to create a variety of shots and allow players to hit recovery shots if they are good enough," said the 1985 Open champion, who turns 50 next February. "Why is it that tournament organizers insist on reducing every player to the same hack-out when they miss a fairway? I don't get it. I bet the spectators are bored watching everyone do the same thing."
Lyle wasn't alone, either. Many players shared his bemusement at the level of point-missing achieved by tournament organizers who had ignored a request from the Muirfield greenstaff to cut the rough as much as two months before the event. "There was no decision to make," insisted championship committee chairman, and Muirfield member, Alistair Low. "The wet summer produced the rough we have this week, and the course would be this way whether we had a tournament on or not."
But, of course, they did have an event to run, one that sadly lost some of its luster for most of the field.
"I think if you go [in]to the rough, you are dead," said a prescient Eduardo Romero of Argentina, who finished T-4 despite hacking his way to a double bogey at the 71st hole. "Just play sand wedge and lob wedge and put the ball in the fairway and try to make bogey, that's all. It is more severe than Carnoustie because it is so wet and very thick."
Still, it wasn't impossible -- even if many of the shorter hitters were finding it just that to reach the fairways at the ninth and 14th holes into the strong westerly wind -- and the man handling it best over the opening three days was Ginn, who owned a one-shot lead over Watson and a three-shot edge over O'Meara with 18 holes to play.
It wasn't to be for the 58-year-old former Senior Players champion, however. Undone by a run of five successive bogeys from the turn, his closing 75 was never going to be enough against two such formidable adversaries. Which is not to say that he didn't enjoy the experience.
"I'm very happy," Ginn claimed after picking up a check for $166,885. "It was not an easy day with two Open champions hunting me. I played well until the turn, but that bad run killed me. I hung in there though, which is what you've got to do. I had a chance, but lost to a great player."
O'Meara, too, was upbeat, despite the loss. "I grinded and fought hard and hit the ball OK," said the '98 British Open champion. "My short game was good and my putting speed was good. Of course I wanted to win, but Tom played smart all week. He hits the ball so solidly. There's no disgrace in losing to him at all."
That is certainly true. Now an eight-time Open champion -- seven of them won in Scotland -- the 57-year-old left for home with his links reputation enhanced, if that is possible.
"This has been a serene week for me," said Watson, just three weeks removed from a disastrous final nine at Whistling Straits that cost him the U.S. Senior Open. "The weather was right up my alley, good blowy conditions, a little rain here and there. I just feel very comfortable."