News
Laoretti's win no pipe dream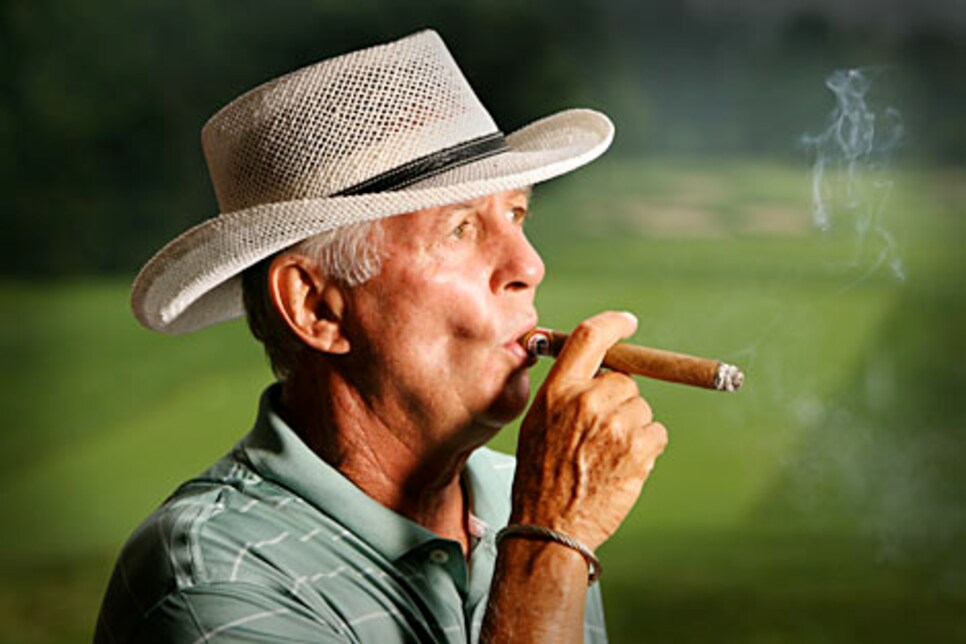 Fifteen years after his big win, Laoretti is a course owner and cigar aficionado.
Larry Laoretti's home in Titusville, Fla., only minutes from Cape Canaveral, gave him a front-row seat from which to watch the Space Shuttle Atlantis taking off, trailing a cloud of smoke. The site ought to have been a vaguely familiar one.
In 1992 this former club pro known more for his ubiquitous cigar than his prowess at golf suddenly ascended to the zenith of senior golf when he won the U.S. Senior Open. Trailing a cloud of smoke, of course.
Laoretti's career descended relatively hastily, too. The Senior Open would be his only win. "I explain to everybody that if you're going to win one tournament in your life, that's the one to win," he says, noting how other, more mundane tournaments come and go on a sponsor's whim. "They're never going to take away the U.S. Open. Your name will always be on the trophy."
Laoretti, now 67, was a club pro at Indian Creek GC in Jupiter, Fla., when he decided to pursue the Senior PGA Tour. He had been a decent player, though one without a notable résumé other than having qualified to play in the PGA Championship at Firestone CC in 1966 (he tied for 49th) and the U.S. Open at Winged Foot in 1974 (he missed the cut).
"I knew I could hit the ball well, but being a club pro I never had time to devote to practice," he says. "So I took six months off and did nothing but practice, and it paid off for me."
When he qualified for the senior tour in 1990, Altadis Cigar Co. signed him to an endorsement deal that provided a limitless supply of his cheroot of choice, the Te-Amo (which he continues to smoke, incidentally, at the rate of eight to 10 a day).
The '92 Senior Open was played on the Old Course at Saucon Valley CC in Bethlehem, Pa. By then Laoretti had become a force on the senior tour--in the two months leading to the Open he had four top-10 finishes. Yet he fell seven strokes behind after two rounds, the largest 36-hole deficit by an eventual champion in the history of the event. A third-round 67 left him one stroke off Al Geiberger's lead. Sunday Laoretti hit 17 of 18 greens in regulation, missing only the 18th (and that only by inches). He shot 68 and won by four, equaling the second-largest margin of victory in the Open's history.
The win launched a million dreams. "After I did that, every club pro everywhere thought he had a chance," he says. "As a kid everybody dreams of winning a U.S. Open. But I was very confident that week. I had a real good ball-striking week."
Laoretti today is general manager at Great Outdoors GC in Titusville, which he owns along with Tom Wargo, another Champions Tour player, and Dennis Grasso, a PGA professional. Laoretti's Senior Open trophy is on display there. Since winning the USGA title, he has divorced ("my last wife made me a millionaire--I had $3 million to start," he says) and remarried in November 2005.
Laoretti has not played the Champions Tour full time since 1999 and is effectively retired from competitive golf, though he will again use his exemption as a past champion to play in the U.S. Senior Open this week at Whistling Straits. He also plays in the Liberty Mutual Legends of Golf and received a sponsor's exemption into this year's Dick's Sporting Goods Open.
Each December he joins golf's other cigar aficionados, Dana Quigley and Jim Thorpe among them, for the Montecristo Cup, an annual event Altadis Cigar Co. hosts for its customers. Laoretti still has an endorsement deal with Altadis, which provides him 4,000 cigars a year.
"And I get paid to smoke them," he says proudly.