News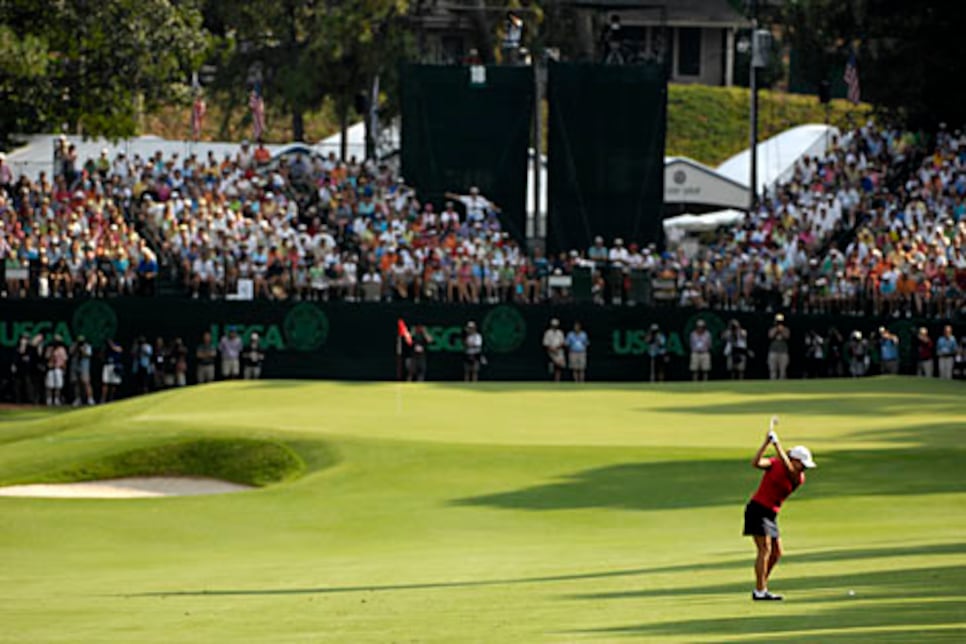 Flawless finish: Leading by two, Kerr closed out her victory by making a textbook par on No. 18.
Getting a handle on Cristie Kerr is a lot like playing catch with a cactus. You may be able to grasp it, but at a price. In 11 years on tour, Kerr has ticked off a who's-who list of LPGA players, but the few close to her are extremely devoted. She has a remarkable ability to say the wrong thing, mostly because when they built this woman they forgot to install the edit button. She can be extremely self-centered, perhaps because there were times in her life when she lived on an underpopulated island of one. As an amateur, she was the overweight kid with glasses from humble means trying to figure out which fork to use in the country-club world of junior golf. As a pro, she was a teenager before teens on tour were as common as long putters. Kerr is not so much from the wrong side of the tracks as she is from the middle of the tracks. The train has run over her more than a few times. Her family was torn apart by divorce and disease. A couple of engagements never made it to the altar, and, by her own admission, she was not mature enough to do and say the right thing in the grown-up world when she first turned pro at 18. Now 29, newly married and finally comfortable with the fact she is allowed to be happy, a strangely tranquil Kerr last week claimed the biggest prize in her sport--the U.S. Women's Open championship.
Perhaps it was because the moon was full Saturday, but Kerr awoke before dawn Sunday for a marathon day at Pine Needles Lodge & GC with unusual control of her emotions. Even when she and Natalie Gulbis, maid of honor in her Dec. 9, 2006 wedding to real-estate developer Erik Stevens, arrived at the fitness trailer at 5:20 a.m. only to find it not yet open she merely went to clubhouse to stretch and let the inconvenience pass without a tantrum. "She woke up at peace, and she's not like that often," Stevens said after Kerr closed with a 70 and finished 72 holes at five-under-par 279, to win her first major championship. She was two strokes better than Lorena Ochoa, the top-ranked player in women's golf, and 18-year-old Angela Park.
"We have never seen her this at ease," said Jason Gilroyed, who is in his second season as Kerr's caddie. "She loves it here. Last year she said, 'If I am going to win my first major, it is going to be [at Pine Needles].' " She did it with a remarkable putting effort, using a 33½-inch Ping G5i Craz-E she bought in a pro shop in Korea in May, and with an even more remarkable resolve when saddled with a swing as unruly as her dog, Bailey, who Kerr says "just loves to chew things" despite her sternest admonishments.
"Putting absolutely saved me," said Kerr, who was third in the field with 113 putts, eight fewer than Ochoa (who hit 55 greens in regulation to Kerr's 47). A 10-foot par putt on No. 10 and a seven-footer on No. 16 were key momentum savers in Kerr's two-birdie, one-bogey final round. "I was walking a lot of putts into the hole," she said about her tendency to move toward the cup well before the ball fell in.
"When I stepped on the grounds, it was just magic," she said about the vibes last week at Pine Needles, where she was low amateur in the 1996 Women's Open and T-4 in 2001. "Some things are just meant to happen." The calm--and the putter--were needed because the swing was out of whack. Instructor Bryan Lebedevith, who works with Jim McLean and has taught Kerr since she was 17, tinkered the entire tournament. "I was definitely fighting my golf swing," Kerr said, "but I managed to muddle through it." She muddled her way to a $560,000 check and a large trophy bearing the names of most of the greats in women's golf.
The tournament, which was thrown off schedule by lightning storms Thursday and Friday, was decided in the final threesome of Kerr, Ochoa and 19-year-old Morgan Pressel, even though Park, playing one group in front, hung tough until bogeys on Nos. 16 and 17. Kerr began the final round one stroke ahead of Ochoa, Pressel and yet another teen, Jiyai Shin, 19. Pressel, who at 18 became the youngest ever to win a major at the Kraft Nabisco Championship in March, crumbled to the ground in tears in the tunnel leading to the scoring trailer. She never got closer than two strokes after a bogey on No. 4 and finished T-10 when a 77 put her at 287. Shin, the leading money winner on the Korean LPGA this year, bogeyed two of the last four holes and shot 74 to finish at 284, alone in sixth place behind Se Ri Pak and--yup--another teen, In-Bee Park, 18, at 282. In all, there were 24 teens in the field plus 12-year-old Alexis Thompson, who shot 76-82 and missed the cut.
The Sunday showdown between Kerr and Ochoa, the two active players with the most career victories without a major coming into Pine Needles--nine and 12 respectively--was highly entertaining and very well played. While the major championship monkey was removed from Kerr's back, it intensified its grasp on Ochoa. She closed with a 71 to Kerr's 70, but again displayed a tendency to make bad swings with the driver at inopportune moments.
"I've been in worse places," Ochoa said about the loss. "It hurts, but I just did everything I could. I tried really hard every day, every shot. It just didn't happen for me. If you think about it, it's been good. I gave myself a chance, and I wouldn't change that for anything."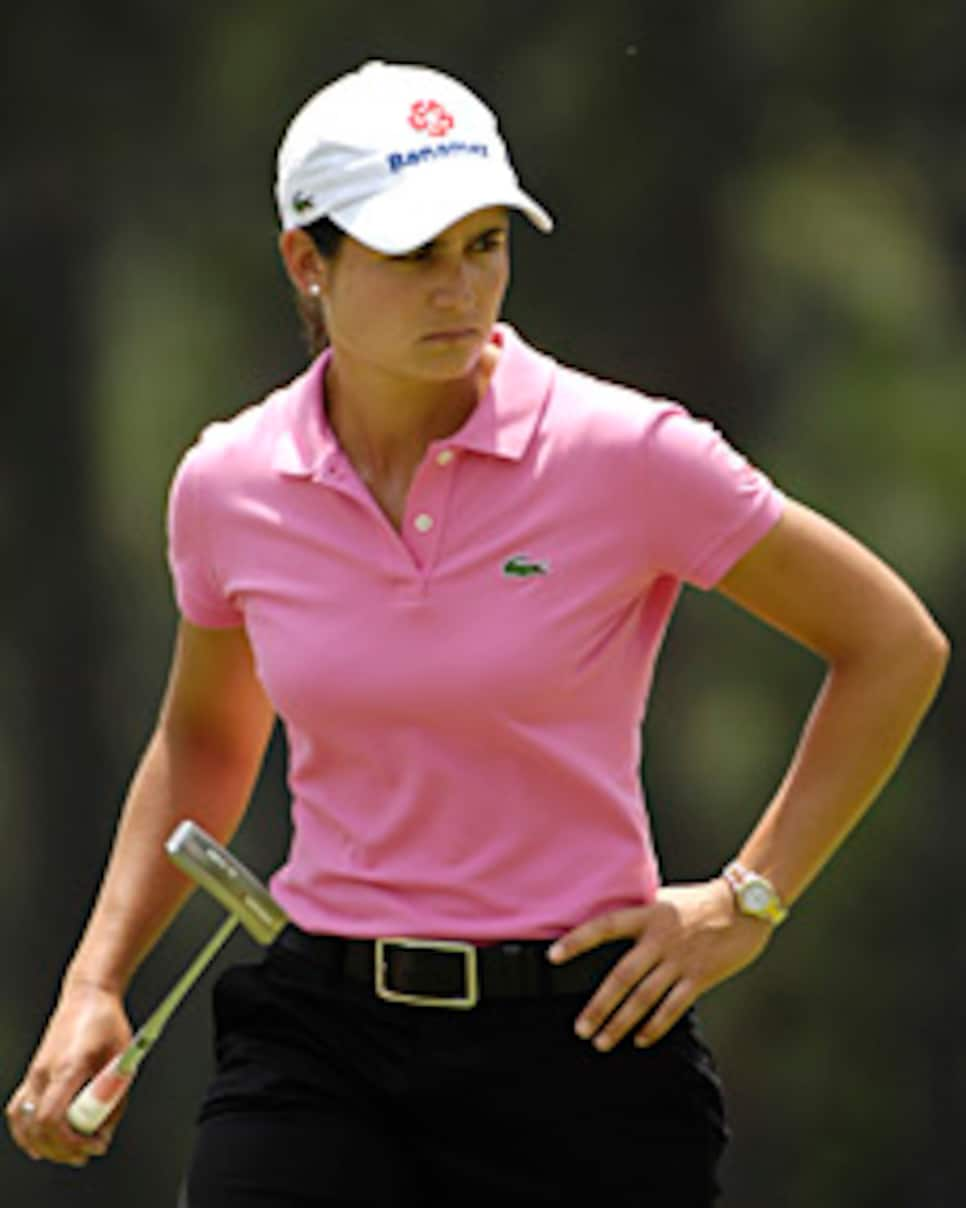 Ochoa tied Kerr for the final-round lead with a birdie on No. 1 but gave it back with a bogey on the next hole. They then halved the third with birdies, and Ochoa moved back into a tie when Kerr bogeyed No. 8. It stayed that way until No. 14 when Kerr rolled in an 18-foot birdie putt to take the lead, throwing in a little gamesmanship with a Nicklaus-like putter raise, a Tiger-like quick walk to the cup and an Ochoa-like flip and catch of her ball marker, which appeared to be a not-so-subtle "take that." It was a supremely confident gesture. "She was very peaceful," Gilroyed said about Kerr's final-round demeanor. "We talked about things other than golf--hockey, football, restaurants."
Ochoa, whose usual miss with the driver under pressure is a hook (see: final hole of the U.S. Women's Open at Cherry Hills in 2005; playoff in the 2005 Safeway International) failed to respond to the birdie by Kerr at No. 14. She drove into the left fairway bunker on No. 15, a par 5 she could easily reach in two, and failed to make birdie, and then ended her chances with a bogey on No. 17 when she again drove into the left fairway bunker.
"The 17th hole was probably the one that cost me, that driver, that tee shot," Ochoa said. Trying to fade a 5-wood from 200 yards out of the sand, she topped the shot, advancing the ball only about 70 yards. When Ochoa missed her 20-foot par putt, Kerr had a two-stroke lead going to the final hole, which she played flawlessly, splitting the fairway and hitting the center of the green.
When she tapped in the final putt, Kerr crouched in a gesture dripping more with exhaustion than elation and let the tears flow. Then she saw Stevens, leaped into his embrace and wrapped both her arms and legs around him. Gulbis, clutching a bottle of champagne on which she would cross out the name and write "Cristal," was there to share the moment with her friend. "I saw it all week," Kerr said about the mental image she had of this victory celebration. "The same scene. And it happened. So it's pretty amazing."
The two other times the U.S. Women's Open was played at Pine Needles, when Annika Sorenstam won in 1996 and Karrie Webb won in 2001, the championship started the last week of May to avoid the summer heat and thunderstorms. Nature showed why this year. Lightning delays made a shambles of the first two rounds, which led to Kerr playing 23 holes Sunday and Ochoa 25.
When Thursday's first round was completed Friday, Angela Park's 68 was one stroke better than In-Bee Park and Shiho Oyama of Japan. Kerr and Ochoa opened at even-par 71. Park doubled her lead with a second-round 69 to be at 137 after 36 holes. Ochoa was at 142 with Kerr at 143. Suzann Pettersen, who won the McDonald's LPGA Championship, was at 149 to miss the cut by one stroke. Webb was at 154 to miss by a mile. Sorenstam, the defending champion still recovering from a neck injury, shot a second-round 77 to fall 10 strokes off the lead and was never again a factor, finishing T-32 at 292. And the Michelle Wie saga took another nasty turn when she opened with an 82 and then withdrew with an injured wrist after taking 42 shots on the first nine of the second round.
When third-round play resumed at 7:30 Sunday morning, Kerr was on the 14th hole. She finished off a third-round 66--the low score of the week--to take the 54-hole lead at 209. Ochoa (68), Pressel (69) and Shin (71) were one back. The biggest moves of the final round were Pak's 68, Sunday's low score, and In-Bee Park's 69, which left them tied for fourth at 282. Angela Park's closing 70 served notice that she is the real thing.
Establishing herself as the real thing took Kerr a long time. She went 135 LPGA events before she got her first victory. Now she has 10 and a major championship. With that résumé it is difficult to believe she once had a reputation as someone who couldn't close out a tournament. And looking at her 5-foot-3, 125-pound, well-muscled frame ("I'm probably about seven pounds heavier than that now," she admitted. "Hey, I got married. I'm allowed to be happy.") it's difficult to believe in 1999 she weighed 175 pounds.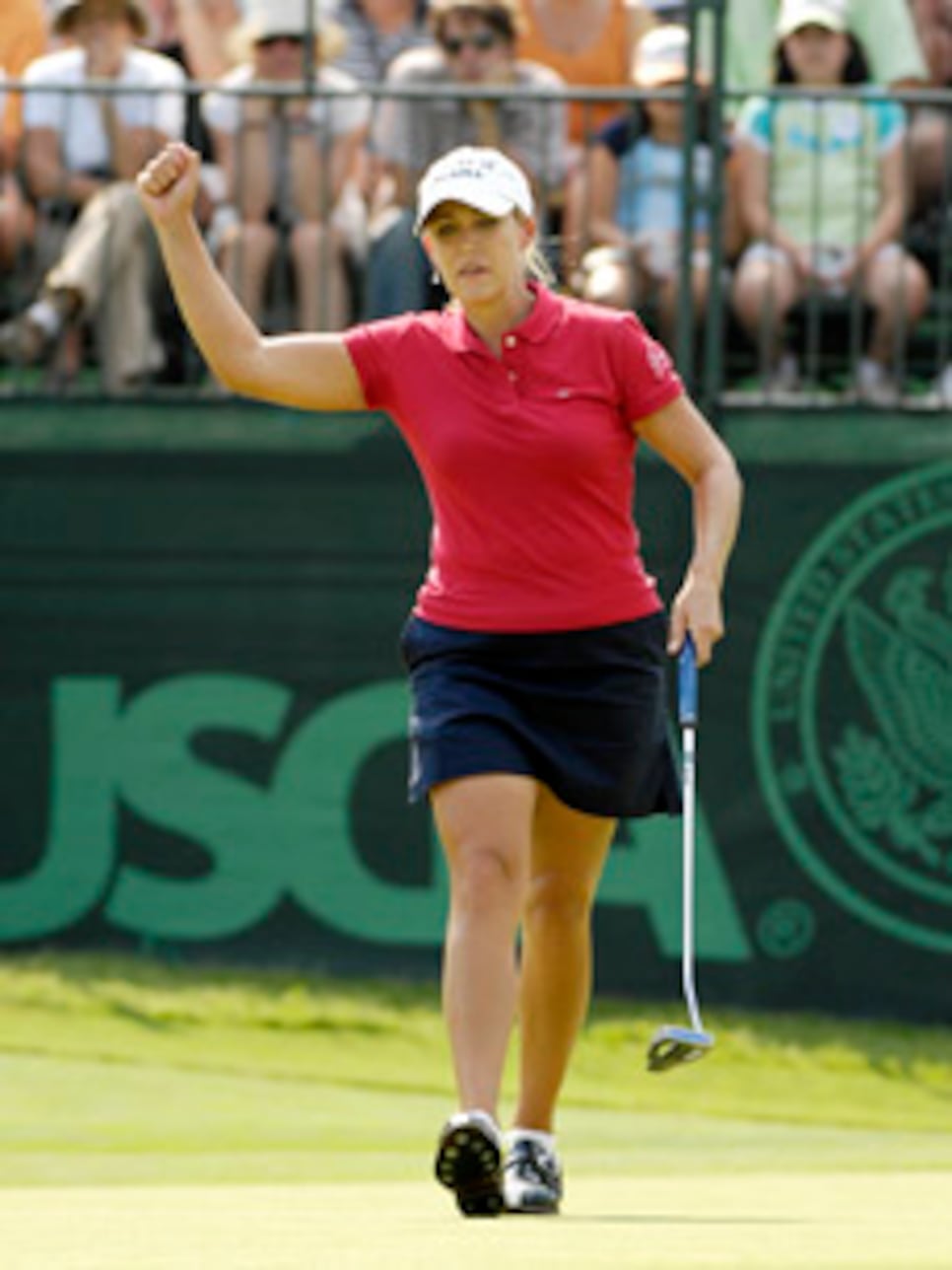 That was also the year in which her diabetic parents, Michael and Linda, divorced. Linda, a legal secretary, had a heart attack when Cristie was in ninth grade, and in 2003 was diagnosed with breast cancer, which is currently under control. Michael, a teacher, had a reputation among the junior-golf crowd as an overbearing stage parent pushing his daughter into the spotlight. "When you meet them," one person close to Kerr said about her parents, "you understand her intensity." What Kerr is now is a smart, stylish woman who calls Donald Trump a friend.
Asked if she feels slighted when her name does not come up when the conversation turns to the top young golfers--like Pressel (who was one of Kerr's bridesmaids), Wie and Paula Creamer--Kerr says: "Maybe not slighted but overlooked a little bit" adding that she understands the fascination with "cute young American girls with ribbons in their hair."
Sitting with the U.S. Open trophy at her feet, Kerr was unusually at ease with reporters, whom she dismissed after play was suspended Saturday night by saying, "I'm answering two questions and then I'm boogieing out of here," and then doing exactly that.
"I respect you guys a whole lot," she said, then adding with perfect comic timing, "and don't overlook me anymore." Perhaps aware that her honesty has at times been misunderstood she said, "I was being sassy. I made you laugh. I'm quite funny if you get to know me."
Not many have gotten to know Kerr, in part because early in her career she said and did things that pushed them away. Now at a place in her life that is far removed from those difficult days, golf has become exactly what Michael Kerr had in mind for his daughter all along--an escape from her background. A mellow Cristie Kerr? Maybe it was the full moon, but maybe she really is in a very different place in her life--a place that now includes the U.S. Women's Open trophy.