News
Player of the Decade: Greg Norman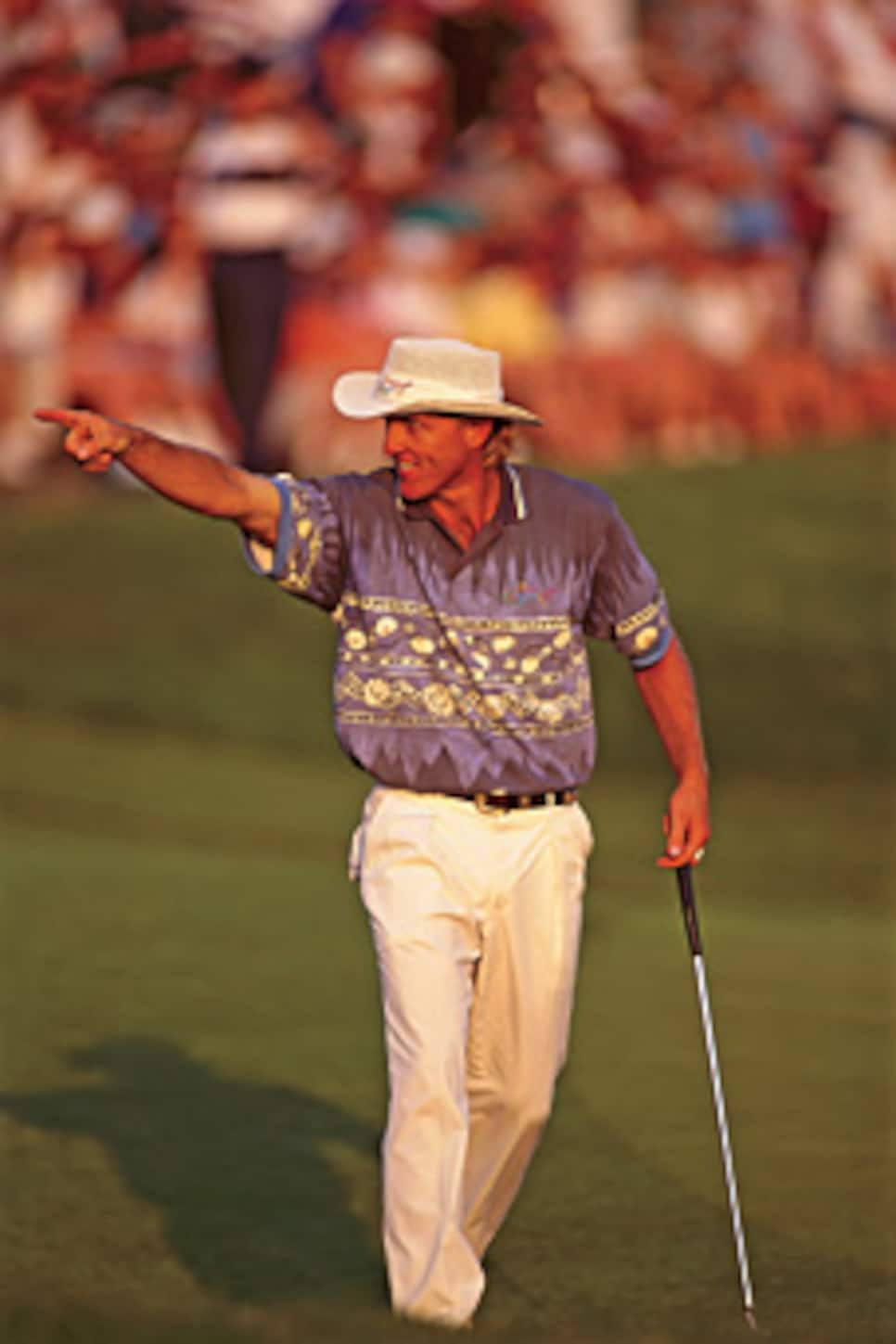 Few golfers have commanded the attention Greg Norman did during his swashbuckling prime when, at disparate moments, he was both leading man and car wreck. Norman was mesmerizing when he won with regularity, and the rubbernecking stretched for miles when he lost spectacularly. People couldn't take their eyes off him, which was a testament to his movie-star-like appeal and athletic ability. Even casual fans were fascinated by the "Great White Shark."
Plying his trade largely before drivers went on a growth spurt and began to be constructed of exotic materials, Norman was superb off the tee--possessing a rare blend of power and accuracy that paved the way for two major championships, 20 career PGA Tour titles and 68 other victories around the globe. His game, in fact, usually was as solid as his image was flashy, yet eight runner-up finishes in the majors--none more dramatic than when he blew a six-stroke, 54-hole lead to lose the 1996 Masters to Nick Faldo--left the feeling that a bounty remained on the table.
Off the course, Norman made news by building a business empire, named for his nickname, that would grow to include components as varied as turfgrass and wine. His involvement in a proposed "world tour" created a fissure with the PGA Tour, which in response quickly created the World Golf Championships, a bit of one-upsmanship that seemed to stay with Norman longer than any tournament defeat.
To most, though, it is what Norman did between the gallery ropes that lingers, the days when he had golf in his grip, and those when the game had him in its.
Two polar opposite schools of golf design developed. One was minimalism, lay-of-the-land architecture that required a great piece of property and restraint on the part of the architect. Triggered by young Tom Doak, just 26 when he designed High Pointe in Michigan, it gathered momentum when Bill Coore and Ben Crenshaw unveiled Sand Hills GC in Nebraska. Seemingly brushed from rugged sand dunes with a whisk broom and built for less than $2 million, Sand Hills remains probably the most natural course ever created in America. The opposite trend--call it maximalism--transformed lousy pieces of land into great designs through the use of tons of earth movement and tons of money. Its flagship was Shadow Creek in desolate land north of Las Vegas, where casino giant Steve Wynn had designer Tom Fazio spend $47 million creating hills and covering them with thousands of mature pines, faux mountain streams, faux waterfalls and real peacocks. Elsewhere, Robert Trent Jones culminated his long career by having his team (headed by Roger Rulewich) handle the ambitious Robert Trent Jones Golf Trail in Alabama, 20 courses constructed at the same time at seven locations. Meanwhile, Trent's younger son, Rees, was becoming the new "Open Doctor," after sympathetic pre-U.S. Open adjustments to The Country Club, Hazeltine National, Baltusrol and Congressional.
1987--Tom Watson wins the Nabisco Championship of Golf, the PGA Tour's first season-ending event for its top 30 money winners.
1988--Curtis Strange is the first PGA Tour player to earn more than $1 million in one year.
1989--Strange is the first player since Ben Hogan in 1951 to win ­consecutive U.S. Opens.
1990--The U.S. women defeat Europe, 11½-4½, in the inaugural Solheim Cup.
1991--Tiger Woods wins his first USGA title at the Junior Amateur.
1992--Arizona State's Phil Mickelson wins his third NCAA crown, matching Ben Crenshaw's career mark.
1993--Colin Montgomerie wins the first of seven straight European Tour Order of Merit championships.
1994--The U.S. beats the International team, 20-12, in the first Presidents Cup.
1995--Greg Norman wins the PGA Tour money title despite playing only 16 events.
1996--Karrie Webb wins $1,002,000, the first woman to ­surpass $1 million in one year..