News
Player of the Decade: Arnold Palmer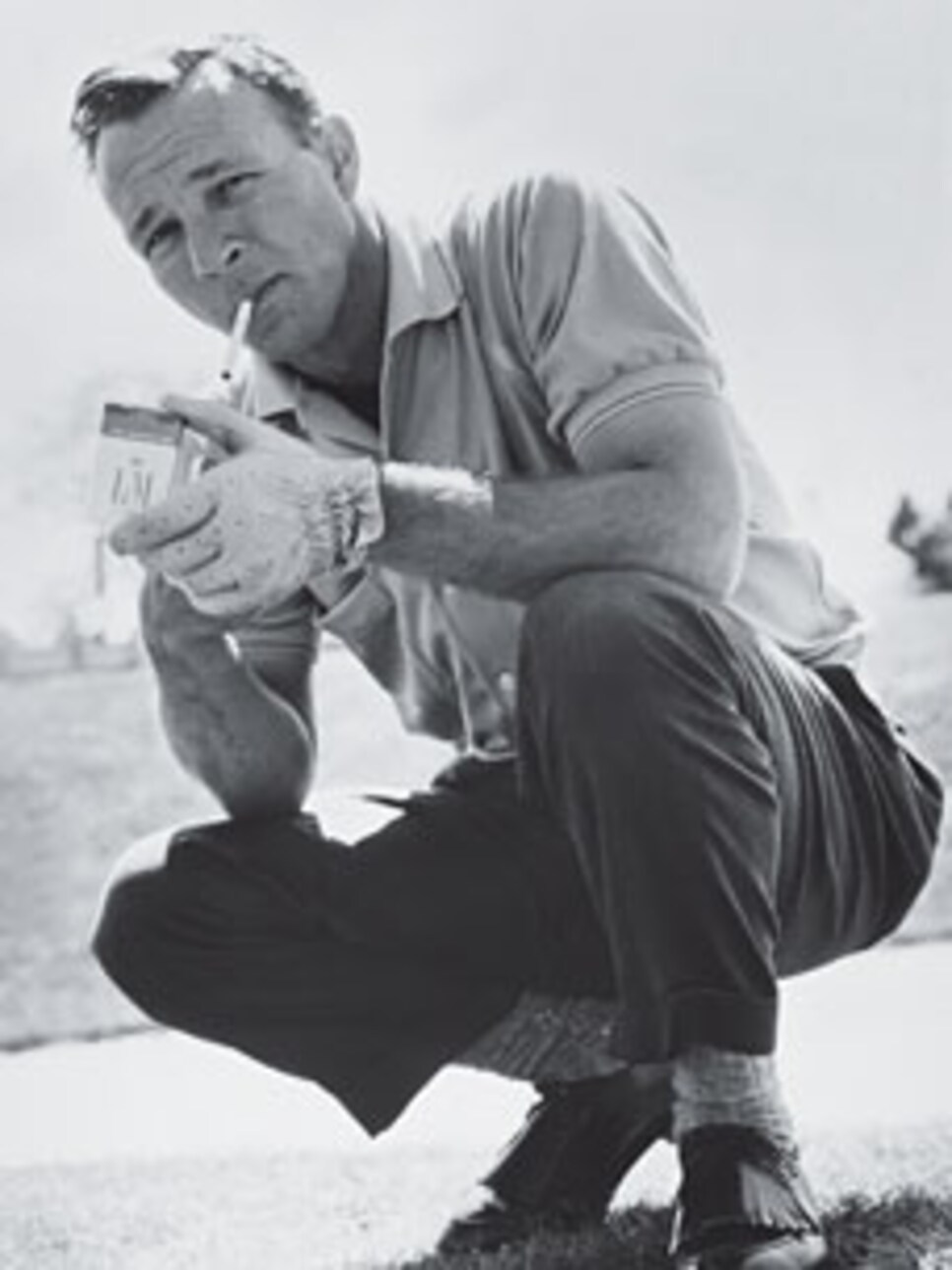 The journey mattered as much as the destination to Arnold Palmer, for whom golf was combination prize fight and Broadway play. Whether it was for a 2 or a 12, he ­expended all-out effort to entertain those who had paid good money to watch. And a smile or wink for the many felt like a special delivery to one. In turn, their voltage powered him, a constant current through the victories and defeats that defined the pro game during the dawn of the television age, from thrilling conquests at Augusta National and Cherry Hills in 1960 to a crushing loss at the Olympic Club in 1966.
Palmer flew himself here and there in private planes and came to be called The King, but his was a blue-collar royalty--the man-on-the-street who ascended to the throne. His father was a club pro in steel country who had to take his meals in the kitchen, but Palmer grew up to eat at state dinners and play golf with presidents.
His numbers--62 PGA Tour victories, including seven professional majors--should linger forever in the upper reaches of the game's statistical mountain. But for those who watched him compete, particularly during his hard-charging peak at the intersection of the 1950s and 1960s, memory distills details: an individualistic swing that sometimes lacked grace but never intent; a jaunty stride off a green following yet another dramatic birdie; the resolve to come back for more even when the golf gods were in a bad mood.
He went for broke but was never without. More than anything, Palmer was a man who loved his work.
Robert Trent Jones continued to be the kingmaker with Bellerive CC in St. Louis hosting the 1965 U.S. Open and Hazeltine National near Minneapolis hosting the 1966 U.S. Women's Open and the 1970 U.S. Open. His total remodeling of Firestone CC (now the South Course at the three-course complex) was another monster, site of the PGA Championship in both 1960 and 1966, home of the post-season World Series of Golf and even television's CBS Golf Classic. Trent also produced his masterpiece, Spyglass Hill, a worthy Monterey Peninsula neighbor to Pebble Beach and Cypress Point. But a rival emerged, gruff Dick Wilson, who, when accused by Jones of stealing his design ideas, responded that Jones had no ideas worth stealing. Wilson's portfolio was impressive including Royal Montreal, La Costa in California, Cog Hill in Chicago, and a fabulous foursome in Florida: Pine Tree (Hogan's favorite), PGA National (now BallenIsles), Bay Hill and Doral's Blue Monster in Miami. Doral became a tour stop in 1962 and today, only Augusta National, Colonial, Pebble Beach and Bermuda Dunes have hosted tour events for longer unbroken periods of time. But Wilson died in 1965. A year later Golf Digest introduced "America's 200 Toughest Courses," which would evolve into "America's 100 Greatest Golf Courses," the standard by which many now judge architects and architecture. --Ron Whitten
1957--Bob Panazik, 15 years, 8 months, 20 days, makes a PGA Tour cut at the Canadian Open, the youngest player to do so.
1958--The PGA Tour's season-long purse surpasses $1 million.
1959--Gary Player wins the British Open, the first of nine majors for the South African.
1960--At 45 years, 7 months, 1 day, Fay Crocker wins the Titleholders, the oldest woman to win a major.
1961--Mickey Wright wins the U.S. Women's Open, the LPGA Championship and the Titleholders.
1962--Kathy Whitworth wins the Kelly Girl Open, the first of her LPGA-record 88 victories.
1963--Arnold Palmer is the first PGA Tour player to win more than $100,000 in a season.
1964--Pete Brown is the first black to win a PGA Tour-sanctioned event, the Waco Turner Open.
1965--At age 52 Sam Snead gets his 82nd, and last, PGA Tour win, the Greater Greensboro Open.
1966--Whitworth wins the final Titleholders event held in Augusta, Ga.