News
The Disruptor's Last Days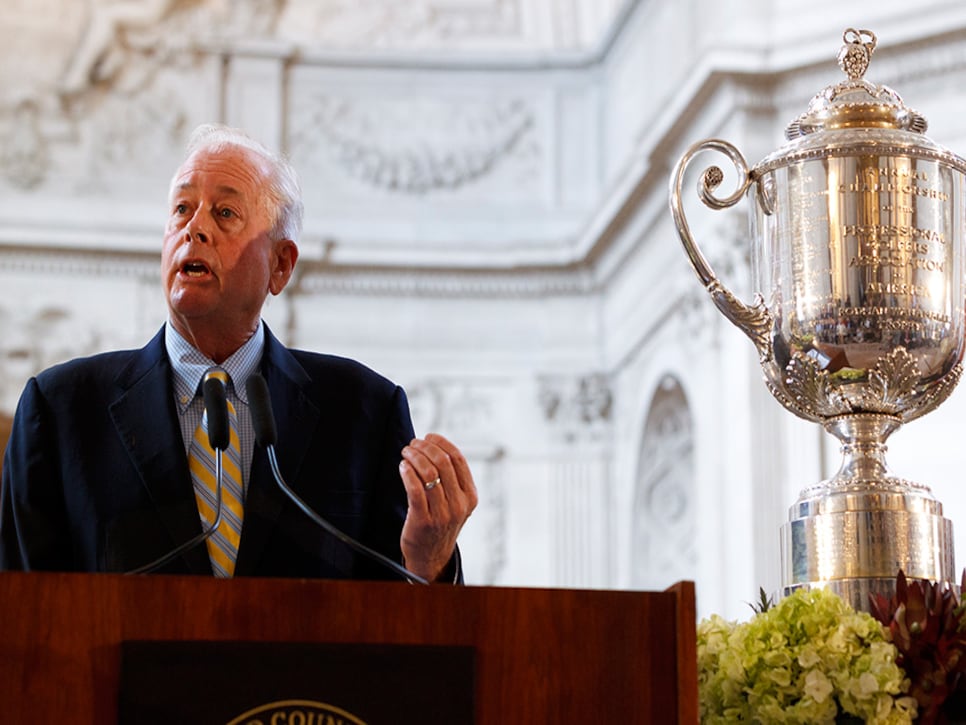 *Editor's Note: This story originally appeared in the Oct. 13 issue of Golf World. Bishop was back in the news Thursday when
because of criticism the Englishman levied in his new autobiography against former European Ryder Cup Nick Faldo.*
PGA of America president Ted Bishop lived large in Bermuda over the weekend, on site for the luxuriantly laid-back Grand Slam of Golf. But as he savored a 20-ounce Porterhouse at the 344-year-old Waterlot Inn, in a dining room that looked like a set for "Game of Thrones," Bishop's expression seemed that of a melancholic king.
Yes, there is the lingering aftermath of the Ryder Cup loss and a consensus that Tom Watson—the man Bishop so enthusiastically and iconoclastically hand-picked—hadn't been an effective leader. But Bishop was convincing when he said he doesn't regret his choice, and anyway he has quickly transferred his energy and focus to putting together a Ryder Cup task force that will include Tiger Woods, Phil Mickelson, Jim Furyk, Rickie Fowler, Steve Stricker, Davis Love, Tom Lehman and Raymond Floyd.
No, the angular 60-year-old's lean-and-hungry look was due to a nagging realization that his wild two-year ride as president—aka Ted's excellent adventure, and unarguably the most eventful term ever served by any of the 38 men to hold the office—is nearly over. "I could never have predicted or expected all the things that happened," Bishop says. "I only knew that two years would go by very quickly, and I would only get one shot. I tried to be ready."
His trial by fire began immediately once he took office in late 2012. After conducting a fast poll that sampled a portion of his 27,000-strong membership, Bishop insisted he was reflecting its will when he strongly opposed the USGA's proposed ban on anchoring. Suddenly the unknown course operator from Franklin, Ind., became a romantic renegade among the stodgy golf establishment, and his notoriety grew when the PGA Tour joined in opposing the ban.
With a defined persona that brought with it a constituency open to bringing more accessibility to the game, Bishop opportunistically followed up by supporting the outside-the-box concepts of Hack Golf (which included the 15-inch hole and FootGolf, both of which Bishop has made available at his 45-hole facility, The Legends). He also had the temerity to wonder aloud why bifurcation is such a bad word. The result was that Bishop's newfound popularity gave the PGA of America, long regarded as golf's least dynamic major organization, increased clout and for the first time in years gained them the perception of equal footing with the USGA, R&A and PGA Tour among the game's leadership.
"The turning point was when the PGA Tour joined us [on anchoring]," Bishop says. "But I'll always be proud that we were first to take the position that really represented the average golfer."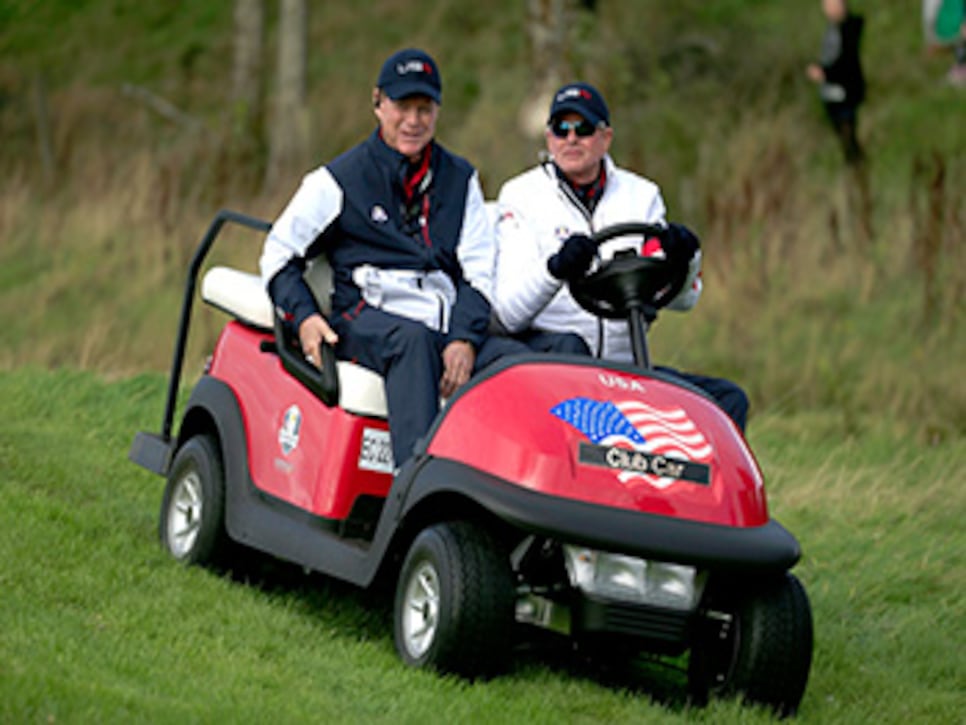 To the annoyance of his critics, the most virulent of which accused him of using his office as an audition for a next high-profile gig, Bishop increasingly employed his confident Midwestern straightforwardness to present an authoritative figure during TV appearances. He also put together glitzy panel discussions where he appeared with the likes of Donald Trump and Mark King. He kept writing the blog he started in 2008 ("One Shot at a Time"), crafting 43 article-length posts, some controversial, during his presidency. One he might want back occurred on July 24, 2013: "Any chance we can have 12 Phil Mickelsons on that Ryder Cup team."
Bishop acknowledges the combination of accomplishment and attention has given him the time of his life, and he doesn't hide his satisfaction at being labeled an activist and disruptor during a period when a suffering game is sorely in need of consumer-friendly innovations. "Ted was the right person at the right time," says Pete Bevacqua, the PGA of America's smooth 44-year-old CEO who Bishop says can reel him in almost in a fatherly way when he gets too worked up. "Ted did not shy away from being the more vocal president with a bullish voice in the industry that we needed. The way he's wired helped us get things done that would otherwise not have gotten done."
Derek Sprague, who will succeed Bishop as president next month, agrees that "Ted got us to the big table in the golf industry," but is also clear he will take a different approach. "I'm going to build on our momentum, but my style will be the polar opposite of Ted's," Sprague says. "I think it's more effective to settle disputes behind closed doors. In public debates, egos get involved, because no one wants to lose publicly."
But even when Bishop lost, as he ultimately did with anchoring, he won. Because while he started out as a perceived divider, he ended up a unifier.
Tim Finchem was impressed by Bishop's conviction, which gave the PGA Tour commissioner cover for supporting his players who anchored and felt the rules change would be unfair. Their shared campaign has led to the two organizations, which had an uncomfortable relationship dating to the contentious way the tour formed itself by splitting off from the PGA of America in the 1960s, doing more with shared efforts than ever.
More surprisingly, Bishop is on good terms with both former USGA president Glen Nager and the R&A chief executive Peter Dawson, two men who he initially annoyed by opposing golf's traditional rules makers. Nager, the author of a 41-page treatise justifying the anchoring ban, wrote Bishop a laudatory text after the Ryder Cup. Dawson, who at the height of the anchoring dispute refused to shake Bishop's hand and accused him of "grandstanding" and "being a detriment to the game," agreed to Bishop's invitation during this year's Masters to meet alone with Bishop and Bevacqua to discuss grow-the-game issues. The meeting marked the first such get-together by the leaders of the two organizations.
"Contrary to my image, I have an ability to collaborate and otherwise bring people together," says Bishop, the son of a barber-shop owner who grew up in a family involved in both Democratic and Republican local politics. "I feel I'm a good listener, and I can articulate clearly. I'm not a person who is afraid to change his mind or modify a position given facts. And I think people have an understanding that when I say something I'm sincere."
For those who think Bishop has gone Hollywood, his real credibility is based on being a public golf-course operator in the trenches. He is also one whose course went though Chapter 11 in 2010, and even as it has come back, he can attest to a fragile reality.
"I think the game is still under siege, because of a supply-and-demand problem," he says. "Even with the problems the game faces with the economy and lifestyle changes, if you had the same number of facilities in U.S. that you had in the mid-1990s, it would be easier for good facilities to do well. But that's not going to happen, so it's going to continue to be tough out there."
With all he's learned, Bishop is eager to have the increased time to try new things at his own facility when he leaves office. When he asked his staff to recently compile a list of all the achievements the organization reached under his and Bevacqua's leadership, the five pages of single-spaced text they returned gave Bishop an appreciation for the effort he put forth. "I'm blessed with a lot of energy and we did a lot and I pushed hard," says Bishop, as a waitress removes the plate on which he left very little meat on the bone. "At some point it's very taxing, especially when you have another job, and it becomes time to move aside and I accept that. But it was also fun, and I'm going to miss it."