The Loop
GW Monday: Tiger needs 'professional help'
This time it felt different. In the past when Tiger Woods went down with an injury, there was the strong sense his body and mind formed too irresistible a force to be held back for long. But watching Woods withdraw after nine holes at the Players inspired more sadness than certainty.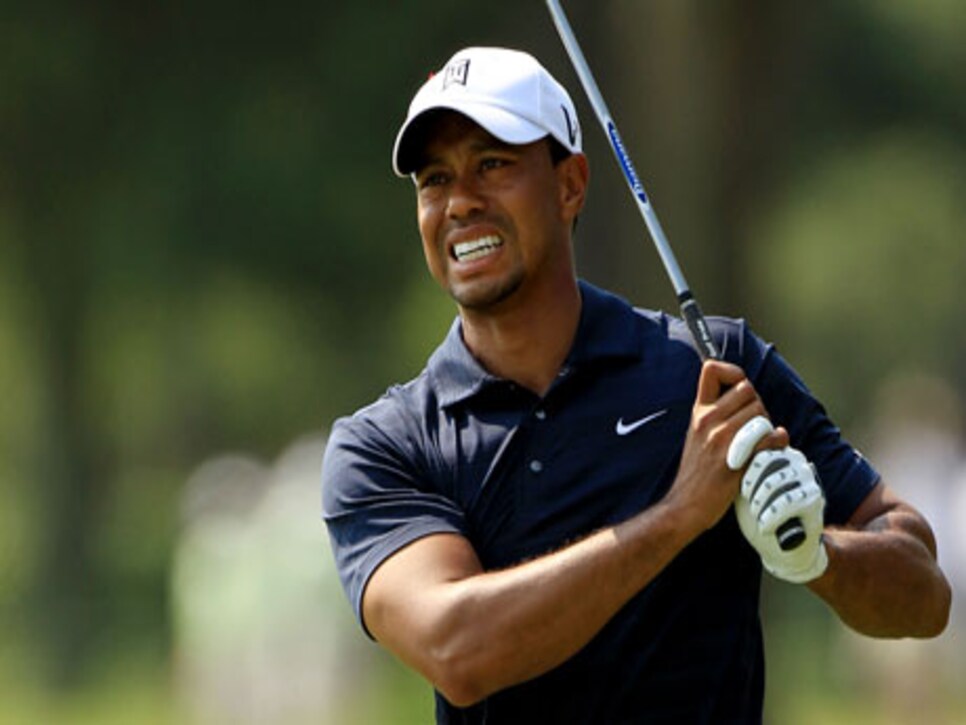 Woods reacts to his approach shot on the ninth hole during the first round of the Players Championship. (Photo by Streeter Lecka/Getty Images)
The fact Woods played practice rounds with no apparent problem--and certainly no acknowledgment of one--only to immediately break down with knee and Achilles pain the moment the bell rang was unsettling. The man whose legend includes playing 91 holes with broken bones in his left leg in winning the 2008 U.S. Open could only say, "Unfortunately, I wasn't able to finish."
If not an out and out "no mas," the manner in which Woods withdrew raised the unavoidable question that his issues are as much mental as physical. Whatever the ratio, there was a more definite sense than ever that Woods truly isn't what he used to be. And if that's so, Woods' presumed destiny becomes a very problematic thing.
A successful comeback for Woods requires much more than being consistently competitive, or even winning tournaments again. It means capturing majors, at least five to be exact, and he never looked farther from that than he did at TPC Sawgrass. It could be heard in the halting words of Sean Foley and Mark O'Meara, as well as Paul Azinger, who frankly opined that Woods needs "professional help."
Personally, because of his ability, his track record and his will, I've always given Woods the benefit of the doubt. I still do, but just barely.