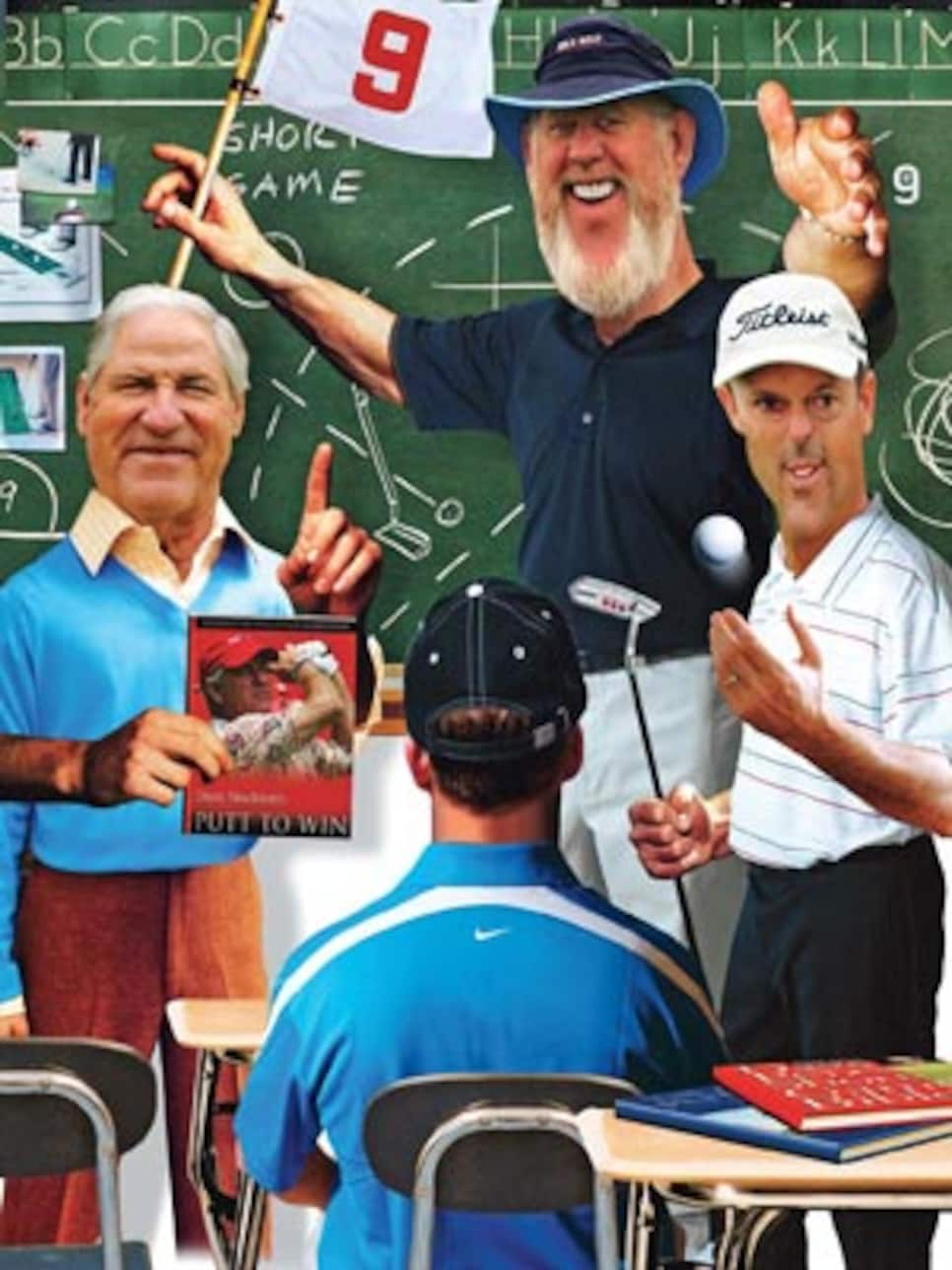 His narrow squint and nasal squawk belie that Dave Stockton has always been a people guy. Crouching behind the ball as J.B. Holmes stands over a 10-footer on the practice green at TPC Las Colinas outside Dallas, Stockton, 68, softens his tone. Like a horse whisperer with an unruly stallion, he gently urges, "Where are you looking? What do you see? Do you see it? That's it -- you got it," Stockton says, seeking to activate the corners of the subconscious where he believes putts are made.
"J.B. is my favorite to work with," Stockton says later, pointing out that the long-hitting Holmes has improved from 166th in putting average in 2009 to 13th this year. "He's a challenge because he's pretty ADD. He can't retain anything technical, so he needs to see a picture. I understand that process, because that's what I did as a player, and it's the best way to putt. I'm clearing things out of his mind more than putting things in. And it's going to make him scary good."
Two days before, three of the players taught by Stockton and his sons, Dave Jr. and Ron, all won: Adam Scott on the PGA Tour, Dan Forsman on the Champions Tour and Se Ri Pak on the LPGA Tour. In the abbreviated annals of putting and short-game coaches, it was an unprecedented Triple Play. Combined with the Stocktons' high-profile work with Phil Mickelson, major-championship winner Yani Tseng and, in late 2009, Michelle Wie -- and some 20 other players -- it has the patriarch chirping. "It means that I'm right about what I teach," Stockton says with the conviction that helped him win two major championships despite ball-striking more appropriate to the national Publinx. "Absolutely I can blow anybody else away. I can tell that we have no competition. I mean, there isn't any."
Aside from the risks of getting cocky with the putting gods, Stockton overstates. In the last several years, a growing group of putting and short-game coaches has moved from the fringes of pro golf to its center. After more than a decade in which Dave Pelz seemed to have the field to himself, a new school of gurus beginning with Stan Utley and including Marius Filmalter, Pat O'Brien, Larry Rinker, Mike Shannon and Kevin Weeks (and in Europe, Harold Swash, Mark Roe and Dr. Paul Hurrion) is tending to an increasing number of the game's best.
"It's sort of been overdue," says David Leadbetter, the seminal figure in the earlier rise of full-swing instructors. "Players used to learn short-game shots and get putting tips from other players, but now there are experts in every area. Putting was always considered an art, almost too mysterious to teach. But there is more science attached to it now, and maybe for the first time there's more knowledge than opinion."
Putting in particular is personal and often quirky, and as such is delicate to fool with. Above all, doubt is to be avoided, because in the most exacting areas of the game, to be off a little is to be off a lot.
"You must understand how each player is wired and work within those wires, not try to rewire," says Filmalter, a 54-year-old South African who helped Ernie Els regain his stroke, leading to two early-season victories. "We might suggest adjustments to the posture, ball position and alignment based on what we know to produce sound mechanics, but the change is only made when the player says he can see the line to the hole that he wasn't seeing before. That's all individual to each player."
Like almost all putting coaches, Filmalter employs motion-measuring devices that provide precise feedback on how the putter moves throughout the stroke and how the ball reacts. Readouts that measure the 28 most important components of the strokes of nearly every top player in the world are available for study, validating the tendencies and differences between good putters and bad. "Before, it was hard to know exactly where a player was with the stroke," says Filmalter, who helped develop the devices while researching fine-motor skills in Germany. "Now we know that and can monitor the journey to where he wants to be."
The collective effort has produced some impressive gains, particularly when it comes to the make-or-break distance in pro golf: six feet. In a 1989 study conducted by the PGA Tour, the average success rate on six-foot putts was 54 percent. In 2009, it was 69 percent. Smoother surfaces and better implements certainly contribute, but with more good players vying to play at the highest levels and the margins among them so close, there seems little doubt that greater urgency has bred greater skill. Indeed, PGA Tour players now make 86 percent of putts 10 feet or less -- including, of course, a lot of tap-ins -- and ShotLink statistics show it's not unheard of for a player to never miss inside that range over 72 holes.
As players challenge narrow fairways and tucked pins, the line between spectacular and untidy shot-making keeps getting thinner. Rounds are built around opportunism and recovery, making the wedge and putter a player's most vital tools. The Bobby Jones dictum of turning three shots into two -- for birdies on par 5s and short par 4s, for pars on tough par 3s and 4s -- means more than ever.
The beacon has been Tiger Woods. His biggest edge over his peers has been the ability to make crucial putts and recoveries, causing him to become a model for his peers. "Tiger has almost perfect form -- everything is basically neutral," says putting coach Pat O'Brien, who helps Zach Johnson, Vaughn Taylor, John Rollins and John Senden. "He's helped people understand what a good putter really looks like."
Conversely, examples of players who consistently fail to win despite good ball-striking have also made the case. For all his fine tee-to-green play, Lee Westwood had a 15-footer on the 72nd hole to tie at the 2008 U.S. Open at Torrey Pines but hit a putt that missed weakly to the right, and he was undone by poor wedge play down the stretch at Turnberry before three-putting the final green to miss last year's British Open playoff. Then he failed to hold the 54-hole lead this year at Augusta when he was outclassed by Mickelson on and around the greens. That said, Westwood's rise in the World Ranking has been in large part because of short-game work with Roe, the former European tour player who also coaches Ross Fisher.
The group that has been most conscious of its putting and short-game failings has been young players so often projected as Woods' successors. A startling number of them, mostly because of a generational absorption with refining the full swing, just don't putt well enough to be consistent winners. But it appears they're enlisting putting instructors in an attempt to play catch-up. Rory McIlroy works with Padraig Harrington's guru, Hurrion, and Sergio Garcia made strides with Utley. Adam Scott's sudden turnaround with Stockton was stunning because it came after several seasons of Scott appearing permanently marginalized by uninspired putting.
"Yeah, I think the guys our age have become more open to putting and short-game coaches," says Hunter Mahan, 28. "If somebody can help me make putts, I want to talk to him."
None of the great putters of the last 50 years -- Bob Charles, Billy Casper, Jack Nicklaus, Tom Watson, Seve Ballesteros, et al. -- had a regular coach to help them on the greens. The same goes for today's acknowledged best: Woods, Steve Stricker, Brad Faxon and Brian Gay. For that matter, Stockton and Utley had no putting coach besides their boyhood teachers. The resistance is evident in the fact that the most recent partnerships were not initiated by the player. Stockton was suggested to Mickelson by his caddie, Jim Mackay, as Utley was to Garcia by Billy Foster. Stockton, at the behest of Mickelson, offered his services to Scott.
But when Stockton seemed to be the pivotal figure in Mickelson's immediate improvement, and when Scott and Justin Rose won soon after receiving a lesson from Dave Jr., it became a powerful narrative. "I highly respect what the Stocktons are doing," Utley says. "The buzz is in their court right now."
When it comes to putting and the short game, Dave Pelz still has the buzz record. Distinguishing himself from earlier gurus like Paul Runyan, George Low, Phil Rodgers and Jackie Burke Jr., Pelz, a former researcher at NASA, compiled data in the late 1970s that for the first time offered empirical truth about what had been subject to theory and opinion. Among Pelz's breakthrough findings was that tour pros averaged about a 7-percent error (approximately seven yards from the target per 100 yards) with clubs for which they used full swings, but the error average was about 15 percent with the full array of shorter wedge shots -- essentially because the number of partial swings led to inconsistency in distance control. The data led Pelz in 1979 to make student Tom Kite a 60-degree club, which would allow more full swings from shorter distances. Kite added the third wedge to his bag, a practice that has become standard.
Pelz also opened a short-game and putting school that many tour pros attended. Over the years, he worked with players including Kite, Andy North, Payne Stewart, Paul Azinger, Lee Janzen, Vijay Singh and Steve Elkington.
Pelz, 70, has cut back on teaching pros the finer points of the short game and putting, the biggest reason being the time required to oversee his short-game schools, training aids, books and DVDs. But it's also true that his view that the ideal path of a putter should be straight back and straight through (as long as the hands are not outside the shoulders) has lost favor on the tour.
Pelz's work with Mickelson, which began in 2003, has included very little on technique. Pelz's most important contribution has been preparation at majors, where the two discuss which shots around the green Mickelson will need. It was at Pelz's urging that Mickelson grudgingly went a week early to the 2004 Masters, where he won his first major.
Pelz took the high road when Stockton, whose stroke is much different than the one Pelz advocates (see accompanying chart at the end of this article), was brought in last year as Mickelson's putting coach. "Dave Stockton has been great for Phil," Pelz says while conducting a tour of his office and short-game teaching facility near Austin. "When I was doing my research, I found Dave three-putted less than anyone, at one point going 950 holes without a three-putt. I love his forward press because for some players it keeps everything together. I don't want any problems with Dave. I don't want Phil to have any conflicts about what anybody says or tells him. I'm here to help Phil, period."
Pelz regained some tour cred in May when he signed to work with Michelle Wie for the rest of 2010. It was a surprising move because Wie's work with Stockton last year received so much attention, especially after her play in the Solheim Cup and her first LPGA victory. "No question, Michelle putted well after working with the Stocktons," says Leadbetter, her full-swing coach. "But she didn't feel completely comfortable with the technique, and I think she just wants to hear what others have to say." Leadbetter also believes that Wie's father, B.J., a former university professor, would be drawn to Pelz's expertise in statistical analysis.
Stan Utley also knows about buzz. Renowned among his peers for his short-game and putting skills during a journeyman career in which he has won the 1989 Chattanooga Classic and three Nationwide Tour events, Utley, 48, has always had a calling to teach. "I taught people I was playing with in the tournament, on purpose, because I played better when I was giving it away," Utley says on the practice putting green at Grayhawk in Scottsdale, where he teaches when he's not traveling or competing. "I'm a better person when I'm helping somebody, and I'm going to shoot better when I'm at my best."
Utley never received recognition as a teacher until he gave Jay Haas some putting advice in 2001 that was instrumental in resurrecting the veteran's career. Utley's standing improved even more when Peter Jacobsen won at Hartford at 49 and then the 2004 U.S. Senior Open. Soon Utley was teaching two dozen pros, and his work helped Garcia win the 2008 Players Championship and nearly win the PGA later that year. All three gave credit to Utley, who says, "Golf instructors become notable because tour players make them notable."
An Utley putting demonstration suggests innate genius, even as he modestly insists, "There are a lot of ways to do it." But his ideas were an antidote for the many players who might have overcooked Pelz's principles. Utley's most common fix was for those taking back the club handle first with little or no face rotation -- "outside and shut" in tour parlance -- and thus being forced to open the blade on the forward swing, often producing putts that roll poorly and come up short.
In Utley's stroke, the putterface stays perpendicular or "square" to the curved path of the putter. The toe rotates "open" and "closes" slightly through the ball, as it does in the strokes of Faxon, Woods and most of the best putters. According to computer analysis, it's common in such a stroke for contact with the ball to occur slightly toward the toe and well above the center of the clubface. "I'll just say I'm far happier with a putt that has a little hook coming off the face than a slice," Utley says, "because it rolls great."
Perhaps inevitably, Utley also has been overdone, leading to criticism that his method requires "manipulation," a charge Utley says is based on misunderstanding. "When Dave Pelz was really the only voice in putting, I found a lot of players whose arms were rotating the opposite way and scooping the ball," he says. "I would tell people who had been spinning the putter-face shut to feel like they were spinning it open. But it was just to get them back to the middle, and maybe as my ideas got overstated or misunderstood, it caused people to go past the middle."
At the same time, Utley's contact with his most prominent students was curtailed. "With Jay, he figured out the stroke I wanted him to make very quickly, and then when he went on the Champions Tour for the next three or four years it was staggering how well he putted," Utley says. "Now, nine years later, he doesn't putt great. Part of what makes him phenomenal is that he almost never asks for help. It's just that era. He's a completely independent guy. So I joke with him: 'Can I come out and watch you hit some putts? Because people think I'm teaching you, and you're not putting any good, so I need to come help you out.' We laugh, but we haven't hit it off of late."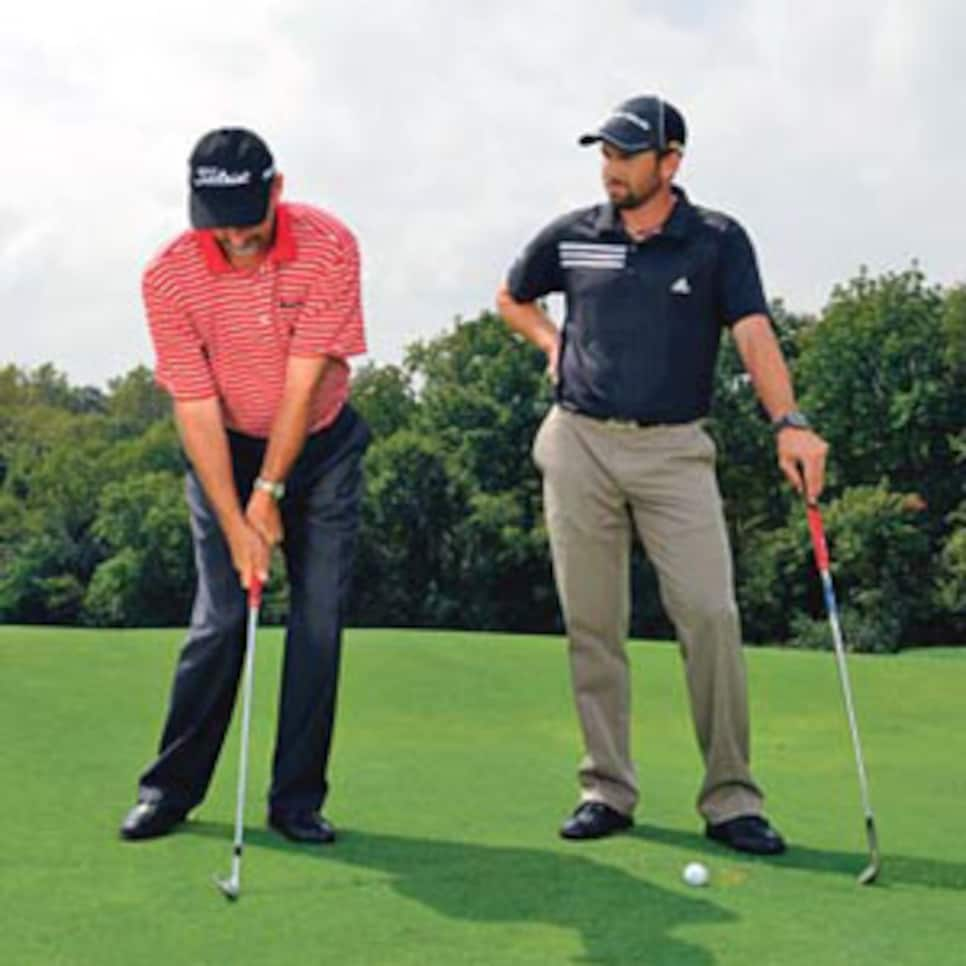 Garcia, because of his potential and the quick initial progress he made under Utley, has been a more frustrating case. "Sergio's lag in his full swing, which is a strength, was a weakness in his chipping," Utley says. "But we got him quite a bit better. With the putter, one of his first comments was, 'On a 30-footer, I'm thinking, How in the world am I going to get the ball to the hole?' Because he was scoop-cut-wiping them, and mis-hitting a lot of putts. We fixed that, and he started enjoying the game more because he could hit a solid putt semi-where he looked."
But two months into 2009, Garcia broke up with his girlfriend and fell into a funk. "I haven't taught him since," Utley says. "Last year I went to tournaments, and though he was always pleasant, he was never in a mood to be taught. He was a brokenhearted guy, in my opinion. This year he hasn't asked me to even be around. What I see with Sergio now is that his stroke path looks good, but his backstroke is too slow and makes him tentative through the ball. He doesn't trust it. I know I can help him, but he has to want to be helped."
According to Garcia's manager, Clarke Jones, Garcia has been working on his short game and putting with his main coach, Peter Cowen. Utley's active students are Kevin Streelman, Gonzalo Fernandez-Castano, Amanda Blumenherst and Paige Mackenzie. Utley mentions that before Wie left Stockton to go to Pelz, he had been asked by Wie's camp if he had an interest in working with her.
"Sure, I have feelings about it, but I'm a tour player, and I've done the same things to other teachers," Utley says. "Bottom line, tour players are looking for what they think is going to work best right now, and it's easy to go with who's hot. I've been there, but my teaching buddies who have all been around tell me it will come and go, and sometimes it's going to go. It's a wave."
STOCKTON: CONNECTING WITH PEOPLE
Stockton, whose ball-striking abilities were limited after he hurt his back in a teenage surfing accident, is riding the wave. As he cut back his Champions Tour schedule, he became more involved with his sons' instruction careers. "I've just always enjoyed watching somebody and giving them something that will make them say, 'This is easier,'" says Stockton, who during his playing days would do as many as 80 corporate outings a year. "I can connect with people, and in teaching, that's large."
Stockton is arguably among the top-10 putters who ever lived and among the top 10 for getting the most out of what he had. "When I first came out on the tour, I averaged hitting eight greens a round if I had a good round, and 23 or 24 putts if I putted normal," he says. "I didn't know I was any different."
Stockton believes in the forward press and using some wrist action in the backstroke, but that hinge remains in place throughout the rest of the stroke. It's an action that Mickelson used in his younger days, and he almost instantly putted well after starting to work with Stockton.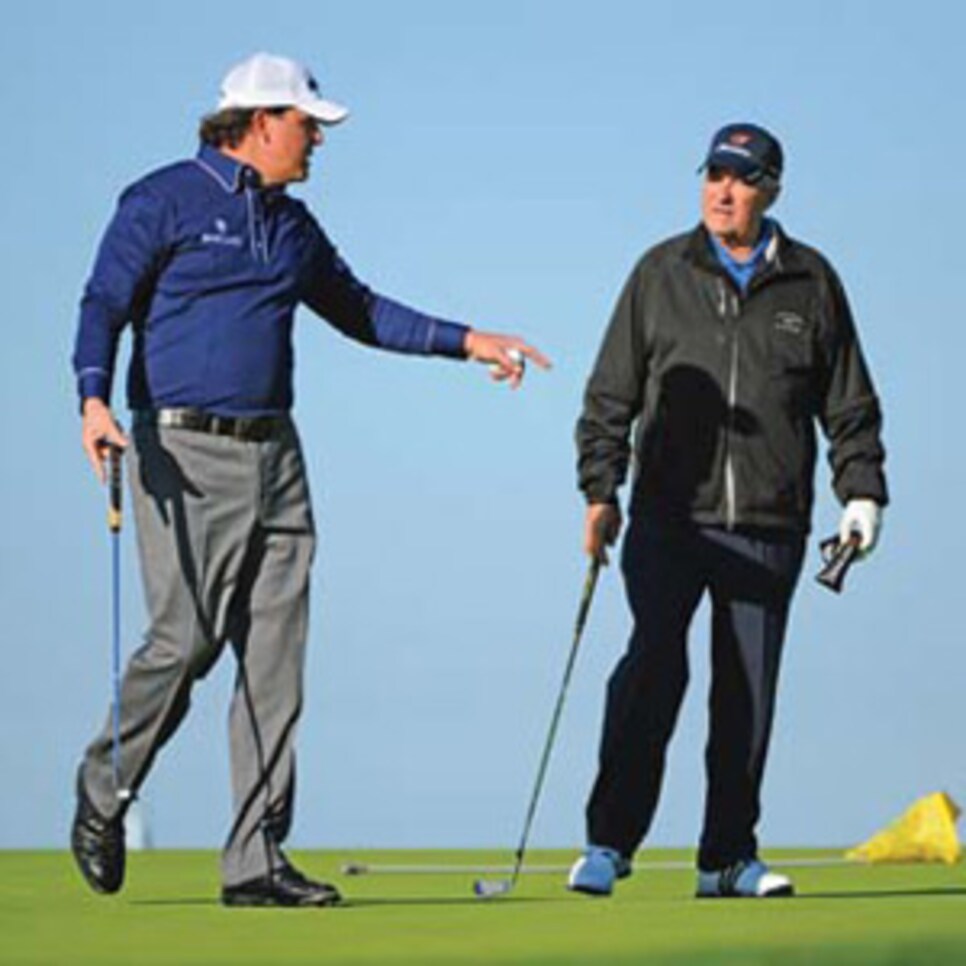 Though he is somewhat familiar with computer analysis of the putting stroke, Stockton says, "I'm much more interested in what you see and feel in your pre-shot routine than your stroke. A good putter locks all that into his subconscious, and once he's over the ball, he's not actively trying to make it. He's just letting it go and rolling it. I mean, putting is at least 80 percent mental."
The way Stockton briskly stepped into the 15-footer without a practice stroke to win the 1976 PGA is an immeasurable part of his credibility. To tour pros, he's the teacher who did it in the majors and helped Mickelson win his fourth at this year's Masters. Sitting on the side of a practice green, Stockton pulls out his cell phone and reads a text Mickelson sent to him after Scott's victory. It said, "Happy for both of you. Amazing how effective you are. It's the message, yes, but also how well you articulate that message."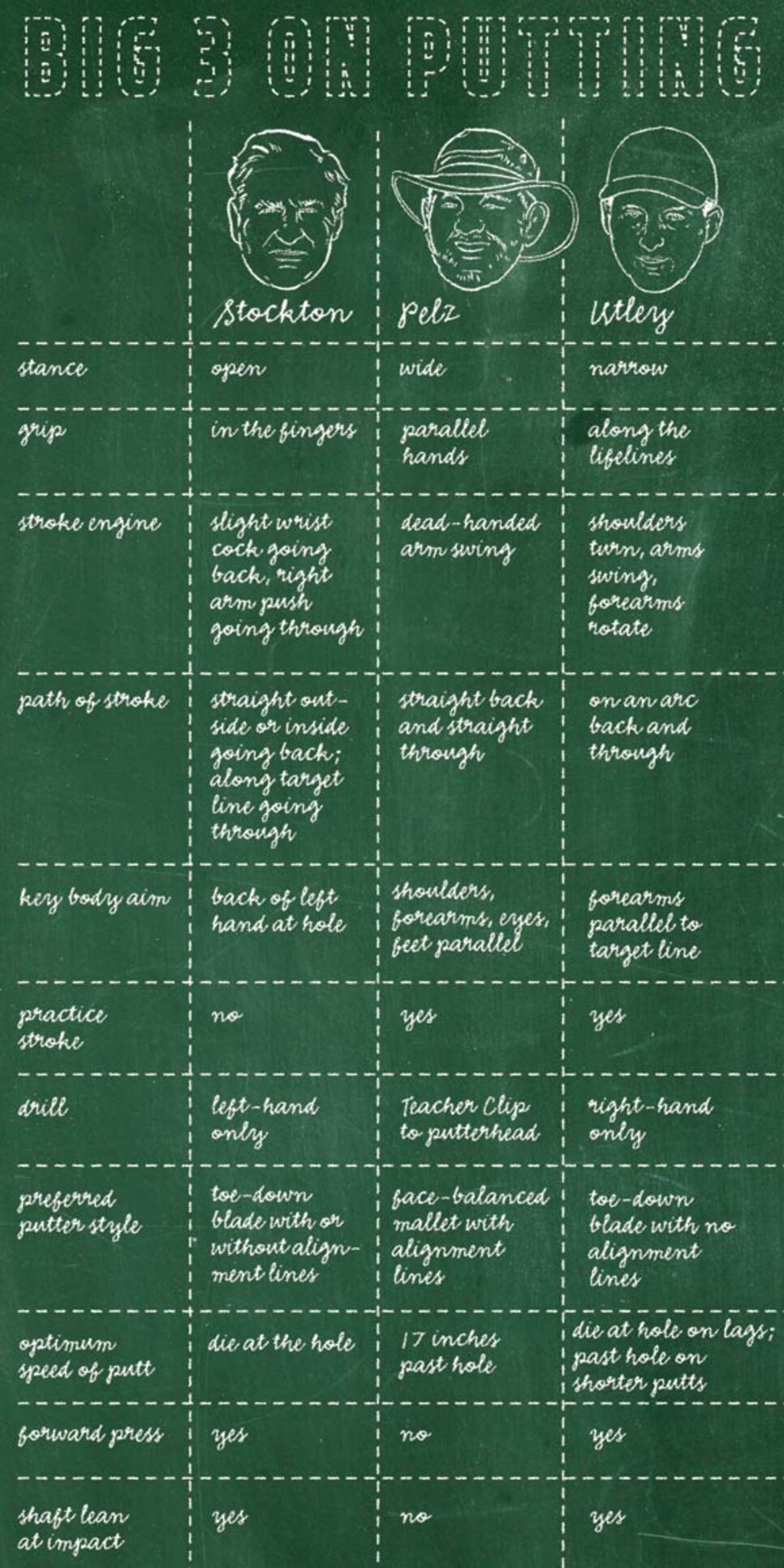 Of course, the 1991 Ryder Cup captain is hard-wired for challenge, and it nettles him that he has for the moment lost Wie, his most ambitious project. After Morgan Pressel encouraged Wie to see Stockton, they spent two days working together in California. Stockton opened Wie's stance and pared down and sped up her pre-shot routine. Wie's play at the subsequent Solheim Cup was inspired, and in November she got her first LPGA victory.
"I was really excited, because I knew I had bonded with her right off the bat, just like with Phil," Stockton says. "I was really looking forward to working with her this year, but I didn't hear anything after she won in Mexico. I saw her briefly, but we didn't get together. When I asked her mother, 'I hope I didn't do anything wrong,' she said, 'Oh, no, no, everything's fine,' and was very friendly. So it's just bizarre, because how can you argue with the results? I mean, for Michelle, putting and short game are absolutely the key."
Stockton might be cocky, but he's almost certainly right. And as the game's best are increasingly acknowledging, not just about Wie.