The Loop
Guilford Hall of Fame coach Jack Jensen dies at 71
Received word today that Jack Jensen, coach of the Guliford men's golf team for the last 33 years and a member of the Golf Coaches' Association of America Hall of Fame, died on Sunday after the Quaker golf team returned from a weekend tournament. The school did not release a cause of death for the 71-year-old who twice coached Guilford to NCAA D-III titles (2002 and 2005) as well as an NAIA crown (1989).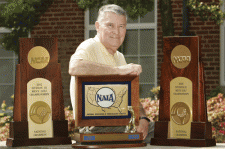 "Jack was a beloved mentor for hundreds of students for many years," said Guilford president Kent Chabotar in a statement. "He touched so many lives in a positive way as a teacher, coach and friend, and he is held in high esteem by generations of Guilford alumni."
A family visitation will be held tomorrow from 6-9 p.m. in Alumni Gym on Guilford's Greensboro, N.C., campus. A memorial service will be held Thursday at 2 p.m. in Ragan-Brown Field House on campus.
Besides overseeing the golf teamf, Jensen was also an accomplished basketball coach, coaching the Quakers for 29 years until 1999. Among his players was future NBA star M.L. Carr, who was on the Guilford team in 1973 that won the NAIA hoops title. (Jensen thus coached four of the five team that have won national championships in any sport at Guilford.)
The college demonstrated its feelings for Jensen in February 2002, when it renamed its basketball court for him during ceremonies that also saw the retirement of the jerseys of Carr and two other Jensen protégés who played in the NBA—World B. Free, another member of the 1973 championship team who played in the 1980 NBA All-Star Game, and__Bob Kaufman__, who played professionally before serving as coach and general manager at Detroit.
Among the golfers Jensen coached were Lee Porter, who spent six years on the PGA Tour. Jensen was inducted into the GCAA Hall of Fame in 2008.
"As great a coach as Jack was, he was an even greater person," said Tom Palombo, director of athletics and current men's basketball coach at the school. "It is an honor to have been at Guilford with him and to talk with him every day. He knew a lot about basketball and a lot about people. Being able to share ideas about teaching and coaching was very special. He will be greatly missed."
Jensen, a member of Wake Forest's 1960-61 Atlantic Coast Conference championship basketball team, joined the Guilford athletics staff in 1965 as assistant men's basketball and head track and field coach.
His basketball teams compiled a 386-392 record, including six 20-win seasons during the 1970s, while his golf program qualified 26 times for national tournaments.
Photo courtesy of Guilford College