Equipment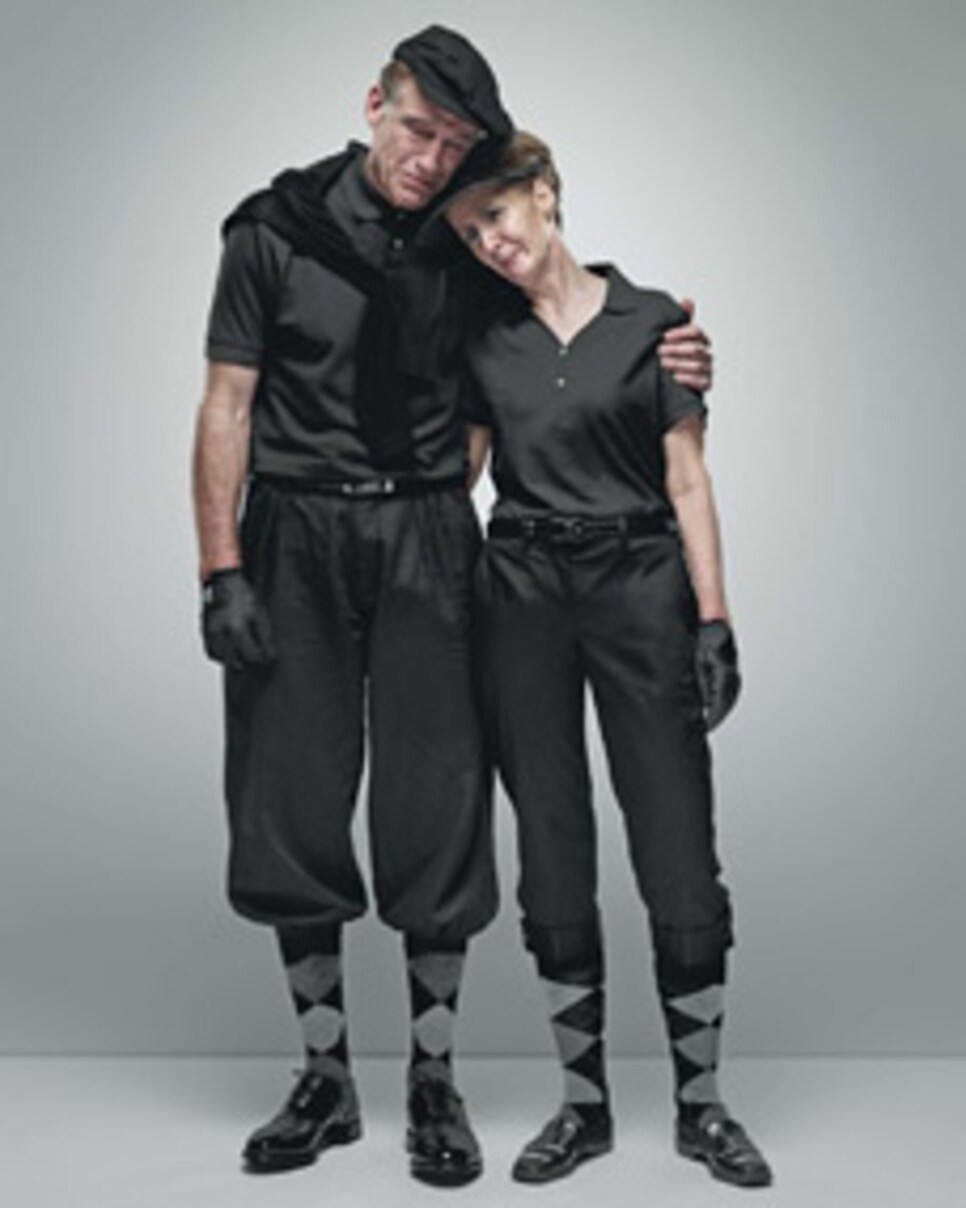 We still don't know what's going to happen. The PGA Tour doesn't know. Equipment manufacturers don't know. Average golfers don't know. Even golf's ruling bodies, the ones responsible for this historic rule change, can't say for sure. That's right. Despite spending three years studying grooves and their effect on imparting backspin, the United States Golf Association and the Royal and Ancient Golf Club of St. Andrews still don't know if the game's first performance rollback in eight decades is going to make any difference.
At the end of June, after two months of curious debate about possibly delaying the implementation of the new standard it had previously wholeheartedly endorsed, the PGA Tour said it would institute the so-called "groove rule" as a condition of competition beginning Jan. 1, 2010. In short, the new rule limits groove-edge sharpness and groove volume on clubs with lofts of 25 degrees or more (generally, a standard 5-iron or above). The intent is to limit spin -- or control -- that irons and wedges produce on shots from the rough. The new rule will apply to professional competitions starting next year and amateur events in 2014. However, it doesn't apply to recreational golfers until at least 2024. The rule grew out of the desire of golf's ruling bodies to restore the value of driving accuracy, a response to the "bomb-and-gouge" school of course management. The R&A, which governs the game outside the United States and Mexico, and the USGA developed the rule to restrict this performance capability. They have charts illustrating spin reductions by 50 percent on 8-iron shots from light rough and charts showing shots hit with conforming grooves that land at a sharper angle and roll farther than shots with current grooves. It's all clear, from a laboratory standpoint.
But now that we've left the laboratory, there remains a patina of uncertainty hovering over all aspects of the grooves issue, from how the game will be played at the elite level to what average golfers should buy in the interim.
PGA Tour Commissioner Tim Finchem said the decision to implement the new groove standard was "in the best interest of the game." But at the same time he admitted the change would present "challenges." Those difficulties come under two headings: players and competition.
Finchem's biggest concern is that players won't have enough time to adjust to the performance differences, but most equipment manufacturers are confident that PGA Tour players will have the clubs in plenty of time. In fact, players began testing clubs with the 2010 grooves well before the June decision. The tour is even reserving courses near tournament sites through the end of the season so that players can test new grooves.
However, some players, including the world's No. 1 golfer, don't consider the adjustment a hardship, especially considering that about 30 percent of tour pros already use irons with 2010-conforming grooves. "We've had plenty of time to make our adjustments," said Tiger Woods, whose iron grooves (but not his wedges) likely already conform to the new standard. "All the companies have been testing and getting ready for this, and the guys will make the changes." Finchem said an issue will be ensuring players at all levels of professional golf are using clubs with 2010 grooves. It's one reason the tour might not require competitors to use clubs with 2010 grooves at the weekly pre-qualifying tournaments next year. The USGA also might not apply the rule at next year's local qualifying for the U.S. Open, U.S. Women's Open and U.S. Senior Open.
The looming question, of course, is whether the change will matter. Many believe it will bring about a return to the flyer lie, in which shots from light rough are launched with so little spin that a player might miss the target by the length of an entire green. Champions Tour veteran Bobby Wadkins was only half-joking when he said "fans will need to get Bengay for their necks from watching the balls sail over them." In fact, Titleist circulated a report to PGA Tour pros that suggested "all players will be required to make time- and resource-consuming changes to their game." The report said in addition to making iron and wedge changes, players could be forced to make driver, ball and set-composition changes. It also said (in a tone that reads like it came straight out of the USGA's 2008 announcement of the rule change): "In addition to their equipment, players may also need to spend considerable time changing their course strategy and technique."
However, some golf-club engineers aren't convinced performance will suffer too much. "When it's all said and done, nine months from now, I think [the concerns] will disappear," said Benoit Vincent, chief technical officer at TaylorMade.
Others believe that you can't legislate against talent. "We're not convinced, nor do we believe, that the rule change will actually enact the desired outcome, because of player skill and their ability to adapt and to use trajectory instead of spin to compensate," says Jeff Colton, Callaway Golf's senior vice president of research and development.
Of course, one important factor that could influence the outcome is how the PGA Tour sets up its courses. Finchem said the tour used shorter rough at certain venues this year so it could compare performance in 2010. However, he admits course setup is a work in progress.
"You're not going to see us revolutionize our setup the first month next year," he said. "But we're going to be experimenting with a lot of different ways to set things up because our hope is that this change is going to make the game more interesting to watch from a variety of perspectives."
Adds Vincent: "You can always alter players' performance with the course conditions way beyond what the equipment is doing."
This isn't to say manufacturers are universally enthusiastic about the rule. Large or small, the manufacturing challenges of the new parameters mean more work behind the scenes, more labor challenges, more intricate design. Some of it will increase costs, not that consumers might ever see those costs, but increasing production expenses in a difficult economy wasn't part of manufacturers' plans. Nevertheless, companies are already developing ideas to address the lack of spin (not only with clubs but balls), and you can expect to see an increase in the number of wedge options of 60 degrees or more.
Although any new iron or wedge made after Jan. 1, 2010, must feature the new groove standard to be considered conforming, it's important to note that companies can continue to manufacture and distribute previously conforming club components through the end of 2010. However, this could mean confusion in the market as manufacturers decide when to transition from old-groove clubs (particularly wedges) to new-groove clubs.
For average golfers, the new rule doesn't go into effect right away. Technically, you don't have to trade in your current irons and wedges for another 15 years. However, because all USGA amateur events are scheduled to adopt the standard in 2014, some of golf's elite clubs might require the standard at some of their premier events as early as that year.
Not that it might matter. USGA research suggests that average golfers rarely hit the green from the rough anyway, so failing to hold a shot on a putting surface that isn't hit to begin with would seem to be a nonissue. With respect to greenside shots, the difference appears to be about perception. John Rae, manager of performance research for Cleveland Golf, has studied prototype new grooves and called the differences subtle. He says a scratch player who hits 50 balls each with the new and old grooves, but doesn't know which is which, might not be able to tell the difference right away. "If he did know which was which, he might see a difference in one out of every five shots," Rae says. "For an average player, it might take months. Unless you're really skilled, a player might see a certain type of shot result and blame it on his grooves, when it could be a function of at least 20 other things."
In other words, we don't know yet.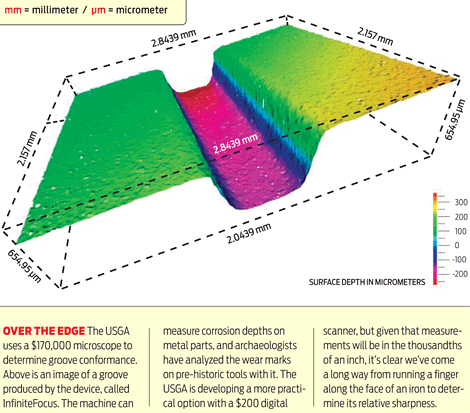 INCONSISTENCY, THY NAME IS GROOVE
A Golf Digest test using prototype wedges and irons with current and 2010-conforming grooves reveals that although there might be performance differences, the biggest difference might be those created by the uncertainty in a player's head.
Generally, data from the USGA and equipment manufacturers suggests that shots from the light rough with the new grooves will spin less and roll out more than shots with the current grooves. Our informal test featured full swings with 8-irons from light rough (the so-called flyer lie), 15-yard pitches from the fairway and 15-yard pitches from greenside rough. Professionals and amateurs (4- to 8-handicappers) participated in the testing. We used the TrackMan radar launch monitor to measure ball-flight data.
8-IRON: With full shots from the rough, the most noticeable difference was how carry distance varied. Shots hit by the pros with 2010 grooves sometimes carried as much as 20 yards longer than average shots (see graphic, below left). But shots hit with current grooves stayed within three to four yards. Similarly, the shot range of low-handicappers hitting 2010 grooves was twice that of shots hit with current grooves. The launch angle, landing angle and spin rate also varied more on shots hit with 2010 grooves.
FAIRWAY/WEDGE: On a 15-yard pitch from a fairway lie, shots by pros and low-handicappers using 2010 grooves rolled 20 to 25 percent farther after landing than shots hit with current grooves. (The pros used 60-degree wedges; low-handicappers 58 degrees.)
ROUGH/WEDGE: On a 15-yard pitch from the rough, the results were not as clear. Pitch shots by our low-handicappers using a 58-degree wedge with 2010 grooves rolled about 25 percent more. However, pros using a 60-degree wedge with 2010 grooves made their shots stop just as quickly, sometimes even shorter than shots hit with current grooves. A possible reason might be that the 2010 grooves launched the ball higher with less spin (essentially a dead shot), causing the ball to land with little roll.