The Loop
Grillroom with Devon Brouse: Extended Cut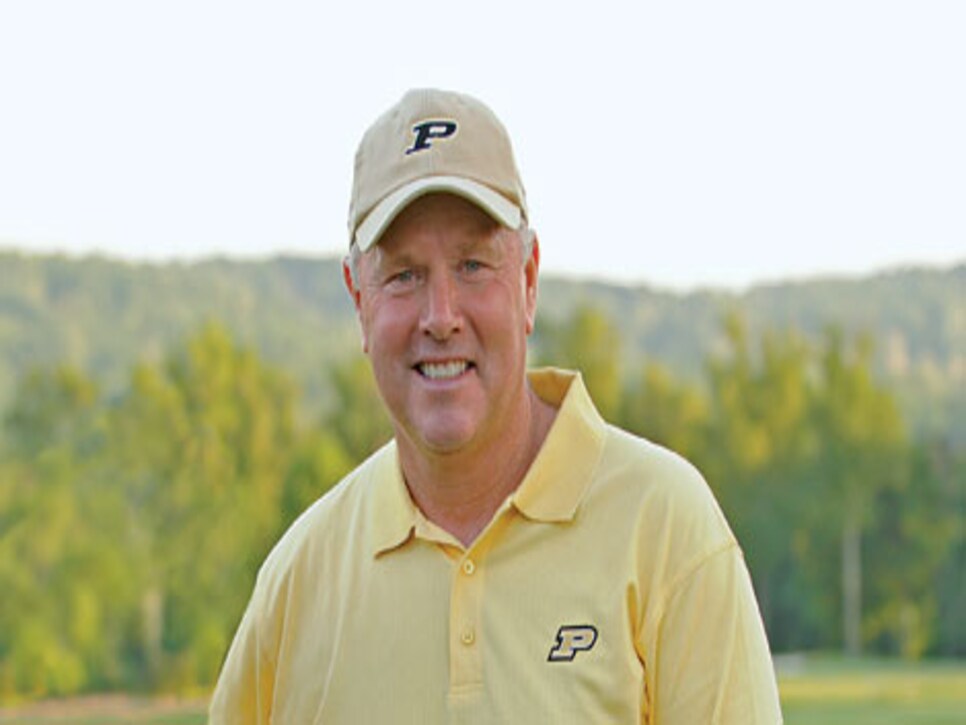 __What's the biggest challenge in coaching college golf?
__Well that has to be answered in the context of my own school, Purdue. Being in the Midwest and the climate in which we're recruiting in, trying to compete with the Sun Belt schools. I think we can compete with them in an athletic competitive sense, but in recruiting it's very difficult. We've got some built in disadvantages. I think there are times we can overcome that, but I think that comes back to what's against us. So that makes it more challenging but in some ways more rewarding when you do have some success.
Recruiting, that has to have changed over your career … how different is the recruiting game now than it was when you first started?
Well I think with the top players it's always been competitive. So from that standpoint, it hasn't changed. I think there is more opportunity now for coaches to go out and find those kids that aren't developed fully. If you go to a Northern climate, or go to Canada, you can get players that are behind some of the Sun Belt kids, but that doesn't mean in two years they're not going to be just as good if not better. Case in point, the kid at N.C. State [Matt Hill] that won the national championship. He was not that highly recruited.
You're one of a shrinking group that coaches both men and women at a Division I school. Why do you coach both? What do you like about that?
Purdue wanted me to do it that way. It's not that I had an ambition to coach women. But I've enjoyed it. It's made me a better coach.
I've learned patience with players. I've learned to be a little more tolerant, maybe. Worked harder at communications. Worked harder at understanding. All the things you should do as a good coach, I think. I've enjoyed it. I've had tremendous support at Purdue. I've been blessed at that regard. In a lot of ways it's invigorated me as a coach.
Is there something you specifically take from coaching the women to the men and vice versa?
I think the principles are the same. You have relationships on both sides, but the fundamentals are the same. The technical part of it is the easy part of it. The psychology is the challenge. Coaches, at least from my standpoint, enjoy the competition, enjoy working with players and developing people. That's certainly why I do it. And it's just been rewarding to have a team that's competed for a national championship the last few years. To have a national player of the year and an individual champion last year [in Maria Hernandez]. And so maybe in some ways maybe that's made up for the fact that our men's team is going through a little bit of a down tick.
Whether you call it parity or not, there seem to be more teams that are competing nationally than a couple decades ago. Why?
More good players. Certainly on the men's side, the talent pool is deeper and global now. And on the women's side it's certainly deeper than it was 10 years ago. Maybe the women are a decade behind the men in terms of numbers and depth.
No Northern school has won an NCAA women's title and only one has won on the men's side since 1979. Do you feel, however, like the potential for that to change is increasing? You've come close on the women's side. Will it happen in the next five to 10 years?
I think we could. I definitely think we could. You see a team like Michigan State this year go down to Chapel Hill and win that tournament in the fall against all the top teams in the southeast. Geographically they shouldn't do that. And I think our team is capable of doing that. A lot of things have to fall in the place, and you have to be a little bit fortunate at the tournament to pull it off.
Should the women's NCAA Championship adopt the match-play format the way the men's has?
Well I don't think it really matters what I want to have happen to the women. I made the mistake early on in women's golf of trying to give them some ideas and some things I thought had value from the men's championship and the men's procedures. I think they want to blaze their own trail and control their own destiny, and I respect that.
It just validates all the things we sell in recruiting and all the things we tell our players. Sure the weather is an inconvenience but it doesn't really make any difference in the big picture. If you want to be a champion and you want to work hard, you can do it anywhere. All it did was validate what we already really knew to be true.
You did a lot at North Carolina, but coming back to Purdue, your alma mater, and achieving some of the things you have there, how rewarding is that for you?
It's been very rewarding because I've been very blessed. To take a guy who was a turf student at Purdue, and loved golf courses and golf course management, and was a certified golf course superintendent and then joined the PGA before I ever got into coaching. And to get the opportunity given to me by Homer Rice, who was the athletic director at North Carolina, after I had already been there for four years, to get involved in coaching was really neat. At the time I didn't really know I was going to be a golf coach. The competitive side of it appealed to me. Playing three other sports in high school, I was always competitive. I was always athletic. I was always around great coaches, great leaders. Working with the student-athletes appealed to me. And coupling that with golf course management and golf course development and so forth, it was the perfect career. And Purdue has just blessed me again. I'm in charge of 36 holes [at the Birck Boilermaker Golf Complex] and two golf teams. I get to kind of manage the masters plan so to speak, develop people.
The thing I'm most proud of in my career is my former players and assistants who have gone on into coaching. I used to think of myself and say you know that's a product of my leadership. Probably it's more of a product of the students wanting to prove [they could do it better than] the way I did it.
If you had a career mulligan, how would you use it?
Boy … that's a good one. I think a couple times when we had a chance to win a national championship [at North Carolina], I probably should have been more active and involved as a coach than I was. Two examples come to mind. Early on at Bermuda Run [in 1979], we had a 13-stroke lead after the first round. We had an eight-stroke lead after the second round. And we just kind of got into that protective, hang-on mode. Under those circumstances you can't compete that way. You have to force the action. You're playing well. You've got to go out there and keep making birdies and being aggressive. Just my own inexperience as a coach, I don't really think I handles that right.
And then another time was in Kentucky in 1993, when three teams stood on the 72nd tee box tied for the lead, Florida, Georgia Tech and North Carolina. And I had my last two guys hit it in the water on No. 18. If I had it to do over again … they were both freshman at the time. They were playing well, had great weeks. Both of them finished in top 10. But as freshman, I probably should have been a little more involved coaching and kind of talking them in so to speak. A lot of times as a coach if you're not sure what to do, you ends up doing nothing. And maybe I was just a little unsure of myself. I became a little more confident, so they would have been more confident.
Is there something you'd like to see going forward, some kind of change on the men's or women's side, would you like to see?
We've had a lot of legislative evolution that was thought to enhance the academic experience for our students. One reason that I've always felt … we shouldn't be looking at competition days but we should be evaluating class days missed. Who is to say some institutions playing 24 days don't miss twice as much class as other institutions that play 24 days? I think the academic part of it probably does need to be prioritized a little bit stronger than it is. That would be my one thing. I felt like that's never been a equitable way to help students be success, is by throwing an arbitrary number of 24 days of competition out there because in different parts of the country is totally different.
Not to single out any one of your players, but with players like Davis Love III and others going on to have pro success, what's that like for you, knowing what they were like in their formative years?
It's very rewarding. To have four players who have won on the PGA Tour, four former players, that's pretty neat. And I'm just excited about Maria, who just finished fifth in tour school and had a chance to win. She has her LPGA card now. I think if she improves her putting, she might be chasing Lorena [Ochoa] her in a couple years. I'm not certainly predicted that any time soon, but Maria certainly has an unparalleled passion for competition, for golf, of any player I've ever had. But to answer your question, yeah, you take a lot of pride. Not just the guys on the PGA Tour, but the guys on the Nationwide Tour or the mini-tours, struggling to get their cards.
When you're recruiting what are you looking for? What's a sign to you of a golfer who is going to be successful?
Well what I've learned the hard way is you have to recruit character, personal character. It's not easy to do. I can't tell you have many students I've recruited that have surprised me a little bit and disappointed me a little bit with their character. I think if you not only get the quick feet, so to speak, like basketball coaches look for, but you recruit character, you're going to be successful. The kids are going to play hard for you and work for your and are going to buy into the fact you're trying to help them. The guys are tough that way. They're stubborn and hard headed and sometimes don't want to listen. That's what's fun about the women, they are more receptive, more willing to listen and more willing to be coached.
Would you rather have a kid that you know will buy in to the team concept who has a stroke average of 74 or 75 or the guy that shoots 70 and doesn't buy in?
I think that's a loaded question. Any coach that's a competitor is going to want the kid that's going to shoot the low scores and want to win tournaments. You're going to put up with more from that All-American than the one that shoots 75. But sometimes when you're coaching a kid that's working hard and achieving relative to his ability, that's more rewarding than the star.
What's it mean to get into the GCAA Hall of Fame?
It's just a huge blessing. As I said earlier, I've had so many blessings. To be able to compete and be able to couple what I love, golf course management and development and care with coaching student athletes on both the men's and women's side, and working for administrators that really want to help you succeed. I've had great examples of leaders to be around. Homer Rice was the first one. Morgan Burke, the athletic director I work for now. I think you know__Nancy Cross__, my sports administrator, she's the best sports administrator I've ever had. So to come back to Purdue, the school that I love and where I grew up and where my wife did too, and to be able to try to help Purdue be successful, that's the ultimate. It's been a rewarding and enjoyable career and it's not over yet.
How many more years do you have?
I'm healthy, thank goodness. And you know as long as I can contribute and make Purdue better in golf, I'm going to keep grinding.