PGA WORKS COLLEGIATE
Gregory Odom repeats as PGA Works champ, quickly shifts focus to playing in Wells Fargo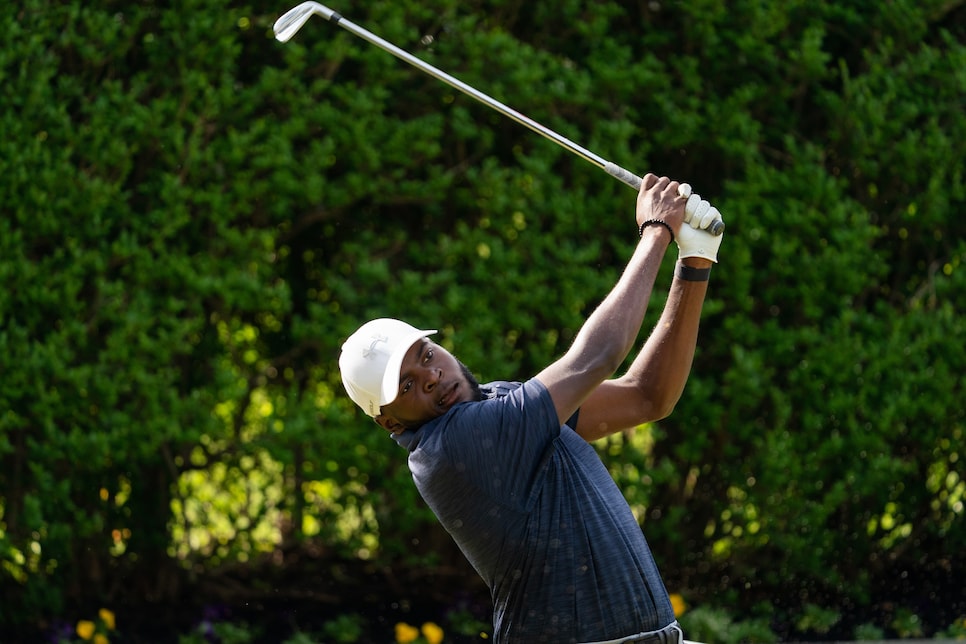 Howard University senior Gregory Odom, Jr. (courtesy PGA of America)
It's already been quite a week for Gregory Odom, Jr., and it's only Wednesday.
The senior from Howard University has a team and individual victory under his belt, and in less than 24 hours after his last putt dropped at the PGA Works Collegiate Championship, he'll be playing alongside the best players in the world on a sponsor's exemption at the PGA Tour's Wells Fargo Championship.
Odom shot four-under 68 Wednesday to win the Division I portion of the PGA Works event by four shots over teammate Everett Whiten, Jr. Odom, also the winner here last year, shot 69-71-68 over the three days at both Union League Liberty Hill and the Union League Golf Club in Philadelphia.
The PGA Works Collegiate Championship is in its 35th year and features teams and individuals representing Historically Black Colleges and Universities, Hispanic-serving institutions and other minority-serving institutions from across the United States.
In the individual race, Odom was cruising during the final round making four birdies in the first nine holes but a double bogey on the par-4 11th hole set him back. He was able to rebound with birdies on Nos. 13 and 14 and ultimately cruised to the victory.
Whiten, also a senior, had even more of a topsy-turvy final round and made only four pars. He started with four consecutive birdies, made nine total on the day, but five bogeys prevented him from putting more pressure on Odom late.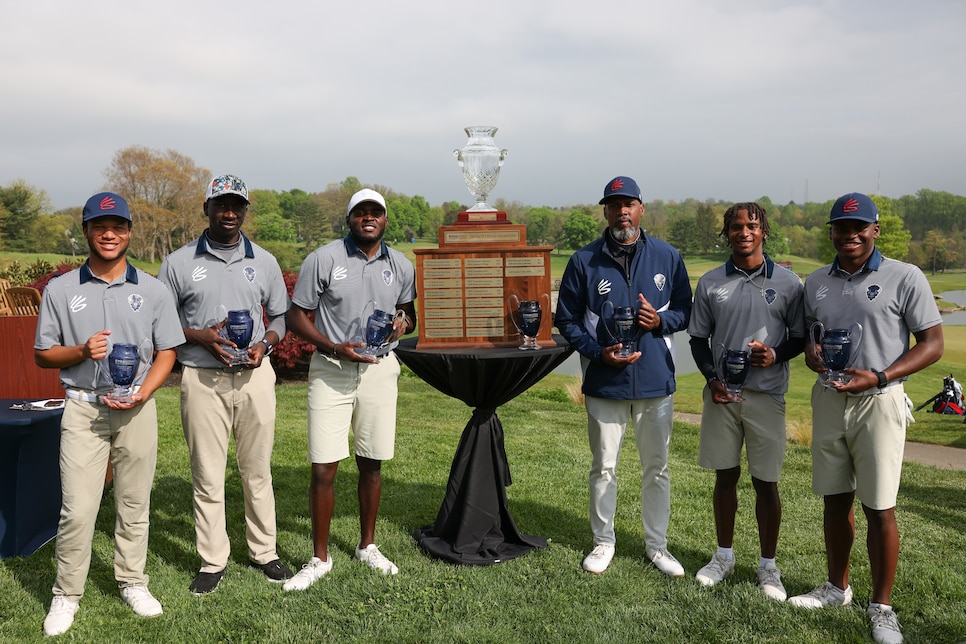 Howard University won the Division I team competition at the PGA Works Collegiate Championship. (Courtesy PGA of America)
Odom celebrated the win with his team and was immediately off to Maryland where he is grouped with Bo Hoag and Michael Gligic at 2:11 p.m. (ET) Thursday for Round 1 of the Wells Fargo Championship at TPC Potomac.
Howard, in only in its second year of existence as a golf program, was three shots out of the team lead after the first 36 holes. But Arkansas-Pine Bluff stumbled mightily, Howard shot one under as a team and took home the sweep of team and individual honors. Chicago State was second, only one shot behind Howard.
"I was just trying to keep hitting golf shots," Odom said. "Coming into today three shots back, I knew my guys would stay strong. Today we overcame obstacles. This is huge for the Howard golf team."
There were many other winners on Wednesday in Philadelphia.
Cal State Dominguez Hills matched Howard's feat, winning both the team and individual honors in the men's Division II competition. Scoring conditions were much more difficult on Wednesday, but Dominguez Hills outlasted Miles College (Fairfield, Ala.) to win by five shots.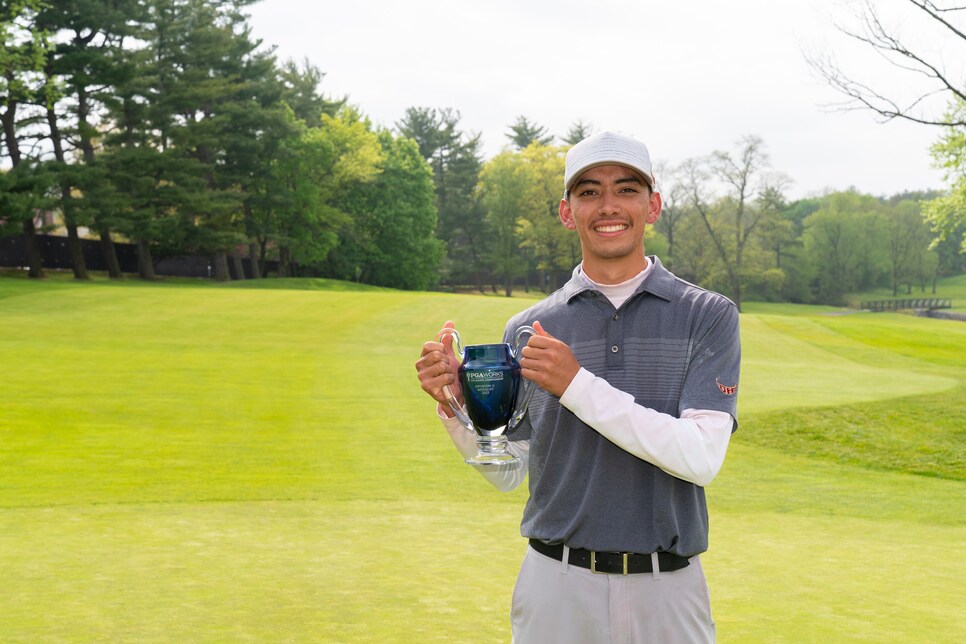 Division II medalist Andres Navarro, from California State Dominguez Hills. (Courtesty PGA of America)
Individually, sophomore Andres Navarro won for the Toros, shooting a final-round 74 to finish with seven-over-par total for a four-shot victory. Douglas Nordlof of Bluefield (W.Va.) State College finished second.
Sahasawat (Sparky) Ariyachatvakin, a Delaware sophomore who hails from Thailand, shot three-under total to win the individual division for men not playing on a team, while Haley Vargas of Kansas State had the low total for individual women at one over. Ariyachatvakin's final-round 68 was the only score shot in the 60s in this division.
In the women's team competition, Texas A&M Corpus Christi defended its title, but it was the first victory for coach Pat Stephens, who took over as coach earlier this year. The victory was hardly in doubt after the second round, and Corpus Christi cruised to win by 14 shots. Delaware State finished second.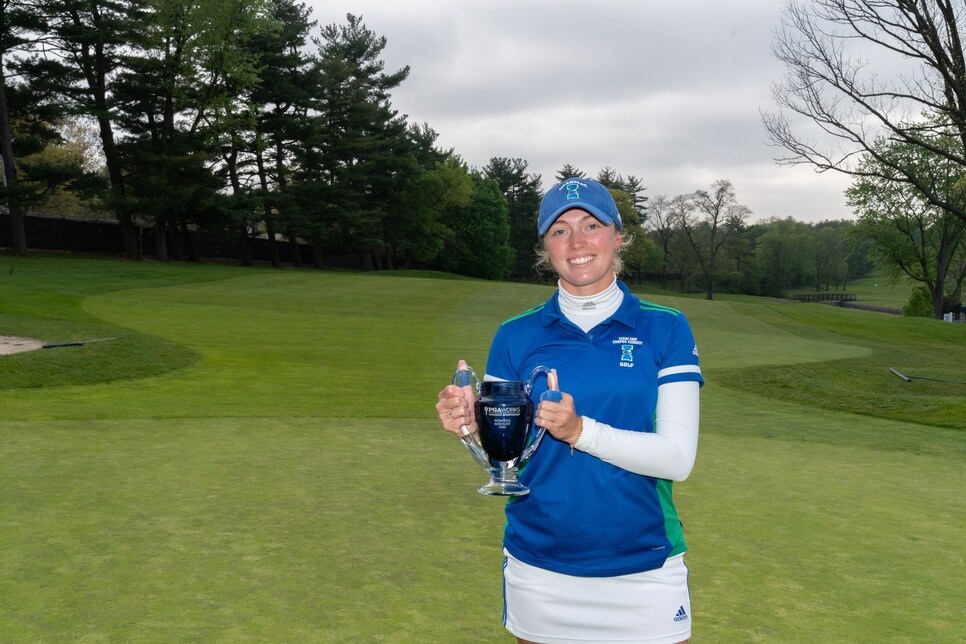 Texas A&M Corpus Christi's Lucie Charbonnier, women's team medalist. (Courtesy PGA of America)
Corpus Christi's Lucie Charbonnier, a sophomore from France, battled nerves down the stretch and was able to close out a victory by one shot, despite making a late double bogey. But she held on, shot 76 and won with a 13-over-par 225 total.
"I couldn't breathe, I was so tight," Charbonnier said. "I've been wanting to win the entire season. I am happy to finally make it, especially here at this tournament."