The Loop
Greg Norman will broadcast the U.S. Open his own way, thank you very much
PINEHURST, N.C. -- Greg Norman is already in prep mode at Pinehurst. Facing the daunting task of replacing Johnny Miller as the de facto voice of the U.S. Open when Fox takes over the tournament broadcast rights from NBC, the two-time British Open champ walked the resort with his new booth partner Joe Buck on Wednesday -- with each man already tapping into the others' area of expertise.
"We've got 12 months to work at it," Norman said while signing autographs behind the 18th geen. "Joe's a good player (Buck has a 3.6 handicap index). But there's a difference between being a good player and being out here in the U.S. Open. There's a lot of little nuances he would never pick up on as a player. But we'll try to talk those things out and he's going to help me when we start in the booth with our rehearsals. So it's fantastic I can walk around with him on a day like today."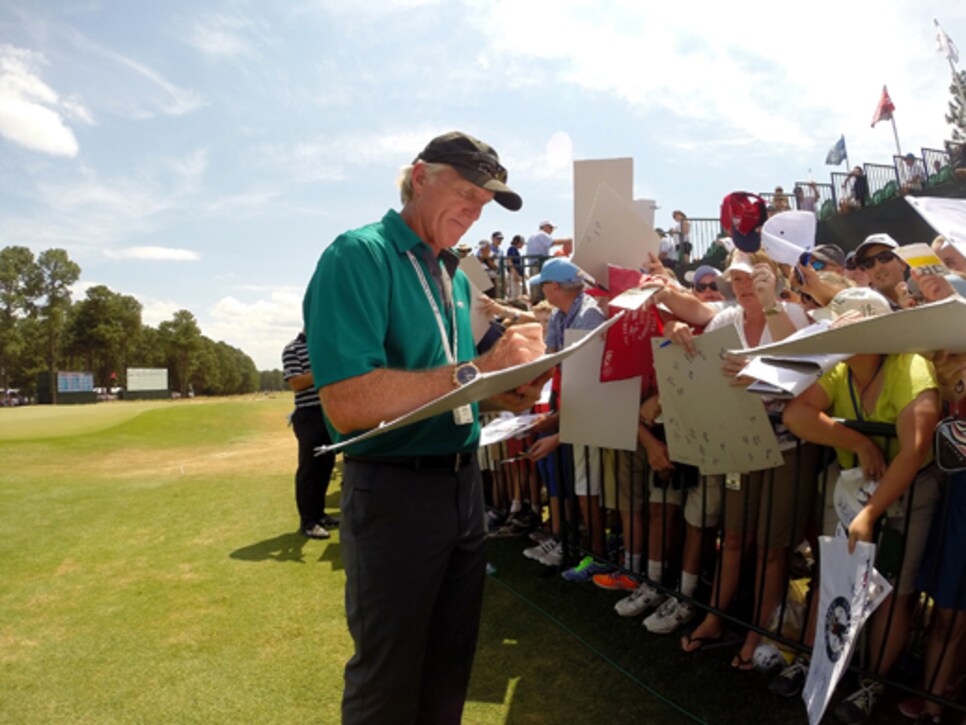 Greg Norman will be Fox's lead golf analyst when the network televises its first U.S. Open next year at Chambers Bay. Photo by J.D. Cuban
Though Norman will be leaning on Buck and Fox's coordinating producer for golf, Mark Loomis, to learn some of the intricacies of broadcasting, he said he hasn't sought out advice from other golfers who have dabbled in the booth. Nor does he plan to.
"None," Norman said when asked which golf broadcasters he's consulted. "You've got to have your own approach. Obviously there are certain things Fox likes us to do, the message and the mannerisms we're trying to convey. It's about having fun out there. I had a lot of fun playing the game and I will have a lot of fun commentating."
Similarly, with NBC ending its 20-year run as the Open broadcaster this week, Norman won't watch this week with any more critical eye than usual.
"It's no different than what I do anyway watching the Masters or the PGA Championship," Norman said. "You're always going to think, 'I might have said something different,' or 'They missed something here.' But that's all part of it."