The Loop
Greg Norman says Tiger is done winning majors
Fred Couples knows he's the man to blame if his decision to pick Tiger Woods for the U.S. Presidents Cup team backfires. However, his counterpart may have just done him and his star player a favor.
International team captain Greg Norman is the latest to weigh in on Woods' pursuit of Jack Nicklaus' record of 18 major championships and his comments could serve as ammunition for the 14-time major winner when the biennial competition begins in November. In an interview for an upcoming issue of Golf Magazine, not only does Norman not think Woods will get to the magic number, he thinks he's done collecting major trophies altogether since he can't focus on just golf anymore.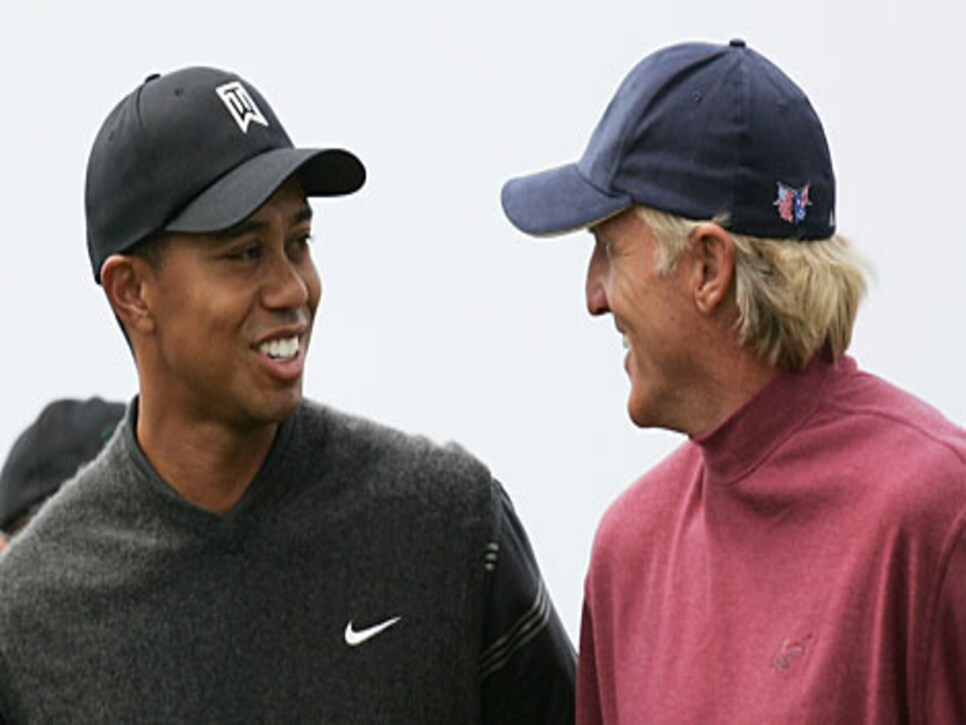 Photo by Ross Kinnaird/Getty Images
"Now there are so many distractions, and people are looking for things that are wrong with Tiger now, so he's got to deal with that on a day-to-day basis, like every other mortal has to do, right?" Norman said in the interview. "In our lives, in our business, we all have to be responsible for our actions. It's very hard for him to have that focus. And the more he shuts people off, the worse it gets."
Norman, a two-time major winner, was golf's marquee player prior to Woods' arrival on the PGA Tour. He also has connections with Woods as an athlete whose personal life has been dragged through the tabloids at times and as a former employer of caddie Steve Williams as well.
"It's like I said to Steve: 'Keep your head up, walk around proud of who you are,'" Norman says in the interview. "Tiger can still play, and I think he'll win again. But he's not going to do what he did before."
We know Tiger will play on the Shark's home turf in a couple months. Just how well he does could determine the competition's outcome, as well as which captain made the bigger mistake.