Norman vs. Tour
Greg Norman warns PGA Tour commissioner Jay Monahan 'This is just the beginning' in strongly-worded letter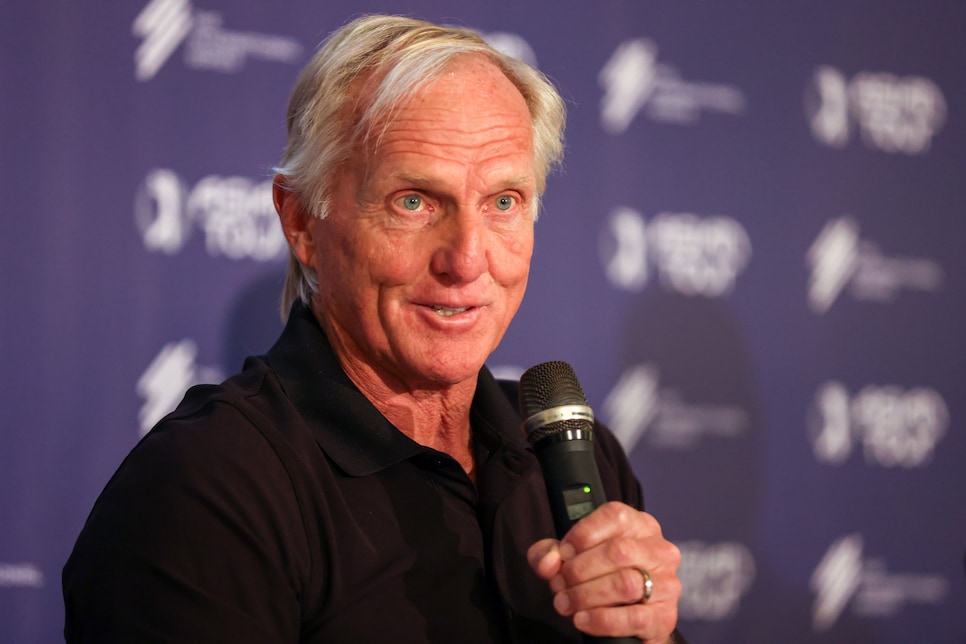 LIV Golf investments CEO Greg Norman chastised PGA Tour commissioner Jay Monahan and warned "This is just the beginning" in a strongly worded letter distributed Thursday.
The letter comes two days after Monahan reiterated his stance that any player signing with the rumored Saudi-backed golf league, which LIV Golf Invetments is behind, would be banned from the PGA Tour in a players meeting ahead of the Honda Classic. Norman has insisted that any such ban would not hold up legally.
"Surely you jest," Norman wrote in the letter. "And surely, your lawyers at the PGA Tour must be holding their breath...for decades, I have fought for the rights of players to enjoy a career in which they are rewarded fully and properly for their efforts. They are one-in-a-million athetes. Yet for decades, the Tour has put its own financial ambitions ahead of the players, and every player on the tour knows it. The Tour is the Players Tour not your administration's Tour. Why do you call the crown jewel in all tournaments outside the Majors "The Players Championship" and not "The Administration's Championship?"
"But when you try to bluff and intimidate players by bullying and threatening them, you are guilty of going too far, being unfair, and you likely are in violation of the law."
Talks of this rumored league have been percolating for two years but seemed to crescendo at last week's Genesis Invitational. The week began with tour player Kramer Hickock's claim that 17 players had already signed up to join the league. On Thursday, an excerpt from Alan Shipnuck's upcoming biography of Phil Mickelson was published, in which the six-time major champion called the PGA Tour a "dictatorship" and claimed he recruited players and lawyers to draft operating documents for the league in order to give players leverage and enact change in PGA Tour policies.
Many of the world's best players have pledged their futures to the PGA Tour, including Tiger Woods, Rory McIlroy, Jordan Spieth, Justin Thomas, Brooks Koepka, Dustin Johnson, Collin Morikawa, Bryson DeChambeau and Xander Schauffele.
McIlroy, who has been an outspoken critic of the league and Norman, claimed Sunday that the league was "dead in the water." Norman, however, appears undeterred, and a number of players continue to mull lucrative offers to make the jump away from the PGA Tour.
"Simply put, you can't ban players from playing golf," the letter reads. "Players have the right and the freedom to play where we like. I know for a fact that many PGA players were and still are intersted in playing for a new league, in addition to playing for the Tour. What is wrong with that?
"What is wrong with allowing players to make their own decisions about where to play and how often to play? What is so wrong with player choice? Why do you feel so threatened that you would resort to such a desparate, unwise, and unenforceable threat?"
Norman has sought to challenge the PGA Tour for decades. In the mid-1990s he led the charge to create a so-called World Golf Tour that would offer huge paydays to the world's best players. The idea was quashed by then-PGA Tour comissioner Tim Finchem, and Norman was also shut out of the planning process for the World Golf Championships, which were largely seen as a response to Norman's cause.
While the rumored league has not been officially launched, LIV Golf Investments has already pledged $300 million to bolster the Asian Tour, which hosted the Saudi International in early February. The PGA Tour granted players a one-time exemption to play in the event but did so with certain conditions that require players to play in future AT&T Pebble Beach Pro-Ams, the PGA Tour event played opposite this year's Saudi International. In its memo announcing the releases, the PGA Tour emphasized that the decision was not precedent setting.
"Competition in all aspects of life, sport, and business is healthy and the players deserve to be well compensated, which is why so many players have expressed interest in playing in a new league," Norman wrote. "But when you threaten to end players' careers and when you engage in unfair labor practices with your web of player restrictions, you demonstrate exactly why players are open minded about joining a league that treats players well, respects them, and compensates them according to their true worth.
"Commissioner—this is just the beginning. It is certainly not the end."