The Loop
Greg Norman pays dividends for Fox with his reporting on Jason Day
It was a surreal scene when Jason Day fell to the ground on a hillside left of the ninth green at Chambers Bay on Friday afternoon. It occurred only moments after Fox Sports' Joe Buck likened the crowd getting around Chambers Bay to "an event in the X Games," citing turned ankles.
That seemed a logical explanation initially for Day's fall. The Fox crew ventured that he had slipped on the slick fairway grass on the hillside, possibly injuring an ankle.
Medical help arrived quickly, and Day was overheard telling them, "I just had vertigo."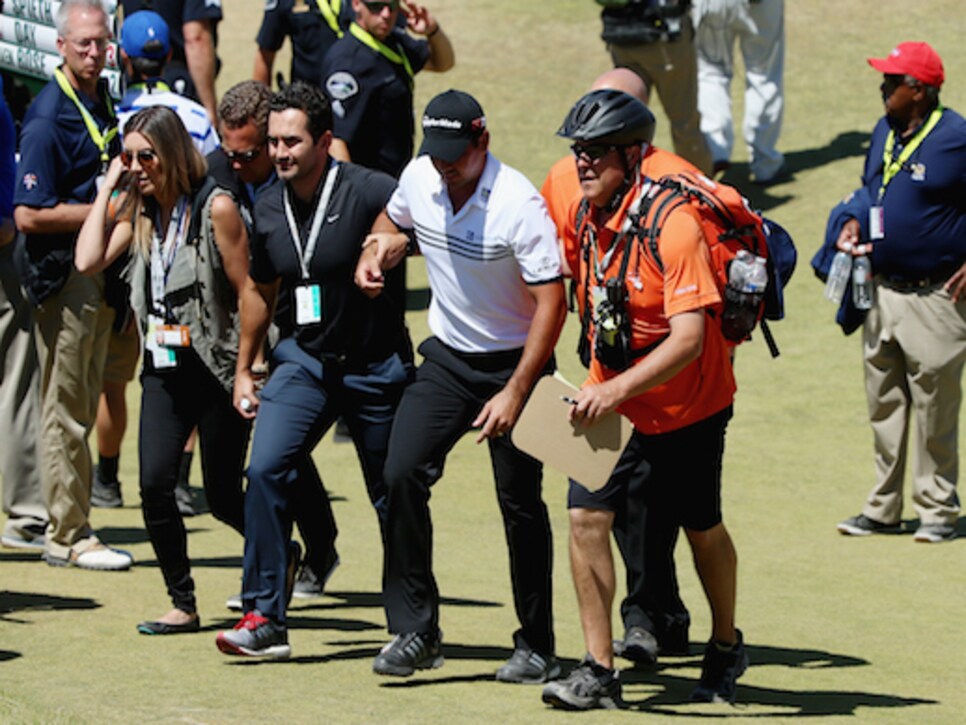 Fox Sports, for its part, did a commendable job of covering it. Greg Norman, a fellow Australian and a long-time friend of Day's, immediately provided background.
"When I spoke to Colin [Swatton, Day's caddie] last week, Jason had been really worried about dizzy spells, and he's gone through a lot of brain scans, a lot of neck scans, sleep-testing procedures." Norman said that doctors have been unable to determine the cause.
Norman left the booth to go talk to Day. Meanwhile, former USGA executive director David Fay, who Fox is using as its rules expert, came on and explained that Day could receive medical attention and then resume playing, as he did, though still somewhat wobbly. He was on his last hole of the day and made a bogey to conclude an even-par 70 that kept him in contention.
Would he be able to sign his card? That was the next question when the medical staff loaded him onto a cart and drove him away. "He'll be able to do that later," Fay said. "You don't foresee this, so you make accommodations. He'll sign the card. And he'll also sign the card for the player he was marking for."
As it turned out, he was taken to scoring, signed his card, after which Norman spoke with him. "I got him as he was coming out of the scorer's hut," Norman said when he returned to the broadcast booth. "He had two medical people holding him up, his head was down, his eyes were going back and forth. He said, 'I've got vertigo. I'll be OK.' "
Norman also talked with his Swatton, who told him, "this is exactly what happened to him at Firestone last year, and he went down and had to withdraw from the tournament."