Courses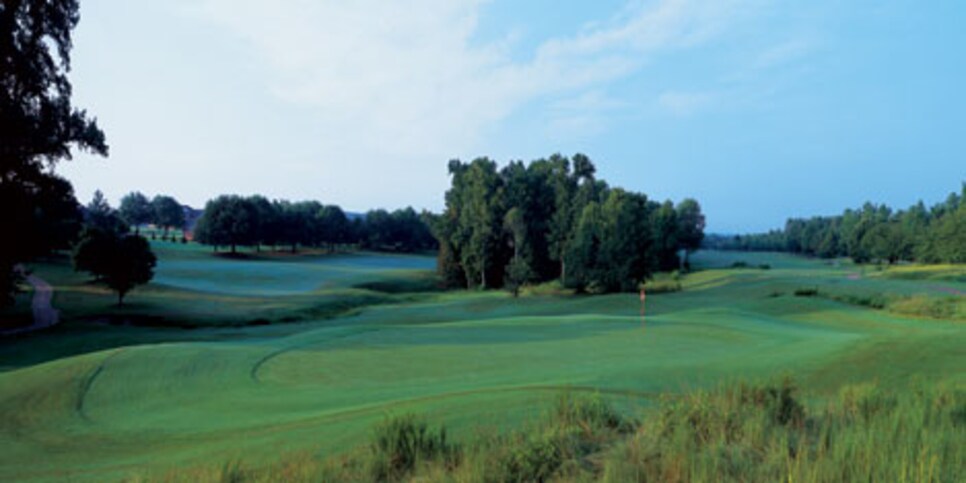 Don't be short: The par-4 14th at Willow Creek plays to an elevated green.
The Greenville-Spartanburg area encompasses 1,600 square miles in upstate South Carolina, where the pastoral foothills of the Blue Ridge Mountains meld into red-clay earthiness. Here, textiles are king and Carolina comfort is an unhurried lifestyle.
Greenville and Spartanburg are sister cities much like Minneapolis and St. Paul, Minn. One is rarely mentioned without the other. Together they form a thriving gateway to Atlanta (about two hours south) and Charlotte (a little over an hour north). Combining historical significance, economic growth and Southern hospitality, the area has risen as a viable companion to mountaineering neighbor North Carolina and its outdoorsy tourist attractions.
In the not-too-distant past, lowcountry (Coastal Carolina) ladies and gentlemen would flock to the Upstate to escape the sultry summer heat or experience the reputed healing powers of the mineral springs. Today, folks visit for a variety of reasons, not the least of which is the moderate winter climate. The average temperature is 60 degrees, and the sun shines 60 percent of the time. Golfers from western North Carolina are known to make the short drive down the mountain, where it's on average 10 degrees warmer in the winter. They can play golf in balmy conditions in the morning, then head north to the ski slopes by midafternoon.
Football fans should know the Clemson Tigers prowl just a few miles down Interstate 85 from Greenville, and baseball buffs will enjoy downtown Greenville's West End Field, a replica of Boston's Fenway Park (complete with the Green Monster), home to a Red Sox farm team. Greenville-Spartanburg has a variety of attractions for the culturally inclined as well, including Cowpens National Battlefield, site of a key battle in the Revolutionary War; Walnut Grove Plantation, which sits on land granted in 1763 by King George III; and Bob Jones University Museum Gallery, known for its vast religious art collection. Auto enthusiasts will want to stop by the BMW Zentrum, the only BMW museum in the country, at the carmaker's assembly plant off I-85.
For all its strengths, the area is not bursting with accessible golf. Its most celebrated tracks can be found at The Cliffs Communities, a collection of high-end residential neighborhoods that include courses by Tom Fazio, Jack Nicklaus and Gary Player. But these are private clubs. Counting the Walker Course at Clemson, only 13 are open to the public. Yet many of those are very good courses. They might lack the drama found in coastal towns like Myrtle Beach, Hilton Head, Charleston and Kiawah, but they offer plenty of challenges for the highly skilled. On top of that, most cost less than $50 a round.
Furman University G.C., not yet rated, Greenville, 864-294-9090, $24-$47. University planner Richard K. Webel, who laid out the Furman campus in the late 1950s, designed the golf course, too. It is perhaps more famous for its illustrious alumni, including LPGA Hall of Famers Betsy King and Beth Daniel, plus Dottie Pepper, and the PGA Tour's Brad Faxon. Although the course measures a relatively short 6,825 yards from the tips, tree-lined Bermuda fairways have enough bend in them to place a premium on accuracy. At 469 and 459 yards, respectively, Nos. 13 and 17 are brutish par 4s. You really have to bomb one to get it past the dogleg on 13, where an uphill approach shot to a sloping green awaits. Aggressive players with good short games can score well at Furman, a great track that tests every facet of your game. It's also easy to navigate for those who prefer walking.
The Walker Cse. at Clemson University, Clemson, 864-656-0236, $22-$50. Any course whose signature hole has bunkering that forms a tiger paw (to mimic the athletic teams' logo) might appear contrived. However, the Walker Course combines natural beauty with seamless routing. Only the 192-yard 17th, where an inlet of Lake Hartwell can collect errant tee shots to the "Tiger Paw'' green, is of the theme variety. Former tour player-turned TV commentator Steve Melnyk consulted on the design with architect D.J. DeVictor, who routed the back nine to take advantage of spectacular views along Lake Hartwell. Both sides have elevation changes, rolling hills and tree-lined fairways for the accuracy-challenged. The 460-yard ninth is a potential round-killer. A creek protects the left side and runs across the fairway to restrict all but the longest hitters. The average player faces a long-iron or hybrid-club uphill approach to a green guarded by a lake. Big egos can produce big numbers on this beast.
River Falls Plantation, Duncan, 864-433-9192, $24-$52. Gary Player designed this combination links and parkland beauty with multiple elevation changes. Water comes into play on 10 holes, and knee-deep love grass that lines most fairways forms a natural hazard. Only 6,600 yards from the championship tees, River Falls keeps you on guard with tight driving holes and greens where hazards leave little room for error. The eighth (373 yards) is a case in point. The fairway is framed by a bank on the right and water hazard on the left that also fronts the green. There is a natural hazard behind the green as well. The course also has a couple of funky holes, including the 385-yard 16th, where a grassy rock wall protects the left side of the green and a river catches anything right of the green.
__ Nice and not-so-easy__
Verdae Greens G.C., Greenville, 864-676-1500, $46-$52. It opened in 1989 to strong reviews and since has been one of the top courses in the Upstate, hosting the Greater Greenville Classic (a Nike/Buy.com Tour event) nine times. Architect William C. Byrd carved a scenic and challenging layout from thick forest land with natural water hazards. The fairways are Bermuda grass, and the smallish greens are mini-verde Bermuda that, when shaved to a high number on the Stimpmeter, makes getting up and down from the short side nearly impossible. When the Bermuda rough is up, those tiny greens shrink significantly. There are a number of good holes at Verdae Greens, not the least of which is the par-3 second, which requires a 215-yard carry over water to a shallow green with no bailout. Fortunately a generous drop area saves potential Tin Cuppers.
Woodfin Ridge G.C., not yet rated, Inman, 864-578-0023, $35-$45. Woodfin Ridge was designed by former tour player Bill Bergin. Influenced by his experience with links on the PGA European Tour, Bergin created "chase'' openings to 16 greens accessible by ground or air. It plays 7,107 yards from the tips and has a nice mix of long par 4s and medium-length holes with various hazards. For example, the seventh (No. 1 handicap) plays shorter than its 416 yards because it's downhill, but out-of-bounds to the right and a fairway that slopes toward a water hazard on the left make it a penal pest. The signature hole—191 yards over water to a three-tiered green—is No. 15. It has two sets of tees for a couple of angles of attack, neither being that appealing when the wind is up.
Willow Creek G.C., not yet rated, Greer, 864-476-6492, $39-$49. Greenville architect Tom Jackson designed this course as the centerpiece of a residential community. Generous fairways and greens promote fast play, although several holes have drop-offs into dense thickets that require a reload. The 382-yard 14th is one of them. The best strategy is to lay up with an iron or hybrid off the tee just far enough to clear the corner. Pull it slightly, and you're in the junk. The green is elevated, and any shot short will roll back down the hill. No. 3, a 190-yarder guarded by water to the left of and behind the green, is picturesque but potential trouble.
Greenville and Spartanburg share an international airport served by seven major airlines offering nonstop service to 16 cities. Where to stay? The Embassy Suites Hotel Greenville Golf Resort Conference Center ($119-$189; 846-676-9090) and the Radisson Hotel Suites in Spartanburg ($89-$149; 864-574-2111) are only a few exits apart. None of the area's public golf courses is more than 45 minutes away from either hotel. Downtown Greenville has several historic bed-and-breakfasts and modernized hotels, including The Westin Poinsett ($229 and up; 846-421-9700), that reflect the charm of the city.
Fairs and festivals are major entertainment in small Southern cities, and this area is no exception. The Fall for Greenville festival each October has a unique competition with a sports theme called the "restaurants pentathlon.'' Even non-athletes might nab a gold medal in events such as tent decorating, waiters' race, bartender mix-off and the restaurant trivia challenge.
By Terry Johnson, PGA head professional, River Falls Plantation
Our greens are among the speediest anywhere. Most amateurs have trouble negotiating fast greens, especially those with undulations. I like to use light grip pressure (somewhere around 4 on a scale of 1-10, with 1 being barely holding onto the club). Keep the grip pressure constant to trigger a rhythmic stroke. Also, if you have a downhill putt on fast greens, try hitting the ball more toward the toe of the putter. That will deaden the stroke to help keep the putt from getting away from you and the hole.
Course ratings are derived from the exclusive 5-star Golf Digest Places to Play scale. A single star represents "basic golf." Five stars indicates "golf at its absolute best." Golf Digest's Best Places to Play guide, based upon the ratings of tens of thousands of readers, is available for $24.95.
Very good. Tell a friend it's worth getting off the highway to play.
Outstanding. Plan your next vacation around it.
Superb. Golf at its absolute best. Pay any price to play at least once in your life.
The equivalent of one-half star.
If a course has no star rating, it means that the course did not receive a minimum of 10 ballots, either because it is very new or simply was not visited by a sufficient number of Golf Digest readers. If you've played one of these courses and would like to rate it, click here.