The Loop
Grayson Murray's shot tracker on this short par 3 looks like a bad Etch A Sketch
Golf's woke, course-architecture crowd would tell you that a well-placed short par 3 can often be far-more vexing than the lengthy, 220-plus yard one-shotters that we often see on the PGA Tour. Grayson Murray became well aware of this fact on Thursday at the Vivint Houston Open, where the outspoken 27-year-old is off to a nightmarish start to the week.
After making bogey on his opening hole, the par-4 10th at Memorial Park, things only got worse for Murray. The 2017 Barbasol Championship winner went on to triple-bogey the par-4 13th, then got into serious trouble at the short par-3 15th. The hole, which can play up to 155 yards, is playing just 110 yards in the first round. But just because it's a flip wedge doesn't mean it's easy. The narrow green features some crazy undulations and runoffs, and there's a creek that runs down the left side that's waiting to eat up balls that miss left.
Murray's ball, however, never got wet. First, he missed the green right (bear with us now), then, he hit his second over the green, where the rough was able to catch it before it rolled into the water. On his third, he hit it back over the green past where his tee shot had come to rest and into the rough. On his fourth, he hit it back over the green, right near where his second shot ended up. He then hit his fifth BACK to where his tee shot was in the closely mown area (this is starting to feel like that "Wayne's World" scene where Garth explains his plan), then finally got his sixth on the putting surface and had about 25 feet left for quadruple bogey. From there, Murray two-putted for an eight. A snowman. ESPN8 The Ocho. Check out the shot tracker, which looks like a bad Etch A Sketch and is giving us a headache: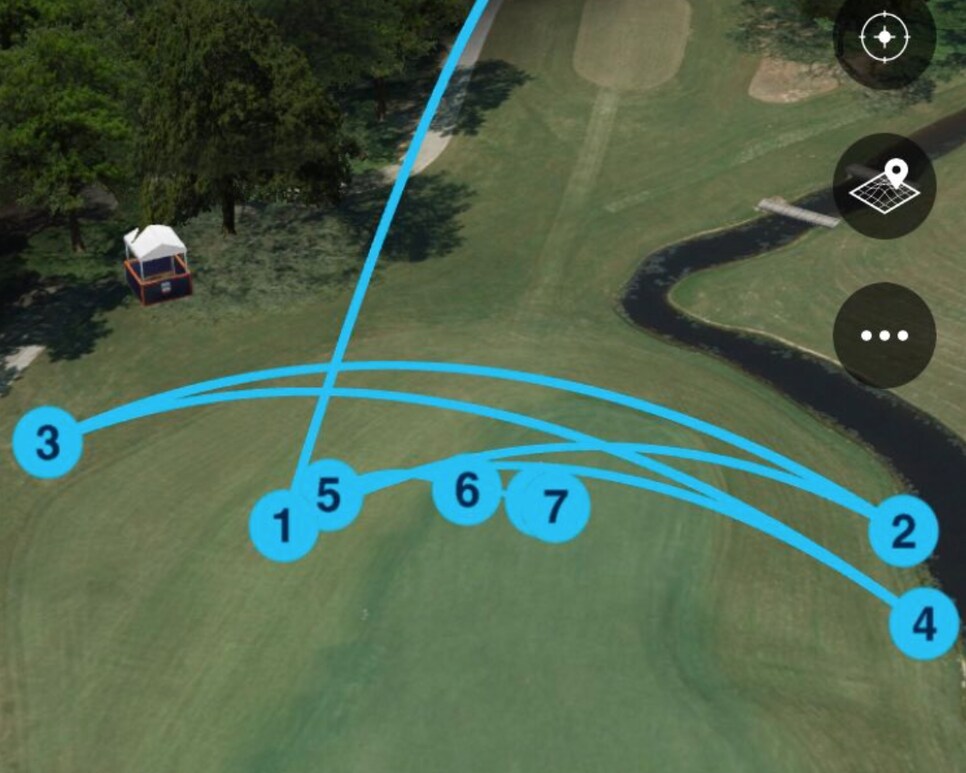 Another view from the other side: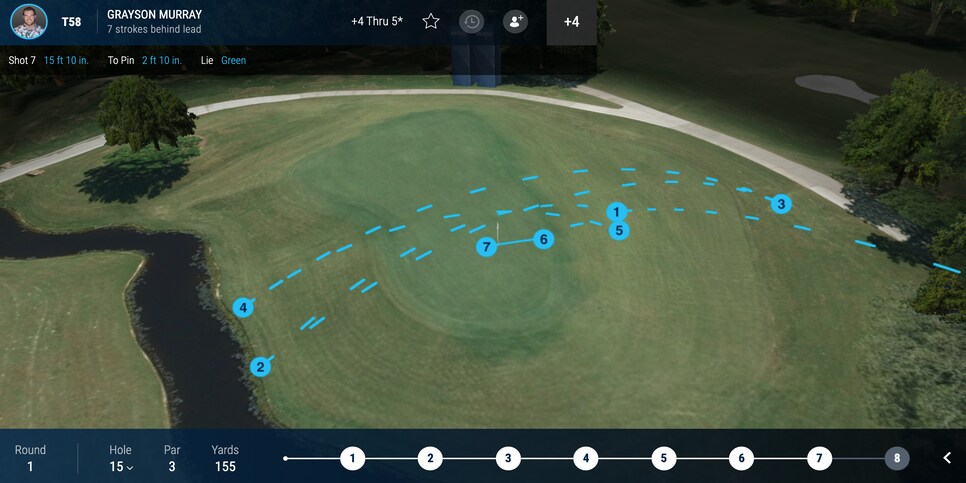 Brutal, and somewhat incredible when you consider he made the eight without a penalty stroke. If there's any consolation for Murray, it's that he's not alone in struggling with the short par 3. Vaughn Taylor triple-bogeyed it in somewhat similar fashion without a penalty stroke. Kramer Hickok, who held the lead at one point last week in Bermuda, made double bogey on the hole. As did Michael Kim. Guys are making birdies, but there are also plenty of bogeys and "others" on the treacherous Tom Doak design.
In case you were wondering, it has gotten even uglier for Murray, who is 13 over through 14 holes.