The Loop
Graphite iron shafts get a mulligan
Remember when the general consensus was that graphite iron shafts were for women, seniors and any other golfer whose swing speed was about the equivalent of a highway speed limit? Try telling that to Brandt Snedeker, Matt Kuchar, Boo Weekley and Ken Duke (all winners on the PGA Tour this year) as well as Tim Clark, Ryan Moore and about a half-dozen others on the men's tour who use graphite shafts in their irons.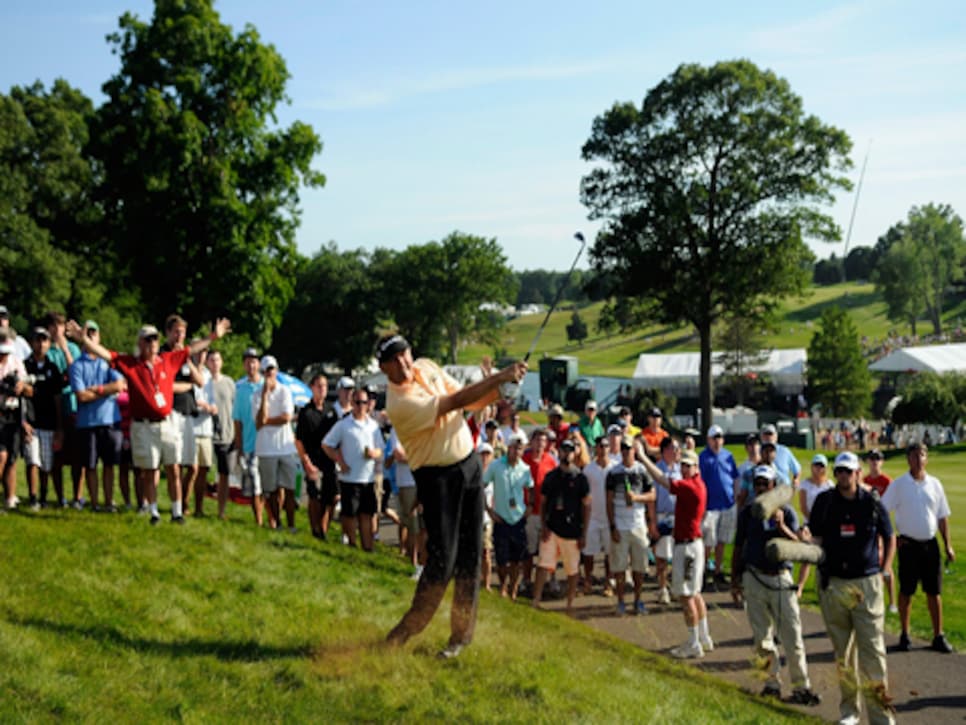 Photo: John Woike/Hartford Courant/MCT
Such usage and success is in direct opposition to the long-held belief (or, as graphite-shaft manufacturers might claim, misbelief) that only slow swingers benefit from graphite shafts in irons.
Although steel remains the overwhelming choice of tour players in iron shafts, keen observers of the PGA Tour have noticed an uptick in graphite the past few years -- including some with powerful swings.
"We've made tremendous strides in graphite shafts for irons," said Danny Le, marketing manager for UST Mamiya. "A number of players on tour could benefit from graphite in their irons, but the old misconceptions are tough to get rid of. The earlier versions of graphite iron shafts were fairly non-responsive and inconsistent, and tour pros have very long memories."
Victor Afable, president of shaftmaker Oban, admits that until the last decade or so most graphite iron shafts were not suited for tour players. Since graphite was lighter than steel, shafts often had to be lengthened by as much as a half-inch to achieve the proper balance, and the pros were uncomfortable with that addition. But now, said Afable, manufacturing processes and materials have improved significantly, making graphite a viable option for the better player.
"Resin systems have improved, which has led to better consistency," said Afable. "Older graphite iron shafts tended to fluctuate in weight. That is no longer the case. The consistency from shaft to shaft has improved tremendously, and obviously consistency is what you want in irons."
One of the reasons for the advancements in graphite-shaft technology is that a weak aerospace industry has opened the door for manufacturers to access better materials at prices that make sense. Still, price remains a hurdle. "Cost is definitely a factor at the consumer end," said Le. "But I can see that, over time, we might be able to bring that cost down. The performance is there, and many players who take the time to get fit and compare graphite to steel see the benefits."
Those benefits include less wear and tear on the body (many tour players who use graphite in their irons, in fact, began using them after suffering an injury such as a bad elbow) due to better shock absorption than steel as well as lighter weight, thus the ability to produce a faster swing speed.
However, not all players are seeking increased swing speed. UST Mamiya's Recoil shaft positions itself as a graphite-based shaft that is approximately the same weight as steel, and Boo Weekley won Colonial using a 115-gram Aldila RIP graphite shaft (steel iron shafts are in the 125- to 130-gram range).
"It used to be that better players would look at you cross-eyed if you suggested graphite in irons," said John Oldenburg, VP of engineering and new product development at Aldila. "It used to be a total nonstarter. But now we have a lower torque product than steel so we can provide more speed with more stability. And for players who still want the heft, we can give them that too."
Oldenburg cites Weekley as an example of a player willing to go outside his comfort zone. "Boo's biggest issue in the past with graphite was sound," said Oldenburg. "He just liked to hear a certain sound with his irons. With graphite that sound used to be significantly different, but now we have been able to get it close enough to where he put our shaft in play and won with it. We now have close to 20 years experience on these shafts and better materials to work with. I think you will see somewhat of a surge in graphite as more top players use it."
For players of all swing speeds.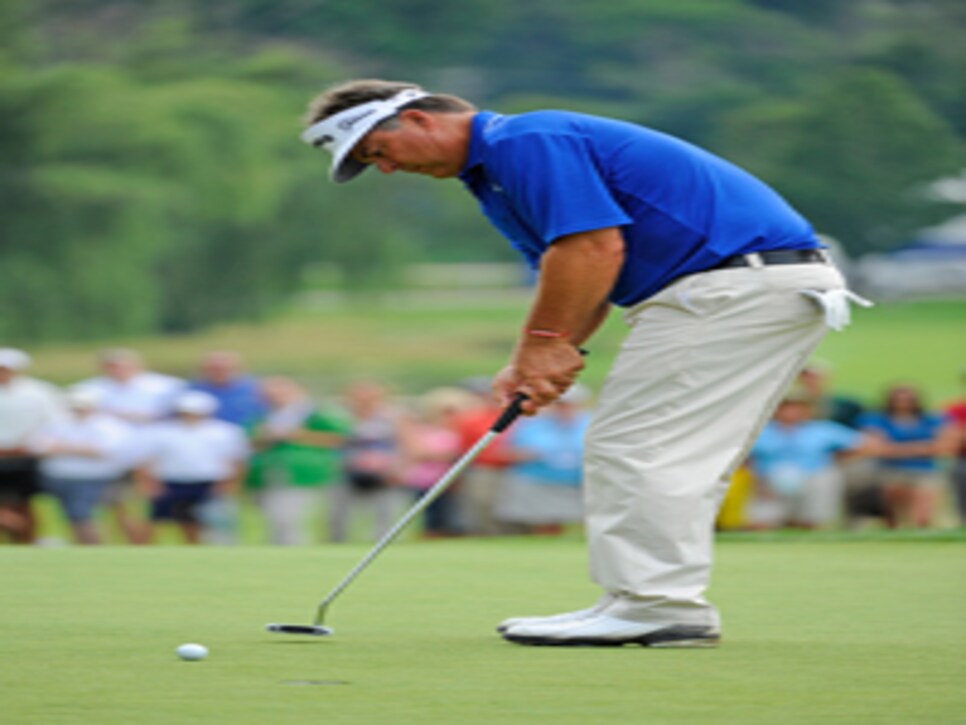 When traveling on tour, Kenny Perry packs a little extra, bringing three putters with him to virtually every tour stop. There are two reasons for this: First, Perry likes to tinker with putters, staying with ones during good stretches of play but occasionally benching them when they misbehave. Second, sometimes conditions warrant a different type of wand on the greens, and each of the putters Perry carries has a different loft. The latter came into play for Perry at the Constellation Senior Players Championship.
After 18 holes on a somewhat soggy Fox Chapel GC in Pittsburgh, Perry felt the 1 degree of loft on his Yes! Tracy putter simply wasn't enough to get the ball up and rolling on the greens. "When I get to Poa annua [greens], I always go with more loft," said Perry. "I thought my old putter would be great, but with all this rain and everything, that's why I went with the other one." The other one was a TaylorMade Ghost Vicino prototype with 3 degrees of loft. "With loft, it shoots it up and it gets on top and it rolls," said Perry, who used the more-lofted putter to rank fourth in putts per green in regulation en route to a two-shot win and his first major on any tour.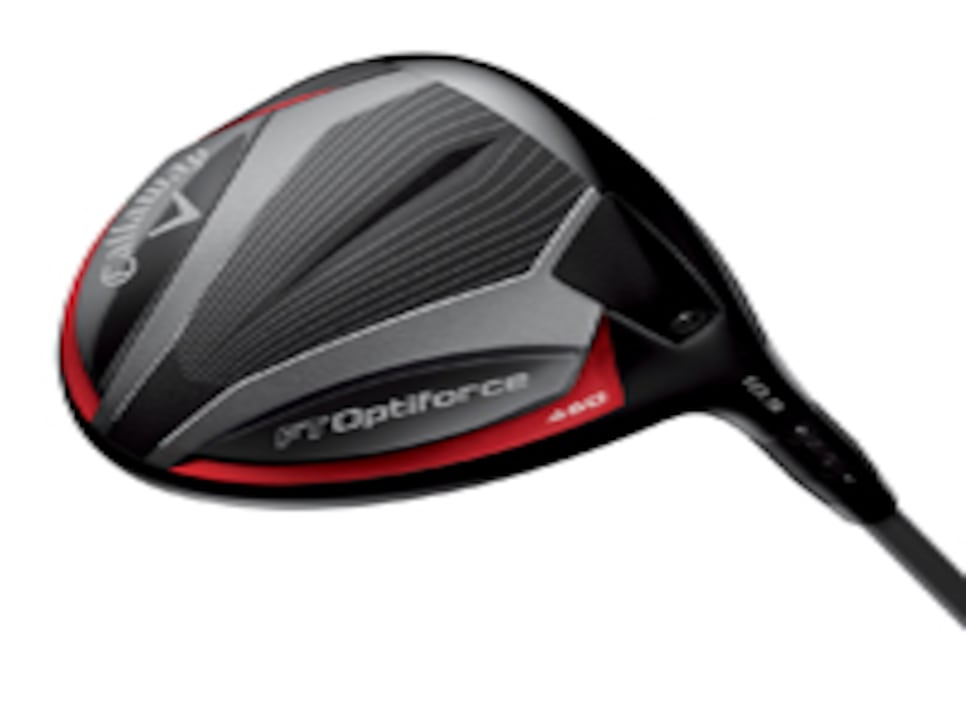 PRICE: $400 (Lofts: 9.5, 10.5 degrees, adjustable)
Two models: 440cc and 460cc. Adjustable hosel can reduce loft up to 1 degree and increase it up to 2 degrees. Face angle can be set neutral or for a draw.
Titleist's new iron line -- the 714 AP1, AP2, CB and MB irons -- debuted on tour at the AT&T National, and eight players put the new clubs in play. Although all four models had at least one player using them, medalist honors among the group went to Jordan Spieth, who finished sixth with the new AP2 irons. ... Jason Day had some new TaylorMade ATV prototype wedges in the bag at the AT&T. Day put a 52- and 58-degree in play (Day normally uses 54- and 60-degree wedges) because he felt he needed additional yardage out of those clubs at Congressional CC. ... Irish Open champ Paul Casey had a new putter in play at Carton House -- a Nike Method 006 prototype. He had been using a Method 001, a blade-style putter very similar to the 006.