News
Good news on her mom's cancer battle lets Lexi Thompson play LPGA finale with clear mind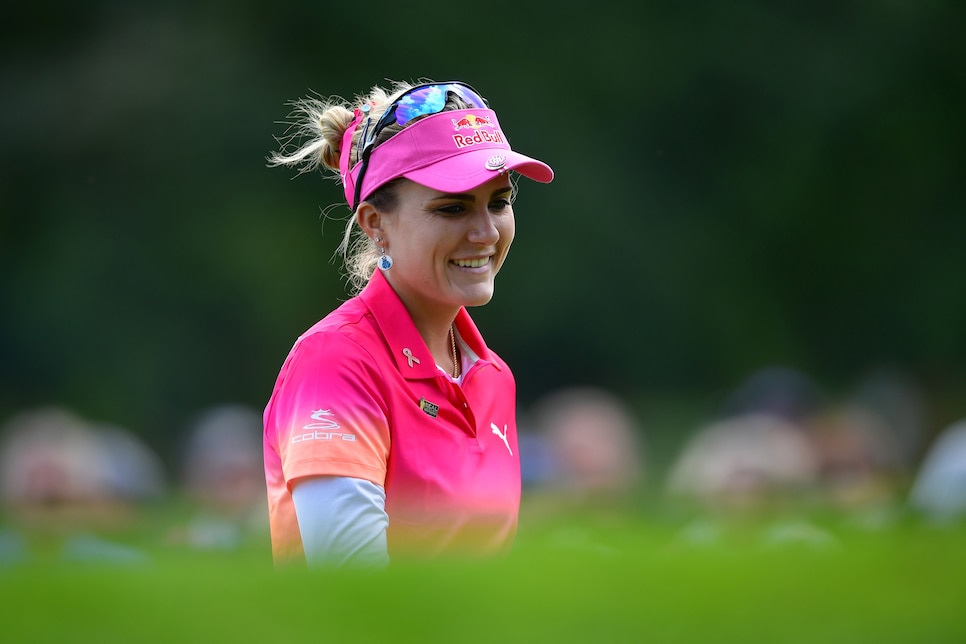 Stuart Franklin/Getty Images
Lexi Thompson enters this week's LPGA season finale, the CME Globe Tour Championship, the leader in the year-long CME Race to the CME Globe points standings. She also arrives at Tiburon Golf Club in Naples, Fla., without one of the burdens she's carried much of 2017.
"We got the news about a few months ago," Thompson said during her Tuesday press conference at Tiburon." She went through all the radiation treatments and has been cleared. It's great to have her here, along with a lot of other family members that will be coming throughout the week."
Judy plans to be down in Naples to watch her daughter compete this week. It's the kind of good news that potentially could propel Lexi in a year that's had its emotional ups and downs on and off the course.
Not only is the $1 million bonus within the 22-year-old's grasp—Thompson could win the season-long race with even just a T-40 finish at the Tour Championship—a victory would secure the Rolex Player of the Year title. She is fourth in the ranking for POY, trailing So Yeon Ryu, Shanshan Feng and Sung Hyun Park, after a season that's included two wins and eight top-five finishes in 20 starts. It would be the first time that Thompson has earned the coveted POY title. She also would be just the second American woman to win it since 1994, joining Stacy Lewis (2012 and 2014).
"I definitely think my game is getting there, and being well rounded," Thompson said. "I still think that it can be tweaked and keep on improving. I think that's why we're all still playing golf. If we were done improving we wouldn't be playing probably if we perfected it."
With a 69.147 average, Thompson also holds a lead in the race for the Vare Trophy for lowest scoring average. Her nearest challengers are Park (69.259) and In Gee Chun (69.269). So long as Thompson finishes at least 10 strokes better than Park and Chun, she will win this title for the first time in her five-year LPGA career.
"I don't really pay attention to stats and everything. My dad does, but I don't," Thompson said. "I really just go on how I feel with my game throughout rounds. I know where I missed putts, where I need to improve on, where I didn't get up and down or anything like that. I think it's the same things I need to work on this offseason, but maybe tighten up my ball striking even more."
Much of Thompson's strong play has come after arguable the most difficult moment of her competitive golf life, her runner-up finish at the ANA Inspiration after being assessed a four-stroke penalty in the final round. Shortly after, she won the Kingsmill Championship and continued to improve on the course. More importantly, however, the maturity she's shown in the face of her mother's more difficult challenge and after the death of her grandmother in September has many people ready to root for her this week in Florida.